Wednesday, May 5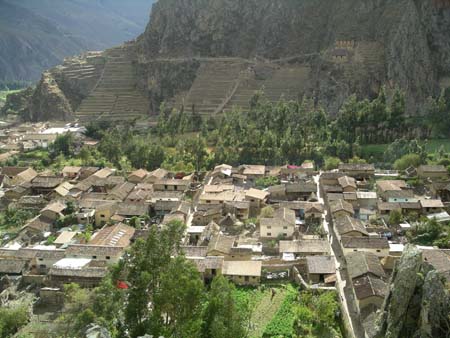 Steve and Paula: This was a great day that we spent exploring the town of Ollantaytambo and its famous Inca ruins. Ollantaytambo is a small community of only 1,000 people, and also gave us our first glimpse of the culture and dress of the Peruvian people.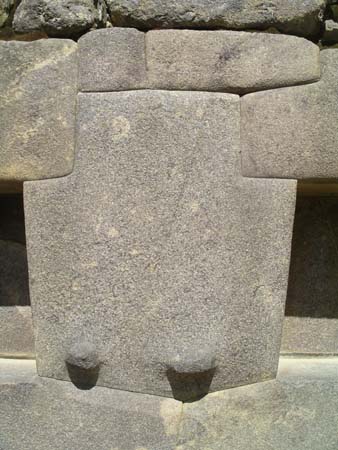 We began by walking up to the Inca ruins that sit majestically over Ollantaytambo and the valley beyond. As was the case yesterday at Pisac, a major part of the beauty of the ruins is the spectacular setting that surrounds them. The mountains and valleys that stretch in all directions are fantastic. The ruins at Ollantaytambo were actually part of an unfinished temple complex that was built over a period of more than 100 years. They exhibit some of the same techniques and mysteries that we saw yesterday at Pisac, but are much larger in scale.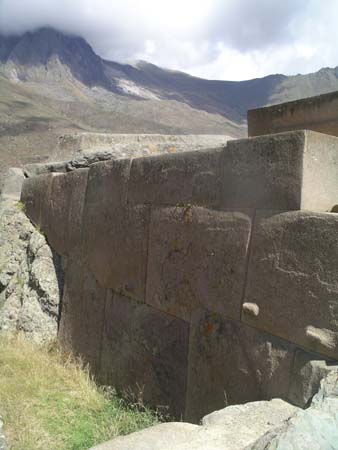 Some of the rocks at Ollantaytambo weigh over 100 tons, and many theories have been advanced regarding how the Incas managed to get these rocks up the mountainside and into place. It was incredible to think of the effort involved with getting the rocks here, especially when we saw the quarry where the stones originated. It is located high on a mountain that's located far across a wide valley, with a river running through the valley (it's visible in the picture on the right as the light area high in the mountains). Hilda told us that most people believe the Incas moved the stones using a series of ramps constructed with loose stone. Hundreds of people were then used to push and pull the sto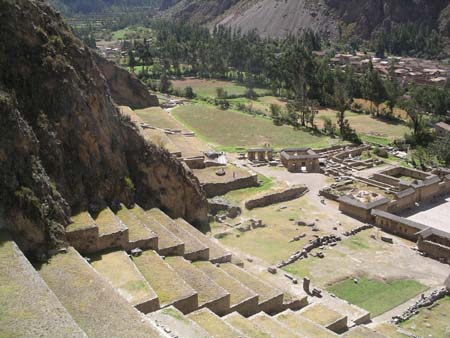 nes across the valley and up the mountain. Apparently, a researcher recently proved this was possible by successfully employing 200 people to move one of the large rocks. Seeing the size of these stones still made this hard for us to imagine.
The ruins at Ollantaytambo are built in a combination of Inca styles, including "pillow" and "classic." They also provide evidence for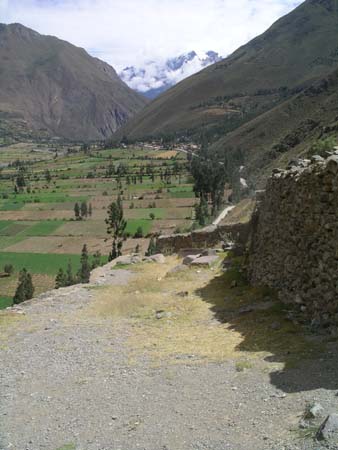 how the rocks were fitted, as we were able to see many of the grooves and guides that were used. The rocks that appear above the first level also have knobs that were used to help fit them into place. In many places, we also saw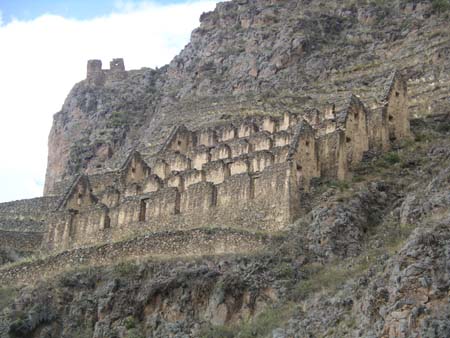 the remains of the faces of pumas (as in the jungle cats), that represented power in Inca culture. It was hard to make out these faces, as the Spanish destroyed most of them following their conquest of this area.
Looking out toward Ollantaytambo from the ruins, it's possible to see the remains of an area that the Incas built to store food. It's located on the side of a mountain, and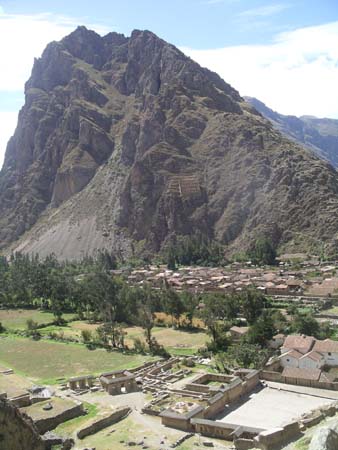 appears to be somewhat inaccessible. However, we learned that the reason for building the storage area up high was because of the significantly lower temperatures found there. This was necessary for the proper storage of corn, potatoes, beans and other foods. Interestingly, next to the storage area is a huge carving of the head of Tanupa, a man who was considered by the Incas to be the god of knowledge. Tanupa's actual identity remains unknown today.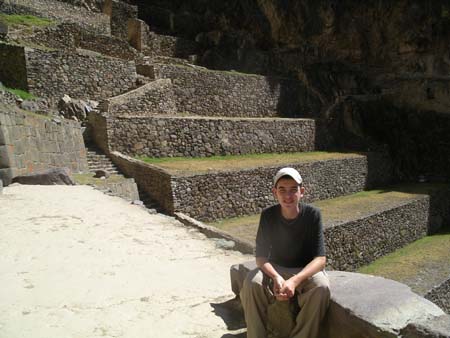 We learned some of the history surrounding the temple at Ollantaytambo. It was originally a temple, and was constructed roughly between 1400 and 1500. In 1536, Pizzaro appointed an Inca named Mano Capac as king, since all the Inca royalty had at this point been killed by the Spanish. Manco Capac was a puppet leader, and as such had no real power. Eventually he escaped from Cusco and came to Ollantaytambo to form an army. He defeated the Spanish in a battle at Ollantaytambo, but then lost a major battle at Cusco and then retreated to the jungle.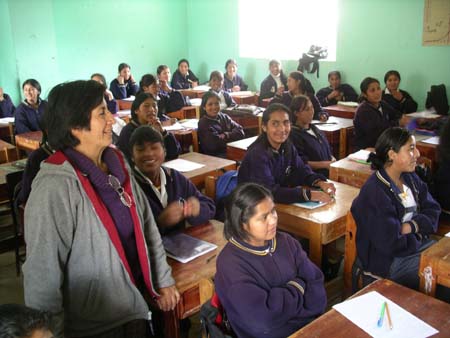 Before lunch, we stopped in the public high school and had a wonderful time visiting with an 8th grade class of girls. We have found that no matter how many school visits we do, each one is unique and filled with unexpected events. This was no different.
After initial introductions, the girls eagerly began asking us questions. They all giggled when David introduced himself and they realized he was their age. They asked about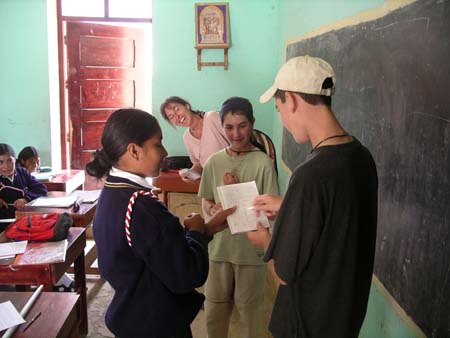 what David studies in school, and then cleverly decided to ask David to solve a math problem. One girl tried to challenge him with a problem from their textbook, but David thought it better to design one on his own. He wrote and solved an algebra problem on the board, and also insisted that Katie do the same. It was all great fun, and the girls all laughed throughout the process.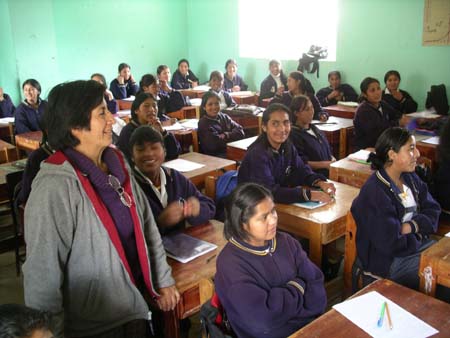 Katie and David were then asked to write their names, address and school names on the board. Their attempts to speak Spanish were rewarded with smiles and of course corrections in their grammar, but we appreciated their efforts especially under the pressure of our audience of 35-40 teenage girls. As if that wasn't enough, they then requested that we all sing for them. We ended up singing Jingle Bells and also the Star Spangled Banner (at their request). We asked them to return the favor, and the girls all sang the anthem of the district of Cusco. We ended our visit by sharing our web site address and getting the school's address so that we could send them postcards from Africa. As we left, the teacher thanked us for taking the time to visit with them, saying that they had never before had the opportunity to meet a family of tourists. Even after we had left the classroom, the girls called, "Ciao, Katie…Goodbye David." This was a great and very fun experience for us all.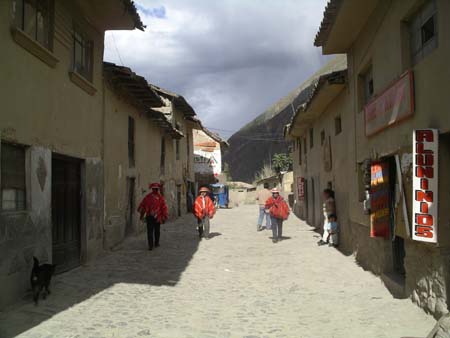 We spent most of the afternoon exploring the streets of Ollantaytambo. Part of the town's beauty comes from the fact that most of the houses were once actual Inca homes, and today retain the Inca architecture including many original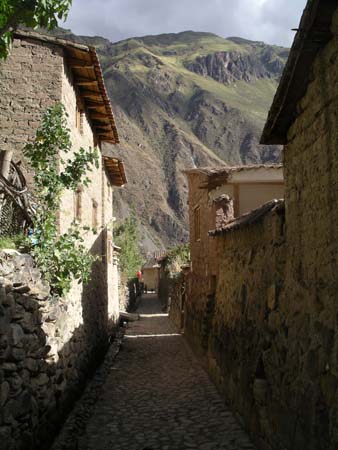 walls, windows and doors. We walked down several narrow stone streets flanked by Inca walls. Flowing along the streets are water channels, originally built by the Incas, and still used today for irrigation. We visited one family in their home, and it was interesting to see the original trapezoidal door and the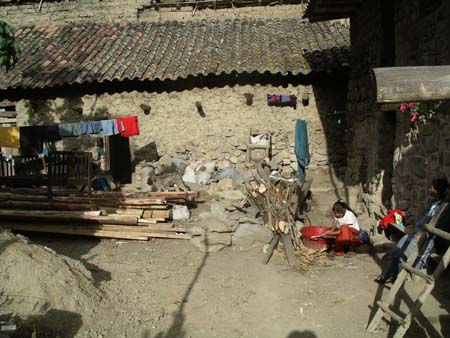 trapezoidal niches in the walls that were once used by the Incas for displaying various idols. This family enjoyed showing off their collection of guinea pigs, and similar to the family we visited in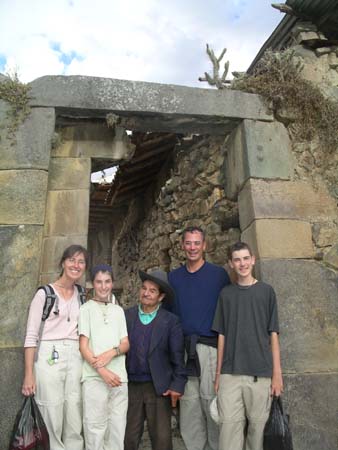 Ecuador they placed grass on the floor to encourage all their "pets" to come out for us to see.
Ollantaytambo has a central square and adjacent market that is filled with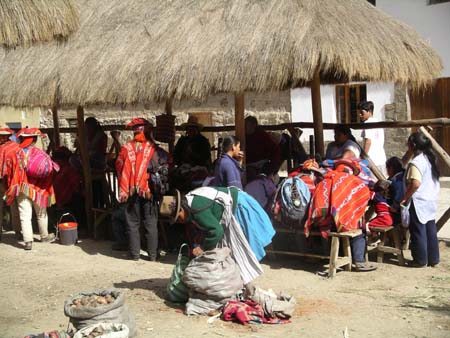 people wearing wonderfully colorful traditional dress. The women wear skirts, blouses and hats primarily in shades of bright red and blue, and many were carrying babies on their backs using woven blankets. We found that the most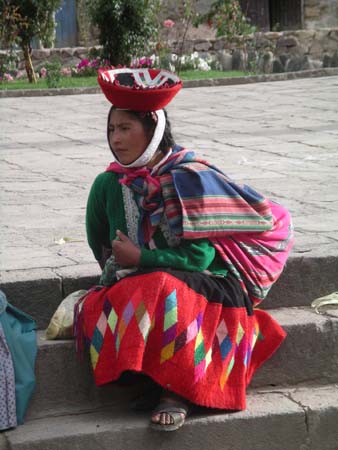 interesting clothes are worn by women from the nearby community of Willoc. They come to Ollantaytambo during the day to work and shop.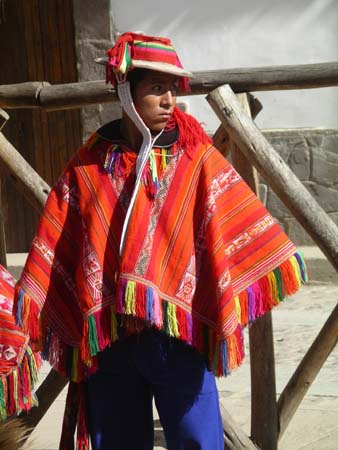 We were surprised to find that the men also wear very colorful traditional dress. In fact, their bright red ponchos and unique hats were extremely striking. We saw groups of these men standing together in the main square, creating a very dramatic display of color. This is the first place in all our travels where we can remember seeing men in such unique traditional dress. We learned that the men wearing red ponchos are also from the community of Willoc.
We took several pictures of the local people, and have found them to be much less shy than the villagers from the highlands of Ecuador. We think we got a few photographs that should be good additions to our future album where we plan to include pictures of people from around the world.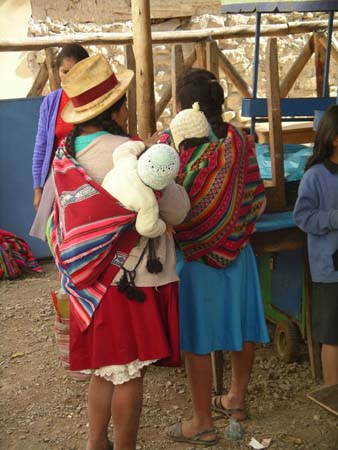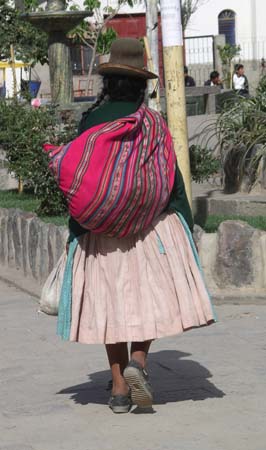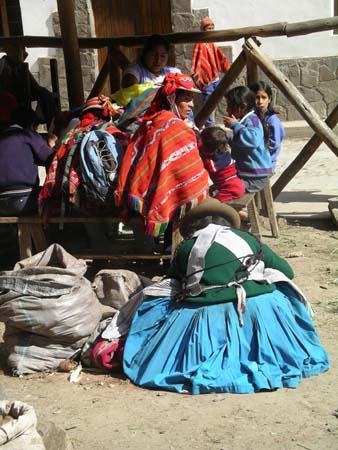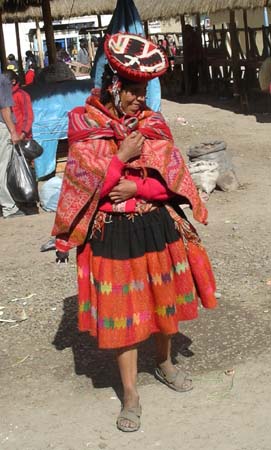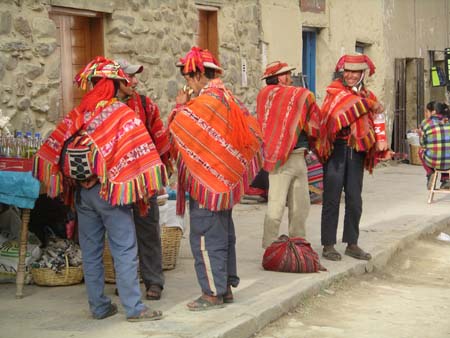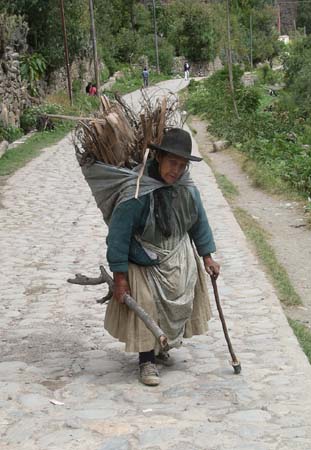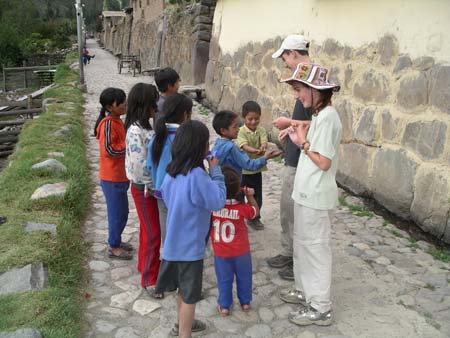 We also spent some time shopping in the local market, and at Hilda's suggestion we purchased several small items to hand out to children that we'd be meeting in the street. We bought marbles for the boys, and combs and hair clips for the girls. David and Katie had a wonderful time handing these out as we walked through the town, and created many smiling faces. Of course once word spread, David and Katie frequently found themselves surrounded by groups of children, all looking to get their share. This was a neat way for David and Katie to interact with local children while providing them something that they really wanted. We plan on taking food and medicine with us later this week as we visit some of the very poor communities that have much more pressing needs than the people who live in Ollantaytambo.
This evening we had dinner at a local home. We were served foods that are traditionally eaten by Peruvians during special celebrations. Our meal consisted of pumpkin soup, baked lamb, stuffed chili peppers and boiled potatoes. We have found that every meal in South America includes soup - salads are rarely served.
Tomorrow we will be traveling to the highlands to hike in the Tastayoq Valley. This hiking will be at an altitude of 4,000 feet, by far the highest we've been. Our hike is partially in preparation for the following day's walk up to Machu Picchu, and should also provide some great scenery.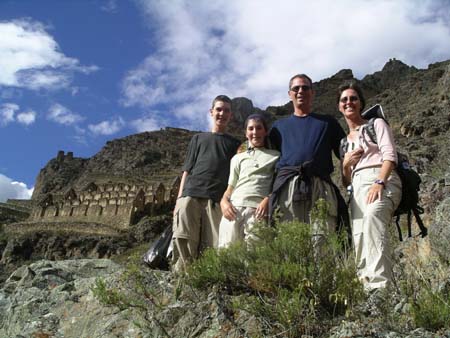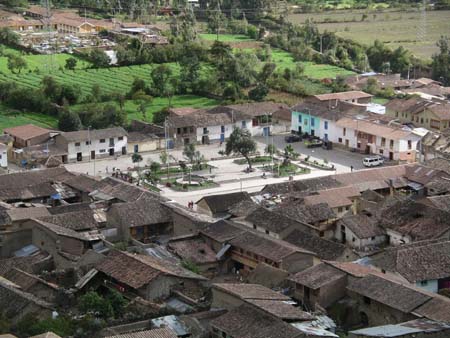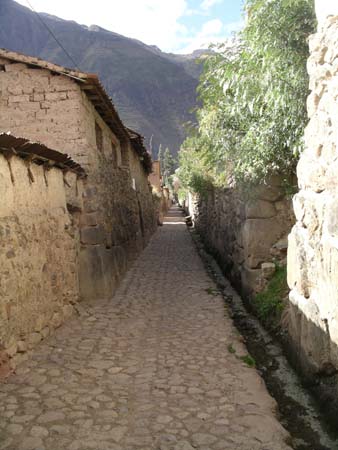 Katie's Kwick Kwacks: My Impressions of Ollantaytambo. Today we had a great day in the Inca city of Ollantaytambo. The town was really neat, and I found it fascinating to walk down streets and pass gutters that were used during Inca times, and are still used today. We had some very interesting and different experiences with the school, people, and market we visited here.
I'll begin by talking about the high school we saw today. I thought this school was very different from any other we've been to. The girls in the classroom we visited were some of the most interactive we have seen-they asked us many questions, told us to solve math problems, and even asked us to sing for them. It was really neat when we walked in the town afterwards and saw many of these students chucking and smiling at us. We had made some new Peruvian friends.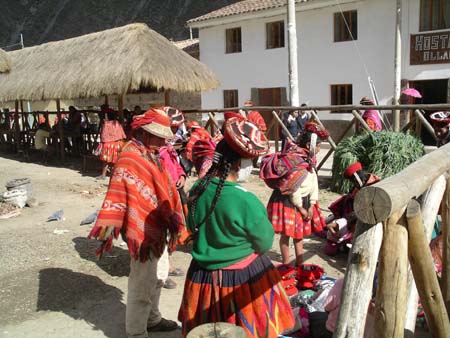 We also found the people in the market here to be very unique. Their costumes were so striking, and we especially noticed the male dress. We have never seen men dressed so traditionally in bright red ponchos and hats. All of the women had long braids, and beautiful blouses and skirts - they seemed to all be carrying a baby on their backs. By visiting the market we were able to see all of these dazzling colors concentrated in one area. It was an amazing experience, and unlike anything we've seen before.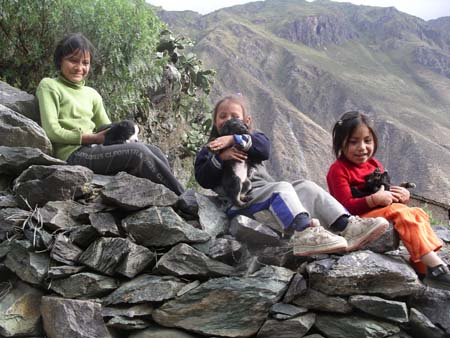 One of the most incredible parts of the day, however, was giving gifts to the children on the streets. We bought some marbles and combs to hand out to the kids, and thought we had more than enough for the next couple of days. When I saw a little girl on the street I would crouch way down and hand her a comb. She would give me a timid but excited look, and said "gracias." They had the most adorable and gracious little smiles on their faces. They would then run off and show their friends, who would chuckle and then tentatively walk over to me. The cycle went on - the word was out. Before we knew it, we were out of gifts and had to get more. It's amazing how a simple plastic comb or marble can make someone's day.
All in all, I had a wonderful day today and look forward to having more memorable experiences as we explore Peru.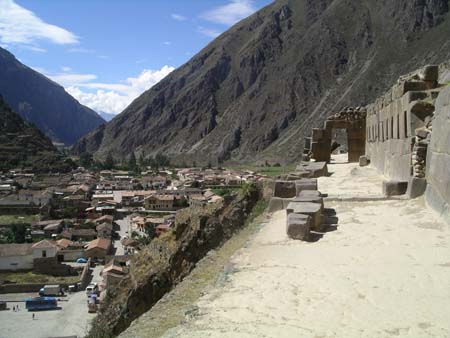 David's Daily Dump: My First Inca Impressions. The only thing I could say to myself as we walked through our first Incan ruins in Pisac and Ollantaytambo was "wow." The ruins are truly unbelievable. Everything that I saw amazed me, but at the same time also puzzled me. I can't describe what's its like looking up at a small Inca neighborhood in the middle of the Andes where we would never dream of building something. These ruins are full of mysteries and wonders, and are marvelous.
I really couldn't believe my eyes as we walked through the Andes headed toward the amazing Incan ruins. I never expected it to be so cool! The things that I liked most about the ruins were the walls which were made up of huge rocks that fit in perfectly with all the other stones. It's difficult to slip a piece of paper in between the gaps…actually there aren't really any gaps at all! I can't imagine how the Incas managed to build these walls.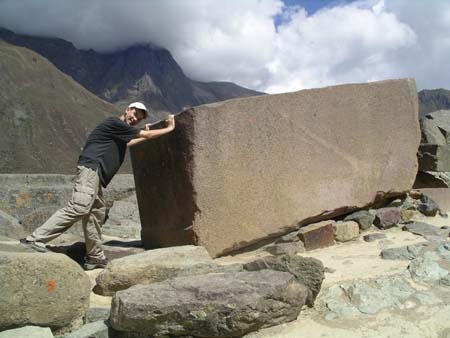 Most of the rocks weigh over one hundred tons, and the Incas didn't have the wheel! How did they move the rocks? How did they lift them and fit them in perfectly with the other stones? How did they carve the rocks? We learned that it took over two hundred people to move a single rock and fit it into place! We also were told that the Incas built ramps and used levers to lift the gargantuan rocks. Most of the theories are complicated and difficult to explain, but we got the basic idea.
The walls were not the only thing I liked. The scenery was remarkable and the water fountains were awesome!
I can't wait to explore more ruins and I am especially looking forward to Machu Picchu!