Thursday, May 6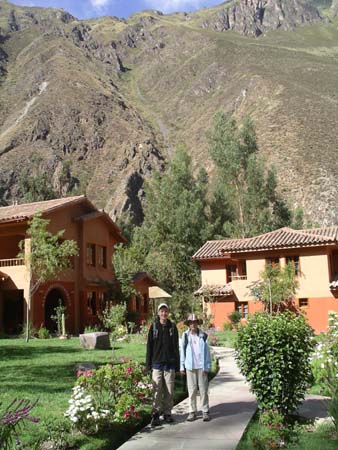 Steve: Today was supposed to be primarily a practice hike for tomorrow's trek to Machu Picchu, but as things turned out, it became much more than that. Although we've had many wonderful experiences meeting local people in their homes and villages, today's encounters were some of our best yet and will certainly become some of our fondest memories.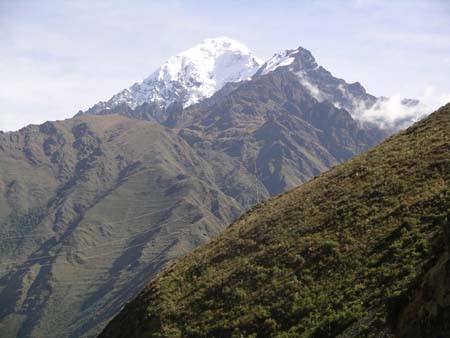 We began with a drive that took us through the Sacred Valley, with our final destination being a place called Malaga Pass at an altitude of 13,900 feet (right at the snow line). This is much higher than Machu Picchu, and our hike today was designed to help prepare us for the 6-7 hours we'll spend walking tomorrow on the Inca Trail. We heard that yesterday the weather at Malaga was terrible with lots of cold snow and wind, but we could quickly see that today the snow-capped mountains were clear and spectacular against a deep blue sky.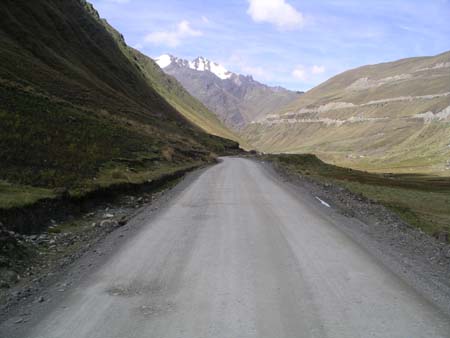 In addition to the supplies we needed for today's hike, we also brought several small gifts to hand out to people that we hoped to encounter along the way. Hilda knew exactly what items we could bring that would be most appreciated by the locals. These included bread, coca leaves (chewed primarily by farmers) and matches, plus marbles and combs for the children.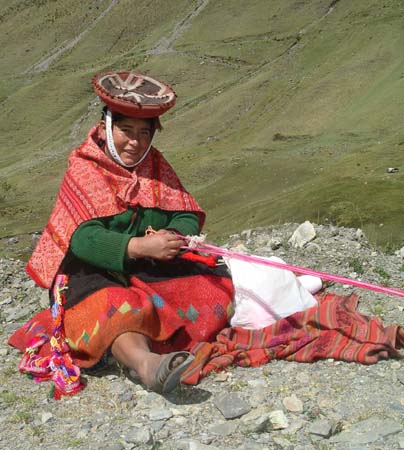 We drove up a very windy gravel road for over an hour, and arrived at the small community of Tastayoc. We had seen several Quichuans from Tastayoc yesterday in Ollantaytambo, greatly admiring their colorful dress. We were very much looking forward to seeing and interacting with these same people in their homes and fields.
We first stopped to visit a woman who was sitting on the side of the road, weaving while at the same time keeping watch on her cattle. She happily accepted some bread and coca leaves, and we again couldn't help but admire the colorful clothing that the people wear. We were happy to take a nice picture of her - this would be the first of many similar photographs that we would end up taking today.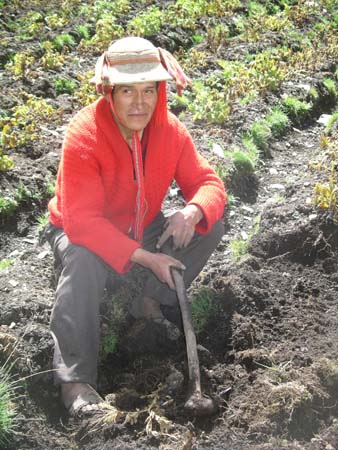 Next we passed a lone man digging up potatoes along a hillside. He was using a "lampa", which is a tool that was originally designed by the Incas. His field was huge, and it was hard to imagine the amount of work involved with plowing, planting and harvesting these potatoes. We offered to help, and the man gladly accepted. As he pulled up the plants, it was our job to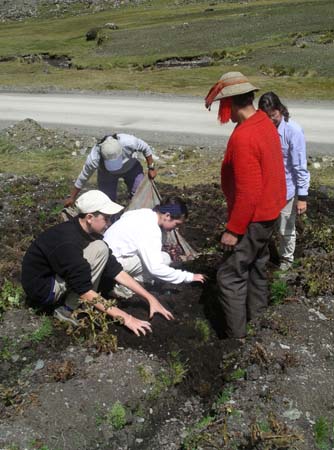 retrieve and stack the potatoes.
Potatoes are the only crop that will grow at these altitudes, and this is the primary source of food for the Quichuans. They plant in September and harvest in May. The people must grow a sufficient amount to last as food for the entire year, plus enough to trade in Ollantaytambo for other required foods and supplies. There are actually over 300 varieties of potatoes that are grown in Peru.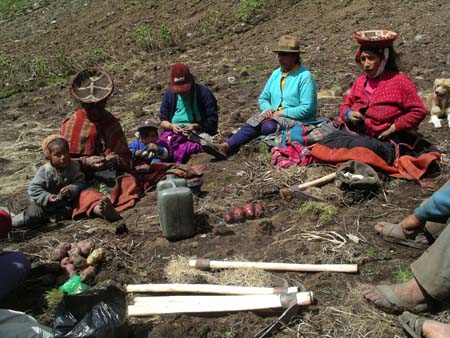 We drove for a few more minutes before stopping at a home where a young girl was standing with a baby strapped to her back. Hilda asked if we could visit, and we were quickly invited in. We were greeted by a large family sitting outside in a circle on the ground. In the middle of the group we saw an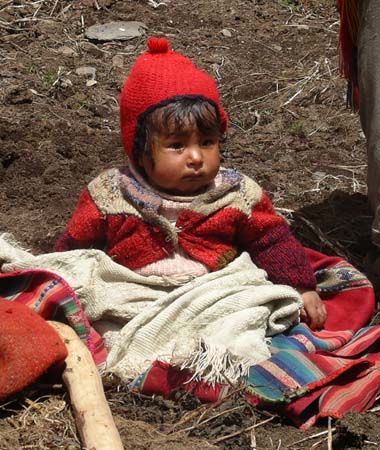 arrangement of four large potatoes plus several lampas (the tools used to harvest the potatoes). What we quickly learned was that we had arrived just as the family was conducting a special ceremony, called "Tinkuy", that happens once each year during the potato harvest. We were thrilled to be invited to sit down and participate in the ceremony which is intended to give thanks to mother earth for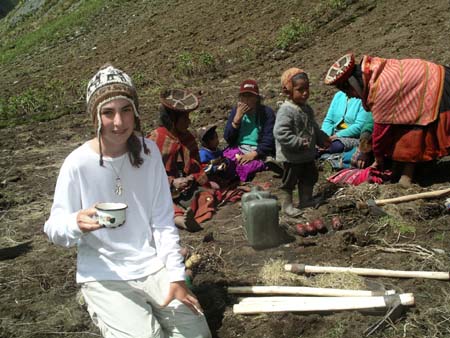 having produced this year's crop. We watched as each family member poured chicha (the Quichuan brew that's made from fermented corn) over the potatoes and on the ground before taking a drink. Soon, we were invited to do the sam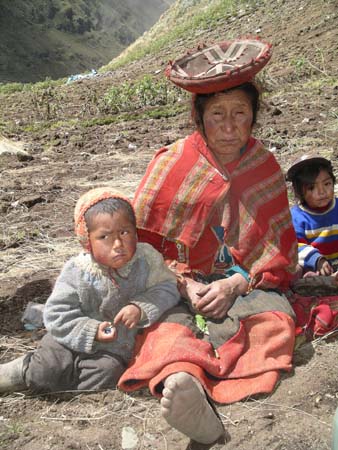 e, and we took turns pouring the chicha and taking small drinks for ourselves. Hilda told us that she had never actually participated in one of these ceremonies, so we felt very lucky.
We then offered to help in the field - an offer that again was quickly accepted. Our job here was to sort through pile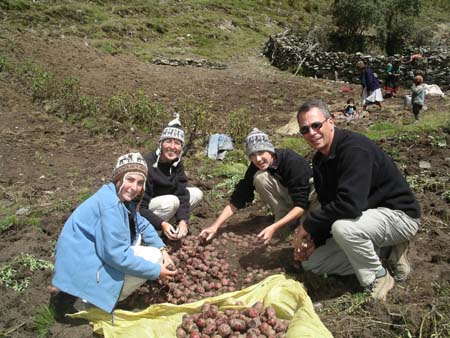 s of potatoes that had already been dug up, separating the good from the bad and then carrying the good potatoes to a large pile near the house. Although we only worked for 20-30 minutes, we were made to feel like we were making a real contribu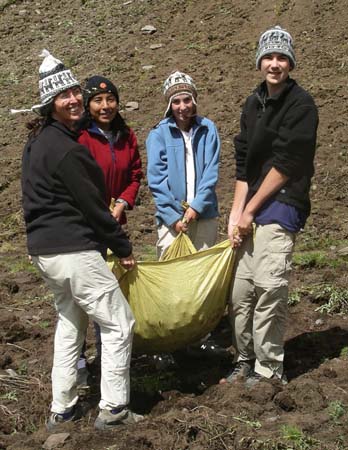 tion to this family. Before we knew it, we had been asked to come inside the house to enjoy a lunch of boiled fresh potatoes. We couldn't refuse…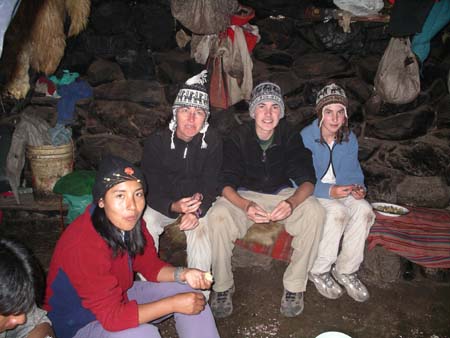 We have visited many village homes throughout Asia and South America, but had never actually participated in a meal. We have been invited several times to eat, but have always been concerned about the safety of the food. However, this was a situation where we really wanted to continue interacting with the family, and boiled potatoes seemed like a safe food to eat. So we accepted and went inside the home.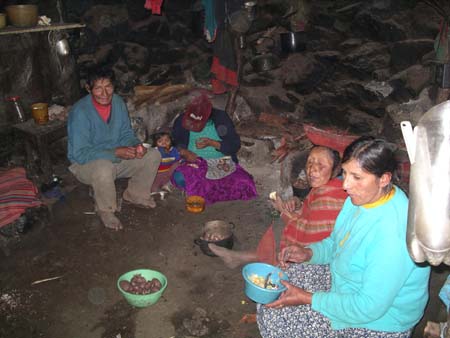 We found ourselves sitting in the dark house (no windows or ventilation), complete with the ever-present guinea pigs that scurry around on the dirt floor, eating and engaged in conversation with the family. We learned that the older woman is the owner of the home, and that she lives here with a son, one of her daughters, her son-in-law, and two grandchildren. Several other relatives had also come from their homes in the jungle to help with the potato harvest. We heard about some of the challenges they face, including access to medical care and also keeping their animals healthy. The family told us that this was the first time they had ever met anyone from the United States.
Although we have had many unique encounters during our travels, we couldn't help but be amazed at the fact that we were actually sitting in this home, eating potatoes and talking to these people. Their lives are very different from our own, yet they are so similar to us in many ways. Just as we have observed in numerous other places, these people seem happy with their lives despite their meager physical possessions, obviously deriving satisfaction from their families and their work.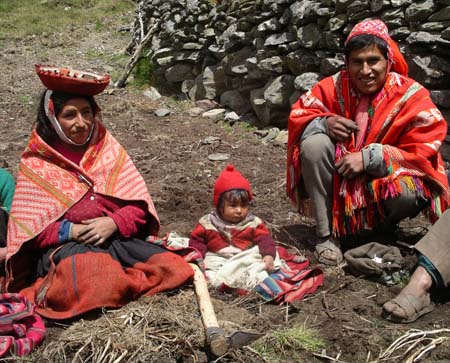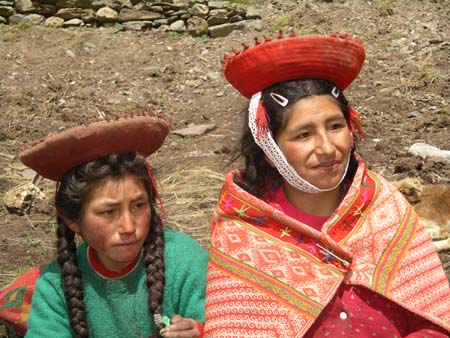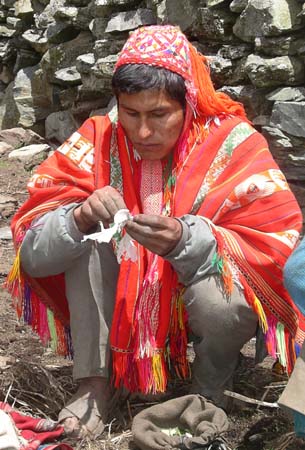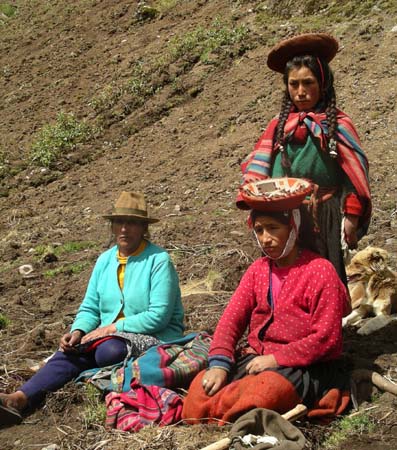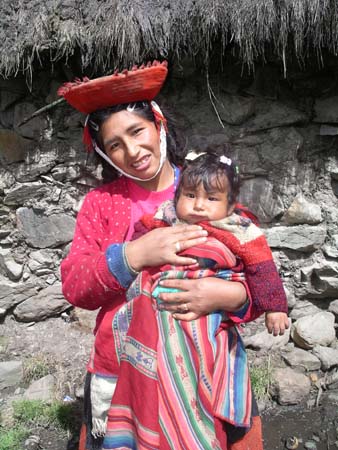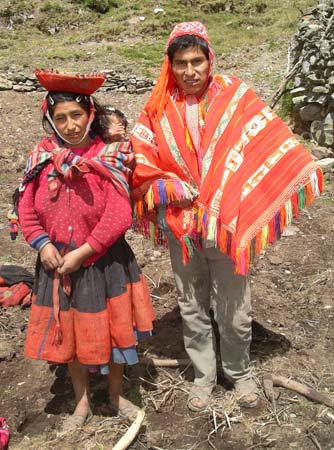 After spending well over an hour with the family, we took some group pictures and exchanged goodbyes. We felt very good about making contributions to these people today, in the form of gifts, help in the field, and finally a monetary donation that we hope will help them purchase some of the medicines that they say they need. This was a great experience for us all, and one that we'll remember.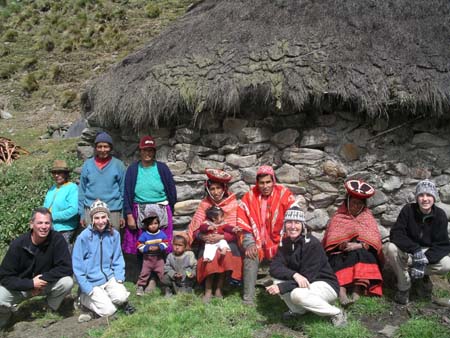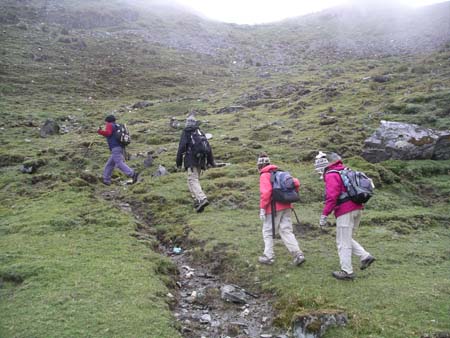 We completed our drive up to Malaga Pass, and began our hike down through the valley. Beginning at 13,900 feet, our plan was to walk for 2 ½ hours down to an altitude of approximately 13,000 feet. Most of the hike was downhill, but we intentionally made some uphill detours to continue getting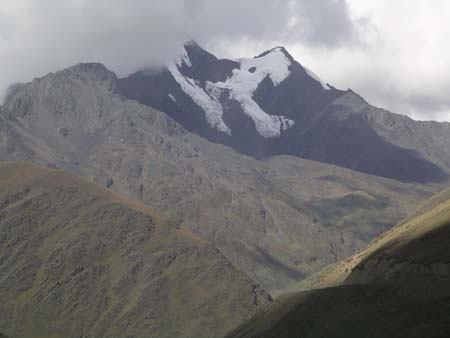 used to the altitude. Fortunately, none of us had any altitude problems today (other than rapidly becoming totally winded each time we climbed). The start of our hike was actually on the Inca Trail, and we tried to imagine what the trail was like in the days of the Incas.
Our hike afforded great views of snow-capped mountains, a pair of glaciers and huge green valleys. We initially descended through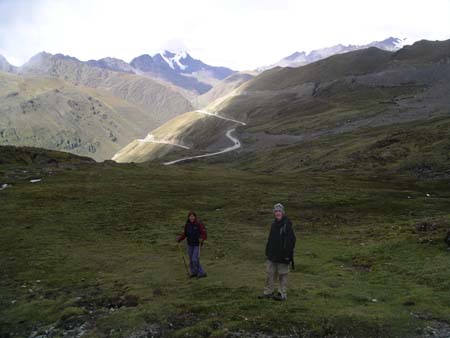 a series of fast-moving clouds, and it really felt like we were walking high up in the sky. After about an hour, we reached the main part of the valley, and began to see many of the small homes that make up the Tastayoc community. As we walked, we stopped inside several of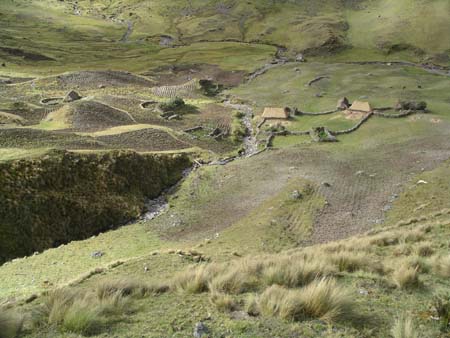 these homes, handing out bread and coca leaves and talking to the people. Everyone here is amazingly friendly and welcoming, and we were always greeted with smiles and handshakes. The people are also very willing to be photographed, and we loved taking colorful pictures of many of the Quichuans that we met today.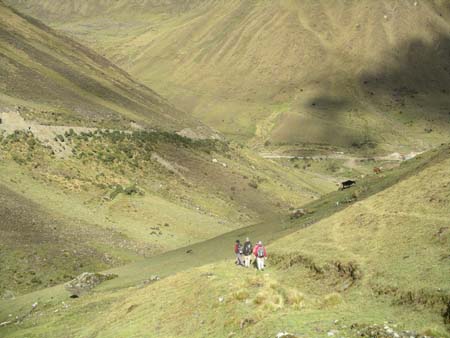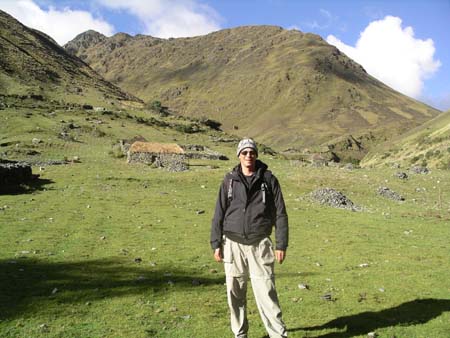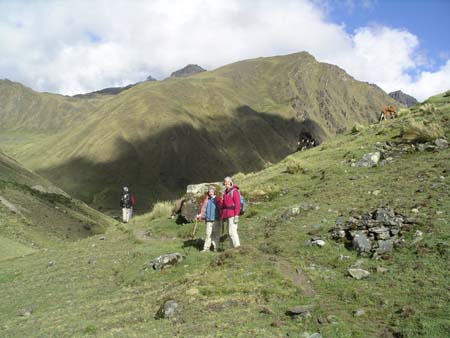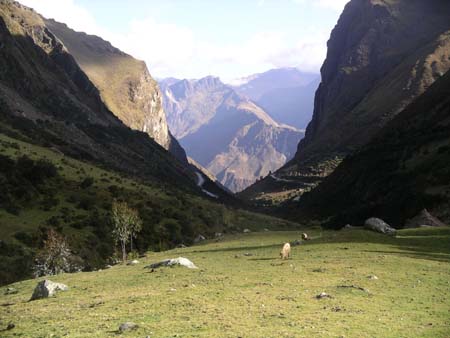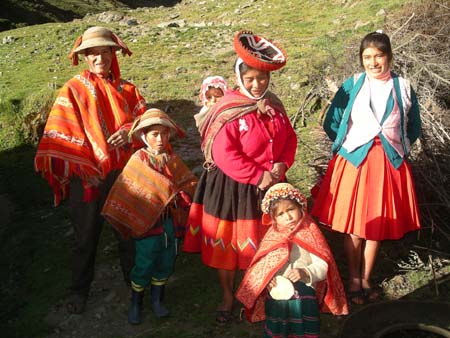 The final house that we visited ended up being the home of the man we had met digging potatoes early this morning. He told us that his wife and daughter had been waiting for a bus for two days to take them to Ollantaytambo where they would sell a large bushel of potatoes. When asked if we would be willing to take them to town, we quickly agreed. His wife had a young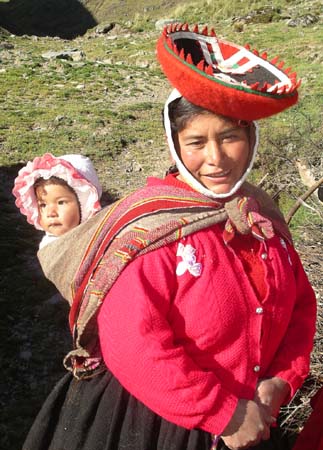 baby that she took with her, and we enjoyed talking with the two women as we drove back. Along the way home, we handed out our remaining bread to groups of construction workers all involved with widening the road that leads to Tastayoc and on to Peru's jungle. We made several new friends and created many smiling faces!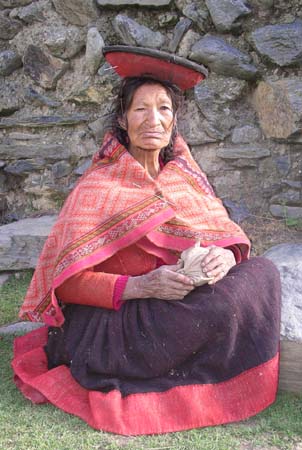 Much of our success today stems directly from our guide Hilda and her amazing ability to immediately relate to anyone she meets. She has a warm and extremely engaging personality, and it's been wonderful to see how she interacts with the people we encounter. We're also thankful that Hilda has encouraged us to bring needed gifts to the people in the communities. It has felt very good to make contributions to the people, and to see the appreciation in their faces. David commented during our drive home that today really taught him how wonderful it can be to give, and not only receive. This made us feel very good.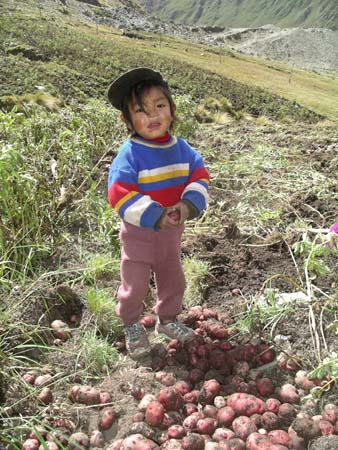 We arrived back in Ollantaytambo tired, but very happy about today's events. We're also happy to have completed the hike with no problems with the altitude. Tomorrow is a day that we have been looking forward to ever since we planned our trip. We'll be taking a train from Ollantaytambo to "kilometer 104" on the Inca trail, and then will hike for 6-7 hours before arriving at Machu Picchu late in the afternoon. We hope to see the sunset over Machu Picchu tomorrow evening.