Tuesday, May 4
Steve and Paula: We completed another one of our multi-day travel marathons today (starting back with our flight out of Kapawi on Monday) with a flight from Lima to Cusco, followed by a drive to Ollantaytambo in Peru's Sacred Valley. We stopped to explore the spectacular scenery and ruins at Pisac, which made for a fantastic day and certainly made all the travel seem very worthwhile.
We only spent the night in Lima but that was enough to get an initial sense of the city. Lima is the capital of Peru and home to 8 million residents (one third of the entire population of Peru live in Lima). We were surprised to discover that the population is extremely diverse with many Chinese and Japanese residents, while a large number of Indians have recently moved here from the highlands and live in surrounding shantytowns. This coastal city is usually cloudy or hemmed in by fog because the ocean temperature is around 50 degrees all year long and the air temperature is often in the 80s. Our route to and from the airport took us along a sandy coastline flanked by cliffs of the city. This route also exposed us to the city's traffic and aggressive drivers. We were told that traffic lights in Lima are rarely obeyed.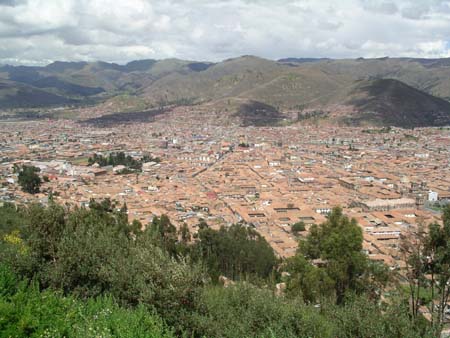 The short flight to Cusco took us back into the Andes up to an altitude of 3,326 meters. This is the highest we've been so far. Looking outside the window of our plane, we began to see some of the striking mountains that we have seen so many times in pictures of Peru. They appeared to be much more rugged and dramatic than the mountains in Ecuador - later in the day we would find that this initial impression was accurate.
Cusco was the political capital of the Inca Empire, and is considered to be the archaeological center of the Americas. Today it is home to over 320,000 people and is actually the oldest continuously inhabited city on the continent. We actually plan on spending several days here, but not before visiting Peru's Sacred Valley and making a much-anticipated trip to Machu Picchu. So after meeting our guide Hilda and taking care of some administrative items in Cusco, we began driving north toward Pisac and Ollantaytambo. Leaving Cusco and climbing to a vantage point over Cusco Valley, we had a great view looking down on this very beautiful city. We'll look forward to spending much more time here next week.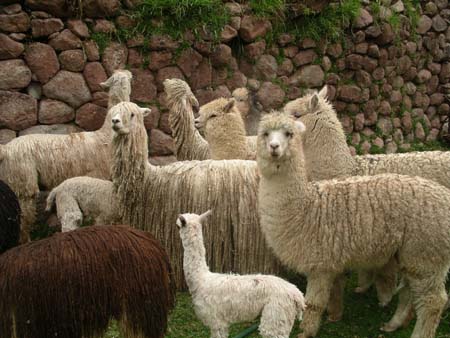 Our drive quickly put us in the middle of some spectacular mountain scenery, with a few snow-capped peaks visible in the distance. We drove through a pass that separates Cusco Valley from the Sacred Valley, with great views of several jagged mountain ranges. Along the way, we stopped at a home whose family has opened up a small business selling crafts and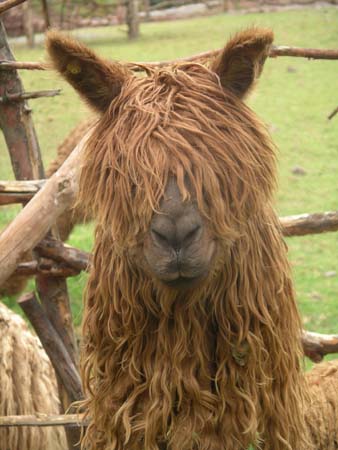 maintaining several llamas, alpacas, and vicunas. Hilda specifically wanted to show us the vicunas, which are actually very rare animals (they still live in the wild near Lake Titicaca) and are much sought after for their special wool. It was fun to see the animals up close,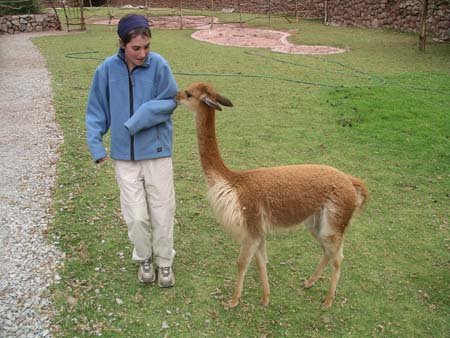 and we especially liked the faces of the hairy alpacas and llamas.
Our other reason for stopping here was for a picnic lunch - the family allows visitors to eat in their yard, and we enjoyed a great lunch and the opportunity to start getting to know Hilda. The drive to Pisac took us through the pass on windy mountain roads, and eventually to a point where we were overlooking the Sacred Valley. Interestingly, this valley got its name not for religious reasons, but because historically its rich soil has produced the best corn. Pisac actually consists of a Spanish colonial area in the valley, surrounded by the ruins of ancient Inca civilizations in the mountains above. It is most famous for the impressive agricultural terraces that the Incas built here. As we looked out over the town of Pisac, the terraces were visible in the distance along the mountainsides. This was our primary destination for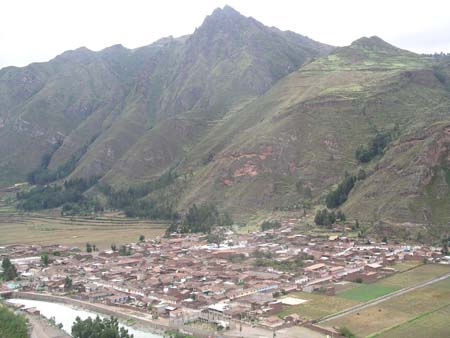 the day.
As we drove closer to the terraces, they became more and more stunning. We began to get a sense for their scale and for the immense amount of effort that must have been involved in their construction. Carved i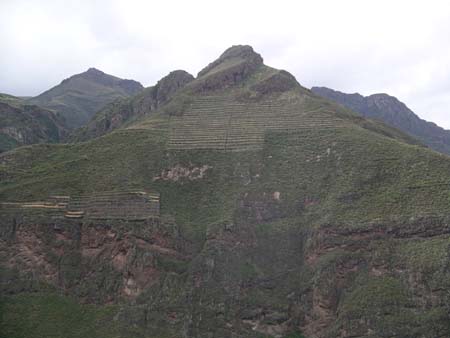 nto the sides of the mountain and built with individual stones cut from nearby quarries, these terraces were used for agriculture, to prevent erosion and probably to provide stabilization for buildings to protect against the frequent earthquakes that occur in this region. Sitting in the mountains and scattered among the terraces are the ruins of small Inca neighborhoods. It is believed that the Incas preferred to live in the mountains, saving the flat and much more livable land in the valleys for farming.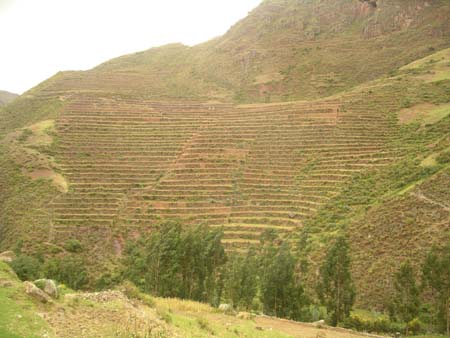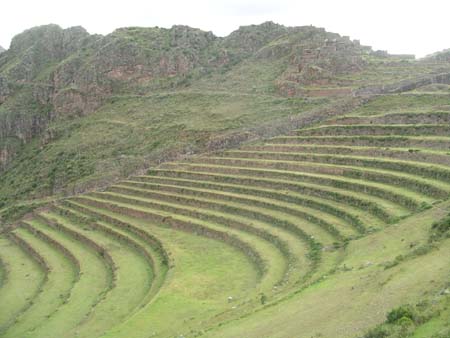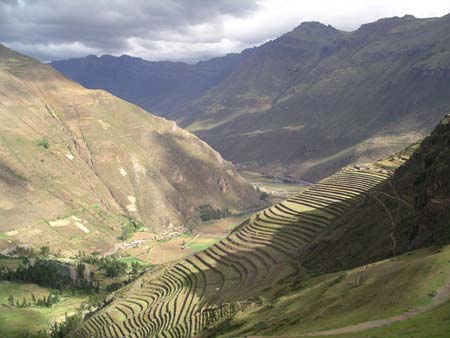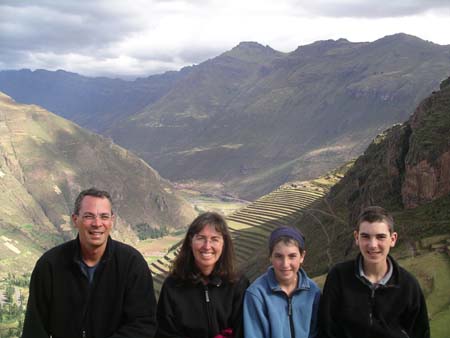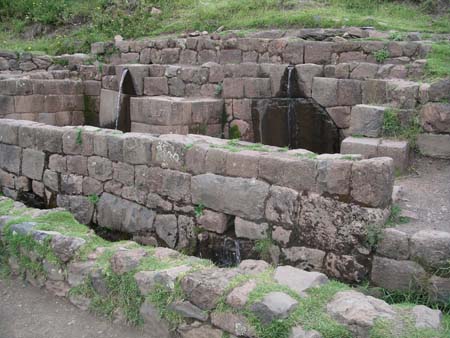 After entering the archaeological site and admiring the magnificent views, we began a walk that allowed us to explore the ruins and begin learning some of what is known about the life of the Incas. We first stopped at a series of fountains that are part of an elaborate irrigation system that the Incas designed - these fountains are still working today as evidenced by the ice-cold water that we saw running through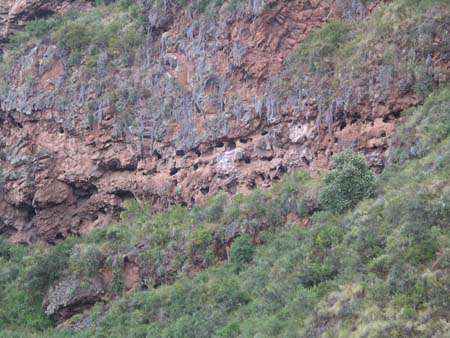 a series of channels. We then viewed a large group of Inca tombs - essentially open holes cut into the sides of the mountains. The Incas mummified their dead and placed them in these open tombs. The area we saw contains over 2,000 of these tombs, but unfortunately there is nothing left inside. Over the years, everything was taken by the Spanish and other people who settled in this area.
We walked along the top of the terraces, getting an even better appreciation for their size and scale, and then reached a series of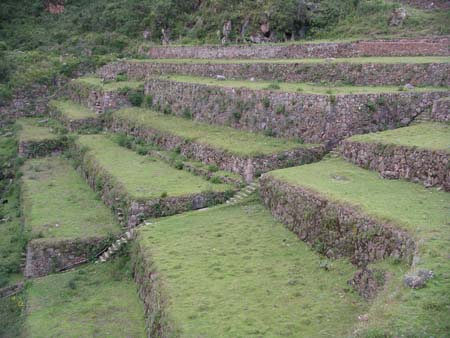 walls that gave us our first opportunity to view the famous stonework of the Incas. The first walls we saw were part of a passage leading to a religious area, and were built in what's called "pillow style". The stones were cut with rounded faces, creating a very soft and pleasing perspective. The most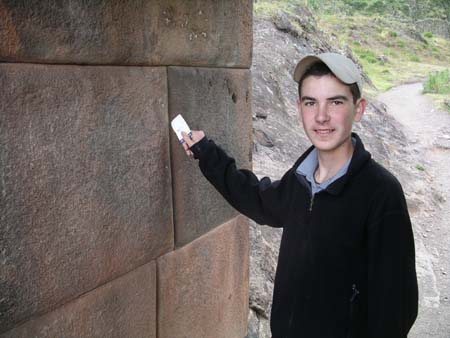 amazing part of the Inca's work is how closely the rocks all fit together, without the use of any mortar. Hilda challenged David to fit a piece of paper between any of the stones - he couldn't do it.
Our walk took us along the side of the mountain on a trail with no railings and a steep drop below. Hilda told us to "walk on the inside", a request that we had no problem following! She asked us if we had any problems with vertigo. I admitted that I'm not the best with heights like this, and she just laughed and told us to wait until Machu Picchu!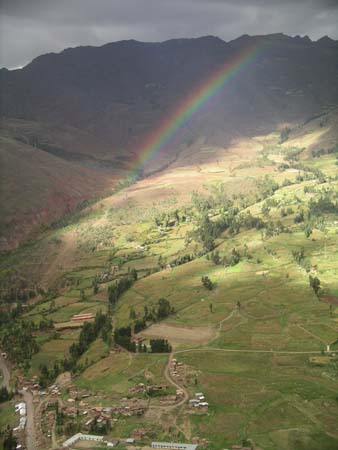 At one point we could see rain in the distance while the sun was still shining on the valley. We hoped for a rainbow, and sure enough one soon appeared. This was a magnificent sight, as we watched the rainbow gradually brighten until we could distinctly make out all seven colors. There were actually two rainbows, with the second one being much fainter. We realized that part of what made the rainbows so unique was the fact that because they extended into the valley below us, we were literally looking down onto them. We're fairly certain that this was our first opportunity to ever look down toward a rainbow…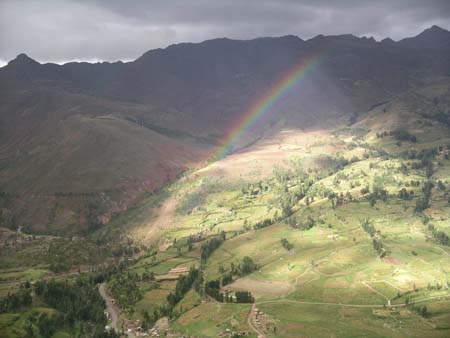 We walked through a short tunnel that the Incas had carved into the mountain, and arrived at a point with a wonderful view all across the valley and down onto another some additional ruins that were part of an area called "Intiwatana" (sundial). This is a religious complex that was the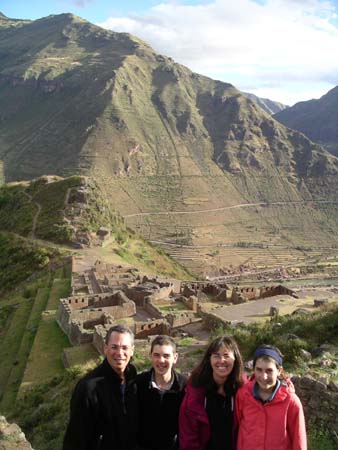 foundation of the Inca community. From here we stopped to simply admire the setting and take several pictures. We found the scene here to be unbelievably striking, and very hard to capture either with words or photographs. The combination of the rugged mountain backdrops, the sweeping views of the valley and towns below, and th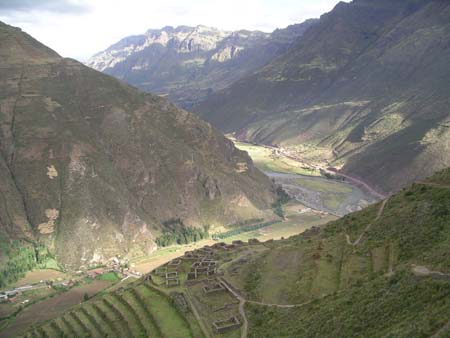 e scattered Inca is really incredible. We know that this is just the start…
The ruins at Intiwatana are fascinating. They were built in the Inca "classic style", with stones that were carved perfectly flat into a variety of rectangular and trapezoidal shapes. The joints are all perfect, and amazingly show very few signs of damage from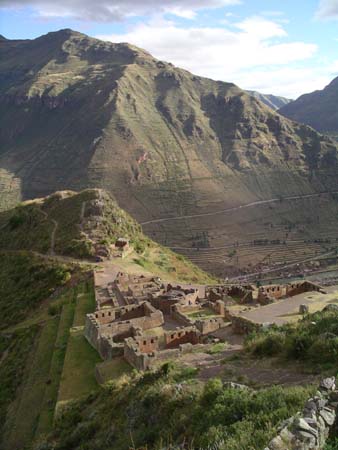 the numerous (and often strong) earthquakes that have occurred here. The buildings themselves are actually perfect trapezoids, and also often contain trapezoidal doors. It is believed that the Incas saved this style of construction for their most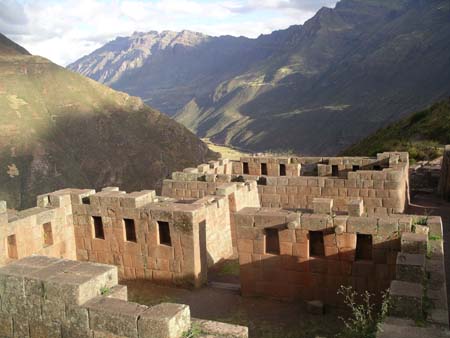 important buildings, yet it is unclear why some of the structures on the site were built in the easier "perca" style (perhaps these structures were being rebuilt over time in the classic style).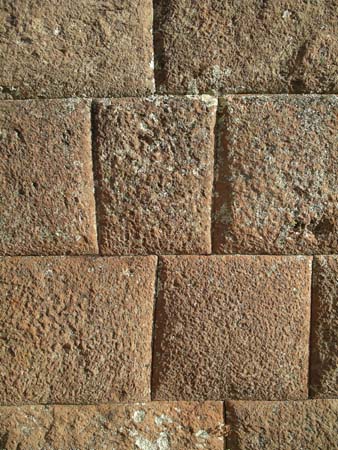 It was fascinating to examine the shapes of the stones that were used here. In some areas the Incas simply used rectangular shapes that were all carefully fitted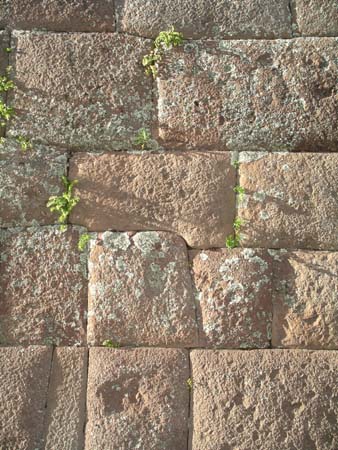 together. However in certain areas and for no apparent reason, an oblong stone was used, requiring much more intricate work. Some theories suggest that this was because of writing that appeared on the walls, or perhaps this had some structural purpose.
We lingered at Pisac until late in the afternoon, when it was time to make the drive to Ollantaytambo. Our drive took us by several small villages, just the type that we love to stop at and explore. In one of these villages, the main street was crowded with people obviously involved with some sort of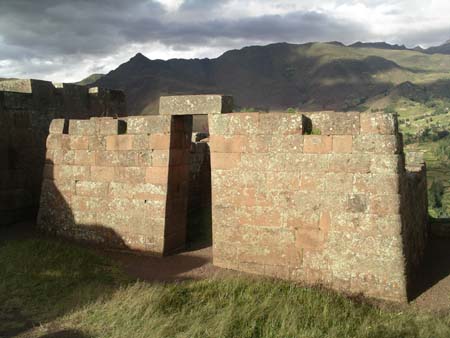 celebration, so we stopped to see what was happening. As it turns out, today was a holiday called "Day of the Cross" (Hilda told us that there are a huge number of holidays celebrated in Peru). We saw people dressed in elaborate and colorful costumes, some representing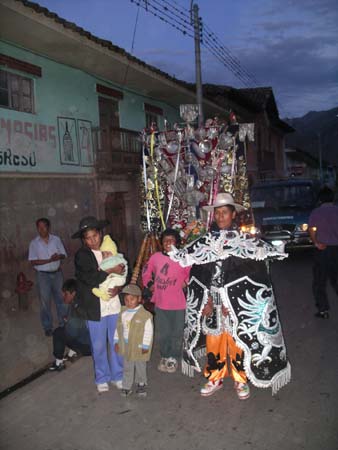 figures of monkeys and lions that represent elements of nature that are worshipped. A cross had been taken down from a chapel perched high on a neighboring cliff, and was decorated in silver. People were drinking and socializing, and eventually began dancing in the street as a band began to play. We stayed to observe for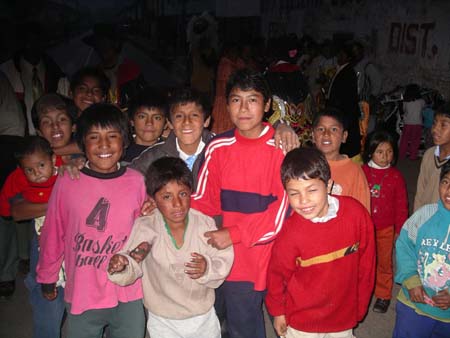 a while, but left as darkness arrived (it becomes dark very early here, at around 5:45PM).
While we ran out of time to explore any more of the villages that we passed today, we'll certainly visit some of these over the next few days. There were several interesting things we passed as our drive continued, including a car that was decorated with flowers. Hilda told us that anytime someone buys a car (new or used), that the vehicle is decorated and taken to a church to be blessed by the priest, complete with a sort of "mini mass." This is done to help ensure safe passage for all those who ride in the car.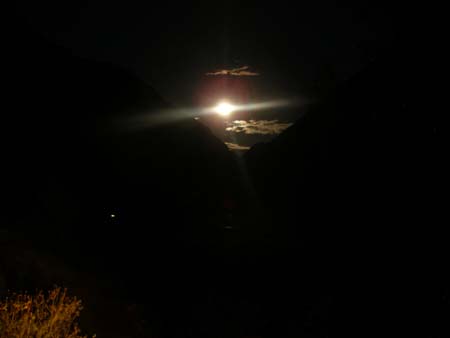 As we got close to Ollantaytambo, we were treated to an absolutely beautiful full moon that literally lit up the sky and clouds. At one point it was situated perfectly between two mountains, a really spectacular sight. We tried to take pictures, but our little camera was no match for the job.
Tomorrow we have a full day planned exploring the town of Ollantaytambo and its Inca ruins.