Tuesday, September 9
Steve: We have settled in nicely into our new surroundings, and we all have a very different feeling about this part of our trip. It feels like we've just begun a three week vacation. We're surrounded by fantastic scenery, the food is wonderful, and the best thing is that we have an extended period of time to enjoy it all. Our location in Ponce a Bozzone is perfect, and we know that we'll spend several days enjoying the immediate area - there are several trails for walking and biking, and the view from where we're staying will be perfect for Katie to catch up on her painting. There are also several places we plan to visit using Ponce a Bozzone as a hub - our list includes larger cities such as Siena, Florence and Venice, and several smaller towns such as Montepulciano,Gaiole, Radda and Monteriggioni. We made an initial visit to Siena today, but anticipate getting more time to spend in all of these places. There is no shortage of things we want to do and accomplish while we're here! We keep telling ourselves that our little "vacation" is extremely well deserved.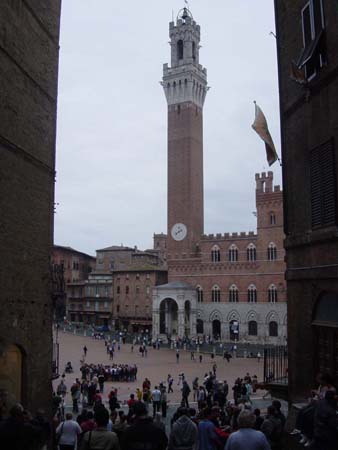 We spent our first day getting settled and acclimated. Today started off cloudy, and after relaxing in the morning we drove to Siena for an initial visit and to shop for groceries. Our plan was to make a quick trip in and out, but we quickly realized that it wouldn't be that simple. Although Siena's only 7 km away, the driving there is very confusing. The roads all seem to go in big concentric circles around the center of Siena, and it's very hard to keep a sense of direction. We had decided to leave our laptop/GPS combination at home, thinking that the drive would be short and easy - we were wrong… We'll want to drive to Siena somewhat frequently (primarily for restaurants), and assume that with experience it will get easier to find our way.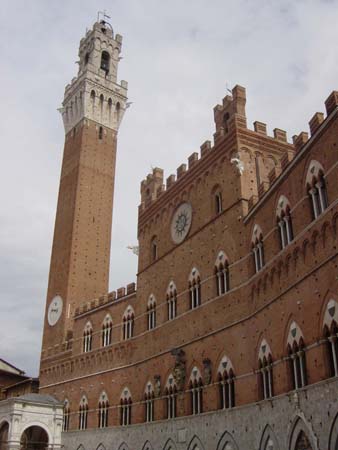 We did manage to park near the Piazza del Campo in the center of Siena, and spent some time walking through the city and its narrow winding streets. The Piazza del Campo is very beautiful, and is exactly as it appears in all the pictures that we've seen. We also walked by Siena's Duomo, and admired its spectacular Gothic architecture and its white, green and red marble. None of us were in a sightseeing mood today, so we decided not to go into any of the buildings - we'll save that for a full-day when we have an opportunity to really explore Siena.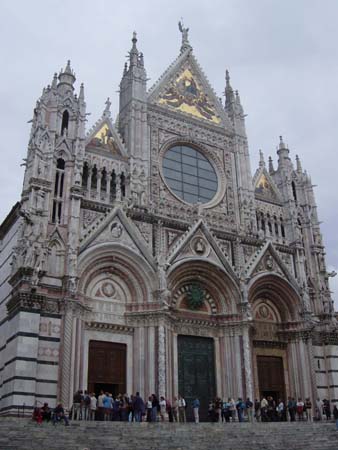 We decided to make lunch the big meal of our day, and ate at Ristorante Pizzeria Spadaforte right off of Plazza del Campo. We all enjoyed picci, fresh pasta that's like a fat spaghetti. This is one of Tuscany's classic foods (we had picci with pesto on our first night here), and is really wonderful. As an appetizer, we shared two margherita pizzas and a caprese salad.
After lunch we drove to COOP, the only large grocery store in the area. It was fun to see all the differences between the shopping here and what we're used to at home. The parking is all in an underground garage, where the grocery carts are available (with a 1 Euro deposit). Then there are special escalators which are used to get the carts up to the store (the wheels have automatic mechanisms that lock onto the escalator).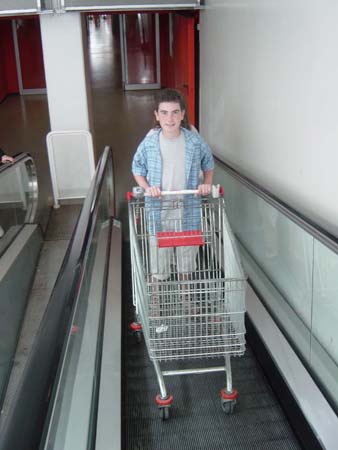 We started in the deli area which was fantastic, with huge slabs of prosciutto hanging from the ceiling. There was also a great variety of cheeses, including probably 10 varieties of fresh mozzarella. We couldn't pass up either the proscuitto or the mozzarella - the only trick is trying to explain how much we wanted (hand signals ended up working out fine). As we walked through the aisles, it was easy to see the difference between the eating habits of Italians vs. Americans. There were hardly any dry cereals available (breakfast is not a big meal in most of Europe), compared to the long cereal aisles we see at home. There are also very few baking items on the shelves (flour, mixes, etc.) - we know that Italians love their pastries, so we're not sure why these kinds of items weren't for sale. Perhaps they shop for these in smaller stores - we'll have to ask. Most of the milk is the long-life shelf milk - we don't care for it, so we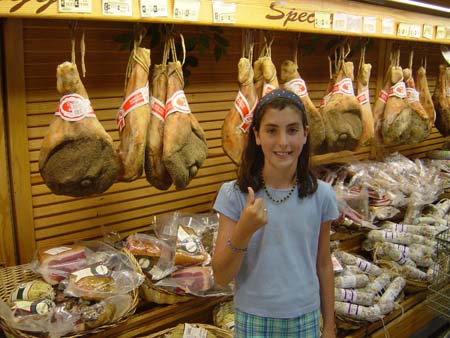 splurged on the fresh variety. Again, there is not much choice available - it's all whole milk. The check-out was similar to what we saw in Prague - it's basically a do-it-yourself deal for the bagging, and no bags are provided! We initially panicked, but then the cashier grudgingly offered to give us some bags (we think we had to pay for them, but weren't sure). She asked us "how many", and we had to laugh trying to figure out the number of bags that would be required for our cart full of groceries.
We got a little lost again on our way home (next time, the GPS is coming with us), but made it back to enjoy the last bit of daylight and the remains of the sunset. We then created a plan for the week, and made ourselves a little dinner of fresh bread, tomatoes, prosciutto, basil and fresh mozzarella - fantastic!
Tomorrow we plan to drive through Chianti and explore several of the small towns in the area.
Distance Walked: 1.54 miles