Monday, September 8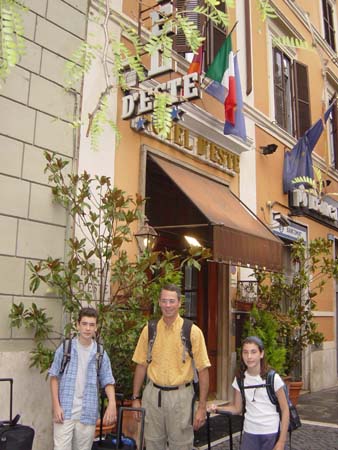 Steve: FINALLY! We've been looking forward to our stay in Tuscany for several weeks - it always just seemed so far away. When we originally planned our itinerary, we had three weeks in Provence early in the schedule, and then another three weeks in Tuscany toward the end. The idea was to space out a couple of extended breaks for ourselves where we could recover from the rigors of the harder travel. However, we realized that it would be hard to enjoy Southern France in July (this is when it's most hot and crowded), so we decided that it just wasn't practical to balance the schedule as we had hoped. This meant that we'd have to wait over two months before having a real opportunity to relax. We made it! Now our reward is three weeks in Tuscany, followed almost immediately by another three weeks in Southern France (our current plan is to stay in Aix en Provence). This has us all very happy.
We rented a car at the Rome train station, and made our way north through the city's notorious traffic in order to catch the A1 expressway toward Florence. The driving was hectic, but we made it out of the city without a problem. The motorcycles are unbelievable, and dart from every direction weaving at will through the cars. We imagine that many people must get injured on their bikes, but we never saw any accidents - amazing…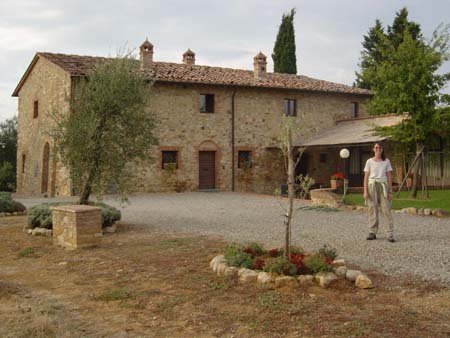 The scenery quickly changed after we left Rome. The countryside is filled with vineyards, olive trees and numerous villages built both in the valleys and up on cliffs. We also saw a number of castles and fortresses perched high on hills. The drive toward Siena took over three hours (an hour longer than it should have due to bad construction traffic), and we arrived at Tenuta di Monaciano late in the afternoon.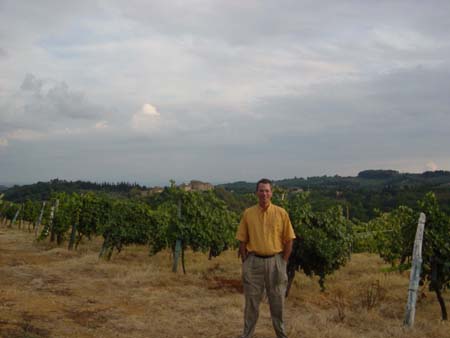 Monaciano is a group of five ancient farmhouses situated on a hilltop with fantastic views of the surrounding Chianti countryside. The scenery is spectacular! We're surrounded by vineyards, olive trees and sweeping views across the hills. It's extremely quiet here - it feels like there's no one else here (although we know that the other farmhouses are all occupied). We're staying in the second floor of one of the converted farmhouses, and have a yard and a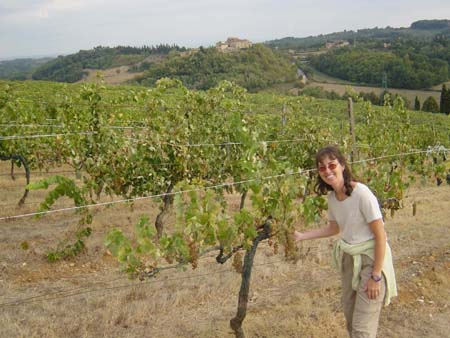 small pool that we share with the other two apartments located here. The property is very large, and Monaciano makes its own wine on site (the grape harvest is just beginning, and we'll be able to take a tour of the vineyards). There are huge bunches of grapes on all the vines, and we helped ourselves to a handful yesterday - they're great! There are several walking trails on the property and mountain bikes available. Before dinner, we walked down a path toward a pretty lake that is owned by Monaciano. David is insisting that we find out whether we can go fishing there.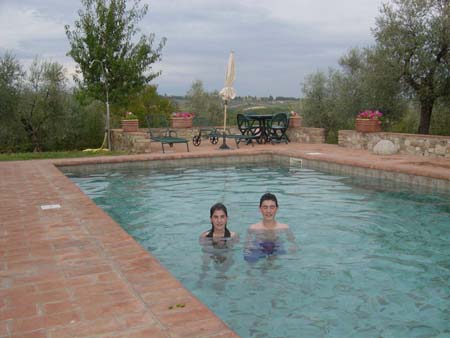 We are right in the heart of the Chianti region, and there are several towns that we're looking forward to exploring. We're only seven kilometers from Siena which will be very convenient for shopping and restaurants. Florence is 45 minutes away, and we also plan on making a trip to Venice (probably by train). We also have a long list of highly recommended restaurants that are all near us. This location should be perfect.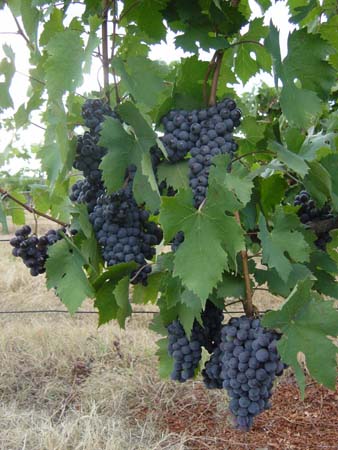 Tonight we had dinner at a restaurant called Vecchia Osteria in the small town of Ponte a Bozzone - it was fantastic. Halfway through our meal, Katie said: "I didn't know food could taste this good!" Of course we had to have our first bottle of local Chianti wine, which was wonderful. David and Katie were thrilled because the waitress simply poured them some wine. They loved it!
This should be a great (and well deserved!) three weeks, and we're really looking forward to spending time exploring this beautiful region and also getting some time to read, write and relax. David and Katie are also going to begin working on the Math and Spanish courses that we've brought with us, and will continue with their reading and writing.
Tomorrow, we have no plans. (that's a good thing)
Distance Walked: 1.45 miles