Wednesday, September 10
Steve: Today marked the beginning of "school" for David and Katie! In addition to the education that we do in conjunction with the places we visit (including writing assignments and specific books that we brought), we also have PC-based tools for Math and Spanish. The objective of these tools is primarily to maintain their existing skills, with some opportunity for new learnings. We had planned to begin the Math and Spanish in September to coincide with when David and Katie would have otherwise been in school, so today was the big day! We've worked out a schedule where they will spend two hours each morning on these activities, prior to us beginning our planned activities.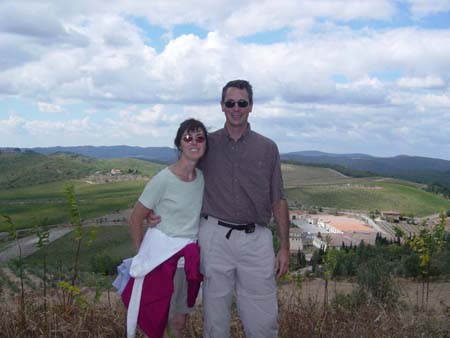 After school and a quick lunch, we set out this afternoon along the 408 (one of the main roads through Chianti). The weather today was perfect, and we had great views along the road of the surrounding countryside and vineyards. It's amazing to see the number of vineyards here. They're everywhere - it's kind of like seeing corn field after corn field driving in Indiana (we still remember our roots!). This is a perfect time of year to get an appreciation of how plentiful and beautiful the grapes are - we really enjoy simply looking at the huge bunches hanging from each of the vines.
Our first stop was at Castelio di Brolio, a huge castle perched high on a hill. The views were great, but unfortunately we arrived during the afternoon siesta (around 2:00), and the castle wasn't going to reopen until 3:00. We walked around the outside of the walls, and decided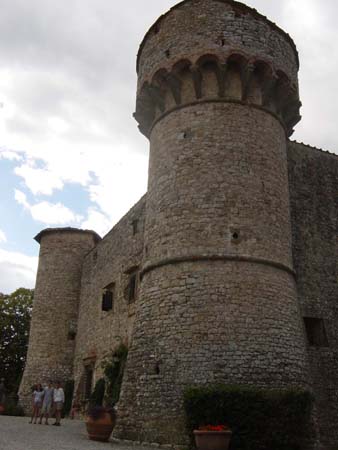 that we'll come back to explore Briolio another day. From there we drove to the Castle Meleto, a small castle that also houses a hotel. The castle wasn't available for viewing, but we did partake in our first wine tasting opportunity here. They make their own wine on site, and we enjoyed tasting three varieties before settling on a bottle of Chianti Classico. Of course, David and Katie participated in the tasting and insisted on weighing in on our selection.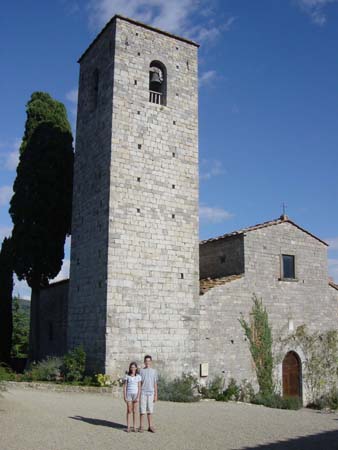 We drove to Gaiole-in-Chianti and Radda-in-Chianti, both very small towns set in the middle of vineyards. We spent time walking through the picturesque streets, and also tasted and bought another two bottles of Chianti at local shops. The towns basically each have one main street with a few shops and restaurants, and that's it. The area around Radda is particularly nice, with great views through a valley filled with vineyards. There are several good hikes through the area, and we decided to take a walk before dinner. The tourist office had suggested a particular route along dirt roads which led through several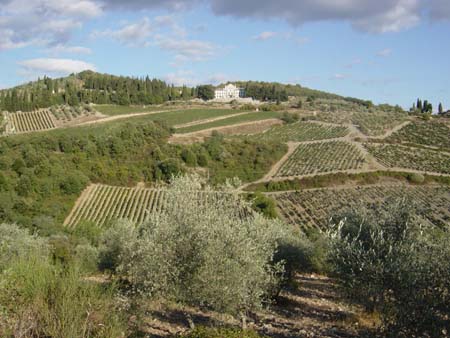 vineyards and olive trees. The weather was perfect, and we watched the sunset over the hills as we walked. Our goal was to work up an appetite for dinner, which we most definitely did - we didn't arrive back in Radda until 8:00, and walked for 3.5 miles. We enjoyed it so much that we've all agreed to do at least one "power walk" each day - otherwise, no dinner!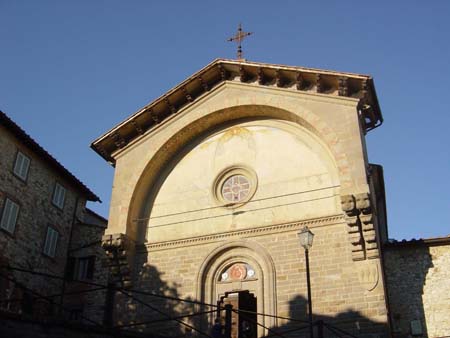 Dinner was a real treat, and a very fun experience. We went to Villa Miranda, just outside of Radda. As we walked into the restaurant, we were greeted by Miranda herself, a charming woman who obviously has run this restaurant for many years. She spoke no English, but quickly made it clear that she'd be taking personal care of us. After we were seated, she came to the table and started speaking rapid Italian to us. There were no menus on the table, and she was obviously was telling us her personal recommendations for what we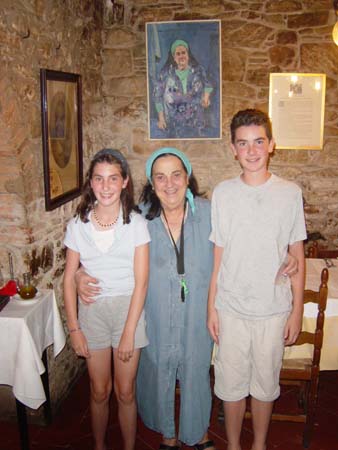 should eat. We were able to understand just enough to get the gist of what she was saying, and communicating with Miranda was very entertaining. We all ordered bruschetta, homemade ravioli with spinach and ricotta, and a huge veal chop (served with fried artichokes) that we cut at the table and split among the four of us. The Chianti was the best we've had so far. The food was fabulous (especially the ravioli), and Miranda kept coming to our table, admiring our "bambinos" and telling us that we were eating the "specialties of the house." It was a great and very unique experience for us all, and after our meal Miranda let us take her picture in front of a painting of her that hangs in the restaurant. She also gave us brochure that included a great picture of her and her "mama" from 1984 cooking in the kitchen of the restaurant. We won't soon forget this dinner…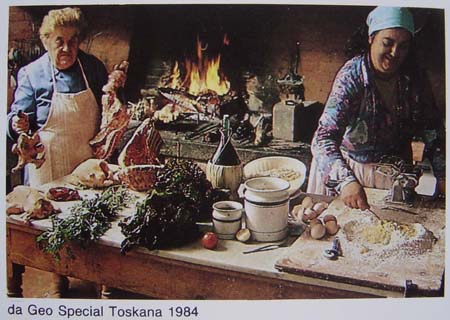 The drive back at 10:00 was dark, but the roads here are all in great condition and very well marked. David and Katie went immediately through the front door and into their beds…
Tomorrow, we'll continue our routine of spending the morning at our place, continuing "school", and then hope to explore another area of Chianti.
Distance Walked: 5.73 miles