Tuesday, September 30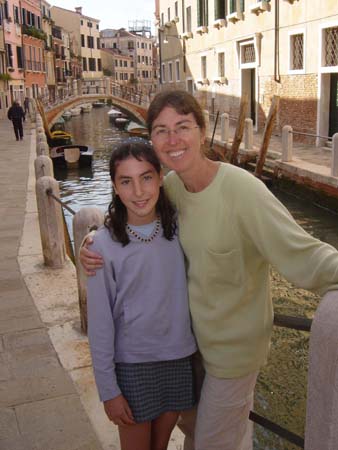 Paula and Katie: We enjoyed a full day in Venice today. We walked and walked! By the end of the day we had been through all six quarters and David counted 57 bridges that we had crossed. This meant that today we had been on over 1/8 of Venice's 410 bridges - an accomplishment that we were very proud of. We also had fun getting lost in the little side streets and narrow passageways-this is one of the best things to do in Venice. We basically decided which direction we wanted to go in and then looked for any possible street or alley that would lead us towards that direction. This included many smelly and dark passageways that we could barely fit through! Our map doesn't have any streets labeled, and we often found ourselves in totally different areas from where we expected (we've since seen maps that have street names, so this would have made things easier but much less fun…). It is a very strange way to get around, but we have found the lack of cars in the streets to be a nice change.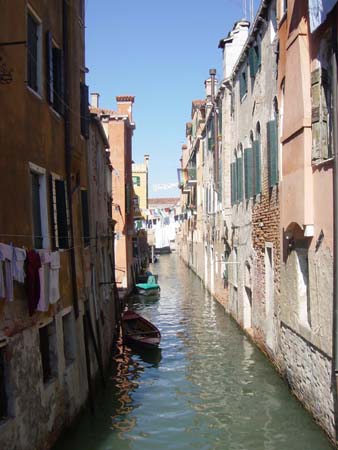 It was very interesting to see the different areas of Venice. The Dosoduro area around where we're staying is very quiet, and filled with many small and winding passageways. There are many neat shops, cafes and restaurants, and this was our favorite place to explore. San Polo is also a lot of fun, and contains Venice's largest fish and produce market. This is also where the Rialto Bridge is, and so there's also a fairly large concentration of tourists and tourist shops in the area. Cannaregio is on the other side of the canal, and is very residential. We really enjoyed seeing Venetian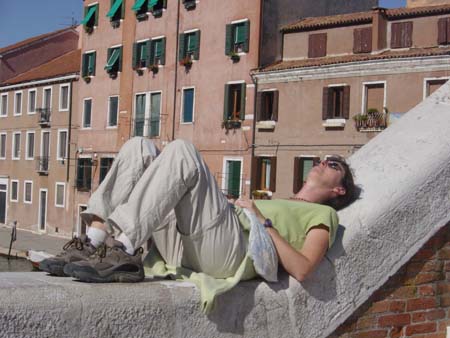 homes, complete with "alley cats" that roam the narrow streets, laundry that hangs over the canals (visible in the picture here), and the tiny shops where people go to buy there food. San Marco is dominated by St. Mark's Square, and we found this area to be much more crowded with tourists. There were some nice shops here, and we enjoyed shopping for some of the glass jewelry that Venice is famous for.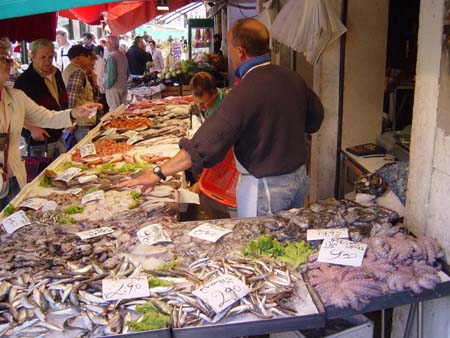 In the morning we walked to Venice's largest market (near Rialto Bridge) containing produce and all kinds of very fresh fish and other seafood. The atmosphere of this bustling market was incredible-Italian fish sellers singing opera and calling in loud voices was quite a scene! They sold all sorts of seafood…flounder, scallops, live crab, octopus, and much more. The fish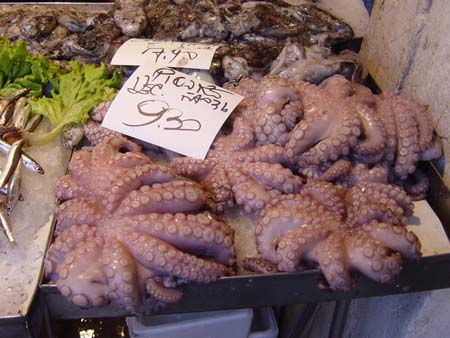 was so fresh that there was hardly any odor in the market and many of the shellfish were still squirming around. The variety of different types of fish and shellfish was enormous even for our seasoned New England taste. We saw whole swordfish being cut and squid and octopus prepared. Steve couldn't stop taking pictures of all the varieties of fresh fish (check out those beautiful scallops and that handsome swordfish head). We have seen many markets on our trip so far but all agreed this was one of the best!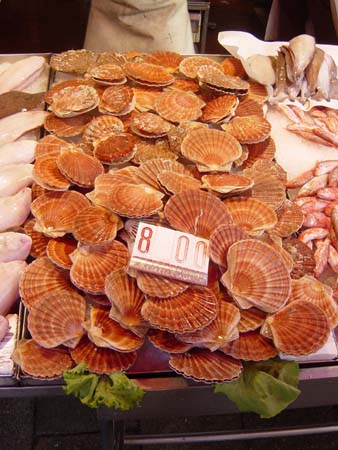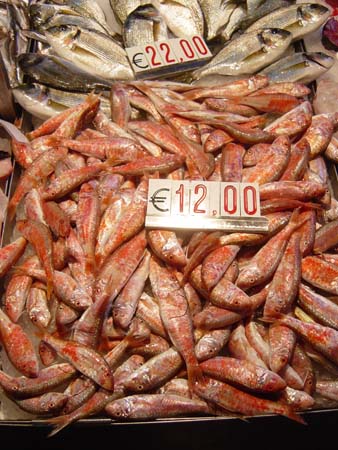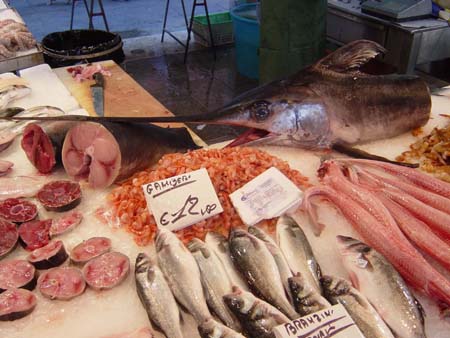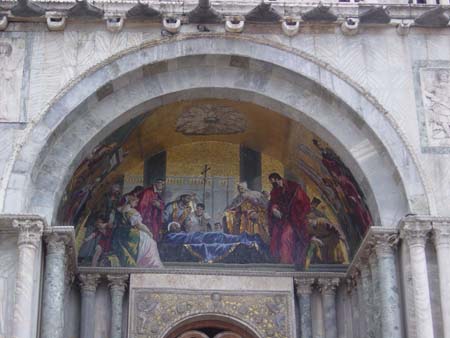 After the market, we crossed the Rialto Bridge and wandered around until we came to St. Mark's Square. The square was crowded with tourists and we stood in line waiting to enter the beautiful cathedral. We thought St. Mark's Basilica was impressive inside and out because of its distinctive mosaics which even covered the floor. St. Mark is buried here. In 828 A.D., his body was stolen by Venetian merchants from its original resting place in Alexandria, Egypt to be placed in a crypt here. Legend had it that an angel once appeared to St. Mark and told him that he'd be buried in Venice, and the merchants believed they were performing an important duty.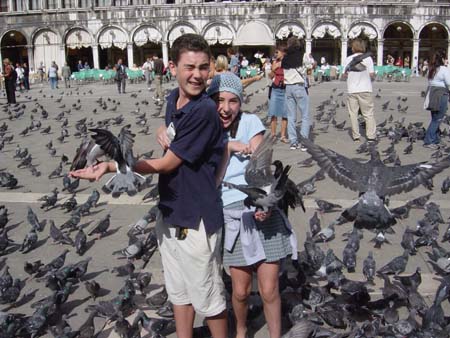 After visiting the cathedral, David and Katie decided to feed some of the thousands of pigeons in the square. Cracked corn is sold by vendors and the birds are well feed by the tourists. As soon as the kids poured out their corn, they were attacked by pigeons from all directions-landing on their hands, shoulders and even Katie's head!
After some pizza for lunch, we explored other parts of the city on foot before winding back around to the Gallerie dell'Accademia. This art museum highlights Venetian art from the 14th to 18th centuries and included works by Bellini, Giorgione, Tintoretto, Titian and Paolo Veronese. It was fun to use our new knowledge on Renaissance art from Florence to interpret the works of art by these famous Venetians.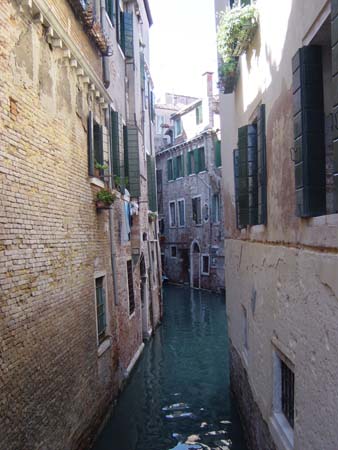 We enjoyed a nice dinner and again each selected seafood-something we have been missing. We realized it was our last dinner in Italy but fortunately have the Provence food to look forward to next.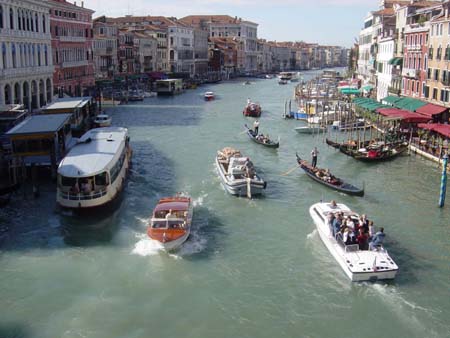 One final note, it was a special day for Katie's favorite stuffed sheep (Sheepy Sheepy). It was her fifth birthhday and she received a cute straw hat just like the ones worn by the gondoliers.
Although our time here in Venice was short, we felt like we had enough time to see and get a feel for much of the city. David and Katie particularly enjoyed seeing a place that was so different from anyplace they've been before. Tomorrow we drive to Nice, France and will begin our 2 ½ week stay in Provence.
Distance Walked: 7.43 miles
David's Download - My Favorite Things in Italy - continued
This is a continuation of my last download on Italian food. My other favorite things about Italy include the marvelous Tuscan landscape, the ancient Roman ruins, and the importance of football (soccer).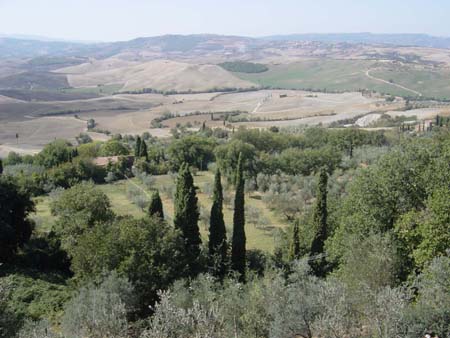 The landscape of Tuscany is extremely hard to describe. The everlasting rolling hills, olive groves, vineyards, distant mountains, and walled towns on the hilltops create an unforgettable memory for all. The wheat fields seem to extend far past the horizon and the small farmhouses on every hill look as if they are sitting on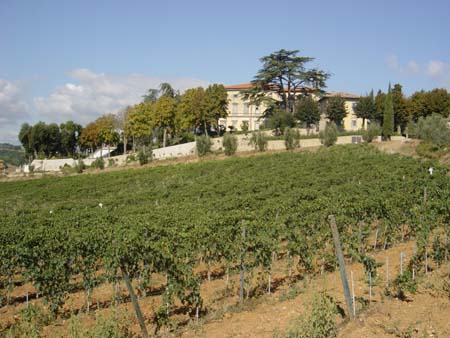 the edge of the world. The multicolored fields divide the dense forests and create tiny islands in the middle of a sea of wheat. The infinite blue skies and the long rows of Cyprus trees are truly jaw opening. Hikes through the dry tilled fields leading down to small ponds that seem like oases in the middle of a desert, are something we all will never forget. The beautiful landscape of Tuscany is one of the most amazing things I have ever seen in my entire life, and is already enticing me to visit once more.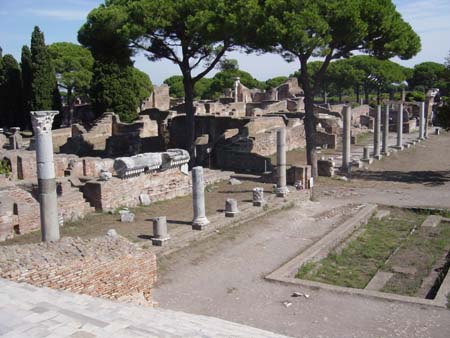 The Roman ruins are also something that I will always remember about Italy. I love standing in the middle of ruins and trying to imagine what it was like 2000 years ago. I find it unbelievable how the ancient ruins are still standing today, and how much their accomplishments have shaped our world. I especially liked visiting the Coliseum, the agora (market place), and Ostia Antica (ancient city). In the Coliseum you can see the underground chambers where wild animals such as lions, tigers, elephants, and giraffes where kept waiting to be slaughtered by the gladiators. The floor was made of wood and covered with sand. The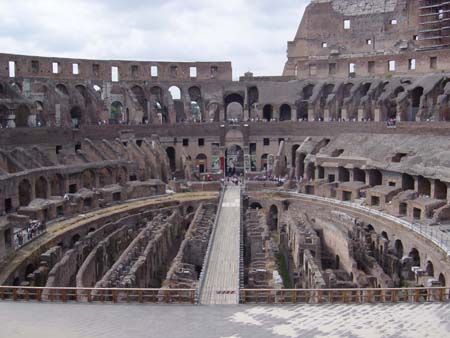 animals were let out through trap doors in the floor, so when they were released dust was thrown into the air and suddenly a beast appeared. The ancient agoras were entirely made of marble and several parts are almost completely in tact. My favorite ancient city was Ostia Antica because it was almost completely preserved. Sediments from a river bed near by completely covered the city. Mosaics, baths, toilets, temples, apartment buildings, shops and outdoor eating areas can still be seen and freely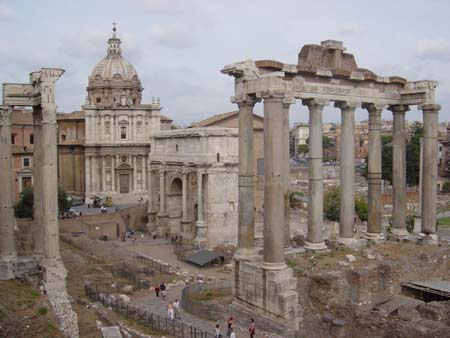 explored. I also liked seeing the aqueducts, the ancient amphitheatres, and the marble roads. The aqueducts brought fresh water to Rome from the mountains and stretched for hundreds of miles. In some of the amphitheatres, a coin can be dropped in the center and can be heard from the highest seat! It is said that if all the roads built by the Romans were put together, they would circle the world twice! I love the ancient Roman ruins, and will defiantly visit them again.
The importance of football (soccer) in Italy and all over Europe is another of my favorite things. To the Italians, life is football. Everyone is so enthusiastic about football that it seems as if that's all they care about. We tried multiple times to get a ticket to a football match in Siena, but failed. We were in Siena the day of a soccer match and watched the small stadium that only fit 2000 people fill up. Everyone was wearing black and white (Senesce colors) and singing at the top of their lungs. The tickets sell out months before a match and no one sells tickets by the entrance to the stadium. I think it would have been great to get to a game, and feel the energy and enthusiasm of the crowd. That leaves a reason to come back!
Italy is my favorite country that we have visited so far on our trip. I love Tuscany and Rome and most of all the food! I can't wait to come back very soon.