Wednesday, October 1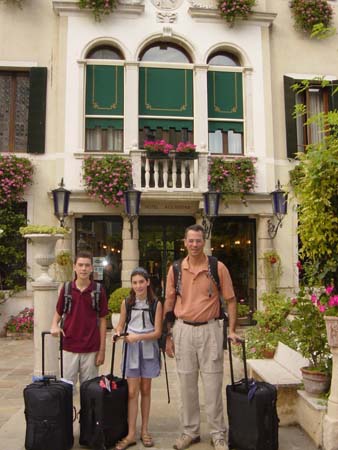 Paula - Wow, we can't believe it's October! We left Venice this morning and said our goodbyes to the Grand Canal by taking "slow vaperetto", #1. It gave us one last look at this unique city as well as a chance to watch what appeared to be mostly residents en route to work, school or the markets. The Italian grandmothers have such worn yet loving faces-I haven't been able to get enough of them. The kids tease me because I'm always looking up at the windows to catch one sticking her head out to converse with a neighbor across the street or below. The kids watch for street gattos (cats) while I am always on the look out for nonnas (grandmothers)!
We had hoped the drive to Nice would be about 3-4 hours but closer examination of the map revealed almost 600 km or about 6 hours (maybe more, depending on how many wrong turns we make…). We had looked the train schedule between the two cities while we were in Tuscany and there were no good alternatives - so we had settled on the idea of driving. The drive wasn't as bad as we expected. The terrain around Venice was of course flat but after several hours, we found ourselves quite suddenly in the mountains constantly driving in and out of tunnels. Almost just as unexpectedly, we were along the Mediterranean coast. We saw several seaside towns and beautifully terraced farms, and the land fell quickly to sea level. Unfortunately, we also saw evidence of the fires that we know ravaged many parts of Europe this summer both in wooded areas and what appeared t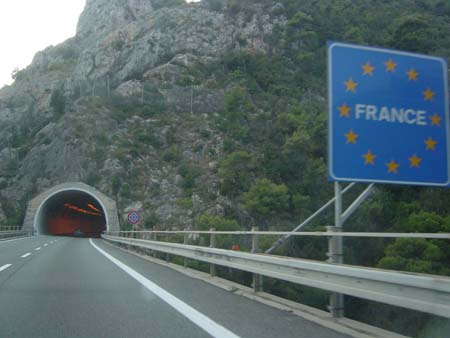 o be terraced farm land. We crossed long bridges suspending the roadway high above the coastline and also noticed hundreds of greenhouses along the hillsides. The A10 highway along the coastline, was unique-we seemed to alternate between tunnels and bridges all along the drive. At times the tunnels were only 20-30 meters apart. We decided the Italian drivers travel at even higher speeds than the Germans. Often, when we were in the passing lane, Steve would see a car well back in the distance begin flashing their lights as a warning to get out of the way!

What had been a cool, damp day gradually became sunny as we edged closer to Nice fueling our enthusiasm for the next stop. Unfortunately, we weren't really prepared for the traffic i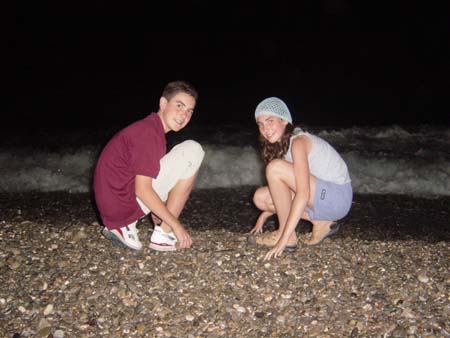 n and around Nice - it's very bad. As soon as we arrived in the city, the kids quickly said that it looked like Miami Beach. At first glance, they're right - it looks like a large resort town with lots of beachfront hotels. However, there are supposed to be some nice and quiet areas, and some great art museums. We should know more tomorrow. Our plan is to only spend two days here. We'll probably spend one day in Nice and another day exploring the surrounding area. Saturday we'll also drive along the coast on our way to Arles.
This evening, we ate a quick dinner and then walked to the beach. It was great to be by the ocean again, and the kids were excited to touch the Mediterranean Sea. The beach is covered in smooth stones - no sand here. We'll explore it more tomorrow.
Distance Walked: .59 miles (we drove 600 km, so we have an excuse!)