Monday, September 29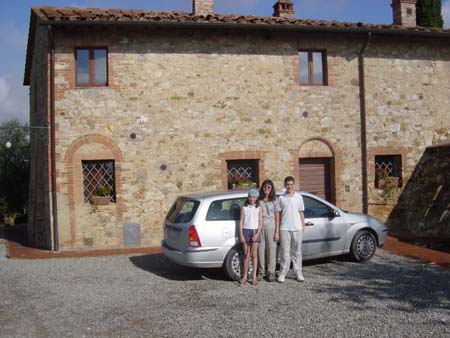 Steve: We said our final goodbyes to Tuscany this morning, and were on our way. Leaving was sad - we've all become very attached to this wonderful place. Knowing that we'll be back helps, but only a little…
The drive to Venice took around four hours, and we arrived with no problems. There is only one way onto the island of Venice - it's a long causeway that ends with a whole series of parking garages. Venice is actually built on 120 small islands, and has 150 canals and 410 bridges. There is no way to drive in Venice - everyone simply parks in one of the garages at the end of the causeway and takes a boat into the city. For us, that meant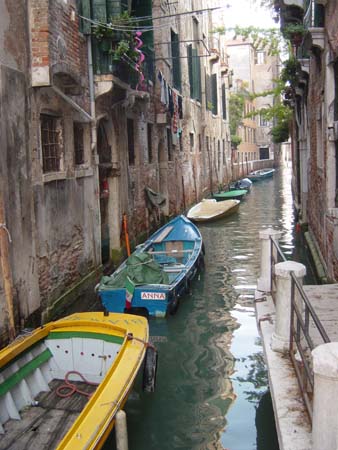 Vaporetto #82 from Piazzale Roma, to our stop, Accademia. Vaporettos are the only economical way to travel along the Grand Canal, and are basically floating buses. Each ticket cost 5 Euros, while a water taxi would have cost us approximately 70 Euros - so, this is really the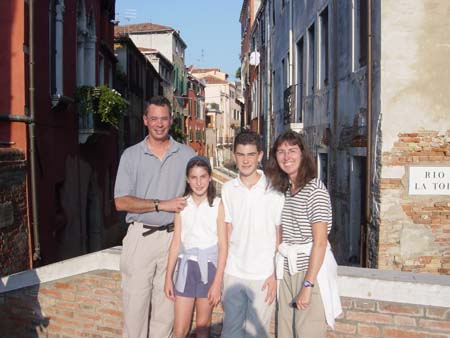 only way to go.
We enjoyed our 30-minute ride along the Grand Canal - the variety of buildings is amazing, and it's fun to watch all the traffic including vaporettos, water taxis, gondolas and cargo boats. We were amazed at how adept these boats all seem to be at navigating and avoiding colliding with each other. Our stop was in Dorsoduro, one of Venice's six quarters. Our hotel was not far from the Accademia stop, but as we quickly discovered, the streets are impossible to navigate and finding your way requires a bit of luck.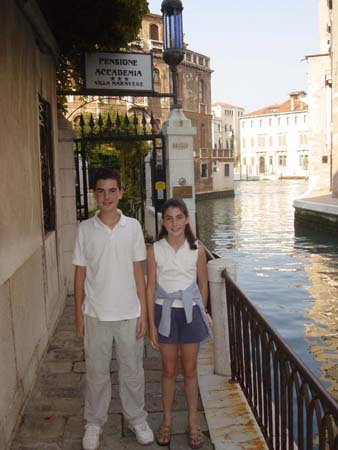 After crossing our first of many little bridges, we found ourselves in front of Pensione Accademia. The kids were thrilled because it is right on a rio (small canal) and they can literally touch the water from the window sills of our rooms. We quickly unpacked and headed out to explore.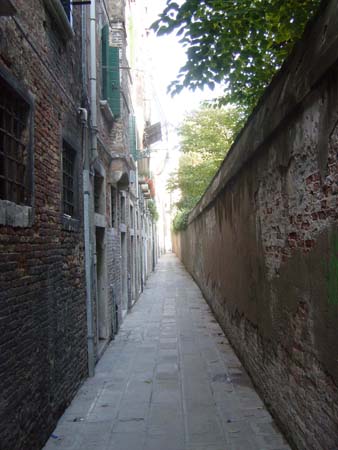 We didn't recall much from our trip to Venice 20 years ago, and we were eager to rediscover this unusual city. We found ourselves very pleasantly surprised - this is a very magical place. Venice is basically a labyrinth of small streets and canals, with the Grand Canal being the primary point of reference. We found ourselves walking and wandering through narrow passageways, over bridges, through squares and among winding canals. There are all kinds of interesting cafes, markets and shops here, and we enjoyed watching some of the glass blowing that Venice is famous for. Sometimes, without warning, the street would simply dead-end at a canal. Once, we found ourselves in front of an alley that looked so narrow that we assumed there was no way through - after encouragement from a passerby, we walked in and were able to pass. David and Katie loved all this, and quickly decided that they liked Venice!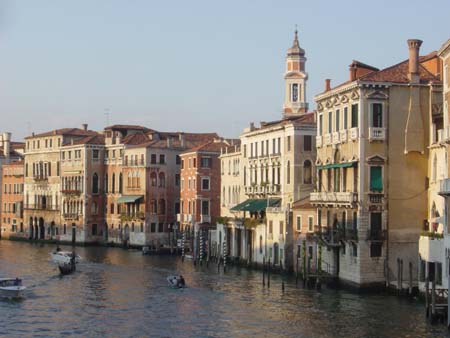 Our first walk took us through the Dorsoduro area, which we plan to explore more tomorrow. This area is much less crowded than the other side of the Grand Canal, and is a wonderful place to simply explore and get lost. From Dorsoduro, we made our way toward the famous Rialto Bridge, one of only three bridges over the Grand Canal and right in the heart of the city. We really enjoyed lingering on the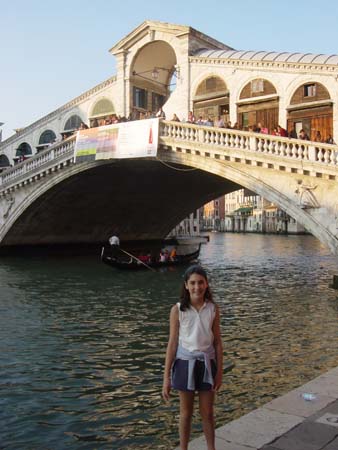 bridge, watching all the water traffic below and taking everything in. This is so different from any other place we've been, and we found ourselves enamored with the whole scene. Katie kept saying that Venice was exactly as she had imagined and hoped that it would be.
We walked to St. Mark's Square, which is very beautiful but also much more crowded. We plan to return tomorrow so that we can go inside the cathedral and palace, but for today we simply walked through and especially admired the mosaic façade on St. Mark's Basilica. There are a huge number of pigeons in the square, and several people were feeding them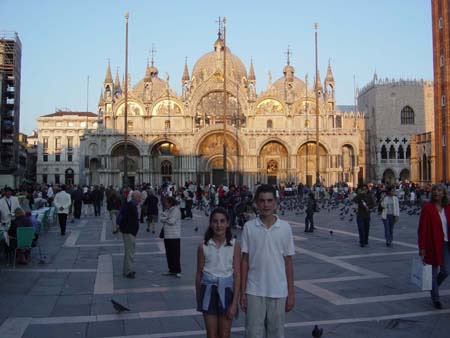 and allowing the pigeons to sit on their arms and heads. We enjoyed taking a picture of one guy who welcomed a pigeon on his head, and was left with a little present (check out the photo album for the details...).
The evening was perfect and the sun was just beginning to set, so we decided to hire a gondola for a ride through the city. The gondolas are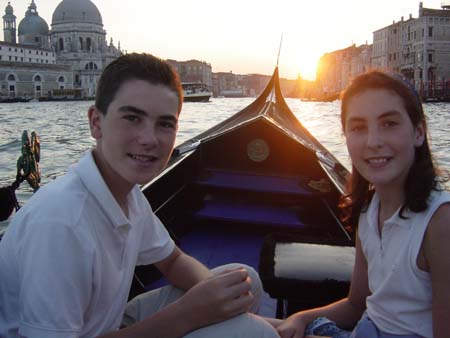 wonderful, but extremely pricey - the guy we went with originally wanted 150 Euros for 1 hour (we ended up paying 100 Euros, which was still probably too much, but time was wasting and the sun was headed down…). In any case, we weren't going to come to Venice and not take a gondola ride!
Our ride took us all through the city, and we had beautiful views of the sunset as we began our journey into Venice's canals. Our gondolier pointed out the most important sites along the way, including several palaces, churches and the homes of Mozart and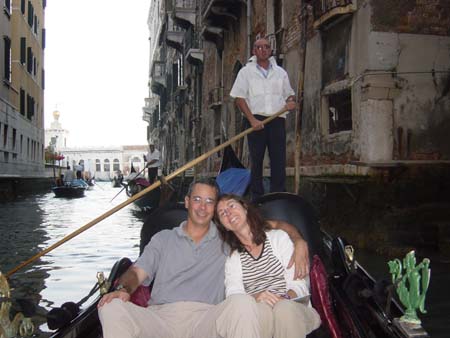 Marco Polo.. We started in the large lagoon by St. Mark's, and quickly headed into Venice's maze of quiet, narrow canals. Despite encountering some water "traffic" along the way (other gondolas, including several with Japanese tourists who seem to take a liking to hiring accordion players to accompany them - yuck), this was a very peaceful and enjoyable experience, and we all thoroughly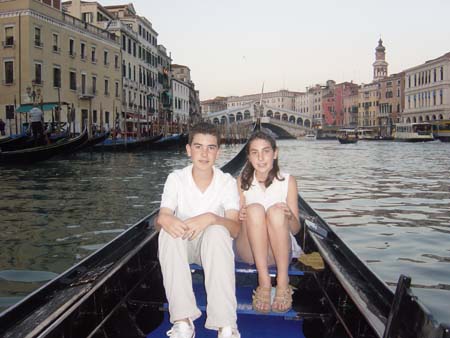 enjoyed ourselves. After the ride was over, it was nice to hear David say, "I really really like Venice." While we haven't allowed much time for our stay here, Paula and I feel good about having shown David and Katie one of the world's most unique and captivating cities.
Tonight we ate seafood for a change of pace, and got back to our hotel easonably early. We plan to get a full day in tomorrow to walk and further explore Venice.
Distance Walked: 2.96 miles