Friday, September 12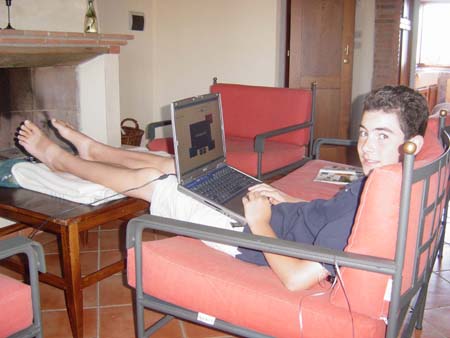 Steve: Today was our slowest day yet (probably since the start of our trip in June!). We started with our morning walk, and then spent the day here at Tenuta di Monaciano. David and Katie did their work, and we enjoyed swimming, painting, reading and simply relaxing. We also spent some time thinking about our plans after Tuscany - we're trying to figure out the best way to spend our time in Provence, and also how to incorporate Venice into our plans. Our current thinking is to leave Tuscany a couple of days early and drive to Venice where we'll spend two days. From Venice, we'll either drive or take a train to Nice in the French Riviera and spend some time there before driving to somewhere near Aix-en-Provence. There we'll rent another apartment for two weeks. We hadn't planned on staying in Nice, but now think that this will be much easier than trying to spend time there with day trips - it's too far from the main areas that we want to explore in Provence.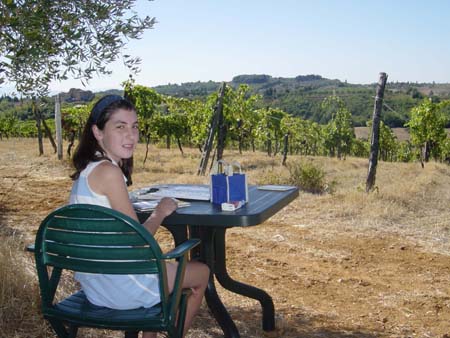 This evening we met Giacomo and his family, who live in a beautiful villa only five minutes from where we're staying. Giacomo is actually a friend of Jim Finkel's (who we met on our very first day in London). Giacomo was the one who told us about Tenuta di Monaciano, and has been great in helping us plan our time here. Giacomo and his wife Veronica took us to their favorite restaurant - La Leggenda dei Frati - located in a very small hamlet near Monteriggioni. Giacomo told us that his wife is the absolute best cook in Tuscany, and that by far this is the best restaurant around - we knew that we were in for a treat. There were no English menus here, and the descriptions of each entrée were very long - Giacomo said that even he couldn't understand all the Italian foods and descriptions that were listed. Fortunately, the waiter spoke some English and helped us out. The food was great, and we enjoyed some new treats (including octopus salad!), including wonderful desserts. We also enjoyed the company of Giacomo and Veronica, and they gave us some great input regarding Tuscany, Venice and Southern France.
Dinner lasted a full three hours, and David and Katie were both very tired by the time we got back. Good thing we took it easy earlier in the day, or they may not have made it through dinner…
Distance Walked: 4.48 miles
David's Download - A Study of Olives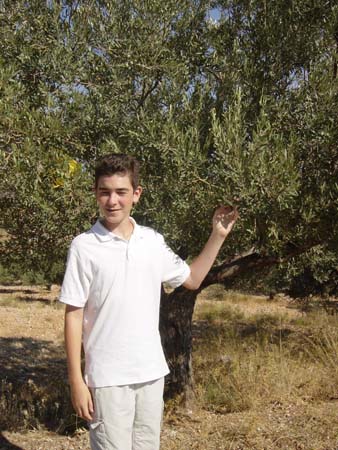 Olives are of great importance throughout the world. We have recently been surrounded by olive trees in Greece and Tuscany, where there are groves as far as you can see. These easily depicted trees, with their light green leaves and woody appearance, were widely used by the ancient Greeks. Olive trees are cultivated mainly for their fruits and oil, but are occasionally cultivated for their timber.
Olives are native to the Eastern Mediterranean region, but have now spread to regions with the same climate. Olive trees can live up to 800 years! The olives are usually harvested in December and January. They can either be picked unripe or ripe. Unripe olives are green and stay green after pickling. Ripe olives are bluish/black in color, and become solid black when pickled. Harvesters scrape the olives out of the trees with huge combs. Plastic mats are placed underneath the trees to collect the olives as they fall to the ground. The olives can then be pickled or pressed. The pickled olives sit in water for about a month. The water is changed daily. After a month, they can sit in vinegar or olive oil. Olives are about 20% oil, and can be pressed to produce oil. The oil can be used for cooking, canning, or just table oil. The timber from olive trees in southern Africa (black ironwood) is greatly valued in cabinetry.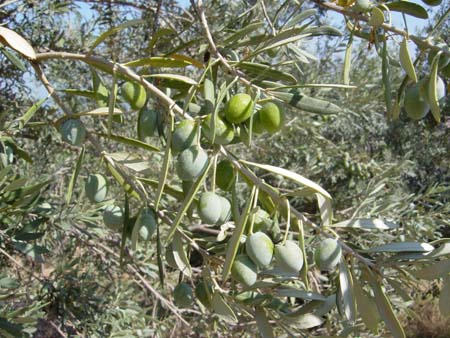 Olives also had a great impact on the ancient Greeks. There are many ancient myths and legends concerning olives. It is said that the olive trees in Athens were the gift of the Greek goddess Athena, god of wisdom, war, and cities. Athena was the patron goddess of Athens, and in her honor, Athenians built the Parthenon. This gift became extremely important to the Athenians. It was their major export and Athens could not have survived without it. Olive leaves had a great significance in the Olympic Games. A crown of olive leaves was given to winners of the Games, which symbolized great fame and victory.
I love olives, and the great food created with fresh olive oil. I like walking outside and admiring the rows of lush olive trees. My favorite thing is to pick some of the unripe olives off the trees and throw them at my Dad, although I usually get in trouble! Olives have had a great impact on the world for thousands of years, and have been very important to ancient and modern civilization.