Saturday, September 13
Steve: We're getting into a very relaxing routine of our morning walk (we call it our "power walk"), followed by time here at Tenuta di Monaciano spent relaxing, swimming, doing "school work", reading and painting. We then leave in the mid to late afternoon and return late in the evening. So far, we haven't felt like making the longer day trips to Florence or to Southern Tuscany - we're definitely still in the mode of wanting to take a break from feeling like we're always going someplace new. This will probably change next week, and we've planned several excursions that we're all looking forward to.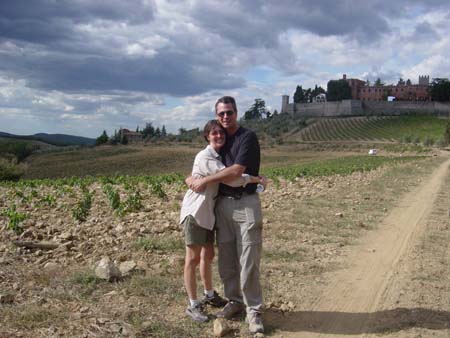 We left early this afternoon for Castle Brolio, an area that we had seen on our first day here but wanted to explore more. We also intended to go inside the castle this time, but unfortunately this doesn't seem meant to be - there was a sign today saying that it's closed to visitors for two days - we'll try again…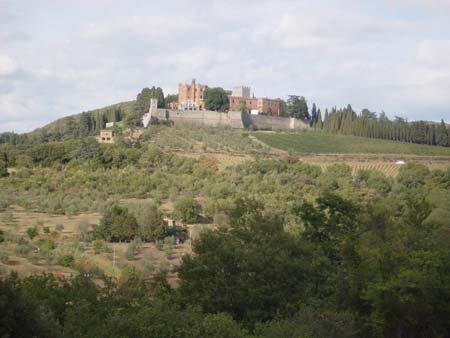 We had made reservations at Osteria del Castello, a restaurant located on the road leading to the castle (we had heard that it was good), and decided to make lunch our main meal today. Italians have their largest meal at lunch, and the lunch menu was just like a dinner menu - three courses and dessert. We decided to have just two courses today. I had a wonderful pecorino cheese soufflé to start, followed by homemade pasta with white truffles (we learned from the chef that these truffles are extremely hard to find, and that he personally hunts for them with the help of his trained dog!). Paula had always wanted to try zucchini flowers, and enjoyed her fried flowers stuffed with ricotta (as a starter). David and Katie had homemade ravioli stuffed with ricotta and spinach. We shared desserts of tiramisu, coconut pudding and crème brulee. A real feast! We ate outdoors in a wonderful setting, and also enjoyed the antics of Seamus de Pentheny O'Lelly (www.seamuschef.com), the owner and (apparently) an internationally-known chef. After our meal, he and his musical partner (who works in the kitchen) serenaded all of us with a very unique musical performance - it was very funny. We purchased his CD (primarily so we wouldn't forget our experience here), called "Afro Disiaco", and they call themselves the "Zucchini Flowers" - enough said!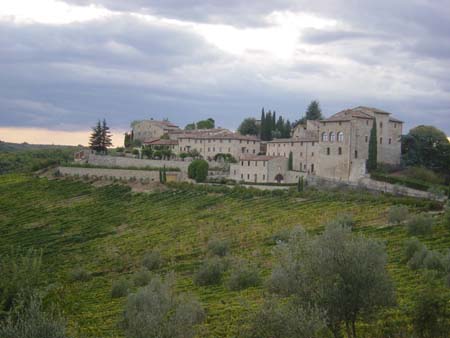 After lunch we set out for a walk on the trails surrounding Castle Brolio. This turned out to be one of the best areas that we've found for walking - there are a whole series of gravel roads that sit up on ridges and provide great views. We saw a number of very beautiful estates, many of which look to be places where people come and stay for vacations. Most of these are nestled in between vineyards and have their own grove of olive trees, a vegetable garden, and outside kitchen and eating area. They're spectacular! The view of Castle Brolio is also great - we'll definitely come back so that we can visit inside and get the views from the top. We walked a total of 4 miles on this hike - combined with the 3 ½ miles from our morning walk, we felt pretty good about working off some of the pasta that we've been devouring!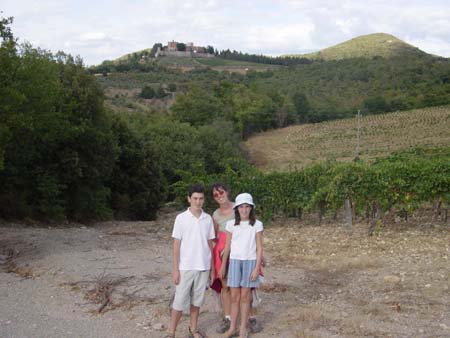 We returned and drove into Siena to shop for some food and to look for a book about hikes in the area. It was a Saturday evening, and the streets were filled with people - mostly young Italians hanging out. The side streets weren't as crowded, and we enjoyed shopping in some of the small food markets and bakeries that are here. We bought fresh pasta and homemade pomodoro sauce, biscotti, Italian cookies and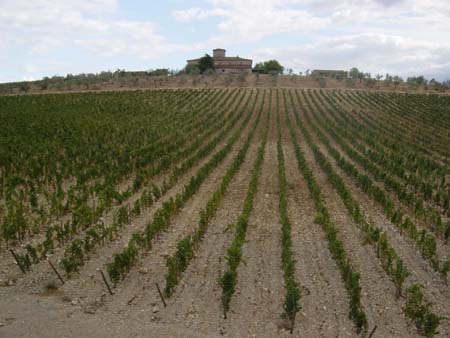 some fresh fruit. The food markets here are wonderful and plentiful - we only wish it wasn't so hard to drive and park in Siena… We weren't as successful in finding a book about hikes here - most of the walks involve multi-day treks between towns and villages (as opposed to hiking loops). We already have maps that show these paths, so we'll probably keep using these to explore the region on foot.
We returned to Tenuta di Monacino and we quickly threw together and enjoyed a late dinner of fresh pasta and pomodoro sauce. We're not sure yet of our plans for tomorrow - this is such a different feeling! David and Katie keep saying how much they're enjoying their time here - our slower pace is clearly a well-timed break for them. They're not objecting when it's time to do their school work, and are settling in nicely to our new routine.
Distance Walked: 9.04 miles (we have to work off all this food!)