Thursday, September 11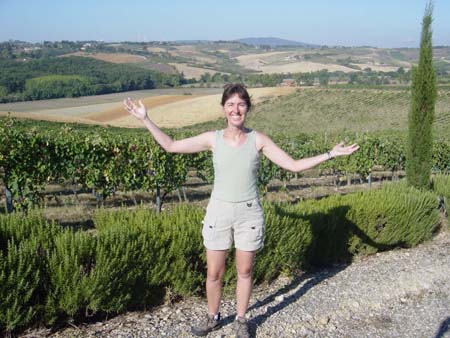 Steve: The morning was gorgeous, and Paula and I began our day with a great walk through the hills. There are dirt roads heading in a variety of directions around the estate, and we've been told that they all end up circling around and that it's impossible to get lost. Just in case, we decided to bring our hand-held GPS with us (I think I forgot to mention yesterday that our hike with David and Katie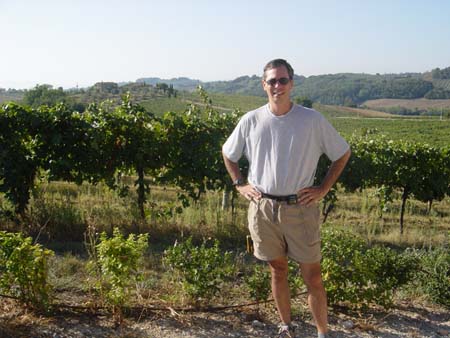 ended up about 1-2 km away from our car, but still on the main road leading to Radda - there are so many forks that it's easy to venture off your intended path). The morning air was cool, and we were able to see much further than yesterday - Siena was visible in the distance, as were a series of mountains (we're not yet sure what they're called).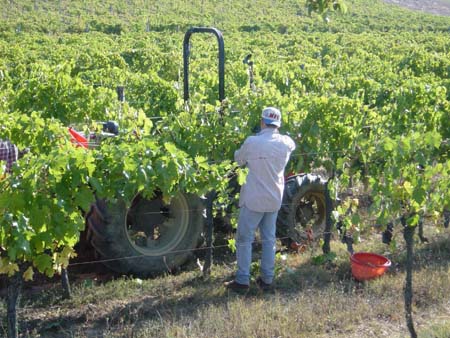 The dirt roads all cut through a whole series of vineyards, and we stopped to watch the harvesting process that has just begun. Nothing fancy - just 3-4 men with clippers, baskets and a tractor. They simply cut each bunch from the vine and put the grapes in baskets. When their baskets are full, they dump them into the trailer. Periodically the tractor is moved forward as the men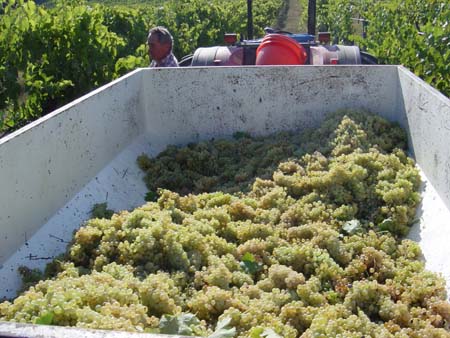 progress down the rows. They've started with the white grapes, which seem to be interspersed in the rows with the red ones - we wondered why this is done, and will find out next week when we get our tour and see the wine-making in process.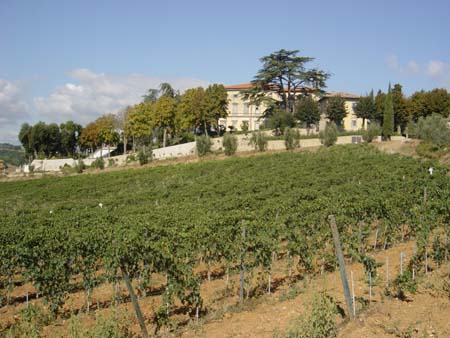 As a result of our walk, we also made a MAJOR discovery! In addition to carrying the GPS, I also carried our standard pedometer. At the end of the walk (just over 3 miles), the distance on the GPS was 20% more than the pedometer!!! SO… that means that all the distances we've recorded thus far on our trip have been understated by 20%. At last count, we were up to somewhere around 270 miles, so that means we have actually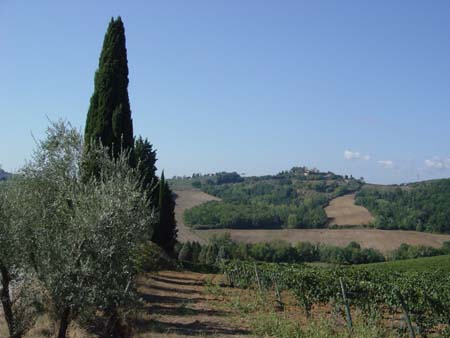 walked closer to 320 miles. Going forward, we'll adjust each day's total, but, for the record, we wanted to document this here. When Paula and I returned from our walk, David and Katie were still in bed - we woke them up with this "announcement", and they were thrilled! They're very impressed with themselves and how much they've walked…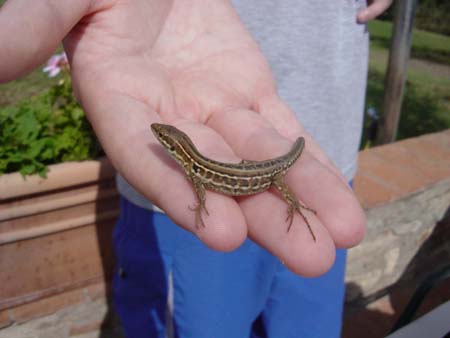 We spent the rest of the morning and early afternoon relaxing at our place. It's so nice to be in such a beautiful setting and to be able to relax outside. We read and played in the pool (the water's very cold, but certainly refreshing), and David and Katie enjoyed catching some of the lizards that are all over. Some of the grass around the pool area has been all dug up, and we learned that it's because of wild boards that dig there during the evenings (presumably looking for bugs?). We've heard that the boars are plentiful, and we actually heard a couple snorting around when we returned home this evening.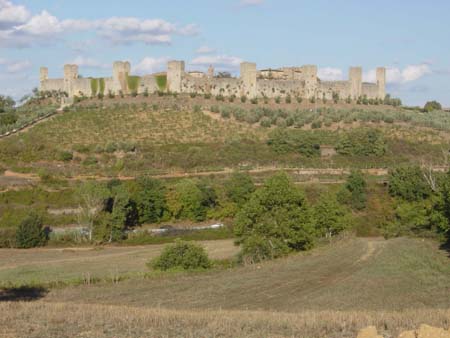 Late in the afternoon we set out to explore the medieval town of Monteriggioni, located about 20 km west of us. Monteriggioni is well-known as one of the best preserved walled fortresses in Italy, and was built in the early 1200's by the people of Siena as part of their wars against Florence. These conflicts continued well into the 1400's, when Florence finally prevailed and captured the fortress. Monteriggioni is very impressive, especially when viewed at a distance. The fortresses 14 towers are all still visible, and Monteriggioni sits perfectly on top of a circular hill.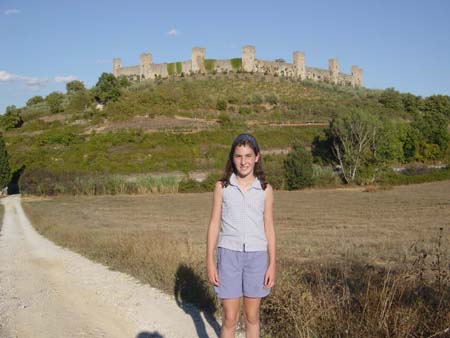 Before entering Monteriggioni, we wanted to get some views of the fortress from a distance and to get a sense for the surrounding area. We found a dirt road lead away from Monteriggioni and up a smaller hill, so we began hiking and soon found that we had a spectacular view of the entire fortress and its towers. Our hike took us through vineyards, woods and plowed fields (barley and maize, we think), and gave us several different perspectives of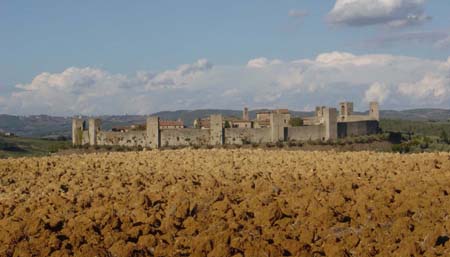 Monteriggioni. From one point, we were high enough that we could see down into some of the buildings within the walls. The hike was great, and we looped most of the way around Monteriggioni before returning and walking up to one of two gates that enter into the town.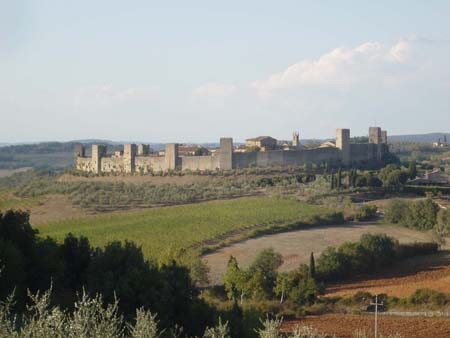 Inside we found a small and very cute community. There are 150 homes in Monteriggioni, and we saw several residents entering and leaving their homes. There is also a small church, a square, and two "roads" with a few shops. All the buildings are stone, and are original. Surprisingly, Monteriggioni has its own little 4-star hotel. There are two restaurants, both located in the main square right by the gate. We had selected "Il Pozzo" for dinner, but it didn't open until 7:45 (very typical of the schedule for restaurants here). It only took us an hour to explore all of Monteriggioni, and so we ended up relaxing in the square waiting for the restaurant to open.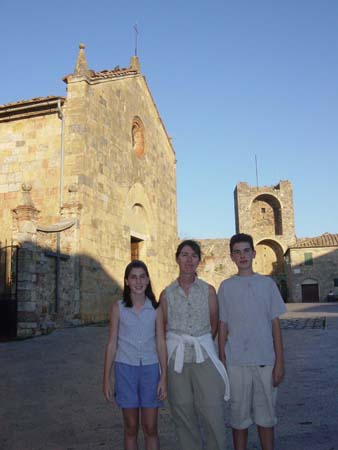 Dinner at Il Pozzo was wonderful. Our meals included bruschetta, caprese salads (David and Katie love both of these starters), picci with pesto (this pasta is wonderful), spinach/ricotta lasagna, lamp chops and wonderfully prepared fillets. We tried a Chianti made in Gaiole (where we visited yesterday), which we all thoroughly enjoyed. We're getting spoiled, and have all begun looking forward to dinners as a major highlight of each of our days here.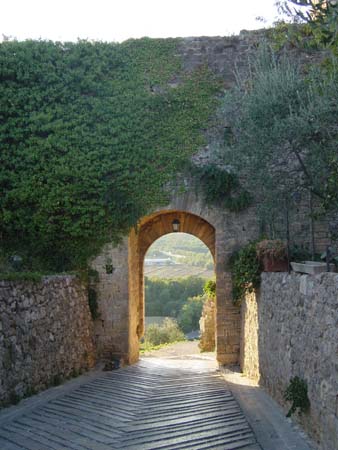 We haven't set our plans for tomorrow during the day, but in the evening we're getting together with Giacomo, a friend of Jim Finkel's (who we met in London). Giacomo and his wife live in Chianti, and are meeting us for dinner.
Distance Walked: 6.15 miles