Monday, August 25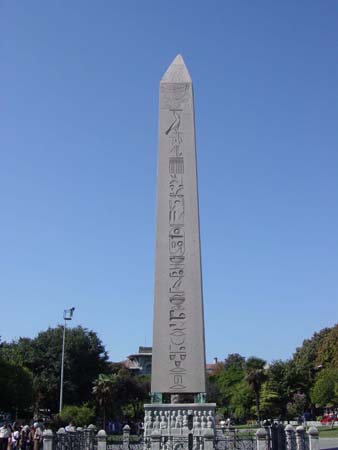 Paula: Our morning began with a Turkish breakfast. This was different from any of our breakfasts so far - in addition to breads, eggs, juice and tea; we found olives, feta cheese and fresh vegetables. The olives were the best we have ever tasted.
We then met Ali, our guide for the day, and headed into the Old City of Istanbul. We started at the Hippodrome. We had walked through this area last night and assumed it was a square or park. Today we learned that it was originally an area where chariot races were held, and has had important political and social significance for over 1,400 years. Three monuments stand in the area, the most amazing being a large Egyptian Obelisk (granite pillar) with hieroglyphics from 1450 B.C. The Obelisk was brought here in 390 AD by Constantinople and it took 200 years for the Romans to figure out how to get it upright.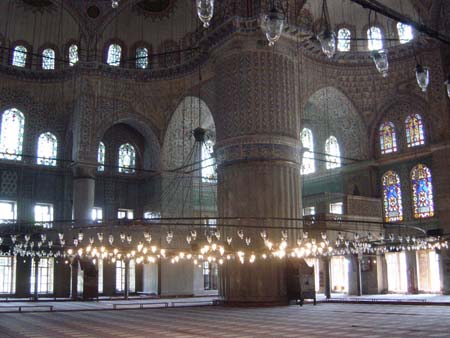 We had never been to a mosque before and found the Blue Mosque to be very beautiful. Although enormous inside, the round domed ceiling, blue tiles and stained glass windows make it feel intimate and peaceful. The floor is covered with a large Turkish carpet with individual prayer areas delineated by the carpet designs and all facing toward Mecca. It was interesting to hear how the courtyard of the mosque was also used in earlier days to provide social services for the community.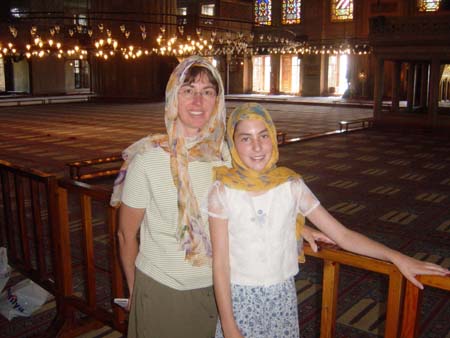 The Islam customs are clearly reflected in the daily lives of the people here. Chants calling for Muslims to pray can be heard throughout the city as they are broadcasted on large speakers. There are mosques everywhere. A mosque was even built next to the Grand Bazaar for the 8,000 Bazaar's workers. Ali the explained several of the Muslim customs to us, and we often saw people observing these on our walks. He also told us that while many younger Muslims don't observe prayers five times a day, everyone attends services on Friday and carefully follow the fasting schedule for Ramadan. It is dishonorable to miss the weekly Friday service and, according to Muslim law, men who miss more than three of these services in their lifetime can be denied a proper funeral. Ali made it clear to us his belief that the Turkish customs and principles of Islam have grounded the community here, and continue to make Istanbul a safe, clean and welcoming city.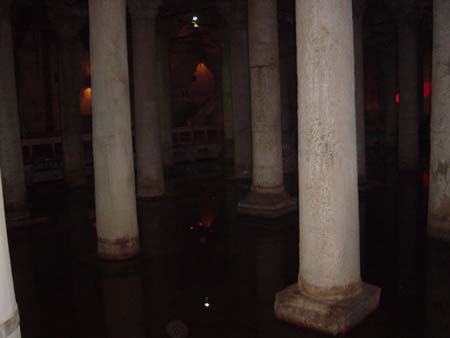 We briefly visited an underground water system built in 532 AD by the Romans to bring fresh water (from over 100 miles away) to the city. The 396 Roman columns were beautiful as they reflected the lit underground pool. We witnessed an interesting mix of modern and ancient when we found the rehearsal for an upcoming fashion show taking place in the underground museum.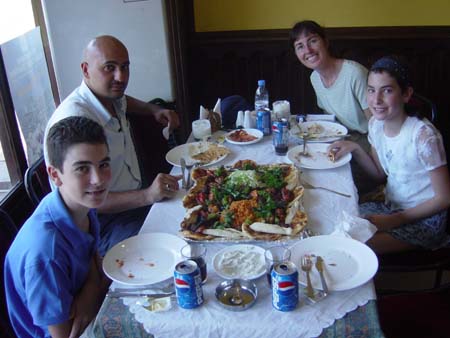 We had a wonderful lunch at Buhara 93 Restaurant. There were no tourists here and Ali knew just what to order so that we could sample some traditional Turkish cuisine. We feasted on lavage (bread), ayran (salted yogurt drink), a variety of kabobs and rice. We also enjoyed conversation-Ali was interested in our trip and is currently getting ready to launch his own tourism business. He said Turks love to travel and reminded us that "Turks still have their nomadic roots." We spoke only once of the war in Iraq. Ali's comment was interesting and probably representative of the opinion of people here. He stated as a matter of fact, "Everyone knows that the war was all about oil." Ali also said that there are a much smaller number of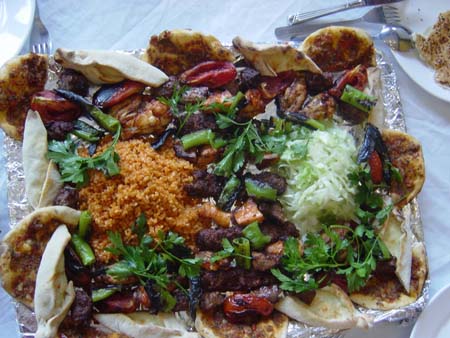 American tourists in Turkey than there were before the war. We have only seen a few Americans - most of the foreign tourists seem to be from Italy.
Ali took us to one of the thousands of Turkish carpet stores that are here. He told us we could receive an "education", even if we had no plans to buy anything (we didn't!). Once we got started and served drinks by the owner of the store, we quickly realized that we were in for a pretty high-pressure sales job. First, the owner explained how the carpets are made and showed us a variety of rugs including wool, wool on cotton and silk. The hand-knotted rugs take anywhere from 3-16 months to make depending on size and the number of knots (sometimes as many as 2,000 knots per inch). The rugs are still made by skilled women all over Turkey. Ali said every girl learns to make rugs and that even if they don't make them professionally, women often make rugs for their children and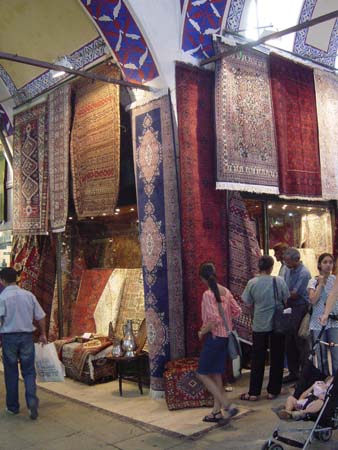 homes. Katie asked whether any men make rugs and Ali laughed saying, "Oh, no we don't have the patience." It didn't take long before the sales pitch really got going. The owner had 2 workers literally throwing rug after rug down on the floor in front of us. The rugs were spun in the air to show off their colors. By the time it was over, we had probably seen 50 rugs, and the owner had done his best. To be honest, it was hard to not feel a little guilty about not making any purchases. The owner indicated that his business is strongly affected by the economy since his rugs are largely considered a luxury item and normally bought on impulse. However, we had absolutely no intention of making a purchase, so we shook hands and departed.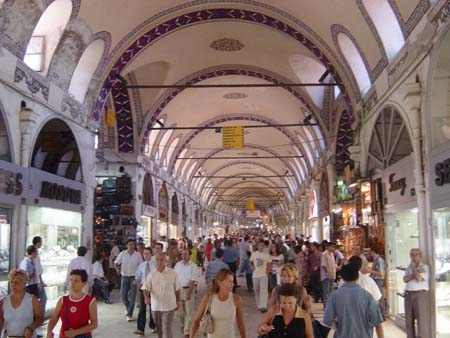 The Grand Bazaar of Kapali Carsi was next. The bazaar was established in the 16th century and contains over 4,000 shops. It's an absolutely amazing place. The bazaar is totally enclosed, and it is hard to believe that this was constructed for this purpose so long ago. Ali told us that 5,000 customers visit here every day, and that the bazaar is privately owned. Most of the shops sell jewelry, gold and silver items for the home, leather and souvenirs. Bargaining on price is the rule here - Steve and David enjoyed this, but Katie and I hated it. Katie purchased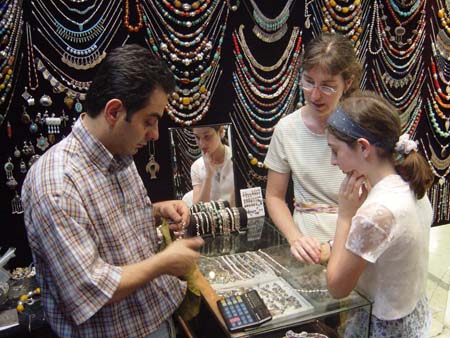 several items but couldn't deal with Steve's insistence on walking away when the price wasn't right. Her obvious dismay at each of these situations certainly didn't help our negotiating position! In her mind we were being unkind and even Ali's explanation of the bargaining culture here could not ease her guilt. Of course, each of our purchases ended up at 40-50% the original asking price. We thoroughly enjoyed looking at the huge variety of shops, but have to be careful to limit the number of things we buy and carry throughout our travels.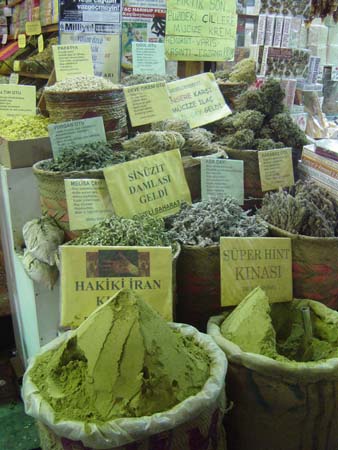 The Spice Market was even more fun. It also dates back to the 16th Century. Large sacks and containers of colorful spices as well as Turkish candies and produce lined the rows. We enjoyed snacking on one traditional Turkish treat with a gummy exterior rolled around walnuts. Ali told us that the spices were used in food, teas, to dye hair and for health remedies. The market was very crowded and Ali said that many residents of Istanbul shop here several times a week.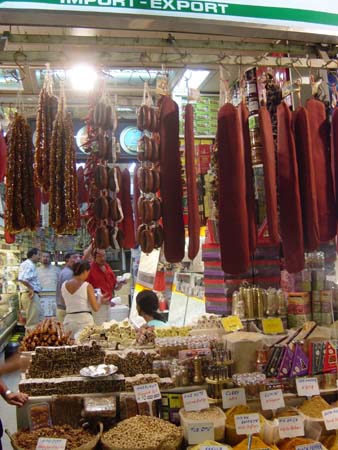 Our first full day here was quite colorful and memorable. It was wonderful to be in a place with so much historical importance. Istanbul was established in 600 BC as Byzantium by the Greeks. It became the Roman capital in 300 AD. Christianity was established here during the reign of Roman Emperor Constantine and the city's name was changed to Constantinople. In the 14th century, the Ottoman Empire brought Islam, rulers called sultans and another new name, Istanbul. The last sultan relinquished power in 1923 and the modern republic of Turkey was established.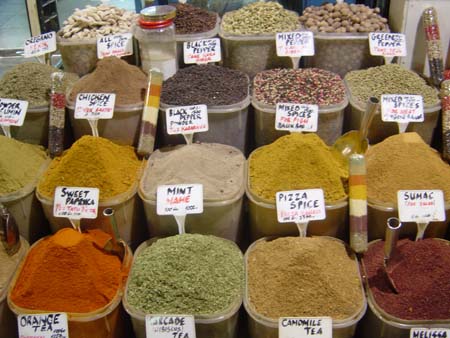 Tomorrow we're spending the day with Talya, who we contacted through Jennifer Coveny at TravelingEd. Talya lives in Turkey, and we're looking forward to learning more about the life and history of the country.
Distance Walked: 2.34 miles