Sunday, August 24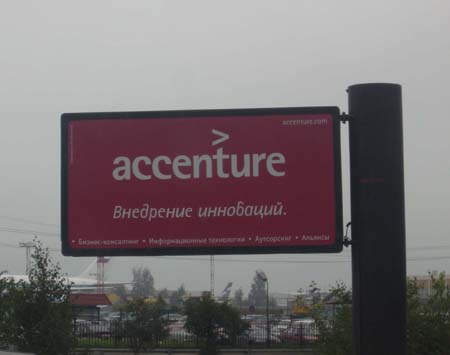 Steve: Our trip to Istanbul today went great, which was a huge relief. As we looked at the various flights we'd have to take on the trip, this one always stood out as one that could cause problems. We had no idea what the airports in Moscow or Istanbul would be like, and we fearfully envisioned crowded, confusing situations where nobody spoke English. Paula and I had experienced the chaos of the Athens airport in 1982 when we first arrived in Europe for our honeymoon, and thought today could bring back some of those memories. As it turned out, both airports were civilized and very easy to navigate, and all the signs were in English. Our Turkish airlines flight was fine - the plane was actually more comfortable than many American flights that we've been on.
We also got a kick out of seeing an Accenture sign as we entered the Moscow airport - this was just about the only sign that we'd been able to read during our entire time in Russia!
We arrived in Istanbul in the late afternoon, and checked into our hotel which is right near the Old City. We have great views of Istanbul's two main mosques - The Blue Mosque and the Aya Sofya - right out our window. Before dinner, we took a brief walk to the area of the mosques. The whole area is very beautiful, and we were surprised to find a park and gardens in the area between the two mosques. We decided to wait until tomorrow before we visit the mosques and learn more about their history.
As we walked, there didn't seem to be many tourists, and we didn't see any Americans at all. Most of the people seem to beurkish-speaking, and there were several families out enjoying the pleasant evening. We were approached several times by smooth-talking boys who were eager to make conversation with us and apparently were looking to share information about Istanbul with us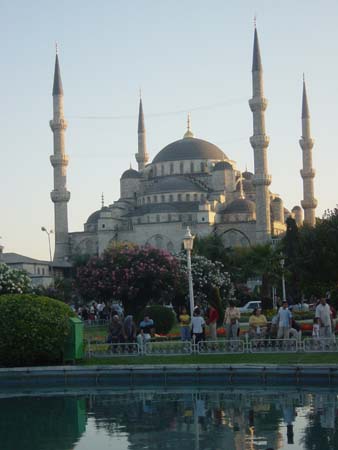 in return (obviously) for some type of payment. The street vendors here are also very aggressive, basically thrusting their wares in your face and looking to engage you in conversation in the hopes of making a sale.
We had dinner on the rooftop patio of our hotel, and enjoyed spectacular views of the city. At 8:00, we heard the 4th of the 5 daily prayers that all Muslims partake in each day.
Tomorrow we've hired a private guide for the day, and are eager to see the Old City and to learn about the rich history of Istanbul. Hopefully, having a guide will also help keep the street hawkers away…
Distance Walked: 1.04 miles