Tuesday, October 21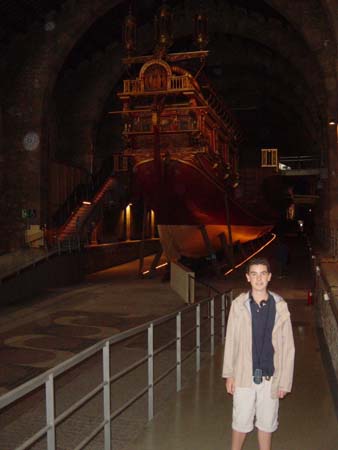 Paula: After a morning of schoolwork, we enjoyed a wonderful lunch at La Fondant. The kids had been anxious to eat at the traditional meal time which in Spain is even later than we have experienced in the rest of Europe. Lunch is from 2-4:30pm and most restaurants don't open for dinner until 8:30pm. La Fondant was just off the Placa Reial and bustling with activity. We had a traditional appetizer plate which included different types of seafood. This was the first time we had tried cuttlefish, although we have seen it often of the menu. Our meals included paella, and Catalan-style chicken and veal dishes - they were all great.
After lunch we decided to explore the Maritime Museum which is housed in a wonderful old shipyard just off the harbor. We especially enjoyed the parts of the museum that focused on old fishing boats, the importance of shipping and trade along the Mediterranean and the explorers of Spain-Columbus and Magellan.
We again walked along the La Rambla on the way back to our hotel and today noticed several artists at work. One created amazing works using spray paints while an audience watched and the other created art on small mirrors using mostly his fingers.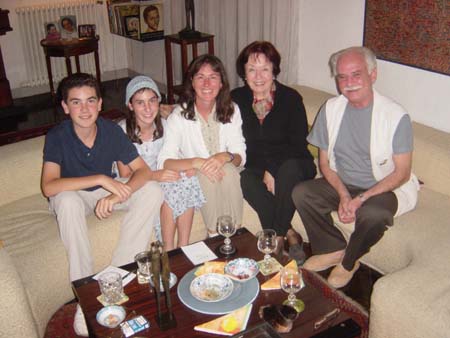 We had a delightful evening visiting with Abdy and Ginette Shama-Levi and their friend Elizabeth. Abdy and Ginette are good friends of Phillippe and Beatrice, our hosts from Provence and they had suggested we give them a call. Abdy and Ginette live in the heart of Barcelona and raised their children here over the past 25 years. The building they live in is charming and typical of the architecture here in the city-lavish in its stone and iron façade. It is just off a wide boulevard flanked by beautiful buildings and a fountain. Abdy is an architect and Ginette a writer. We learned more about the Catalan culture, language and foods. We were particularly interested to learn about how Catalan is now the language taught in schools and is necessary to enter the university. While people also speak Spanish, Catalan is the language of daily living here and definitely different. We also learned that after Franco's death in 1975, there has been a renewed interest in returning to Catalan traditions.
We are beginning to learn about how the Northern part of Spain differs from Madrid and Southern Spain and our appreciation should improve after we return and visit these areas later next week. But first it is off to Morocco-we are excited about the adventure there which starts tomorrow!
Distance walked: 1.86 miles