Wednesday, October 22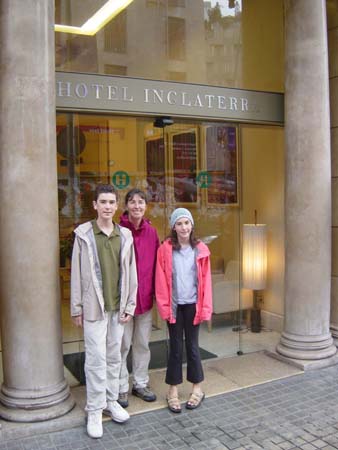 Steve: It's hard to believe that we're actually in Morocco. MOROCCO! Never would we have imagined being together as a family in a place like this… but here we are. Now that we're here, we can't wait to explore a place that we're already certain is very different from anything we've experienced so far.
Today was a pure travel day, and a very long one. We said goodbye to Hotel Inglaterra, and then flew from Barcelona to Casablanca, and on to Marrakech. We didn't realize that there was a two hour time difference between Spain and Morocco (we're guessing that daylight savings time ends here this weekend). The flight to Casablanca (on Royal Air Morocco) was fine, but the airport experience itself was not a pleasant one. In fact, this brought back memories of 1982 when Paula and I arrived in Athens and became so lost in the craziness of the airport that we missed our connecting flight. Today, there were absolutely no signs telling us how to get to our connection, and our flight didn't appear on any of the electronic boards. People generally were not able to help us in English, but fortunately French is a prevalent language here so I was able to communicate just enough to figure out where we needed to go. Even so, after we waited at the gate for 45 minutes with no sign of our plane or flight number, we noticed some people lining up at an entirely different gate. Out of curiosity, we checked it out to find out that this was our flight! At least we made it…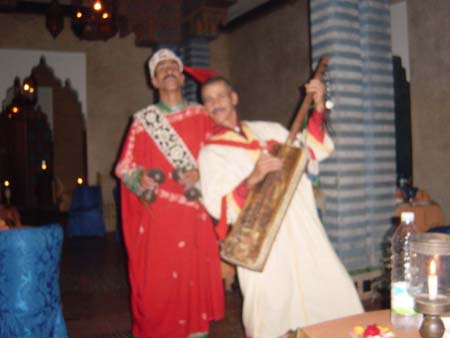 From the moment we walked into the airport, we started seeing people and dress very different from anything we've seen so far, including Istanbul. People were wearing many different kinds of traditional clothing, including very colorful robes and turbans. In addition, at one point many men knelt on the floor and started praying - we never saw this in Istanbul. David and Katie's eyes were wide open…
Our hotel was a short drive from the airport, and tonight we enjoyed traditional Moroccan food in the restaurant here. During dinner we were entertained by two Berber men who played traditional music, and danced and sung (it actually sounded more like chanting). We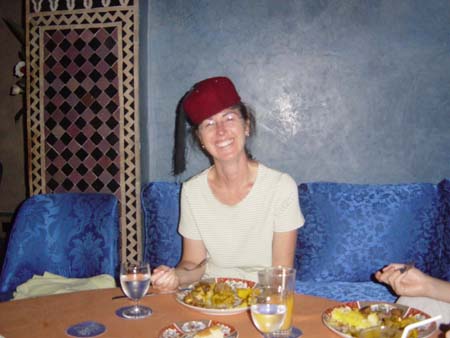 were told that the music was from the Sahara, and is very common here - I actually thought it was kind of soothing, but David and Katie seemed to disagree… We ordered all Moroccan dishes, including several vegetables that were unrecognizable but very tasty. Our main courses were a mix of beef, lamb and chicken served with a variety of herbs and vegetables. Morocco is famous for its mint tea, and we all indulged in this extremely sweet concoction as our dessert.
With the time change and late hour, we went straight to bed after dinner. Tomorrow we've arranged for a private guide to spend the day with us as we explore Marrakech. We can't wait!
Distance Walked: .84 miles