Monday, October 20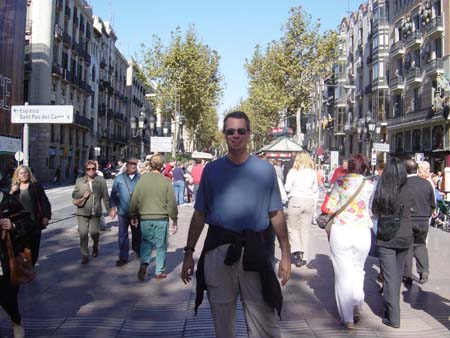 Paula: Wow, what a difference a day makes! We woke up today to bright blue skies and warm weather - this certainly made Barcelona look much more beautiful today, and we took advantage of it by spending most of the day outside.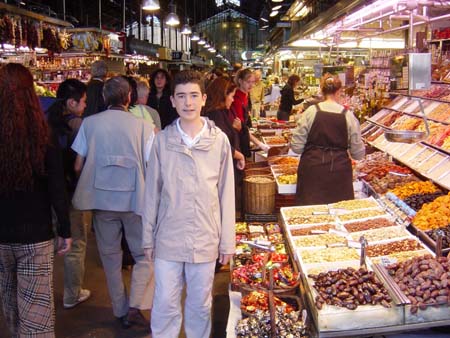 We started by walking down La Rambla in the direction of Barcelona's waterfront. On the way, we stopped in Mercat de la Boqueria, a huge indoor covered market that sells a wide variety of food. The displays of fruit are fantastic, and also enjoyed browsing through all the seafood, meat, cheese, candy and nut stalls. We saw some things for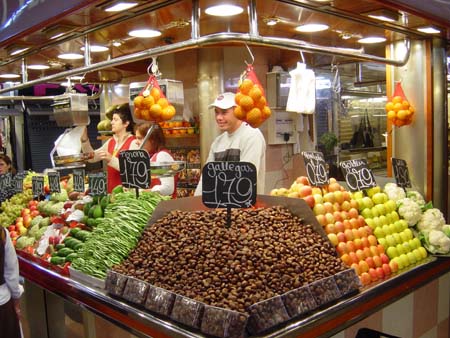 sale that we hadn't seen before, including ostrich eggs, whole rabbits, and some very creative candies. David successfully employed his Spanish to make a purchase of some sunflower seeds and pumpkin seeds (he's had withdrawals from the sunflower seeds at home, so this was an important purchase!).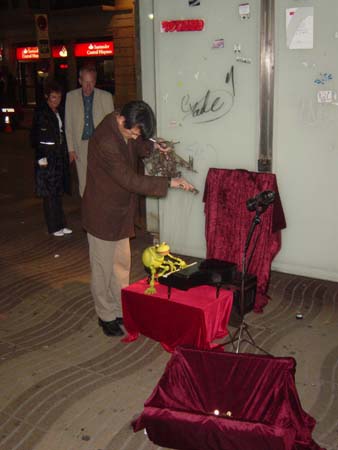 La Rambla, called the street of a thousand eyes, was much livelier today, and it was very interesting to see all the street performers. Human statues were the most common performers and we saw several very clever costumes. The kids enjoyed a performer crowing like a roaster and a very good puppeteer that had a frog playing classical music on a small piano. The street also had an area devoted to the sale of pets, mostly exotic birds and reptiles. We got a kick out of the pigeons trying to steal food from the bird cages. There was a section of the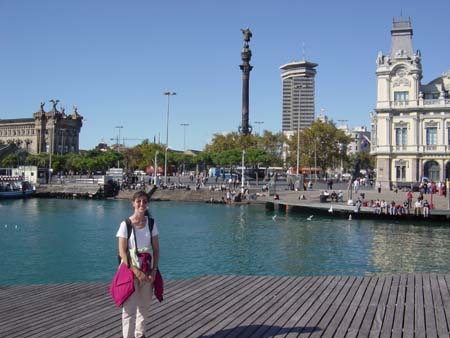 street lined with flower stalls and cafes. We also saw scam artists taking advantage of tourists (we saw one man lose over 100 Euros with one bet) and used the occasion to explain to the kids how this is done. There were also many fortune tellers and individuals simply begging for money.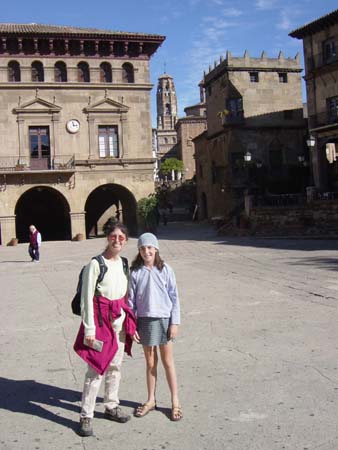 We spent time walking along the waterfront. The harbor was quite nice and a long walkway extends out over the water leading to a trade center and aquarium. Palm trees and boats make the scene look very Mediterranean. The large statue and memorial to Christopher Columbus almost appears to be guarding the entire waterfront area.
Our next stop was Montjuic Hill, home to several of Barcelona's museums and also the site of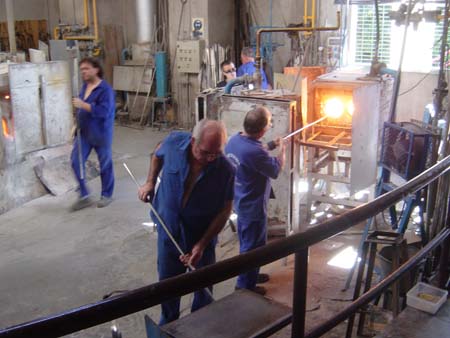 the 1992 Summer Olympics. We started in the Poble Espanyol, a replica Spanish village with copies of famous Spanish architecture and several operational craft workshops. We were largely disappointed with Poble Espanyol - it seems very oriented to large tour groups, and it was somewhat hard to learn and understand about the architecture on our own. There wasn't much activity here today either, but we did enjoy seeing the glass blowing operation and demonstration.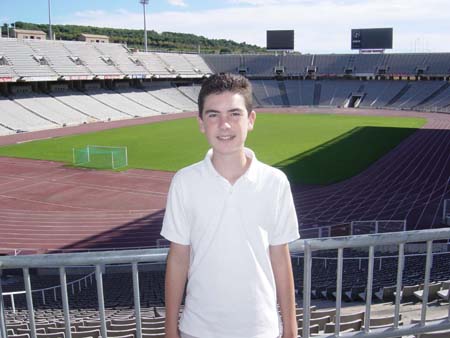 Before leaving Montjuic Hill, we walked through the area where the Olympics were held - it was possible to walk into Barcelona's Olympic Stadium, which seemed much too small for such a venue (capacity of only 65,000). The area surrounding the Olympic Stadium is attractive and nicely maintained, and provides nice views over the city of Barcelona.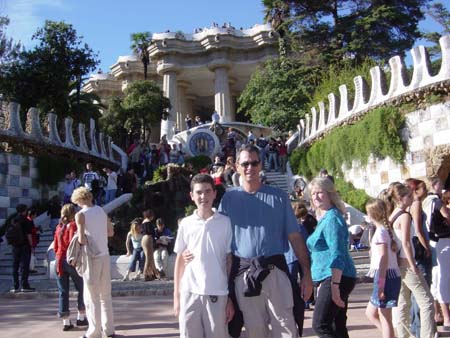 Our next stop was Parc Guell, a large park designed by Gaudi in 1900. The park clearly demonstrates Gaudi's style, especially with its unusual entrance gate, the famous dragon made with broken glass and tiles, and very unusual benches. There are several winding paths that lead up a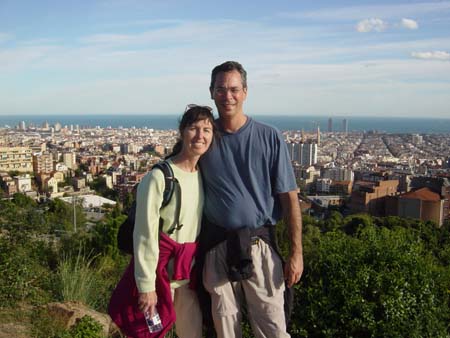 steep hill. From the top, we were rewarded with a wonderful view of the entire city of Barcelona and the Mediterranean Sea beyond. As we have in several other city parks, we spent a couple of hours here in the late afternoon relaxing, drawing and reading.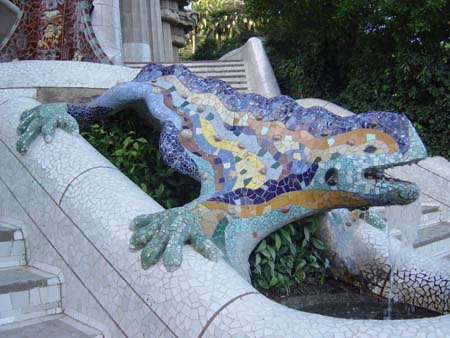 Dinner tonight was another great meal of Catalan food at a restaurant called L'Olives. We enjoyed traditional Catalan seafood, paella and a wonderfully prepared veal steak.
Tomorrow we plan to spend the morning catching up on schoolwork and travel plans, before further exploring Barcelona's historical center.
Distance Walked: 4.92 miles