Sunday, October 19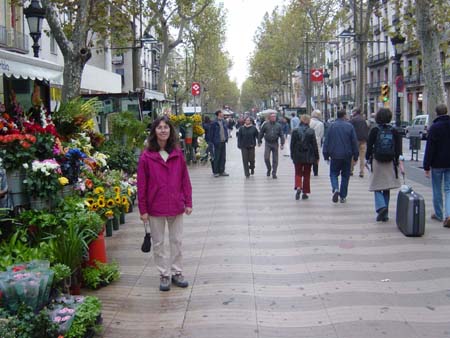 Steve: Our first day in Barcelona was cool and rainy, matching the expectations which our Lonely Planet book set for us when it said: "If you want to see real rain, just hang around Barcelona in October." Despite the weather, we had a good day and were able to explore several parts of the city.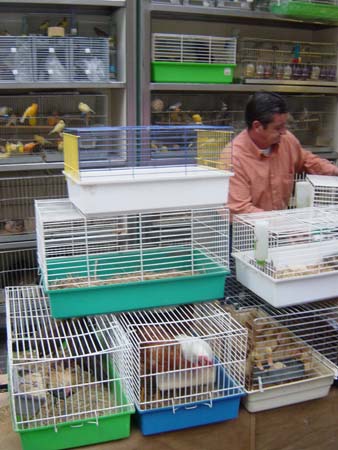 We started with a morning stroll down La Rambla, considered to be Spain's most famous street. La Rambla is a wide pedestrian boulevard, flanked by two small traffic lanes. The center of La Rambla is filled with cafes, street vendors and all kinds of performers. The combination of today's weather and the fact that it was Sunday cut down today's crowds, but it was still fun to walk the length of La Rambla. We saw several interesting street performers, and people selling a wide variety of products including flowers, birds, rabbits and bamboo shoots. There's a large food market along La Rambla called Mercat de la Boqueria, but it was closed today so we'll probably return tomorrow.
La Rambla has several examples of the Modernista architecture that emerged in Spain in the 1880's (this was known as Art Nouveau through much of the rest of Western Europe). We stopped in the Placa Reial, a very attractive plaza which contains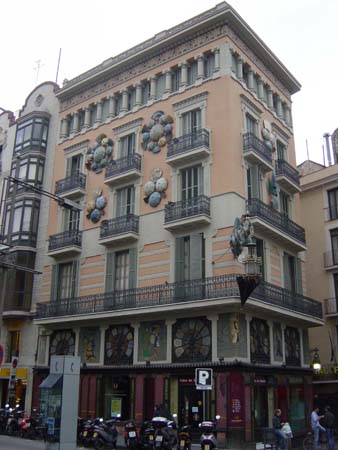 lampposts that are Antoni Gaudi's first known works. Today there was a collector's market in the Placa Reial, and we enjoyed browsing the coins, stamps, books and even beer bottle caps that were being sold. David took advantage of the opportunity, and purchased (using his Spanish!) the last re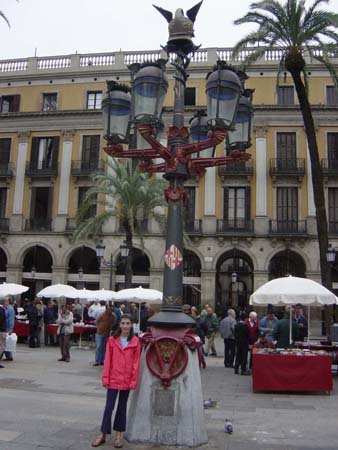 maining 2-Euro coins that he needed for his collection (Finland, Luxembourg and Portugal were the only ones he didn't have).
We walked through Barcelona's "Barri Gotic", the Gothic Quarter. This is the center of the original city of Barcelona, and contains several narrow, winding streets and little squares. Along the way, we passed many very interesting street performers, and, unfortunately, a large number of people who were begging. For whatever reason, Barcelona seems to have more people who ask for money on the streets than in any other city we've visited thus far.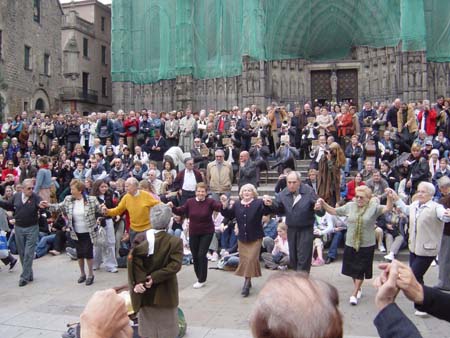 We made our way to Barcelona's main cathedral, also located in the Gothic Quarter. We arrived just in time to see a group of people dancing the Catalan national dance, the sardana. Apparently this happens every Sunday at noon, and it was fun to watch - these people are clearly proud of their heritage, and seem to enjoy the crowds which gather to watch.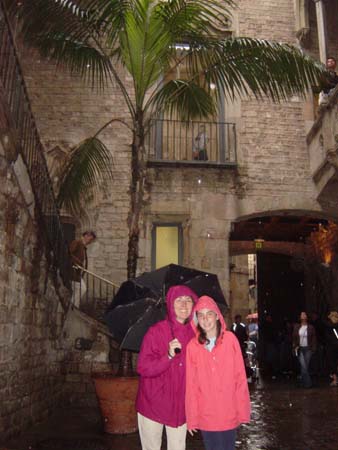 Our next stop was the Picasso museum, which is Barcelona's most visited museum. It houses a very impressive collection of Picasso's works, focusing heavily on his earlier years. There are several pieces that Picasso did in 1895 when he was only 14 years old - the quality of these works is absolutely amazing. The museum is arranged chronologically, and it was fascinating to follow the development of Picasso and his style through his lifetime. Unfortunately, the museum's crowds (especially school children) were overwhelming today, and this took something away from our experience. However, the quality of the museum's collection is outstanding, and we are glad we went.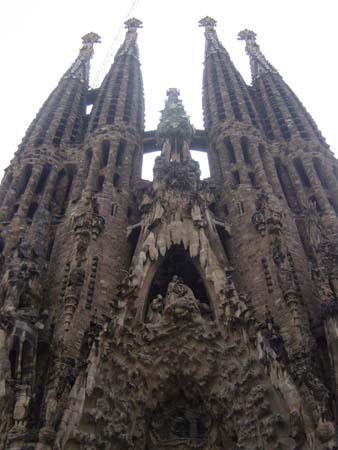 Our final stop was La Sagrada Familia, one of the most unusual sites that we've seen so far. La Sagrada Familia is a huge church that was Gaudi's life masterpiece. It was begun in 1882, and is less than half-finished. Construction stopped in 1926 after Gaudi died after being hit by a tram. Over the years, building has started and stopped intermittently, but is now moving forward in a big way (despite significant controversy) with private funding. There are 8 towers currently in place, and they tower imposingly over Barcelona. The amazing thing is that there are 10 more towers to come, an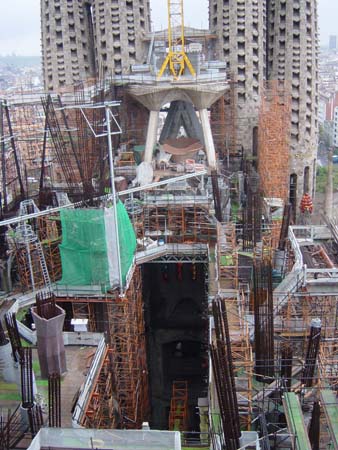 d the tallest will be 50% taller than the tallest one today! Wow. This is a major tourist attraction here in Barcelona, and is basically a huge construction site with a museum that houses models and photos about the church. Gaudi's crypt is also here. While La Grada Familia is certainly unique, we were not overly inspired by our time here, and were somewhat put off at being charged a hefty admission (23 Euros) to enter the construction site.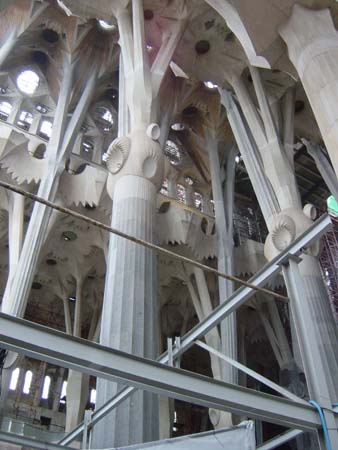 After returning to the hotel to relax and do some schoolwork, we set out for what turned to be a fantastic dinner at Siete Portes (7 Doors). This is a classic in Barcelona, dating to 1836, and they serve a wide variety of traditional Catalan foods. From the moment we walked in, it was clear that their specialty is Paella, so that's what we indulged in. It was great! David and Katie had never had Paella before, but have quickly become big fans. We'll probably enjoy more here during our stay.Tomorrow we hope the weather will allow us to spend time in the Montjuic and Parc Guell areas of Barcelona.
Distance Walked: 3.84 miles