Friday, September 26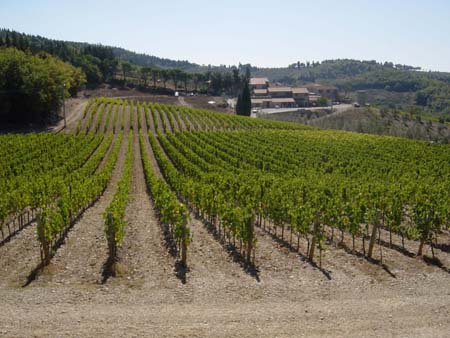 Steve: We've had several days where we intentionally make very few plans and things just seem to work out perfectly. This was one of those days.
Last week, with the help of my brother Mike, we made special arrangements to visit the vineyard of Isole e Olena. Mike works in Chicago for Connoisseur Wines, a distributor who represents Isole e Olena in the Midwest. Mike told us that this is a very well-respected vineyard that makes great wines, and yesterday Roberta echoed Mike's recommendations. We didn't know exactly what to expect from our visit today - Mike had warned us that this was a small, sleepy vineyard and that we may not be able to see much happening. As it turned out, this was an absolutely wonderful experience!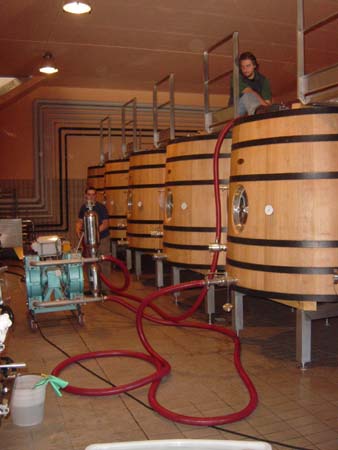 We arrived at Isole after a 45-minute drive that took us into the Castellina-in-Chianti area and through the town of San Donato. The vineyard is located deep in the hills, and is situated on its own hill with sweeping views toward San Gimignano in the west. Isole is a medium-sized vineyard (they produce 200,000 bottles/year), but by American standards it's tiny. We were greeted by Madeline, a very friendly and knowledgeable woman who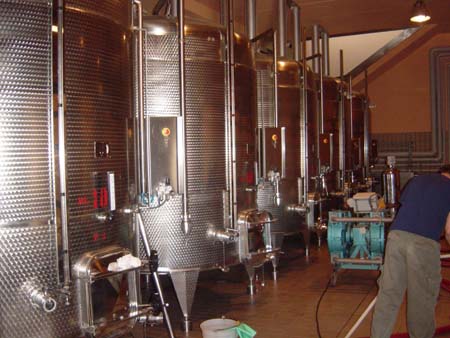 started our tour by taking us down to Isole's cellars and giving us an introduction to Isole and their estate. We quickly realized that Isole is very different from the wine-making we had seen at our estate in Monaciano. This is clearly a highly professional and carefully controlled wine-making operation, and it was very interesting to see and learn about what they do here. We also got a much better appreciation for all the intricacies involved, and how important each little detail can be.
Isole produces six varieties of wine. They are best known for their own Cepparello brand, which is made from 100% Sangiovese grapes. It originated in the 1970's when the DOCG specified that Chianti had to contain a very specific mix of grapes. Isole had been producing a 100% Sangiovese wine, and since it didn't meet the DOCG standards for "Chianti", the new Cepparello brand was born. Cepparello (named for a small stream on the estate) is consistently rated as one of the best wines in Italy, and retails in the U.S. for around $50/bottle. In addition to Cepparello (30,000-50,000 bottles/year), Isole makes Chianti Classico (130,000 bottles), Syrah (14,000 bottles), Cabernet (9,000 bottles), Chardonnay (10,000 bottles) and a Vin Santo dessert wine (10,000 bottles).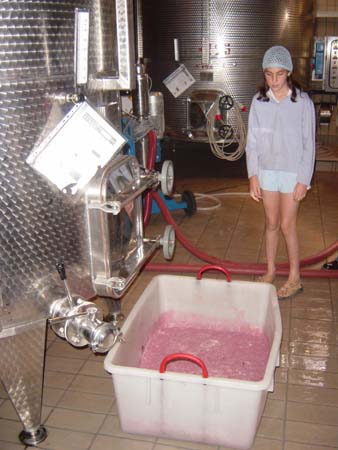 The area where the fermentation is done is spotless, and Isole has recently installed brand new and highly impressive fermentation tanks. We watched freshly pressed grape juice being pumped into the tanks, and also the mixing process which is done daily to keep the skins distributed equally throughout the juices. Madeline also showed us how the fermentation is "kick started" (our words) through the use of a small amount of grape juice and yeast. Isole uses huge oak vats for the fermentation of its highest quality grapes (this is pictured here with Katie). For this year's harvest, some of the fermentation was just finishing, and Madeline let us taste a glass of the brand new wine. It was fun to try wine that had not been aged at all, and even our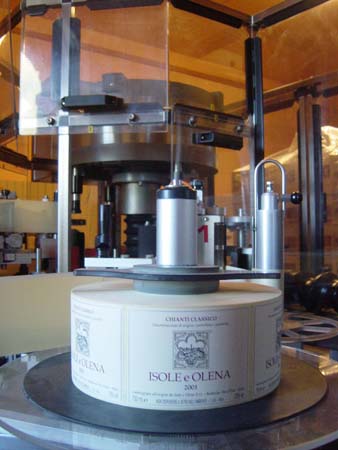 unsophisticated taste buds were able to recognize the difference (we think Roberta would be proud of us!).
We then looked at the machines that do the bottling and labeling. Madeline explained that the wine is pumped from the aging barrels into this area, and that after the bottles are filled and corked they are stored back in the cellar for final aging. The labels are not placed on the bottles until they are ready to ship - this allows Isole to customize the labels according to country-specific regulations.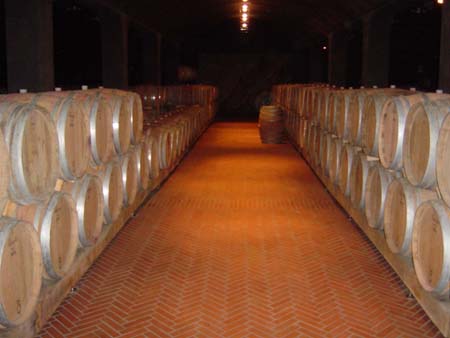 Isole's cellars can store up to 650 barrels, and we watched empty barrels being cleaned and readied to receive batches of newly-fermented wine. The aging process varies by type of wine - the Vin Santo wine ages for a full 6 years before being ready. Madeline told us that their oak barrels are used for five years - the first 3 years they're used for the higher quality Cepparello wines and then for Chianti Classico during the final 2 years.
Our next stop was the building where grapes are dried in preparation for being pressed into Vin Santo dessert wine. The grapes are dried on bamboo racks for 5 months, and then are pressed and aged. Vin Santo is a very difficult wine to produce, and is made in much smaller quantities. In fact, it takes six kilos of grapes to make a half-bottle of Vin Santo, compared to only one kilo of grapes to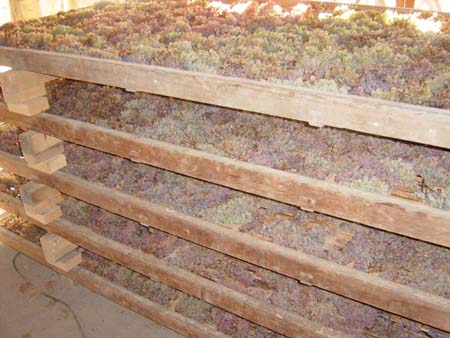 make a full bottle of normal red or white wine. Madeline said that normally one vine produces one kilo of grapes - when we thought about how many grapes there are on the six vines that are required to produce a half-bottle of Vin Santo, we realized why this wine is so expensive.
The aging for Vin Santo is also a very different process. Madeline explained how the mixture of wine, yeast and sediments that collect in the bottom of the barrels after the six-year aging process is saved and used for future years. It actually gets mixed with the freshly-pressed juice from new harvests, and again "kick starts" the process and is integral to the eventual flavor of future wines. This is part of the "art" of the process, and these mixtures are irreplaceable assets for a vineyard such as Isole.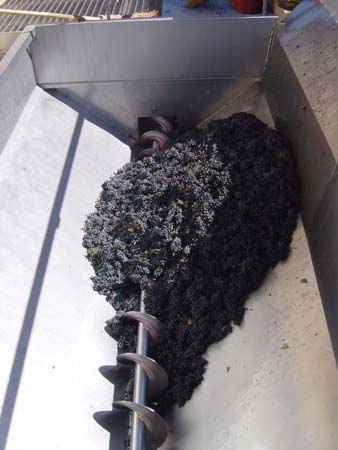 Today was the last day of picking (the harvest began very early this year), and we watched the grapes being de-stemmed and pressed. Madeline said that this was a dry season, and that the harvest is down by 40%. Interestingly, the number of grapes is the same, but they're much smaller and of a very high quality. Madeline explained that the grapes here are all picked by hand. The pickers are highly trained and it's important that they know how to distinguish those grapes will be used for each type of wine (and also those grapes that aren't good enough and can't be used).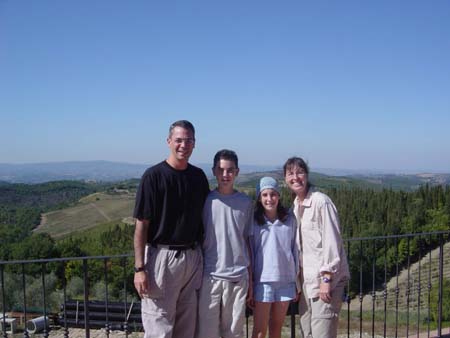 Our final stop was the tasting room, where we greatly enjoyed sampling Isole's Chianti Classico, Cepparello, Syrah and Vin Santo wines. For each wine, Madeline told us more about the types of grapes and about Isole's objectives regarding the aromas and flavors. All of the wines were great, and we purchased bottles of Cepparello, Chianti Classico and Vin Santo for us to drink here in Italy. I personally have developed a strong liking to the Vin Santo dessert wine, which unfortunately at $30 per half-bottle could turn into a somewhat e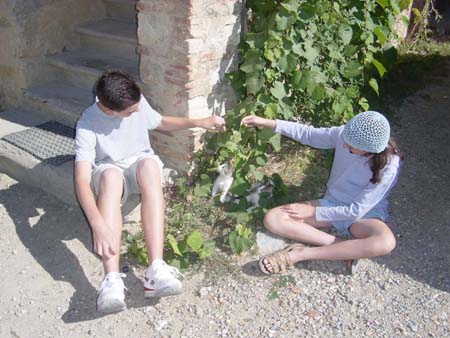 xpensive habit. We got a list of importers/distributors in the U.S. (30% of Isole's wine is consumed by Americans), but we're simply hoping that my brother Mike will be able to serve as our own personal supplier!
After spending some more time wandering around the estate (and playing with two delightful kittens that live there - David and Katie named them Vino and Dino), we decided to drive to Monterrigioni again for another meal at Il Pozzo. This is one of our favorite restaurants here, and we were all craving for another taste of their Pici Verde (fresh noodles with pesto) and Fillet with Thyme. It was just as good the second time around…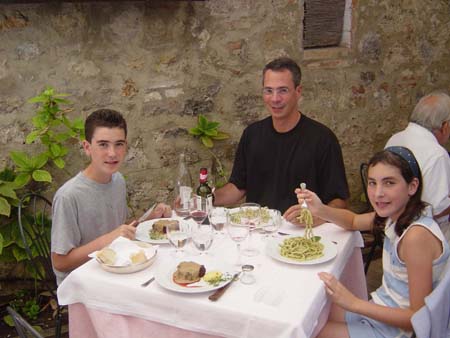 To complete our day (and walk off our midday feast), we returned to the "Clay Way" to try and find a place where we could hike and explore this amazing area. After only a couple of kilometers along the Clay Way, we found a dirt road that looked to lead up a hill and to a ridge with several old farm houses.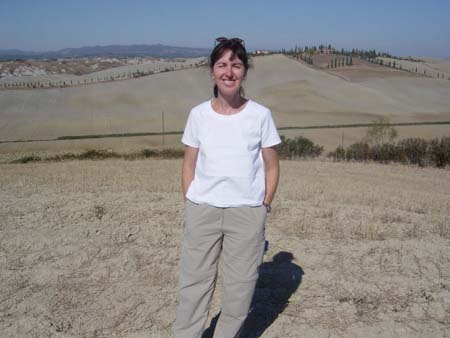 We parked and began walking - this is unlike any hike we'd experienced before. We found ourselves trekking up and down hills in the middle of huge clay fields. The fields are all of varying shades of reds and browns, depending on how and when they've been plowed. At certain points, we'd walk down a hill and all we could see above and around us was the sky and fields of clay. We made our way up a ridge and hiked along a road with several old homes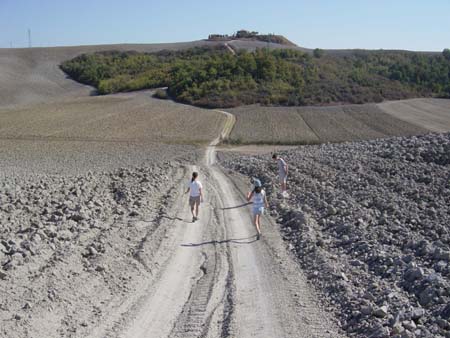 , and then down to a small pond that sits strangely among all these very dry fields. From there we walked back up a steep hill, to the main road and eventually back to our car. It was only a 3-mile loop, but it seemed muc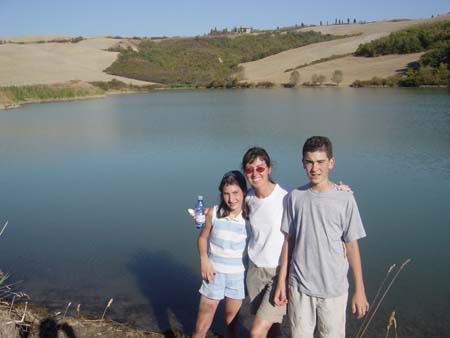 h longer as we spent a lot of time wandering and exploring along the way.
Our hike was made more memorable by David and Katie's insistence on finding some semblance of wet clay among all of these very dry fields. Katie in particular is interested in the clay because it's used to make terra cotta and several colors of paint are named after shades found here ("Burnt Siena", for example). Of course, they succeeded in finding the only wet spot in the entire area and both somehow managed to completely submerge their shoes (including David's brand new white sneakers) in deep and sticky mud pools. We all got a big laugh out of this, and had to spend time cleaning their shoes by hand (the only thing around us was clay!).
We now only have two more days left here in Tuscany before we begin the next phase of our adventures. This makes all a little sad, but we're also looking forward to our upcoming travels to France, Spain and Morocco.
Distance Walked: 3.58 miles