Thursday, September 25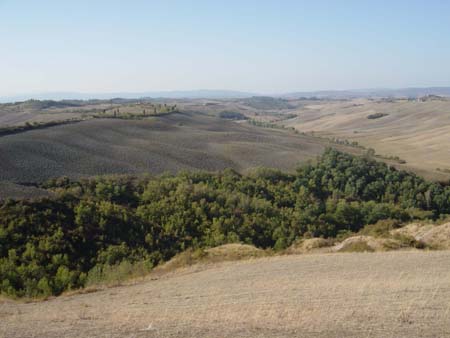 Steve: Today we spent a wonderful day with Roberta exploring the southern part of Tuscany. We have heard and read much about this area, but this was our first opportunity to spend time here. The weather was absolutely perfect, and we set out early in anticipation of a full day.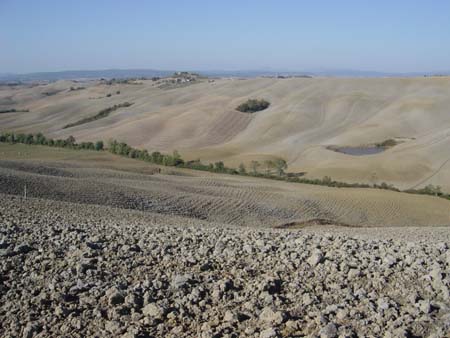 We got lost on the way to meet Roberta (one of the only times our GPS mapping software has failed us), but this actually turned out to be a good thing. We called Roberta's mobile phone and she directed us to take a road toward Asciano - she assured us that we'd love the scenery on the way. She was right! The road is called the "Clay Way", and is famous for its spectacular scenery. The Clay Way cuts through miles of plowed fields displaying beautiful shades of browns and reds, with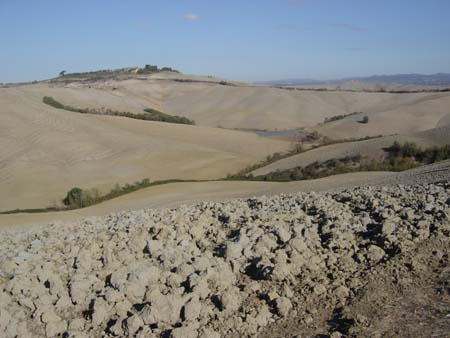 mountains and hills all around. The variety of colors and textures is amazing - we've never seen anything like it. These fields are used for planting a variety of grains, but are plowed after the spring harvest and these colors are present through the winter. We saw several farmers plowing today, and were able to see how the color of the clay changes as its plowed. Although we took many pictures, none were able to adequately capture the beauty of this very special area. We hope to come back here to hike and explore this area some more - it's very different from the landscape surrounding Ponte a Bozzone and the Chianti region.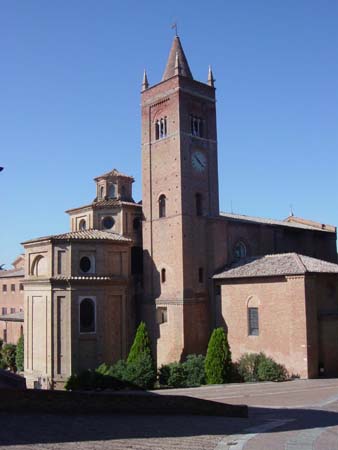 We arrived in Asciano and followed the road to our first stop - the Monte Oliveto Maggiore abbey. This Benedictine abbey is set on a hill deep within a cypress forest, and is extremely beautiful. Attached to the abbey is The Great Cloister, containing 36 frescoes depicting the life of St. Benedict. These frescoes line the walls surrounding a peaceful courtyard, and are well known for their exceptional detail and color - they were painted by Signorelli and Sodoma. Most of the frescoes we've seen have been in churches, and we really enjoyed viewing these frescoes in such a different setting.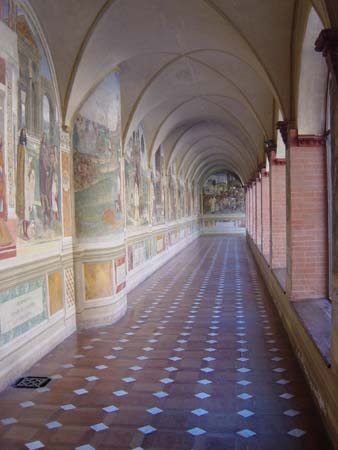 It was also interesting to walk through the abbey and see its library, the monks' dining room and the pharmacy (several natural healing products are sold on site).
On the drive to Pienza, Roberta pointed out several stops along the road where we could take pictures that duplicate several famous postcards from Tuscany. One of these is a unique group of cypress trees that is very frequently photographed. We did our best, but our pictures definitely don't due justice to this place…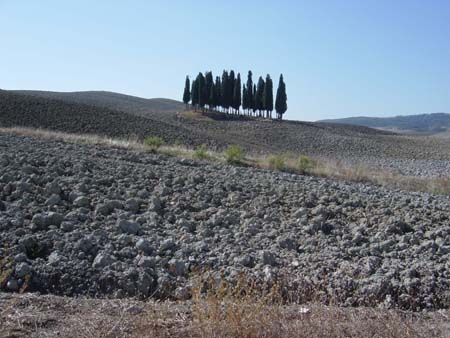 We arrived in Pienza, a small town that sits on a hill with sweeping views of the surrounding countryside. Pienza is best known for its Renaissance architecture. Pope Pius II was born here, and decided in the mid-15th century to totally transform Pienza from a typical medieval village to a Renaissance style. The Pope hired Bernardo Rossellino to be his architect, and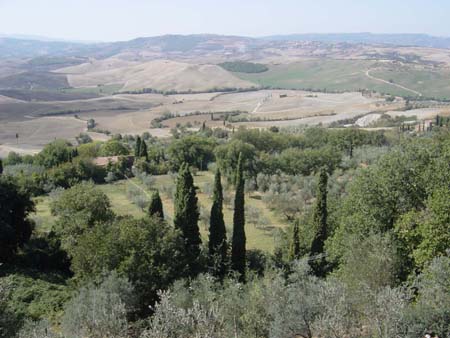 Pienza's town square is well-known for its unique Renaissance design. Rossellino had very little physical area to work with, so he designed the buildings to be at precise angles to create a sense of space. Unfortunately, the Pope died soon after the square was completed, so very little of Pienza ended up being transformed.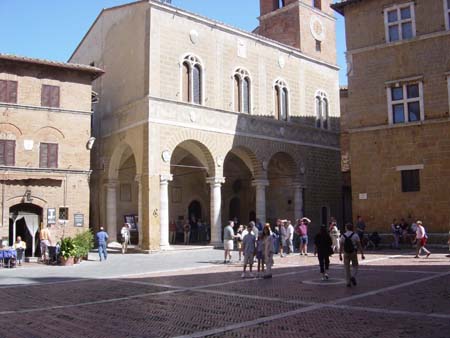 Pienza is famous for its Pecorino (sheep) cheese, and there are several wonderful cheese shops along the main street. The smells inside these shops are great, and they all offer free tastes. After trying several, we fortunately all agreed on the one we liked best, and purchased a large chunk to take home. Before leaving Pienza, we had a great lunch at Roberta's favorite spot - a restaurant called La Bucca delle Fate. We all had homemade picci with tomato sauce - it was wonderful! We learned in Florence that picci is purely a Siennese dish -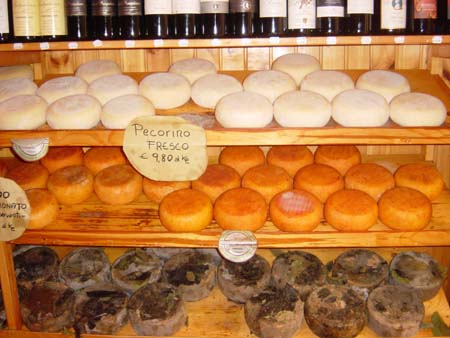 it's not on menus anywhere in Florence, but is the primary pasta that we see in towns around Siena. Perhaps this dates back to all the conflicts that have occurred between Siena and Florence throughout the years…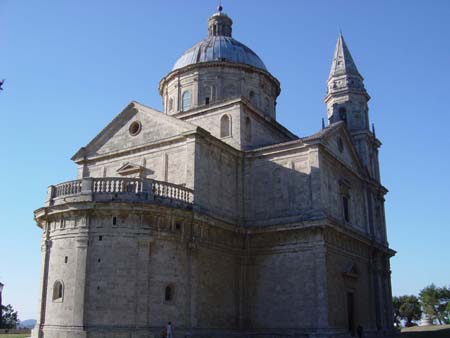 Next we drove to Montelpulciano, one of the larger towns in Southern Tuscany. Montepluciano sits high on a hill, and is well known for many of the great wines produced here. We parked beside the hill, and decided to walk off our lunch by hiking up the winding roads that lead into the town. Montelpulciano has several interesting shops and cafes, and also several ancient wine cellars that are still used today. Roberta took us to several of these cellars, and we enjoyed seeing a variety of wines being aged in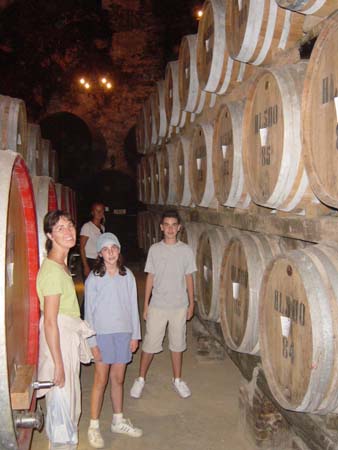 different types of barrels. We had a great time tasting several wines with Roberta - she laughed at us as we failed repeatedly to identify the correct smells present in the various wines that we tasted (Katie swears that she smells raspberry in every single wine!). Roberta also said that we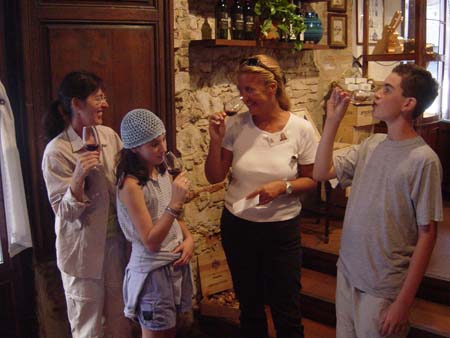 have "typical American tastes" - we shy away from the complex wines that she says are the true great wines of Italy, and tend to like the smoother, simpler varieties. She had a good time poking fun at us! Roberta also created several pages for us that cover the various characteristics of wines and also describe how to mix specific foods and wines. We now have lots of homework!
Our next stop was the old town of Bagno Vignoli. This is a tiny medieval spa village with a town center that was built directly on top of a bubbling hot water spring. The village basically consists of group of houses built on a wall that surrounds the spring - we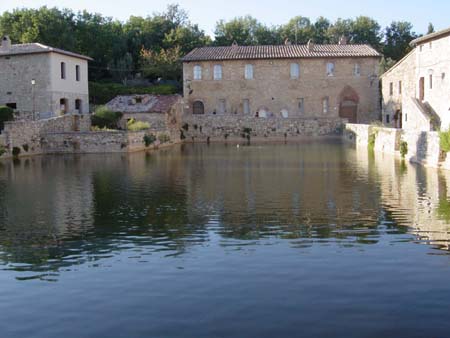 could see the water bubbling in the center of the "town square." The spring leads through a series of channels down to natural pools at the bottom of a cliff. We had hoped to take a swim in the pools, but the day had cooled off and so had the water. Instead, we soaked our feet in one of the hot water streams and enjoyed the refreshing air and scenery.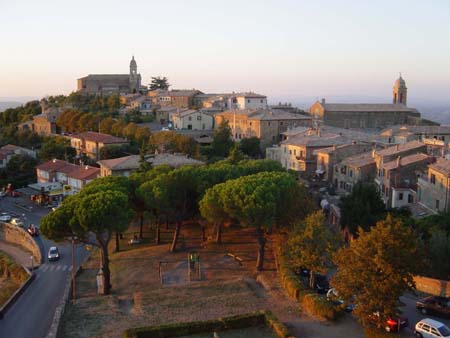 We saved Montalcino for last so that we could see the views in the late afternoon light and catch the sunset from the top of the hill. Montalcino is famous for its Brunello wines. Brunello is produced only in the small vineyards that surround the town, and is considered to be one of the best wines in Italy. We started by climbing to the top of Montalcino's fortress, which affords great views in all directions. It was actually very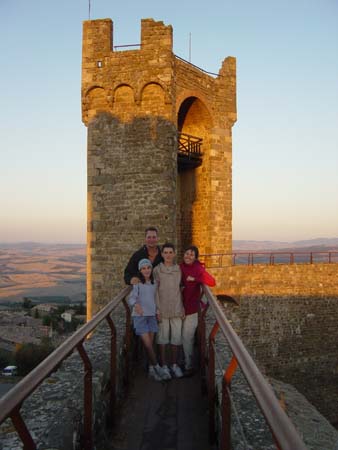 cool and windy on top - quite a change from what we've become used to! We enjoyed climbing each of the towers of the fortress, and stayed to watch a beautiful sunset over the hills.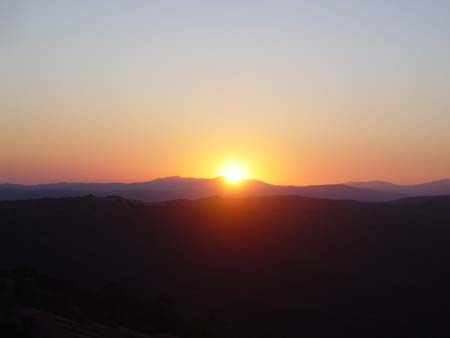 We walked into the town center, literally filled with Brunello wine stores. There are ceramic tiles displayed in the town square, one for each year of the Brunello harvest. Every year's harvest is given an official rating of between one and five stars, and the tiles incorporate the rating for each particular harvest into an artistic design (the one shown here is for 2000 and its 3-star rating). Roberta gave us a pamphlet that reviews every historical year of the harvest and explains what weather-related phenomenon led to the rating by year. 1997 was the best harvest that this area has had in the last 50 years - this was due to perfect weather that included a very dry September and October which ripened the grapes thoroughly and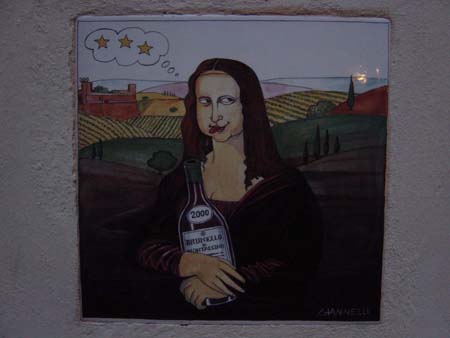 perfectly. This contrasts with years such as 1984 (one star) where constant September rains rotted and ruined almost the entire harvest.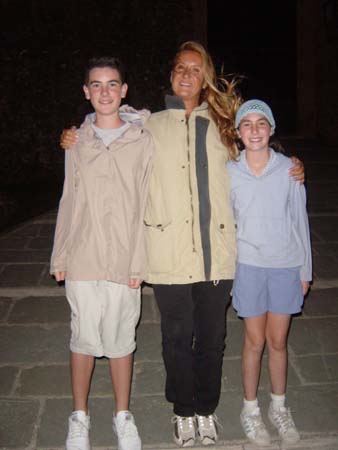 Finally, it was time to say goodbye to Roberta. We had a really wonderful day today, largely due to Roberta. It was funny to see how quickly David and Katie became comfortable with Roberta and began treating her as part of the family. Even though today was a very busy day, Katie's telltale comment this evening was that "this day was way too short." We will definitely keep in touch with Roberta, and promised that we'll return to spend time again with her again in this very special place.
Distance Walked: 5.84 miles