Tuesday, September 16
Steve and Paula: Tonight we both agreed that this was one of the best days we've had since our travels began in June. We had been hoping for several days to find a private guide who could walk through the countryside with us, and talk about Tuscany and its history, landscape and winemaking. We were extremely fortunate to have connected with Roberta Marioni, a charming Italian woman who has been guiding in Italy for the past 15 years. Roberta also happens to be a "Master of Wine" (an official title) - perfect for our desire to learn all about these wines that we've loved so much.
Roberta told us on the phone about a great trek where we'd have the opportunity to walk among hills, vineyards, forests and ruins, eventually approaching the medieval town of San Gimignano. This sounded perfect, especially since San Gimignano was definitely a place we wanted to see. We met Roberta outside the city walls, and drove together to the starting point of our hike. The drive took 20 minutes, and we couldn't help but wonder how long of a walk we had signed up for…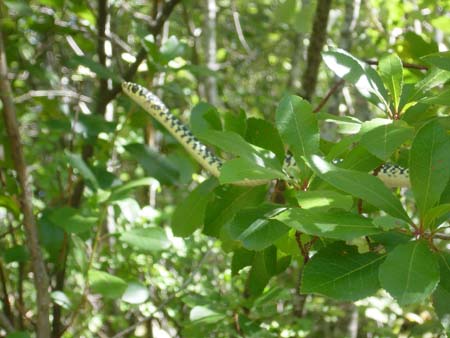 The walk began on a gravel road through a wooded area, and Roberta began telling us about the history of Tuscany. Along the way, we enjoyed an encounter with a local tree snake and numerous lizards. Roberta also pointed out local plants including wild grapes (they grow all over Italy), and the white pistachio plant (used for food, dyes, spices and even chewing gum).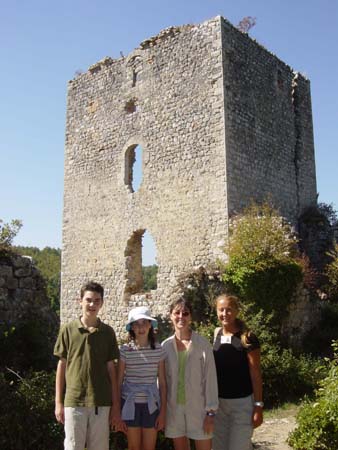 Our first stop was in Castel Vecchio, a well-preserved medieval village located deep in the forest and overlooking densely-wooded valleys. This was really very special. Since Castel Vecchio is about a 30 minute walk from the road, very few tourists come here and we were able to explore the ruins on our own. We learned that the village was created in the 12th century and was abandoned in the 16th century after being dev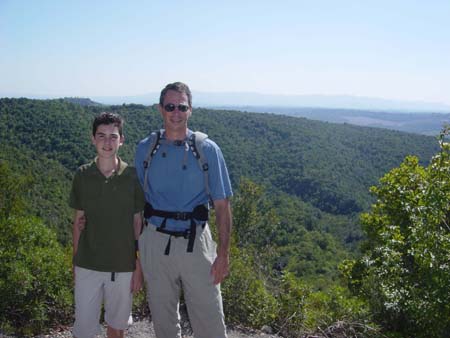 astated by the plague. Because of its remote location, the remains of Castel Vecchio were left undisturbed, which is why it has been so well preserved (many medieval villages were destroyed when their rocks were removed and reused for other purposes). The ruins include a Romanesque church (with some frescoes still visible), a mill room, towers and a gate.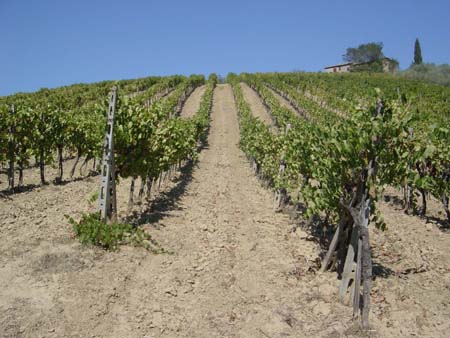 From Castel Vecchio, we continued up and down steep trails in the forest and a dry river bed before joining a gravel road. Along the way, Roberta gave us a great lesson about Italian wine. We learned about the history of how the Etruscans originally cultivated the grapes, and how methods for production have changed throughout the centuries. We were surprised to learn that the vineyards of Europe were all destroyed in the late 19th century by an insect (we'll have to find out more). The vineyards were then replaced with plants grown in America - therefore all the vineyards we see today are actually descended from American grapes. Roberta told us about how the grapes are grown and cultivated, the varieties of grapes used, the laws surrounding wine-making (Roberta also has a law degree!), and the characteristics of the various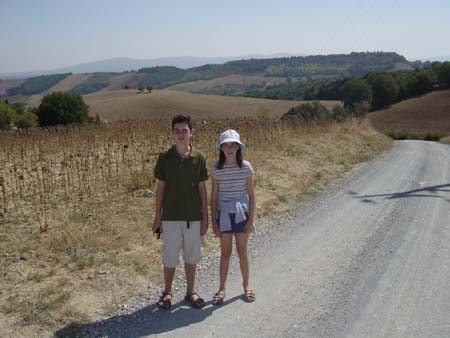 winemaking regions. Roberta is hoping to pass the very challenging exam which would enable her to become a professional wine taster, and perhaps become the first woman on Italy's official wine tasting commission. It was fascinating to learn about what's required to achieve these levels of mastery. We couldn't stop asking Roberta questions about wine!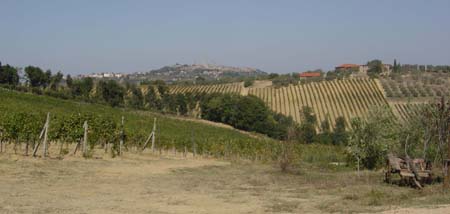 After passing through a variety of farms and vineyards, San Gimignano came into view. We could clearly make out its towers and majestic setting on top of a hill. We stopped here and enjoyed a quick picnic lunch. Roberta brought some dessert wine (Vin Santo) with her, and she showed us how the Italians like to dip biscotti into the wine - we're normally not big on dessert wines, but this was very good. We also had stopped under a walnut tree, and David enjoyed breaking open the nuts for us to eat and enjoy.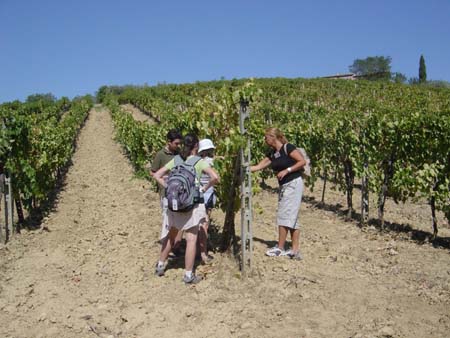 Our next stop was in the middle of a vineyard where Roberta helped us find bunches of grapes that were still on the vines and had clearly been missed by the recent harvest. Since they had been missed, we didn't feel too guilty about helping ourselves to sweet treats. Roberta was able to identify the varieties of grapes by their leaves, and also showed us how the farmer had been training the branches to grow along the wires in the rows. She explained the various training methods that are used, and the characteristics of the plants in professionally-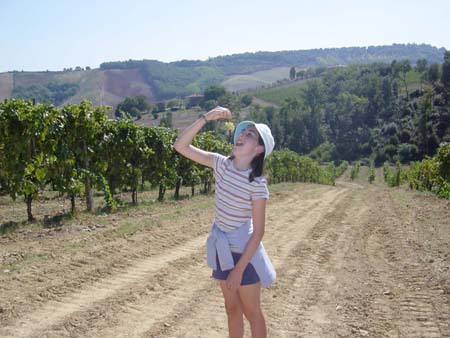 maintained vineyards. We also found a fig tree and found the figs to be ripe and ready to eat.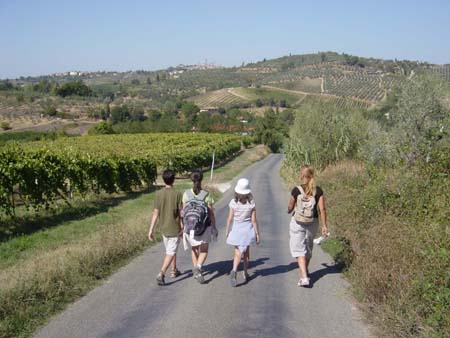 Our hike continued for a total of 8 miles, passing through several beautiful hillside estates - these would be wonderful places to live! After 4 ½ hours, we finally arrived at the gate to San Gimignano. San Gimignano became a town in 1200, and was ideally situated on the route traveled by pilgrims from Europe on their way to Rome. Because of its location, the town became a commercial center and prospered. San Gimignano's most notable feature is its 14 remaining towers (out of 72 originally there), each built as symbols of wealth and prestige by families who could afford this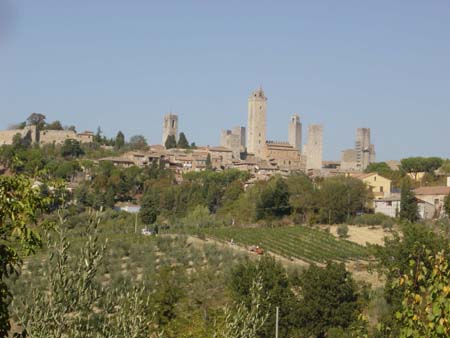 luxury. San Gimignano was eventually conquered by the Florentines in the 1300's who wanted to divert the trade routes so that they went through Florence. This resulted in San Gimignano losing its wealth, and therefore there was no money available to fund further development and expansion. This accounts for San Gimignano's appearance today being largely unchanged from how it looked in the medieval ages (as opposed to cities like Siena which has undergone radical reconstruction). This is largely why over 2 million tourists visit San Gimignano each year (invading the town's 7,000 residents). Fortunately, by the time we arrived late this afternoon, most of the tourist buses had left for the day.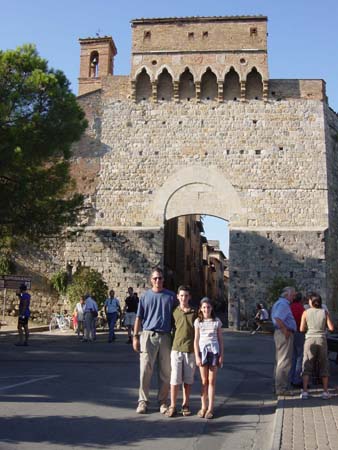 The town of San Gimignano is very beautiful. The main street is lined with very interesting shops, and there are many narrow (and often dark) side-streets and alleys. The views from San Gimignano across Tuscany are spectacular. Roberta told us about San Gimignano's history and architecture, and explained how the city is particularly well-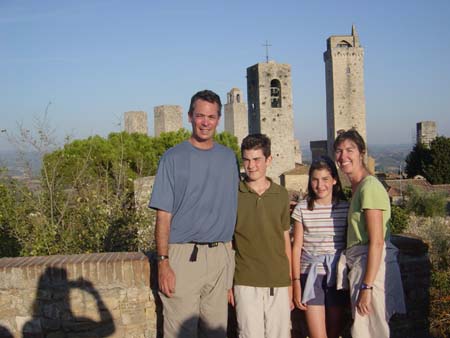 known for the style and decoration of its windows. From inside the walls, you can see that there are actually two sets of twin towers, each set built by particularly rich families (they also happened to be fierce enemies). It was great to wander through the streets and to take in all the history and architecture of this very special place.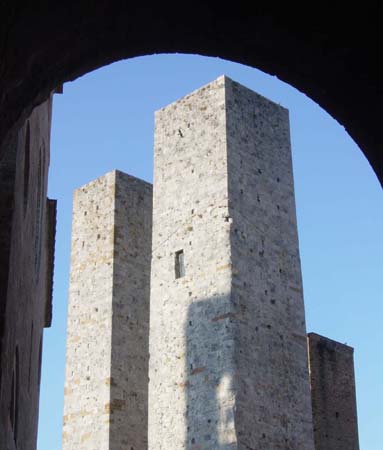 Before we let Roberta go for the day, we stopped in a wine shop. She had promised a lesson in wine tasting, and we just couldn't pass up this opportunity! Roberta selected a wine that she knew well, ordered two glasses, and took us outside for a wonderful lesson on wine tasting. She took us wonderfully through the process of observing, smelling and tasting the wine. We all had fun trying to identify the colors and smells present in the wine, and waited very impatiently until Roberta would finally let us actually taste it! David and Katie really enjoyed this experience, and they now having fun pretending that they're some kind of wine experts…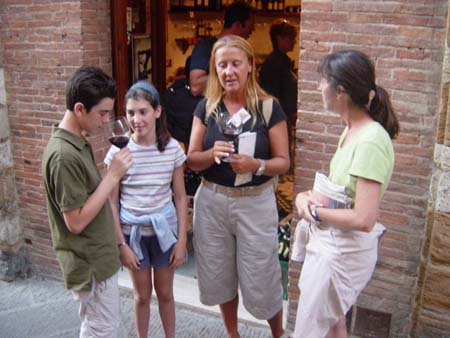 We had a pasta dinner at local restaurant called La Bettola del Grillo. Our new taste treat for the day was ribollita, a very thick and good Tuscan bean/vegetable soup with bread mixed in. We also enjoyed tiramisu, one of our favorite desserts.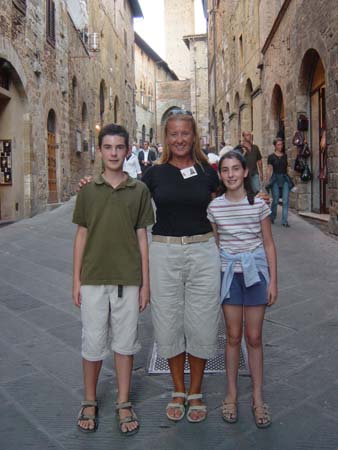 This was the longest we've walked since our hikes in the Alps, and was definitely a very special day. We enjoyed our time with Roberta so much that we arranged to meet her again for another day. This time we'll visit one of her favorite areas of Tuscany - the southern towns of Montalcino and Pienza. Montalcino is where Brunello wine is made -it's considered to be one of Italy's finest reds and we can't wait!
Tomorrow we will spend the day back home at Ponte a Bozzone - a very well-deserved day of relaxation.
Distance Walked: 10.34 miles