Monday, September 15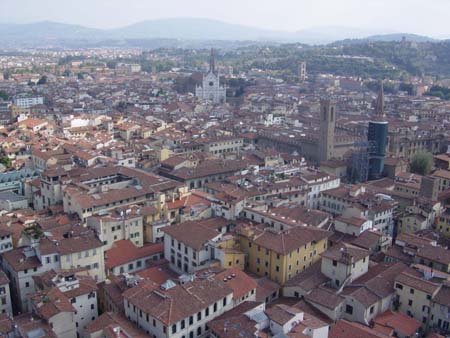 Steve: Florence! This was one of our favorite cities when Paula and I came to Europe in 1982, and today was a great reminder why. Florence is a beautiful city, and there's a tremendous amount to see, learn and do here. Today we began exploring some of what Florence has to offer, but know that we'll be coming back for day trips again while we're in Tuscany.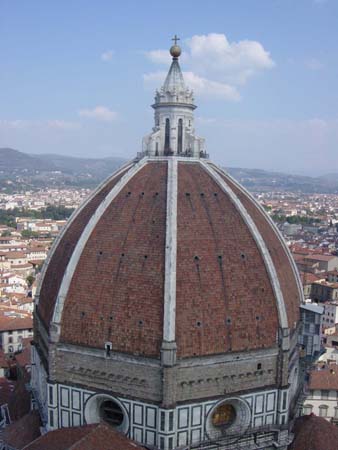 We decided to drive to Florence, another new and very challenging experience. Even with our navigation system, we found ourselves making wrong turns (we didn't realize that on the A1 we needed to head toward the signs that said Rome!) and in some really crazy city traffic. The scooters dart at you from all directions, and weave unbelievably through lanes of traffic. I learned that all you can do is to keep driving, basically ignoring the scooters and letting them take care of themselves (Paula didn't like this approach, but there's no option!). Eventually we arrived and parked underneath Florence's large train station.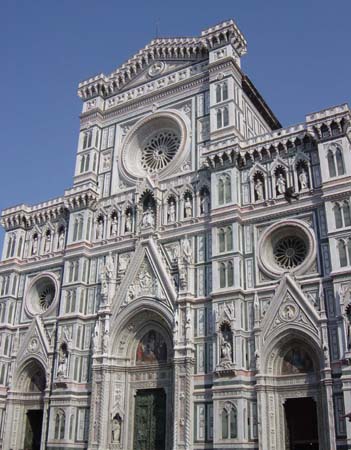 We began our day with a wonderful walking tour through the center of Florence. Our guide was one of the best we've had so far. Despite this being a group tour, we learned a tremendous amount about Florence's history, architecture and art. At one time, Florence was the capital of Italy. Because of this, Florence's Piazza della Republica was the political center of Florence and all of Italy, and was where our tour began today.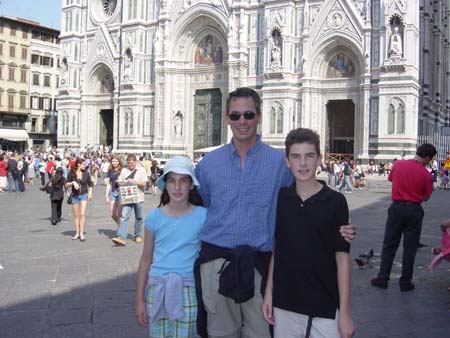 The stories behind Florence's history and art are fascinating. For example, there is very interesting history surrounding all the statues in the Piazza della Signoria. The Piazza initially appears almost to be a large museum of statues. However, there were very specific reasons, often political, for the specific statues and their locations. Michelangelo's David represented the humanistic passion of the Florentines during the Renaissance. When the Medici's returned to power in the early 1500's, they commissioned Cellini to create a bronze statue of Perseus. In a gruesome portrayal, Perseus is beheading Medusa, and the statue is in stark contrast to the style of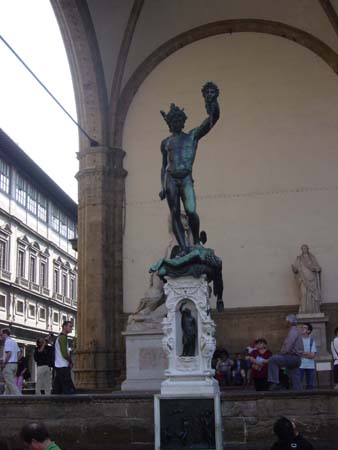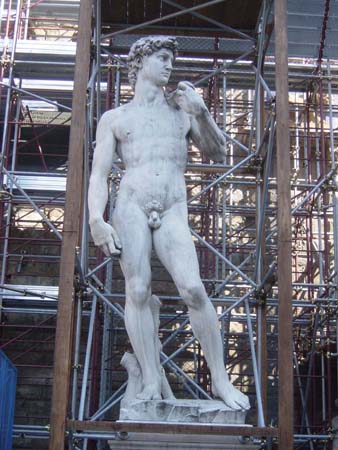 David (and in a location where Perseus and David appear to be almost looking at each other). The statue was seen as a warning to the Florentines not to mess with the Medicis again.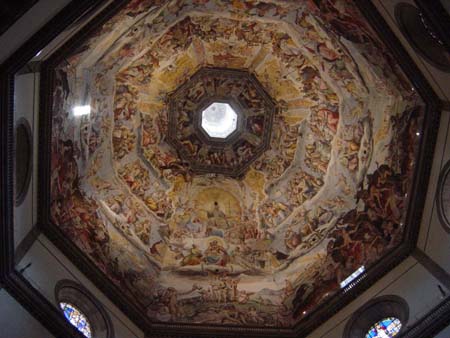 Florence is a wonderful place to see and understand various types of architecture, and we saw great examples of medieval and Renaissance architecture side-by-side. We also enjoyed learning about the history of specific buildings and works of art. The story about how the dome of the Duomo was built was extremely fascinating. After losing a competition for the right to create the bronze doors of the Baptristy, Brunelleschi went to Rome and studied techniques for building domes. Florence had been unsuccessful in building a dome for the Duomo - several had been tried and they all collapsed.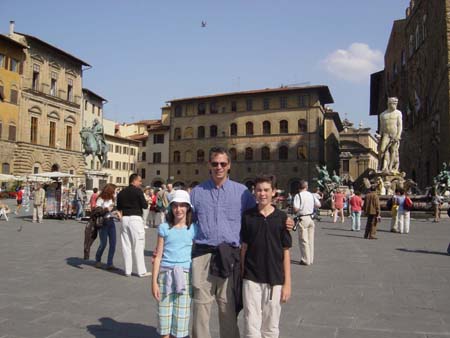 Brunelleschi then came back to Florence with a revolutionary method for building the dome. It involved the creation of an inner shell that provided the support necessary to hold the outer structure. This was the largest dome built during the Renaissance, and is considered one of the most amazing architectural accomplishments of its day.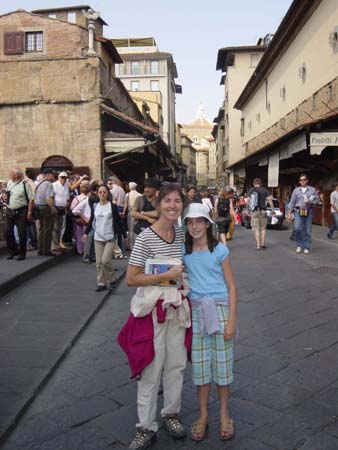 After our tour, we stopped inside several of Florence's street-side food shops. There is so much wonderful food displayed, that it's hard to decide what to eat! We had wonderful paninis (sandwiches) at a place called "The Hole in the Wall" (I can't remember the Italian) - our guide had recommended this, and the paninis were great. It's located in a small alley, and is basically a small window where you can order food and wine, and then sit on the curb to enjoy. We loved it (especially the prosciutto, tomato, and mozzarella). We walked around and also enjoyed gelati, pastries and biscotti. A perfect lunch…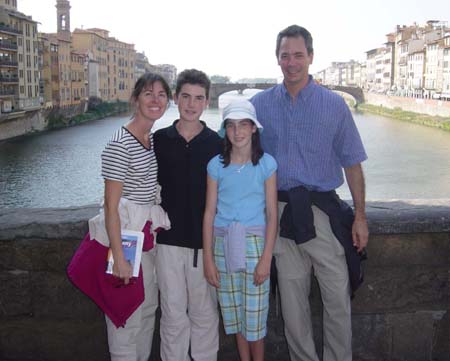 The weather today was great, and several of the museums were closed, so we decided primarily to make today a day of outside exploration. We walked all over Florence, including a 414-step climb for the views on top of the Bell Tower, a ramble through the large and peaceful Boboli Gardens, and an exploration of several of the city's back-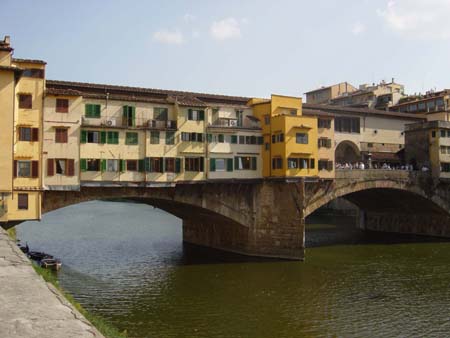 streets and alleyways. We stopped to spend time browsing all the wonderful jewelry on the Ponte Vecchio, a beautiful bridge that was the only bridge in Florence to escape bombing in World War II. Jewelry has been sold on the bridge since the late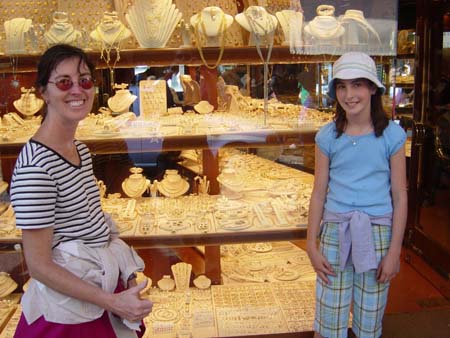 1500's, and we were told that many of the shops go back several generations. The displays are beautiful, and it's very fun to browse (no purchases were made today though - very pricey!).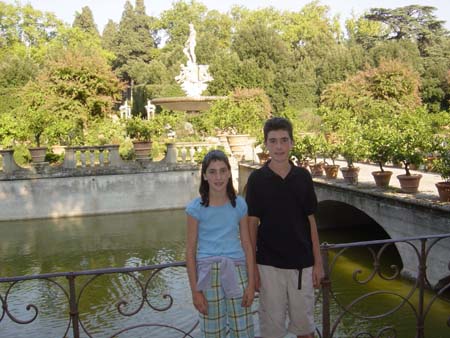 For dinner, we went to Acqua al Due, which was my parent's favorite restaurant in Florence when they visited several years ago. It was a good thing that we were able to stop by at 2:00 to make a reservation for their 7:30 opening time - when we arrived at 7:20, there was a whole crowd that had congregated waiting for the restaurant to open. We didn't see this in any other restaurant, so we knew that we were in for a treat. The food was really spectacular. For our appetizer, we all ordered the pasta sampler, which is a series of five separate dishes that they bring to the table one at a time. As soon as we'd finish one pasta, the waiter would bring another hot dish to the table - being true pasta lovers, we were in heaven! For our main course, we all enjoyed beef fillets - David, Katie and I had ours with a balsamic vinegar sauce, and Paula had hers with BLUEBERRY sauce (a specialty of the house). The blueberry had been specifically recommended by my mom, and Paula was the brave one of the group - she wasn't disappointed!
We didn't leave Florence until after 10:00, and arrived back in Siena (after only 1 or 2 wrong turns…) at 11:30. This was a great day, and we are also really looking forward to tomorrow's planned trek to San Gimignano. All of a sudden we're back on a fast-paced schedule again… at least for a couple of days, and then we'll revert back to a more relaxing pace from our home base in Ponte a Bozzone.
Distance Walked: 7.24 miles (LOTS of walking throughout Florence)