Thursday, March 16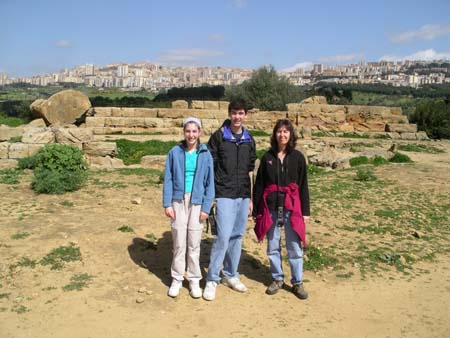 Today we all slept in as part of our planned "down day", a term that we coined during our travels during 2003 and 2004. The Hotel Villa Athena is located a short walk from the Valle dei Templi (Valley of the Temples), the main reason that people visit Agrigento. In fact, we enjoyed a wonderful view of the illuminated Temple of Concord right from our hotel room when we arrived last night.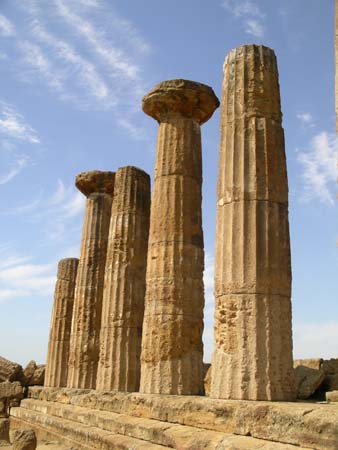 After a leisurely breakfast, we made the short but harrowing walk along the road to the entrance for the Valle dei Templi. We were forced to cross the road multiple times to deal with disappearing sidewalks and to get back and forth to the ticket office, and remain amazed at how the drivers ignore and refuse to give way to pedestrians. We had to laugh as we waited at a painted crosswalk and watched a police car refuse to stop to let us cross…
The Valley of the Temples date to the 5th and 6th century BC, and are considered to be the greatest collection of ancient Greek temples anywhere in the world, outside of Athens. The site originally contained 11 temples - some are now in complete ruins but others, such as the Temple of Concord, have been remarkably well preserved. The Temple of Concord is considered to be one of the best preserved Doric temples in the world, largely because it was converted to a Christian basilica (with a roof) in the 4th century AD.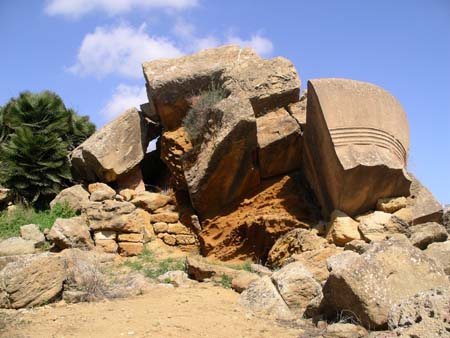 The temples are all constructed along a ridge with great views of a sweeping valley and the Mediterranean Sea to the south, and the new city of Agrigento to the north. We enjoyed a relaxing walk through the ruins, and again were able to take advantage of the relative lack of tourists here during the off season.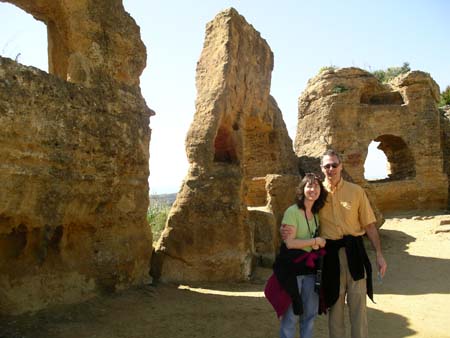 After a great pasta lunch at the hotel, we spent the afternoon relaxing in the hotel's quiet gardens. Today was a bright, warm day - the best weather that we've had so far - and it was nice to sit outside, read and relax. Tonight we were determined to enjoy our first pizza dinner, and satisfied our craving at a nice restaurant called Kokalos located only 5 minutes from our hotel. We have learned that the restaurants don't fire up their pizza ovens until the evening hours, and therefore it's impossible to order pizza during lunch. The pizza didn't disappoint, although we were surprised that it was thin-crusted.