Tuesday, February 24
Steve: We began today on a night train from Jaisalmer to Jodhpur. Rather than make the 5-hour drive back to Jodhpur (where we'd catch a flight to Delhi), it was recommended that we take a train. This was partly to provide us another day in Jaisalmer, but also largely so that we could experience travel similar to how most Indians traverse the country. Utpal guessed that 15-20 million Indians ride trains every day.
We weren't sure exactly what to expect, but had been told that we'd be in a sleeper car with air conditioning. Given our complaining stomachs, we were a little nervous, but Utpal confidently said that we'd be comfortable - not to worry…
We all remembered and spoke about our last night train experience from St. Petersburg to Moscow, and how official it all seemed - the strict security, the multiple checks by porters, the large shiny train cars all clearly labeled, our own private cabin with 4 beds, the music that was played as we boarded and left, etc. Well, not so in India - this was a very different experience. As we quickly made our way through the very small station in Jaisalmer, we approached an old and dark train, complete with several people whose heads hung out the windows engaged in various conversations.
Utpal took us to the rear of the train where the sleeper cars were located - out of probably 20 cars total, 5 were designated as sleepers and Utpal explained that these are the highest class accommodation available on this particular train (there are trains with more comfortable cars, but these don't come to the more remote areas such as Jaisalmer).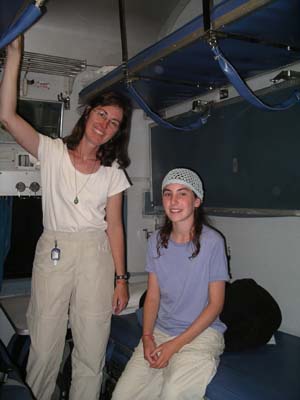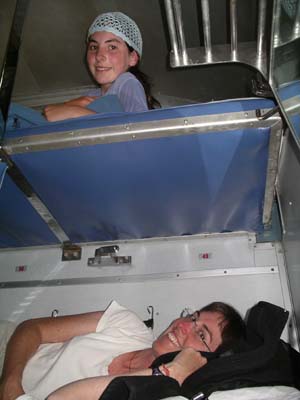 After forcing our luggage up onto the train and through the narrow passages, we quickly saw what "sleeper class accommodation" meant. It's basically a car that's fitted with as many fold-down communal beds as possible. The car is broken into sections with 6 beds each. These beds run perpendicular to the main aisle that runs the length of the car. They are stacked 3-high in 2 columns, separated by only a very small space. In addition, across and parallel to the main aisle are another series of beds - these are stacked only 2-high. It was easy to see that these cars have been stuffed with as many people as possible, and ours was nearly full. We had heard stories about people taking animals on the trains with them - this may be true, but we were relieved to see that it didn't happen in the sleeper class…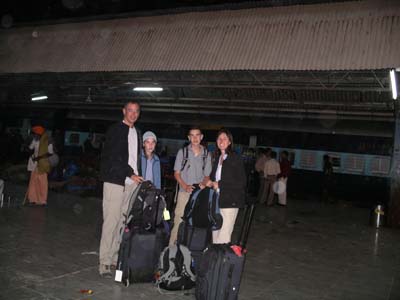 By 10:45, everyone was on the train and had climbed onto their respective beds. The train started moving, the lights were shut off, and we all slept remarkably well. All of our concerns about loud snorers or other disturbances quickly dissipated as we realized how tired we all were and that the noise and motion of the train would effectively block everything else out. At 5:00AM, the lights were all turned back on, and by 5:15 we were in the train station in Jodhpur.
After an early-morning breakfast, we headed to the airport. Jodhpur's airport is very small, but the security was unlike we have ever seen before. In addition to multiple checks of our boarding passes (we counted 6), we went through 2 full body searches (once after the metal detector, and another again when it was time to board the plane), 2 full searches of our carry-on bags, and a "bag identification" process where we had to positively identify our checked bags before they were put on the plane. In addition, security people come onto the plane both in Jodhpur and again in Jaipur (where we stopped on the way to Delhi) to ask everyone to positively identify each piece of carry-on baggage. Wow! We learned later that the Jodhpur airport is run by the military, and its proximity to Pakistan makes it more of a threat. We're glad we didn't know all that before flying…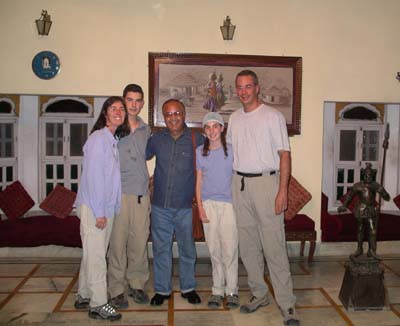 The Jodhpur airport was also the site of our final and very sad goodbye to Utpal. Spending these two weeks with Utpal has been an amazing experience - he's really become part of the family during our time in India. We all learned a tremendous amount from Utpal, and greatly appreciated his unique ability to show us the "real India." We know that we'll keep in touch with Utpal, and hope to host him in the states someday.
We arrived in Delhi right on schedule, and spent the afternoon at the Raddison hotel near the Delhi airport. We needed the time to rest and simply hang out before the next part of our journey to Hanoi. Hot showers, a Western room service meal and a match of cricket on TV did just the trick.
Leaving India, we all agreed that this was a fantastic experience for us all, and one that far exceeded our expectations. Although we admittedly were apprehensive at first about our visit here, we now can't imagine having missed this huge and fascinating country.
Our flight from Delhi to Bangkok was long and not particularly comfortable. We were in the very back of our Air India 747, and the air conditioning was not working well. We finally arrived at 11:45PM, went through immigration and customs (quite a waste since we're only spending 8 hours in Thailand) and checked into the Amari Airport hotel at 12:30AM. Lights out was 1:00AM with a 5:00AM wakeup call. Ugh. At least we know that this is one of the tougher travel sequences from our whole trip, and it's almost over…
Next stop, Vietnam!