FEBRUARY 22 AND 23 PICTURE ALBUM
Sunday, February 22 and Monday, February 23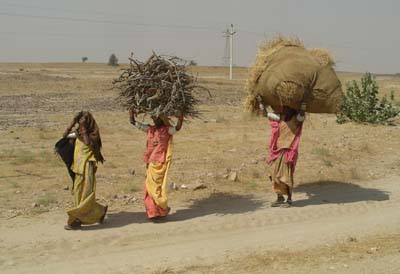 Steve: On Sunday morning we planned a well-deserved morning of catch-up at the Rang Mahal hotel. We took advantage of the time to swim, read and write postcards. We've also all been feeling a little marginal. To date, we've all been pretty healthy but now the combination of new foods and some long days is probably catching up with us. Utpal said that he frequently sees people start to have problems after 10-12 days, so we may be falling into the same pattern. Nothing too bad, but we definitely want to keep things in check…
We left early afternoon for the 45-kilometer drive to Khuri, home of several desert camps that are popular with visitors to Jaisalmer. The Thar desert is very beautiful, but winter is just about the only time to be here - during summer the days routinely get up to 48 degrees Celsius (that's 118 Fahrenheit!). We're here at a perfect time of year, with the daytime temperature in the high 70's.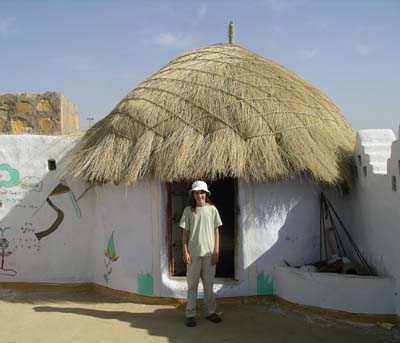 Our camel camp is called "Singh", which means lion in Hindi. It's basically 8 huts all surrounding a courtyard with a fire pit in the middle. The huts contain stone "beds" covered with blankets and squat toilets (no running water). They have grass roofs, frequented by several small birds with nests right over the beds - in fact, this morning a bird egg dropped right down onto one of our beds (it was unharmed, and David and Katie carefully replaced it). Khuri is way out in the middle of the desert, and staying here is all part of the "real desert" experience!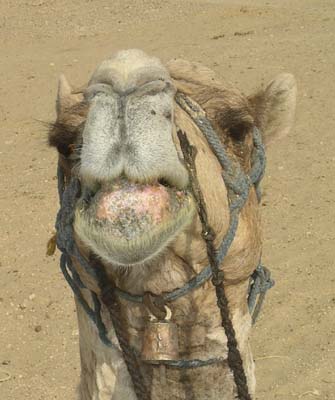 As has been the case everywhere, the people at Singh showed us wonderful hospitality. They quickly put together an Indian lunch (standard mix of lentils, rice, and roti bread, plus some desert vegetables that we hadn't tried before) which we devoured quickly - by now it was 3:00 and we were very hungry. We then got ourselves prepared for our afternoon/evening camel safari.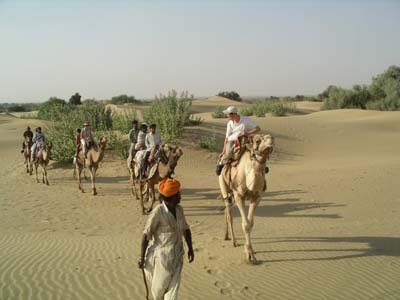 Having been on camels yesterday, we pretty much knew what to expect. David and Katie were very excited - they really enjoyed their ride from yesterday. My main requirement was a saddle with stirrups (I guess that's what they're called on a camel) that are longer than yesterday's - riding a camel with your knees up to your armpits is particularly uncomfortable. Fortunately, one of the saddles fit well, making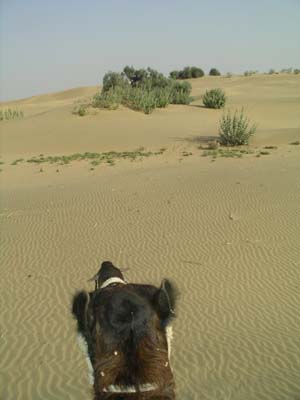 for a much better ride today.
We headed out and initially across desert scrub land, toward the village of Khuri where a surprising 4,000 people live. The residents either farm, or run the camel camps. It's a very simple life, and the people seem to have little contact outside the confines of their desert villages. The villages are also located only 70 kilometers from the border with Pakistan, so they can't venture too far…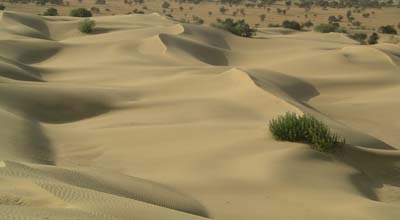 Soon we entered an area containing spectacular sand dunes. We have seen pictures of desert dunes, but have never had the opportunity to explore them in person (the dunes we are most familiar with, those on Cape Cod, are off-limits for walking). Here, the formations made by the winds, and especially the ripples in the sand, are really beautiful. The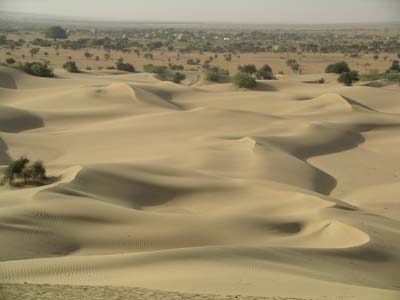 best part of the camel ride was making our way through these dunes, past various desert plants (and several desert deer that we saw speeding across our path). We climbed the dunes and rode along a ridge with endless views of the desert in all directions. Eventually, we got off the camels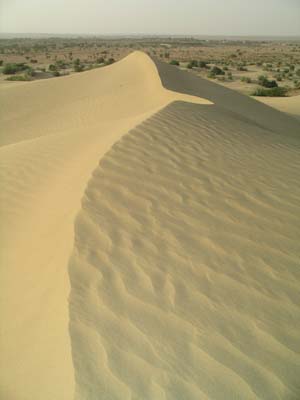 after reaching a perfect spot for viewing the sunset. Interestingly, even the camels seemed to know that it was time for a rest - they all immediately sat down when we reached this spot!
With sunset an hour away, we all enjoyed walking across the dunes by foot. The sand is very fine - probably the most granular sand we've seen. David and Katie loved racing up and down the hills of sand, and creating mini avalanches along the dunes. I also tried to take some photos that portray the beauty of this area.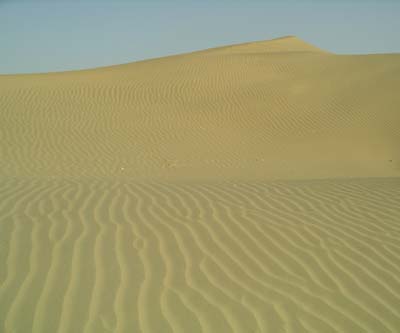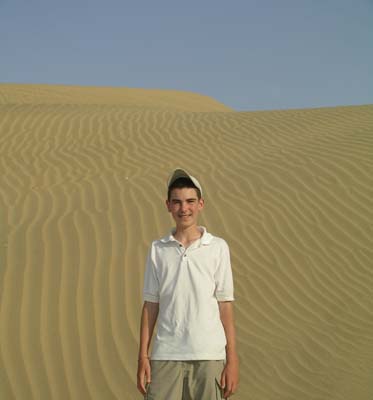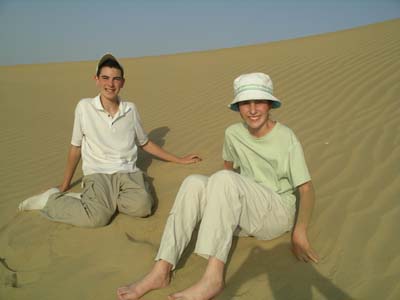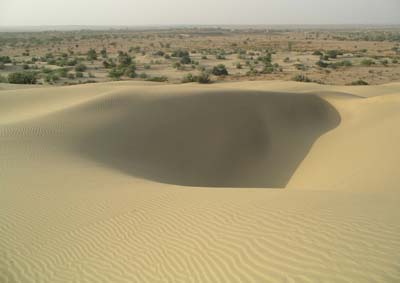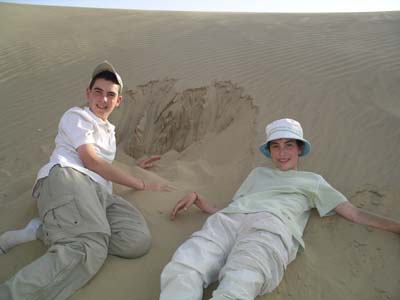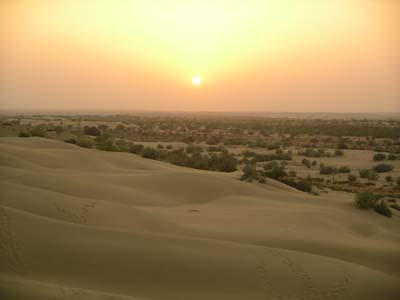 The sunset this evening was spectacular. The clouds that hung at the horizon and obscured yesterday's sunset were gone, and we were treated to a brilliantly colored sky surrounding the sun's bright orange ball. Following the sunset, we enjoyed riding our camels again back through the dunes on our way back.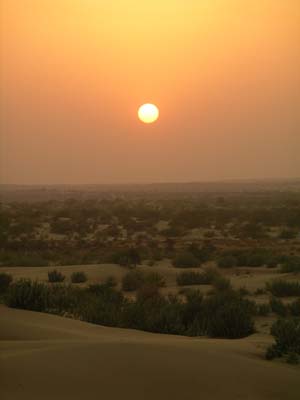 Once back at the Singh Resort, we were treated to dinner and a performance of traditional Indian music all under a beautiful star-filled sky. The musicians were a group of local men and boys, and we enjoyed listening to a collection of songs that are part of the day-to-day life of these villagers. Many were dedicated toward specific Hindu gods, and others were simple welcoming songs for us. Uptal commented that often it's better to listen to music as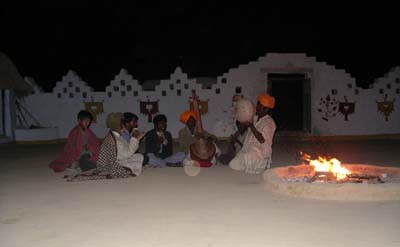 performed by locals instead of professional musicians, and he's right. After dinner, we had fun joining the boys who were dancing to several of the livelier selections - it was quite a scene!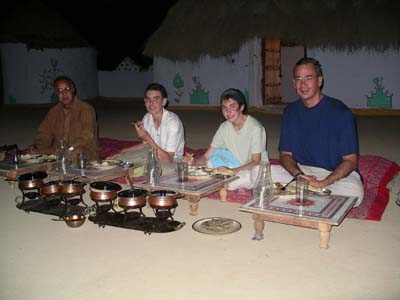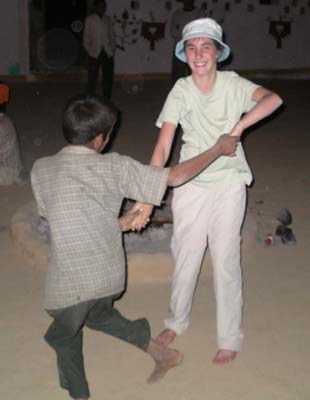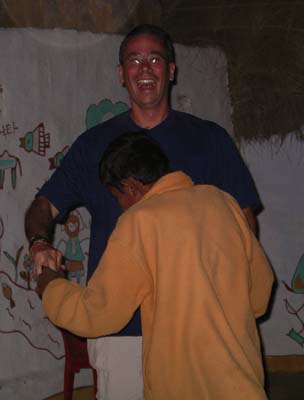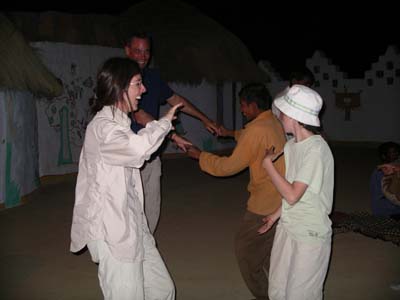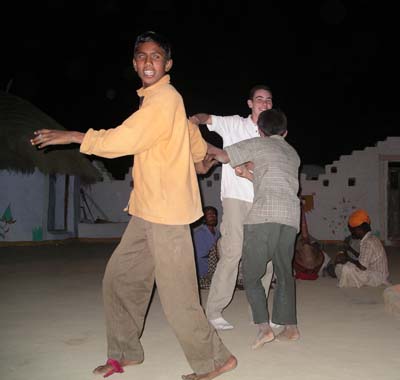 Considering the stone beds and the loud serenading by mules, dogs and a variety of other unidentified animals, we all slept remarkably well! Must have been all that dancing…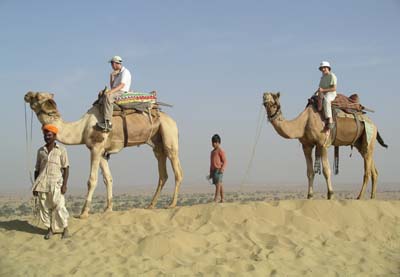 On Monday morning, David and Katie took another camel ride to the dunes (their 3rd ride in 3 days!). Paula stayed back to rest while Uptal and I accompanied our camel-trekkers on foot. It was pleasant to visit the dunes again, this time in the cool air of the early morning.
Finally, it was time to leave Khuri and head back to Jaisalmer in preparation for our night train to Jodhpur. From Jodhpur, we'll fly to Delhi, then to Bangkok, and finally to Hanoi. This will be one of our tougher travel sequences of the entire trip, so we're hoping all goes well…
In Jaisalmer, we spent most of the afternoon relaxing and resting. Katie and I made another visit into the bazaar while David and Paula slept at the hotel where we had reserved a room for the day.
By the end of tomorrow, we should find ourselves back at the Bangkok airport.