Wednesday, February 25
Paula: We arrived in North Vietnam late this morning - Steve and I could hardly believe we were really here. Vietnam brings back such vivid memories that it's very strange to be here, especially in North Vietnam, as American tourists.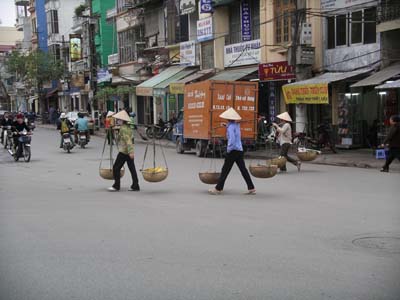 Our arrival at the airport reminded us that the attitude of the government is somewhat different here (this is one of only 4 Communist countries in the world). We were greeted off the plane by several stone-faced security guards. Then, at immigration, we were told to approach the window one person at a time. When we said, "But we're a family", they said "We know." No problem. The only other unusual part of the arrival here was the medical quarantine form that we had to fill out and present. It asked several questions about our health (many were SARS-related), and we also passed through a computerized temperature-sensing machine as we handed the form to the authorities. Interestingly, the computer screen was turned facing us in line, and we were happy to see our skin appear as blue (assuming that red would have meant something bad…).
After passing through customs, we were met immediately by our guide, Tan, who quickly put us at ease. He greeted us with fresh pink roses straight from the Hanoi flower market, and before we knew it, we were en route to our hotel in Hanoi and surrounded by rice paddies on either side of the highway. We were unsure if we would see the rice actually growing since it is cool in North Vietnam at this time of the year. To our delight, it is actually the beginning of spring and this week the transplantation of seedlings has just begun. We were immed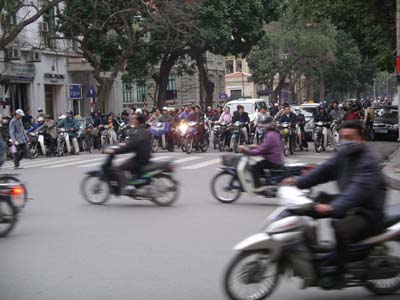 iately mesmerized by the hundreds of women working the fields in their cone shaped hats, thigh-deep in mud as they planted each seedling by hand in long straight rows. The paths between the fields were lined with children riding bicycles home from school and women carrying loads of fruits and vegetables in baskets hung on either side of a bamboo pole. This is the Vietnam as we had pictured it in our minds, and we were experiencing it within five minutes of leaving the airport!
As we got closer to Hanoi, we crossed the wide Red River. The river is low now but will be quite high during the monsoons which come later in the year. The French architecture in Hanoi was immediately evident and, along with the wide boulevards, provided an unexpected charm. Tan told us that the traffic is quite heavy in Hanoi but after our experiences in India, we found the streets relatively clean, and traffic patterns organized. There are an amazing number of motor bikes and bicycles but also more cars (many are large, expensive SUVs) than we have seen in weeks. Like India, pedestrians must cross cautiously but Tan told us if we walked slow and deliberately and we would be fine.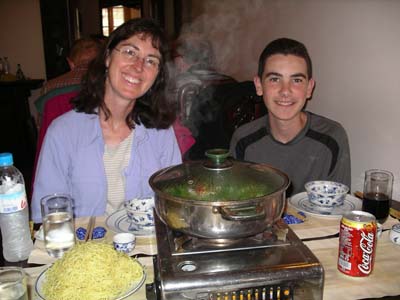 We stopped by our hotel to drop off the luggage and quickly rejoined Tan for our first delicious Vietnamese meal. The meal was all fresh food prepared in light sauces. We had a wonderful noodle soup with fresh pasta that was cooked in a large pot right on our table. Sticky rice, beef in a bamboo rod and fresh prawns were also served. The meal concluded with flaming pineapple for desert. The meal was wonderful and a good change after two weeks of Indian food.
We enjoyed driving through Hanoi after lunch and saw large French Colonial buildings which are now foreign embassies as well as the presidential palace and parliament. It was also interesting to see a very large traditional statute of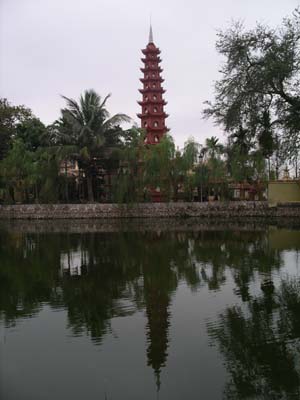 Lenin prominently placed in this area. There were many parks and lakes throughout the city and we were impressed with the cleanliness and allocated recreational space. We had limited time today, and weren't able to stop to explore these areas and take pictures - that will come in a couple of days after we return to Hanoi from Halong Bay.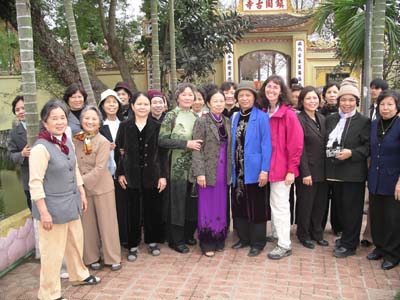 We made several stops to see Buddhist Pagodas, one which is the oldest in Vietnam and often visited after the New Year to pray for good luck in the coming year. We met a delightful group of Vietnamese women at this Pagoda who asked Steve to take their picture and we then enjoyed having our picture taken with them. Their warmth and friendliness were evident immediately and we quickly found this is true of all the Vietnamese. Everyone is willing to have their picture taken and as of yet, none have requested to be paid for the privilege.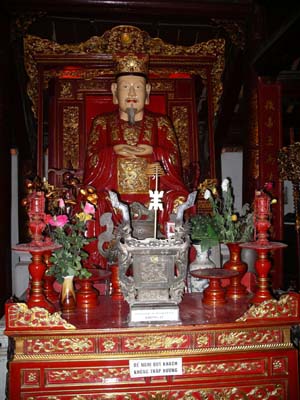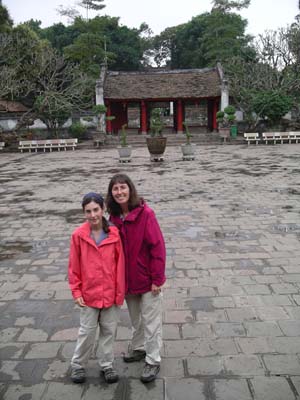 We also visited the Temple of Literature, a school of Confucianism that was established in the 11th century. It was here that we began to learn about the value placed on scholars in Vietnam. In both the temple and pagoda, we saw people offering prayers (primarily for their children's success in school) and gifts at alters surrounded by incense. Symbolic sacrifices (including paper US dollars) were also being burned near these alters. Tan began teaching us about Buddhism and how it is practiced by 80% of the people in Vietnam. Tan also explained the importance of honoring ones ancestors and told us that small temples are often set up in homes for this purpose.
We stopped to see the site where Senator John McCain's plane was shot down during the Vietnam War. The site has been memorialized by the Vietnamese because 10 US planes were shot down on that day. Later in the day, we saw a small pond in the middle of a residential area where the remains of a US B-52 Bomber are still visible. Tan is just 30 years old and does not recall the fighting here but he has heard many stories from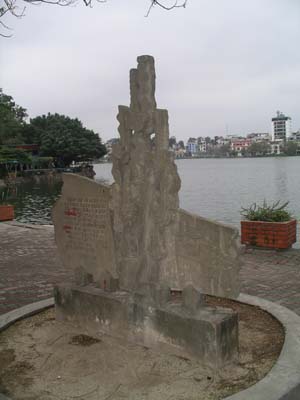 his family. Later in the week we hope to talk with some former soldiers as well as an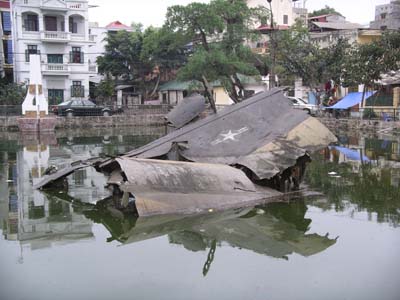 American living in Vietnam to learn more about lingering sentiments from the war.
It's always interesting to see the various ways in each country that people have for carrying things. In Vietnam, men and women use their shoulders to carry long bamboo poles with baskets suspended on either end. Many of these loads look to be very heavy, and Tan told us that the people develop unusually strong muscles above their shoulders. Some people were carrying goods for sale, and others carried mini-restaurants, complete with ingredients and pots for cooking. Similar to the people in India carrying all kinds of loads on their heads, we were intrigued with watching the people here with their poles and baskets.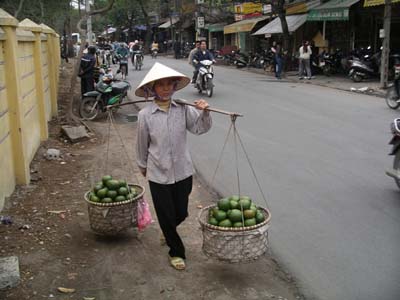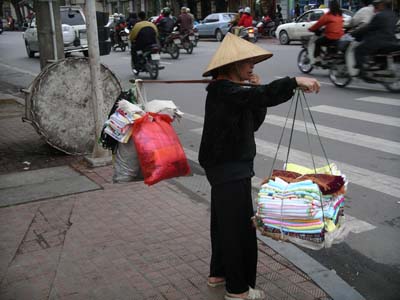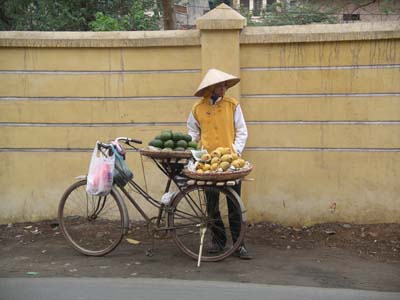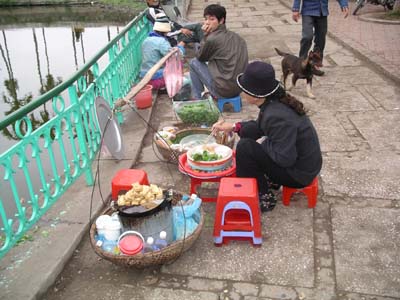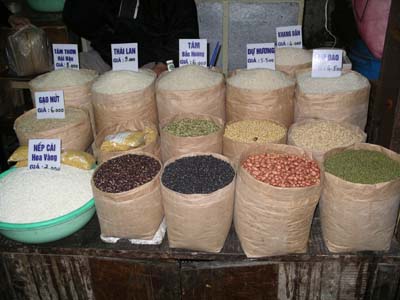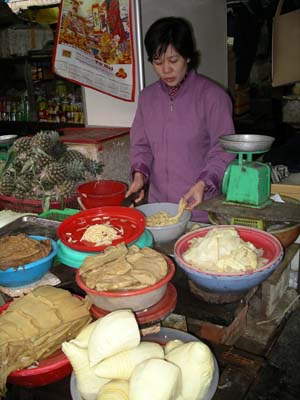 We couldn't spend our first day here without visiting a local market and the market here did not disappoint us. We saw things we have not seen in markets anywhere else including many varieties of rice, healing herbs, unusual vegetables (like bamboo root) and fruits (like dragon fruit). We also saw a large area selling bananas and wonderful fresh seafood and fish. We felt sorry for the live frogs all tied together making futile attempts to hop away.
There were absolutely no chicken or eggs in the market, and Tan told us that because of the bird flu, all chickens and eggs have been removed from the city. It's impossible to even order chicken or eggs in the restaurants (our hotel posted a sign apologizing for their inability to serve eggs). This has made us feel very good - the CDC and WHO have recommended that travelers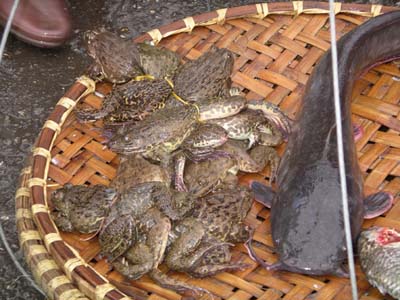 not avoid Vietnam, but that they should avoid markets with live birds. It appears that at least in Hanoi, there are no live birds to be seen anywhere.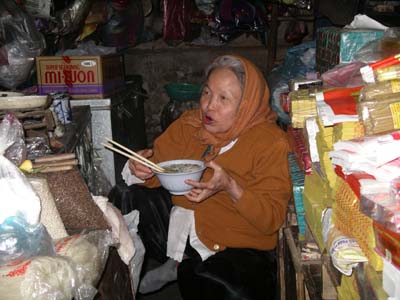 We had fun capturing photos of some of the local people in the market and streets-they all smiled and waved at us. We met an 82 year old woman in the market who wanted to show us her black teeth. She has intentionally made them black using a combination of bittersweet root and chemicals. She is proud of her teeth and how healthy this process has made them.
While we were enjoying seeing the Vietnamese people, Tan explained that they also enjoyed seeing Westerns. He said they love our eyes ("so big") and especially Katie's ("so blue"). He also said people love fair skin and that Vietnam's women cover their arms, hands and faces in the summer sun because they want to keep their skin fair - funny how we always want what we don't have! We also understand now why we saw Asians hiking this summer in the French Alps with long white gloves.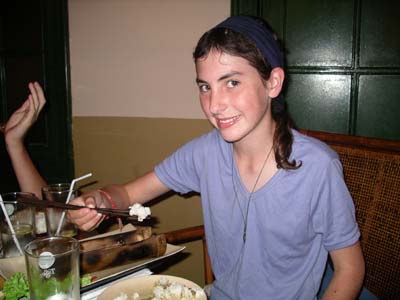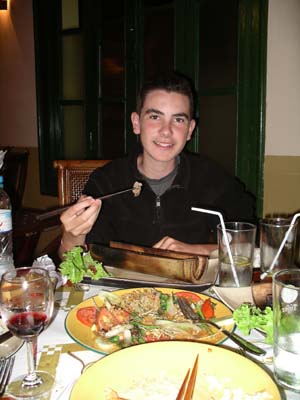 In the evening, we enjoyed another wonderful dinner and tried a variety of rice, noodle and meat dishes. At one point during dinner, we noticed the waitresses watching us struggle using our chopsticks and giggling. Hopefully our skills will improve, seeing we have six more weeks in Asia. After dinner, we attended a beautiful water puppet show. This show told traditional Vietnamese stories through music and puppets dancing in water. It was a fun way to end an enchanting day in Vietnam.