Saturday, February 21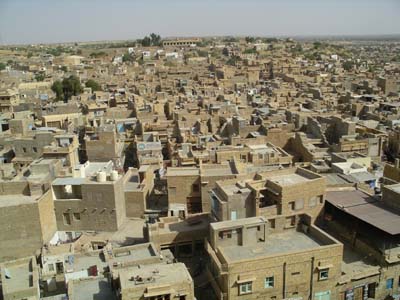 Paula: Today we enjoyed exploring the "Golden City" of Jaisalmer. This small town (population 40,000) stands out in the barren Thar Desert like a magical jewel. Unlike the other forts we have visited in India, this walled town is bustling with life. Several thousand people live and work within the city walls in homes that have been passed on for generations. Our local guide, LaLu, who joined us for the day, explained that his family has lived within the fort for over 600 years.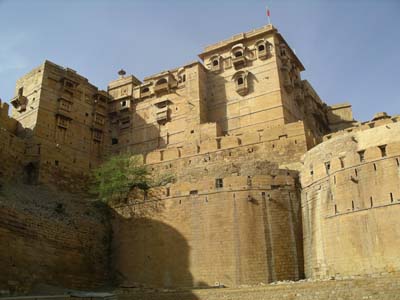 Jaisalmer Fort was built in 1156 to protect the trading that was centralized here between India and Central Asia. This so called "camel train" was used to exchange gold, jewels, saffron and opium. More recently, the town has become known for its strategic importance (an important air force base is stationed here) and as a prime tourist location (soon to be deemed a World Heritage Site).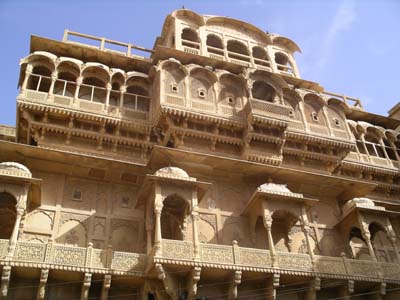 The Fort has 99 bastions around its circumference and the interior of the fort is a labyrinthine of streets and bazaars. There are nine Jain temples as well as many beautiful havelis (impressive mansions) and a Royal Palace. These buildings are all made of beautifully carved sandstone and wood with more details than we have seen anywhere. The Jain temples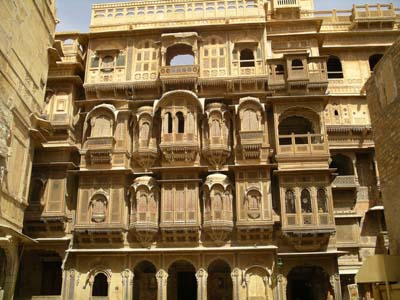 are especially rich. The inside of the temple is striking, with elaborate carved stone and 6,666 carved marble statuses. The statues are all similar and to us looked like a thin Buddha. Our guide explained that the main statue is different from Buddha in two important ways - its eyes are open and it's unclothed. We learned a bit about the Jain philosophy which is a branch of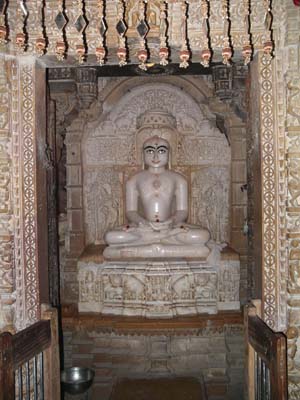 Hinduism. This group is known for their strict vegetarianism and veiling the face to prevent even the accidental ingestion of insects.
The real charm of Jaisalmer however is the simple and traditional life of its people. Our guide explained that the caste system is encouraged and very useful in Jaisalmer. Because the economy depends so heavily on the 5 months of tourism, during the rest of the year the people exchange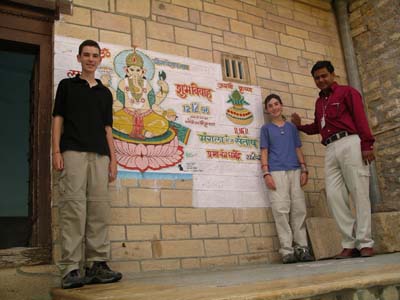 services along caste lines. He explained how the hospitality services required for a wedding would be provided to his family by those in the Shudra Caste and in return his father, a Brahmin, would be their priest.
We enjoyed also learning other aspects of life within Jaisalmer. Our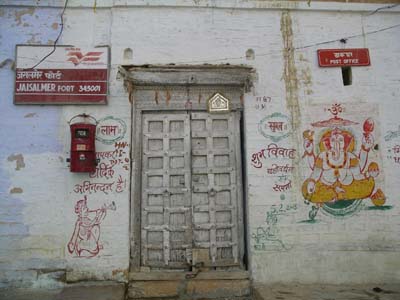 guide explained the meaning of the painted artwork and various charms hanging on the outside of homes. The artwork is used to announce weddings and extend invitations while the charms are used to ward off evil spirits or satisfy the Gods. We enjoyed hearing about his upcoming wedding which was completely arranged by his parents. His future wife also lives in Jaisalmer and although he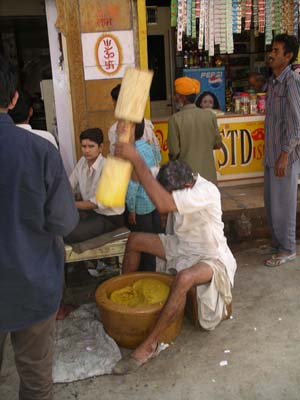 knew who she was had not really met her until after the arrangement. He seemed very content to accept the arrangement and this traditional way of living.
We had fun shopping here and found a wonderful wood carved Ganesh statue which we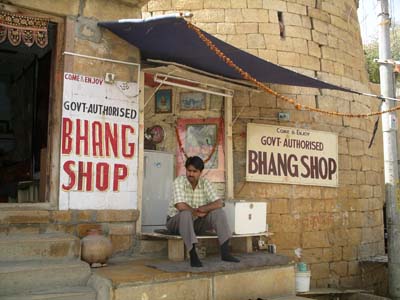 negotiated for and are having sent home. Utpal also took us to his favorite sweet shop. As we watched, they ground lentils, saffron and sugar in a huge mortar. The mixture was then rolled into balls and to our delight made a wonderful sweet treat. David made Utpal promise we could purchase more before we left Jaisalmer! One of the more interesting shops was advertised as a "government approved bhang shop" selling marijuana and opium. Our guide explained that it is legal here to sell small amounts of these drugs and that the opium is thought to help with the extreme summer heat.
Hundreds of animals also roamed the walled town including an interesting 20 year old goat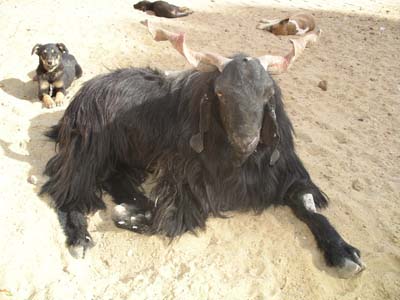 (thought to be holy since most goats only live 4-5 years), dogs and cows. We found the cows particularly amusing. They clearly ruled the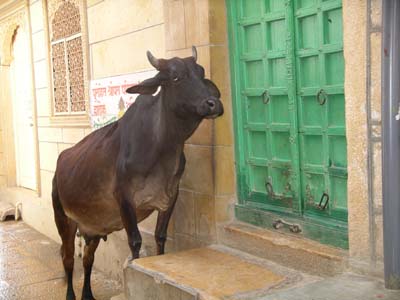 narrow streets here and we were often dodging out of their way with one even nudging me along from behind. We watched as several helped themselves to food being sold along the street. LaLu pointed out that they actually go from house to house waiting for handouts and will use their horns to knock on the doors demanding food - sure enough we saw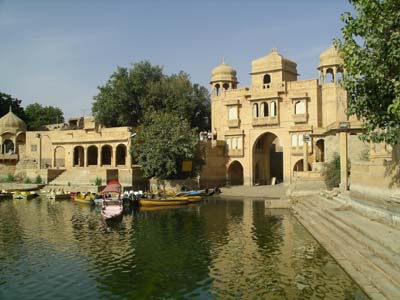 this actually happening!
Outside the fort we visited several other beautiful Havelis including Patwon and Nathal. A lovely manmade lake called Gadi Sagar also stands outside the fort and is surrounded by temples and a magnificent gate.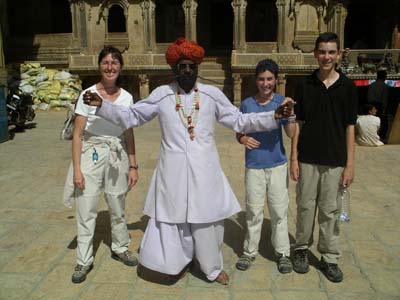 Finally, to top it off we met a man who is in the Guinness Book of World Records for having the world's longest moustache! He keeps it wrapped up until it's time for a photo (and of course a 50-rupee payment!). He's showing how long it is in this picture...
After lunch we enjoyed some time to rest by the pool at our hotel before heading further west to Sam. This small village sits among hundreds of golden sand dunes and is a favorite spot for viewing the sunset. We made this even more memorable by stopping several kilometers outside the village to rent camels which we rode into Sam. This was a preview to our camel trek scheduled for tomorrow. The desert was beautiful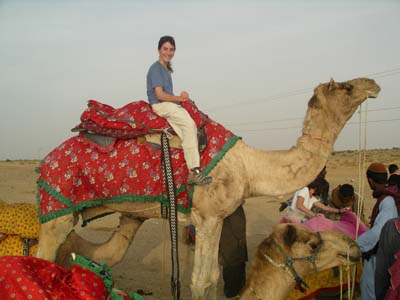 and serene. The view atop the camel to me felt like the only way to view this vast landscape. As we got closer to the village, you could see many others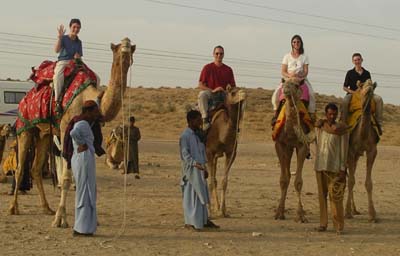 making their way to this popular spot and the numerous caravans in the distance reminded me that I was in a far away land.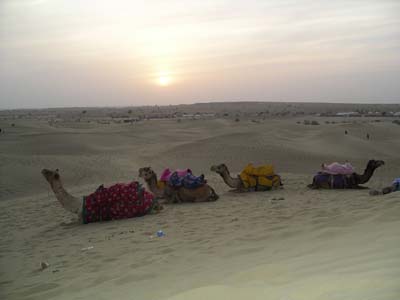 One special note: On many occasions the past few weeks, we have seen and heard about the importance of caring for ones' family in the Hindu tradition. Today LaLu shared with us an important Hindu story again emphasizing this principle. The story was about how Ganesh (the popular elephant God) outsmarted the other Gods when given the task of racing around the world. While all the other Gods selected different vehicles to make the trip, Ganesh instead brought his mother and father to the finish line. Ganish won the race when he explained that his mother and father were his world and that his life revolved around them. In India, parents are taken care of by the extended family often at great sacrifice. Interestingly, Utpal has told us that there are no nursing homes in India - they are not necessary because everyone takes care of their parents in their homes.
Finally, we did take some more pictures of interesting people on the side of the road...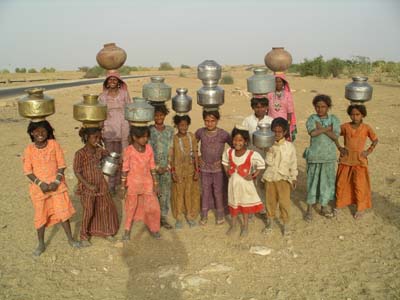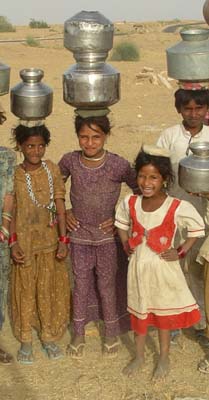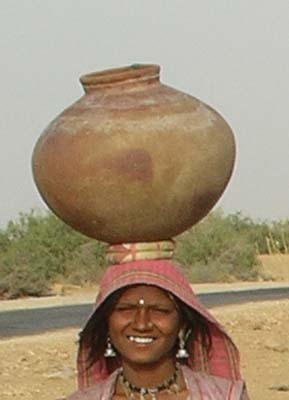 We are all looking forward to our camel trek tomorrow (although based on today's experience, Steve is less excited about this adventure than the rest of us - he said he had a bad saddle!). It feels like the perfect way to begin winding down our time in India.

David's Daily Dump: The Caste System in India. The caste system has been the social structure and backbone of Hindu life. This system was extremely powerful in the past, but is slowly weakening throughout the country. Especially in urban areas no one is discriminated because of their caste, but in the rural regions of India it still regulates life for many Hindus.
Hindus are placed in five castes: Brahmin (teacher, priest, someone associated with education), Kshatriya (security, police, military, or warrior), Vaishya (business man or merchants), Shudra (sweepers, cleaners, service providers), and finally Chandla or Untouchables (toilet cleaners, gypsies, beggars). Hindus believe in reincarnation, and that the goal of life is to fulfill your duties so you are born into a higher caste.
The government has attempted to stop discrimination by reserving spots in universities, parliamentary seats, and public service jobs for Untouchables and low caste members. The only problem with this method is that sometimes members of the higher caste feel like they are being discriminated against. For example, if a Brahmin is applying for a university and he gets a 90 on his examination, he may not get in while a Chandla getting a much lower score may make it in because there are so many spots for him.
Today in big cities a time that your caste really matters is marriage. Matchmakers try to set people up with members of the same caste. We learned that if anyone calls someone by a bad name because of their caste they are put in prison for six months and are fined!! In rural areas where the government does not have a lot of influence, the caste system still remains and is very strong. Untouchables still live difficult lives in these areas cleaning toilets and streets and making very little money.
Although the caste system sometimes has an impact on Hindus throughout India, the government has made a difference. Maybe one day the all Hindus will be treated fairly in India.