Tuesday, February 17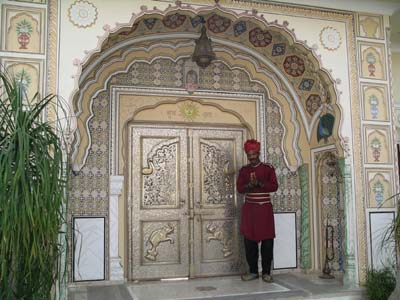 Steve: We got an early start today for our drive to Pushkar. We hoped to arrive in Pushkar by mid-afternoon so that we would have time to explore the village in the evening, and we also planned on making a couple of stops along the way. We said goodbye to the Raj Palace Hotel and the colorful city of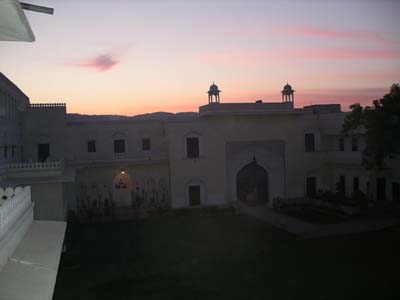 Jaipur, and began the next part of our journey heading west.
Our first stop was at an intersection in a small village where a large group of people were living in tents and selling baskets that they were making along the side of the road. Utpal stopped the car so that we could get out and see what the people were doing and how they were living. As we approached, a large group came toward us, obviously hoping to sell us a basket or to ask for money. We took this picture (which we think portrays these people very well) and we gave Utpal some rupees that he distributed. After we returned to our minibus, Utpal told us that this is one of the poorest groups in India, living in tents and barely getting by. Under India's caste system, these people are known as outcasts, or "untouchables."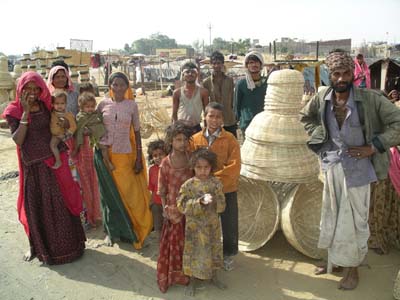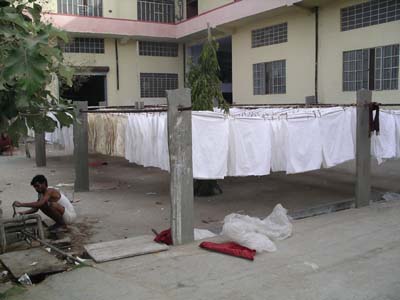 About an hour outside of Jaipur we stopped in the small town of Sanganeer, well-known for its handmade paper products. Utpal took us into one of the paper-making facilities here, and we spent the next 45 minutes in a wonderfully educational and enjoyable tour of this small factory. Again, we were simply amazed at the hospitality. Although this facility doesn't sell to individual consumers, we were greeted warmly and given a private walk-through and demonstration of how the paper is made. We watched as scrap cotton (leftovers from textile producers) was cut, beat into pulp, formed into sheets, dried, decorated and crafted in to a wide array of colorful products.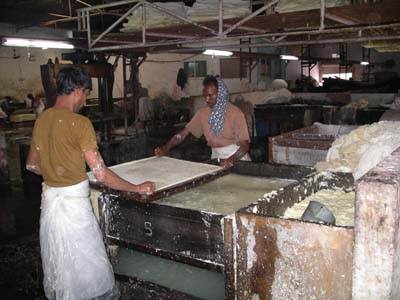 Almost all of the materials used to make the paper are recycled or natural - this includes the scrap cotton and paper that's made into pulp, and much of the decorative components including leaves, grass and natural colors.
This is an extremely labor intensive process, and we learned that the workers earn in the range of 150-250 rupees (approximately $5.00) per day. All of our questions were answered, and we learned that this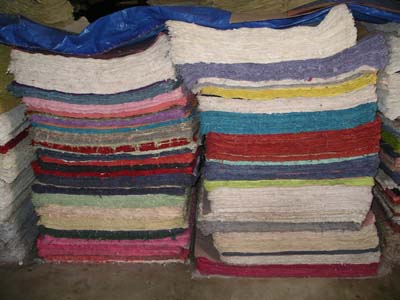 company, called "Kagzi", produces 20,000 sheets of paper every day, most of which is exported to Europe (this custom paper is generally too expensive for people here in India).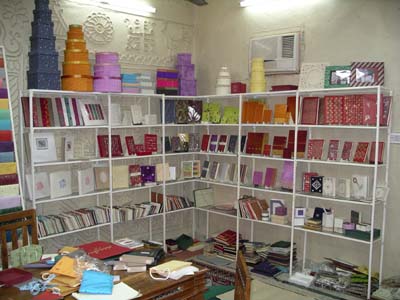 Seeing a production process from start to finish was highly educational, especially for David and Katie. And viewing this kind of facility in the heart of India gave us all a strong mental image of exactly what's behind products that we see in America that are marked "Made in India."
At the conclusion of our visit, the gentleman who showed us around let us purchase a few items that we wanted to buy as souvenirs from our visit here. We would have liked to buy more, but were told that they simply don't sell to private visitors. A whole selection of items that we picked came to a total of 250 rupees ($6.00). I handed the man 500 rupees and asked him to keep the total (in appreciation for the time he had spent with us) but he refused.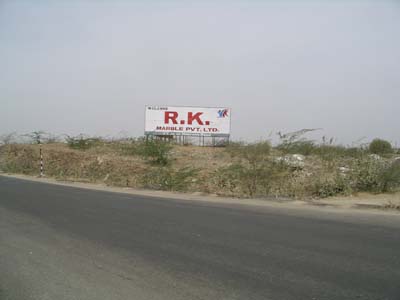 Our next stop was in the small town of Kishangher, famous in India for the marble that it produces. Indeed, the roads here are lined with small companies that cut and polish marble that is then sold to builders and contractors. This is also the home for R.K. Marble, the largest producer of marble in the world. Utpal said that on a small number of occasions, he had simply stopped with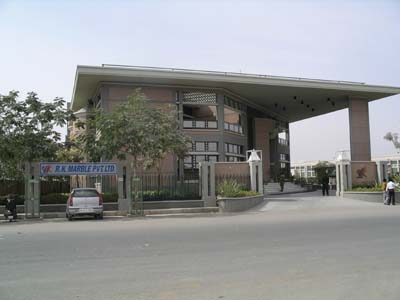 visitors at the front door of R.K. and asked to be shown around. These had been very rewarding experiences, and Utpal hoped (but couldn't guarantee) that we'd get the same special opportunity.
As we arrived at R.K., we could immediately tell that this was a large and successful organization. The office building is cleaner and more modern than anything we've seen so far in India. Utpal went in first, and after a brief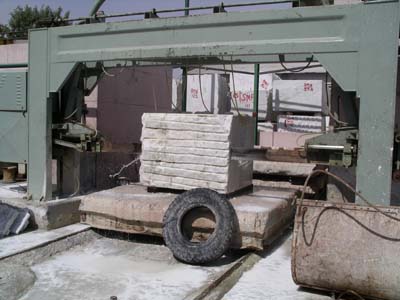 conversation at the reception desk, waved us in. We were offered a seat in the comfortable lobby, and then immediately served mineral water and tea. Shortly afterwards, we were greeted by a gentleman who said that he'd be showing us around the facility. Again, R.K. has nothing to sell to American tourists like us, and we were amazed at this organization's hospitality.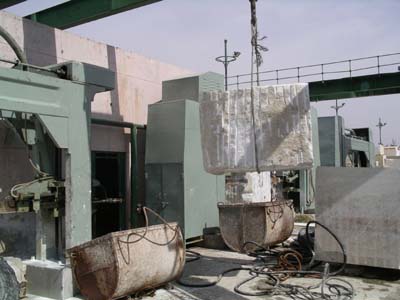 Similar to the paper-producing facility, we observed the marble production process from start to finish. Large marble blocks arrive here daily from mines all across India, are cut into rectangles by giant saws (one cut takes 2 hours), and then sliced in to individual slabs in a process that takes a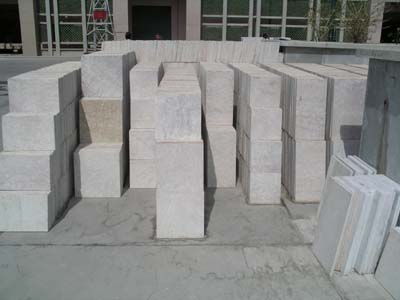 nother 8 hours. It was quite interesting to watch the cutting process in action, with water splashed on the huge blades to keep them cool. The slabs are then inspected and are sometimes then cut into smaller pieces. By the way, another R.K. employee brought us all glasses of water while we were out touring the production facilities...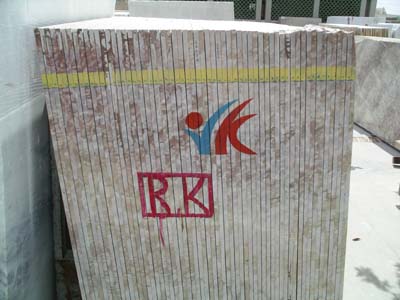 Interestingly, 80% of R.K.'s customers are Indians. R.K. produces such a large quantity of white marble that it is able to sell the product at a price that's affordable for most of mainstream India. This has resulted in a phenomenon where a very large percentage of Indian homes have marble, a product that is normally considered to be affordable only by the wealthy.
After our tour, we returned to R.K.'s office building, and were led to an area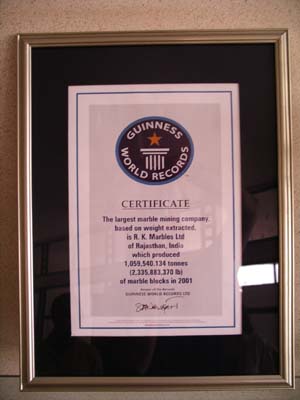 where the company hosts its customers. R.K. has built its own mini-hotel right upstairs from the lobby, complete with several private guest rooms (each with its own bathroom). These are used to house customers who often travel long distances to come to purchase marble. Indeed, we met one such customer who was just leaving. He told us he had traveled 2,500 kilometers from Southern India, and had just purchased 20,000 square feet of white marble for a home that he's having built. He plans to return again next year with his architect for some additional work. This gave us some perspective as to how well-known R.K. Marble is across India (although this man was clearly extremely wealthy).
We also saw a proudly displayed certificate from the Guinness Book of World Records that declares R.K. Marble as the largest marble producer in the world. We were told that recently an Italian marble company had disputed this claim, but that Guinness had independently verified R.K. as the rightful holder of this honor. We were also surprised that this extremely successful company has only been in business for 15 years.
As we prepared to leave, we were given samples of marble (as souvenirs), more drinks and warm smiles, handshakes and well-wishes. We departed with new knowledge and a deep feeling of appreciation, still amazed with a type of hospitality that we've never seen before.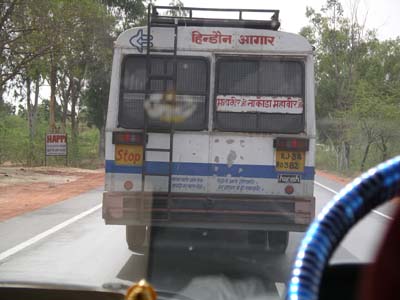 We had an interesting discussion with Utpal today regarding birth control in India. Although the birth rate has begun to decline, there is still a need and a strong effort being made, especially in the rural areas, to communicate the importance of this issue to the Indian people. The blue lettering on the bus in this picture is telling people the importance of birth control. Uptal remembers growing up and hearing jingles on the radio telling families that it's best to have 2 or 3 children. As time passed, the jingles changed to encourage families to have only 1 or 2 children. Prior to these efforts, Indians considered it a blessing each time they had a child and many families had large numbers (5 or more) children.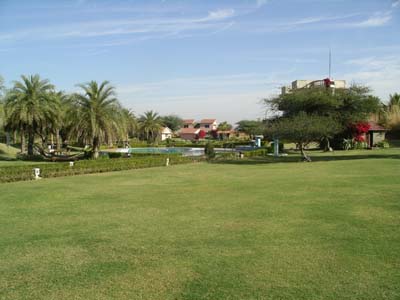 Paula: As we came closer to Pushkar, the landscape become more barren and Utpal informed us that we were beginning to enter the Thar Dessert. By mid-afternoon we pulled into the Pushkar Resort and quickly had a new appreciation for the word "oasis." This small resort, surrounded by sand dunes, is a refreshing haven. Quiet and serene, the resort has a beautiful pool, gardens, palm trees and pleasant cottages.
After lunch and a dip in the cool pool, we climbed into a camel-drawn cart to make our own little pilgrimage to Pushkar. The cart had been prepared with pillows and a canopy for shade - we would arrive like kings! We rode through the sand dunes for 30-40 minutes taking in the desert. Numerous groups of small children and young boys appeared out of nowhere playing music and of course looking for money. Pushkar's white and pink clay buildings where visible in the distance as well as the lake they surrounded and several high hills on either side.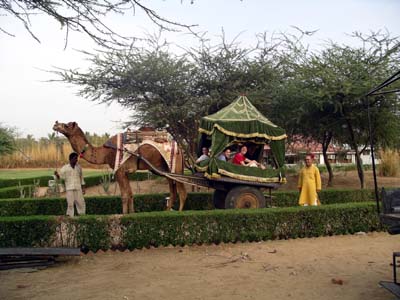 Once we arrived in the village, we were escorted by a local guide to the Brahma Temple, the most famous of many temples in the town. Utpal told us that it is the only temple in the world for Brahma (the creator in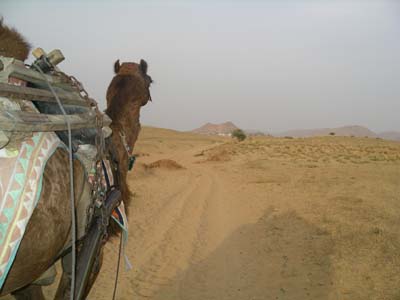 Hinduism). Unlike the other Gods who have many temples in their honor, according to Hindu mythology Brahma was cursed by his wife for failing to wait for her on one occasion and therefore has only one temple in the world honoring him.
After taking off our shoes (white socks were definitely not the best choice for India), we entered the temple up marble stairs. We were presented with flowers to give to the priest at the entrance of the temple and he in return gave us a handful of candy, flowers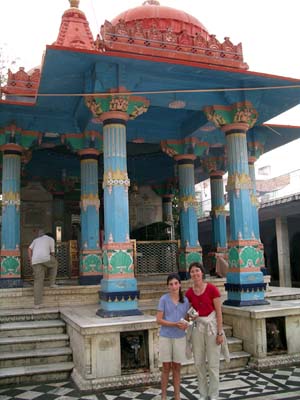 and spices which we would need for the religious ceremony to follow. We climbed around the red spire of the temple which was populated by many monkeys and had wonderful views of the lake and town. After viewing the temple, we walked a short distance through the town to one of the many ghats (marble staircases down to the holy lake). A priest joined us and led our family in puja (prayers). This ritual took several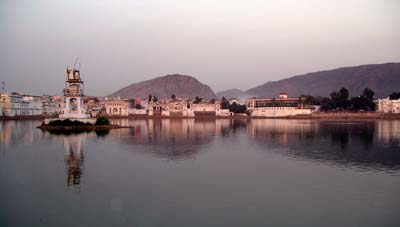 minutes and involved blessings and ended with us emptying the flowers, spices and candies into the lake while we asked for blessings from Brahma for our friends and family. The lake was peaceful and magical as the sun was just beginning to set. We could see others at other ghats all around the lake participating in the same ceremony, many having come thousands of miles to this holy site. After the ceremony, the priest blessed us by marking our foreheads with a rose dust and tying red ribbon around our wrist. Participating in this Hindu ceremony was a unique experience and one we will remember. Reli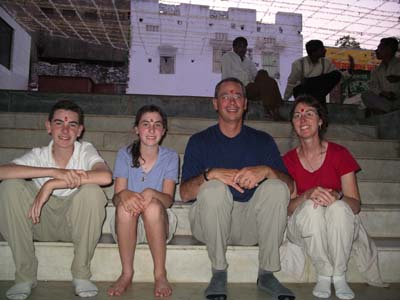 gion is an integral part of Indian culture and by taking part in a small way; we are gaining an appreciation for its importance.
Before heading back through the desert on our camel cart, we enjoyed walking through the streets of Pushkar and did a bit of shopping. Among other small souvenirs, we purchased a number of hand-painted cloth pictures. We enjoyed walking though the town, which was relaxing and peaceful. We then rode our camel cart back to the resort through the dark desert with thousands of stars and memories to count.
Katie's Kwick Kwacks: Population Growth in India. Perhaps the most difficult problem facing India right now is its rapid population growth. Because of its enormous population, many of India's essential resources have become scarce. The concept of population control in India was not established until just recently. People thought that it was God's will for them to have as many babies as they could produce, and population was not a concern in most areas of India. When the idea finally was established, it only spread in the major cities and urban areas, which is the home to a mere 25% of the population. Seventy five percent of the population was far from any contact within cities, and other urban areas. Because of this, the government decided to bring their ideas through the public radio station. They converted their messages into rhymes, so people and children would remember them better. The first rhyme was telling people to have 2 or 3 children, because fewer children meant more food and nurturing for each of them. The second rhyme was convincing people that 2 children made a perfect family, the third was informing people that it was better to have one or two happy children, the fourth was suggesting that people have one well-nurtured, educated child, and the fifth was telling people to relax a little while before deciding to have children.
As you can see, this was a very big problem, and the messages to the people of India were very desperate. This was with good reason. The population of India has tripled over the last fifty years, and the agricultural economy hasn't been able to keep up with it. In addition, the population is expected to grow even larger over the next 10-20 years, and maybe even overtake China's population. The country has made many efforts to inform people about these dangers - we saw a couple of public buses with messages about over-population painted on their sides. We learned that over-population is responsible for much of India's poverty.
As you can see, population control is a very important concept in India. Now that I have learned about the problem, I realize how dangerous this can really be to a country's population and survival.