Monday, February 16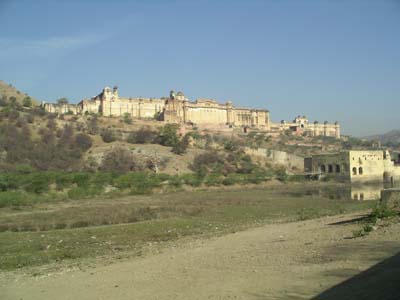 Steve: Today was our day to explore Jaipur, a city that we've heard many great things about. From what we saw last night, it appeared that Jaipur had much of the color and activity of Delhi, but was much easier to walk and explore. This is largely due to the wider streets (and sidewalks - kind of…). We also planned to visit several of Jaipur's historical sites.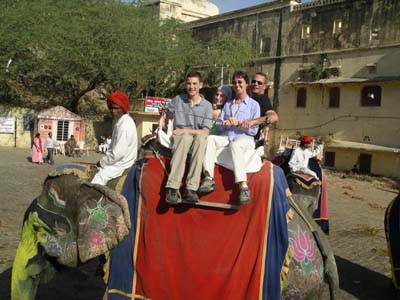 We began with a short drive to Amber, which was the capital of Jaipur from the 10th through the 18th century. Amber is dominated by its fort, which houses a large and impressive palace. Along with many other Western tourists (the most we've seen so far), we started with an elephant ride up the hill to the Amber Fort. This was the first time any of us has been on an elephant, so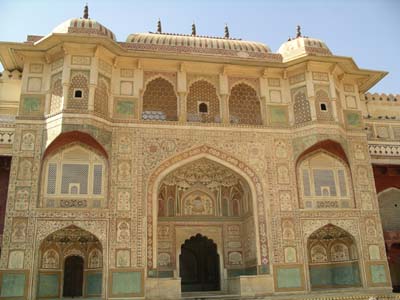 now we can check it off of our "things to do list"… We had to laugh at the hawkers who perch themselves on walls and actually try to sell us things while we're on the elephant!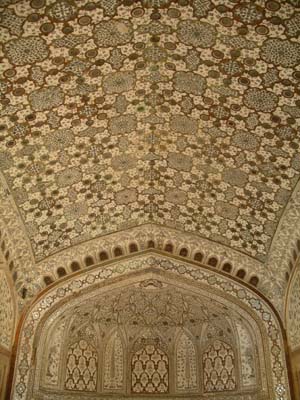 The Amber Fort is very impressive. Built over a period of 200 years, it housed the Maharaja and his 12 legal wives. Many of the rooms boast very intricate ceilings with imbedded mirrors, all with original colors. As with many of the other palaces we've seen, the Amber Fort has a series of water-based cooling systems. We also saw several of the secret passageways used by the wives that lived here. One of the things that made this palace and fort impressive is the 18 kilometer wall which surrounds it and the town. Most of the wall is positioned on the ridge of a hill which stands well above the fort. As we looked down from the fort we could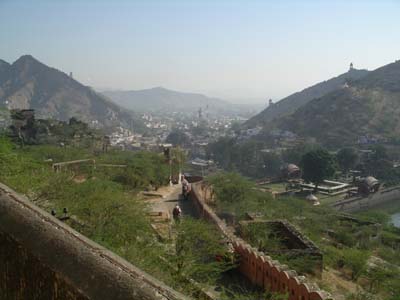 also see elephants bathing in the lake below.
Next we visited the City Palace Complex and Jaipur's nearby observatory in the heart of the old city. The observatory was built by the Maharaja Jai Singh in 1728, and houses an amazing series of outside instruments that measure the position of the sun and stars. It is one of 5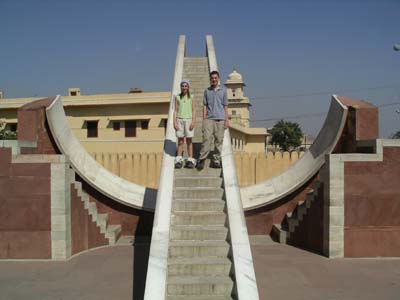 such observatories that were built throughout India, and is the best preserved. We especially enjoyed learning about the large sundials here, one of which is accurate up to 2 seconds.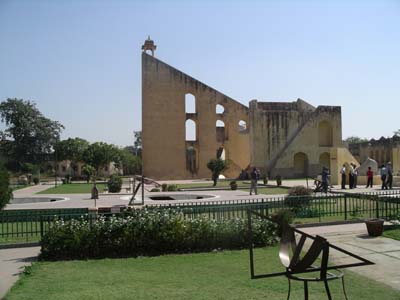 Next we went into the City Palace and visited its grounds and museums. The museums house a variety of articles from India's rulers, including clothing, household items, weapons and art. The last King of Rajasthan still resides at the palace - he lost his official power as part of India's independence in 1948, but still retains his title.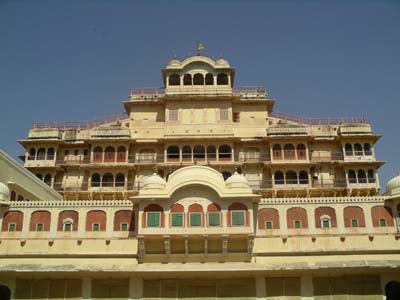 After a relaxing lunch, we visited some Indian craft shops where we observed the production of jewelry, textiles and rugs. We had been wary about these places, largely due to similar experiences in other places (primarily Istanbul) where the informative demonstrations were followed by very hard sells. Utpal assured us that he'd help us manage this, and that it would be well worth seeing the work in action. He was right. We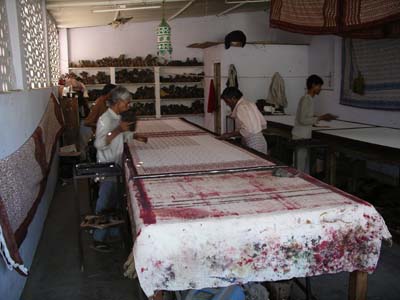 greatly enjoyed watching precious stones being cut and polished, Persian rugs being woven, cut and cleaned, and cotton cloth being hand printed using carved teak blocks. We learned that the workers are highly skilled at what they do, and earn an average of 250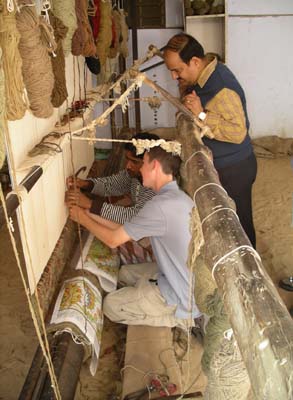 Rupees (that's about $6) per day. David and Katie both got opportunities to try their hand at weaving a rug. We were amazed to learn that it takes 40 days to weave 1 square meter of rug!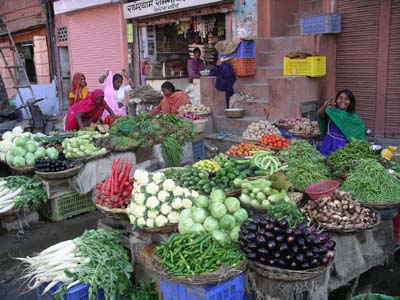 We decided to spend the rest of the afternoon walking through the streets and bazaar in Jaipur. We had a wonderful time just taking in all the color, noise and activity here. There are no such things as crosswalks (or street lights) in Jaipur - pedestrians never have the right of way, and crossing streets was quite an adventure. We enjoyed strolling through the bazaar area, and successfully bought some souvenirs that we had been looking for, including a charm for Katie (she's collecting one from each country) and an Indian sari that she had fun learning how to wear. We tried to take several pictures today to simply capture the exceptional color and life here.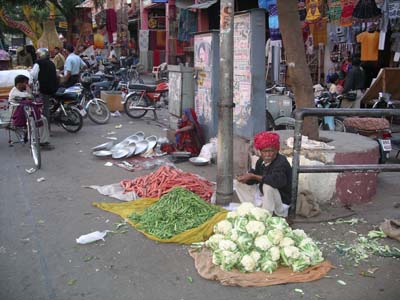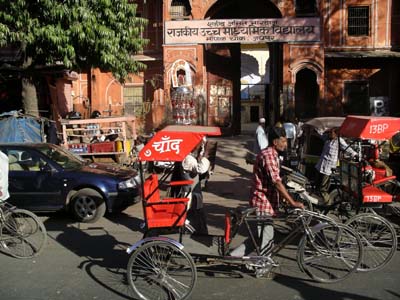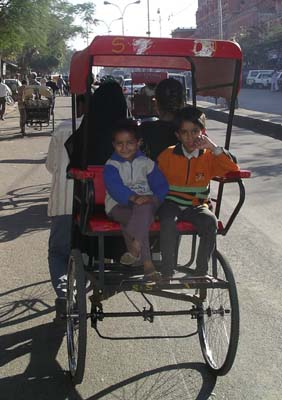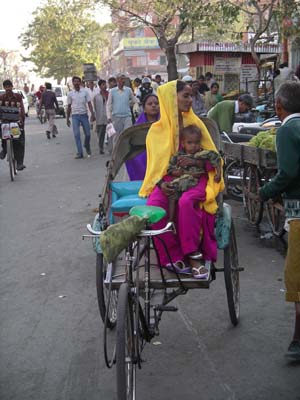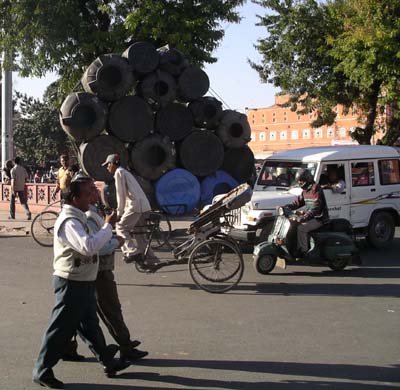 We photographed several of the animals that we saw in the streets here, including pigs, monkeys, cows, and elephants. What a scene!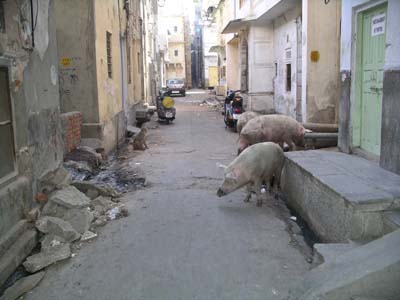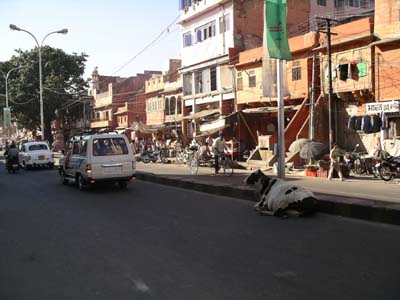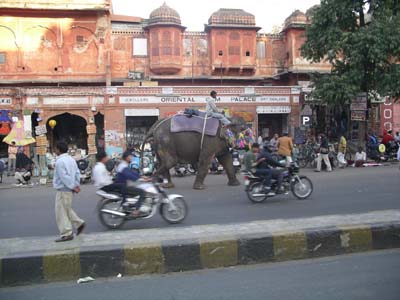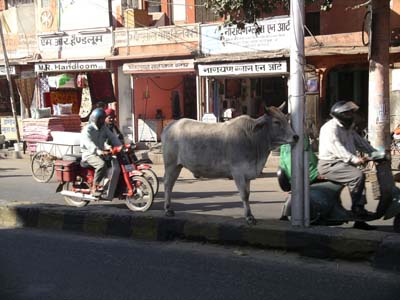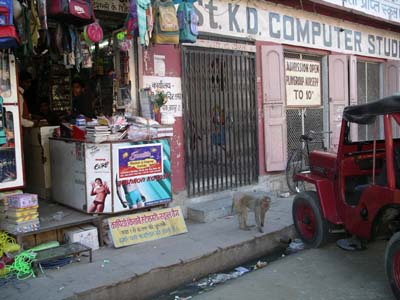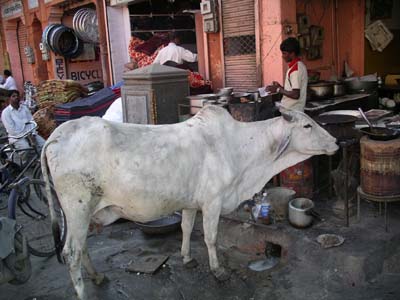 Everywhere we went, people stopped to speak with us, and no one objected to having their pictures taken. They also laughed and were excited to see themselves on our camera as we showed them the images of our pictures. We took several pictures, trying to capture the color and activity here… it's hard to do, and the pictures don't really convey the scene - however, the images will remain strong in our minds.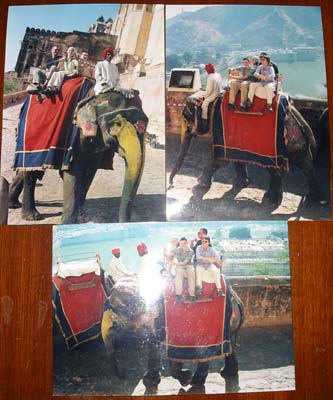 The extremes of India that Ashok told us about when we first arrived in Delhi were never more apparent than today. Our hotel, the Raj Palace, is luxurious and actually used to be a palace. It's quiet and elegant, and sports a beautiful façade that is set back from one of Jaipur's busiest streets. As we walk out the front door, we're immediately in a totally different world, one which will never know or experience the comfort of something like the Raj Palace. It's literally two different worlds.
As we walked back to our mini-bus, a very funny event occurred. During this morning's elephant ride, several photographers swarmed around us taking pictures telling us that they'd be waiting later with prints of the photos. We never saw the photographers again while we were in Amber. However, a full 6 hours later and in a location about 7 kilometers away, we were approached by a man who was holding 3 large color prints that he had taken of us during our elephant ride! Although we had several pictures that were taken with our own camera, we immediately purchased the photos (for 150 rupees, or $4), primarily to reward the man for his diligence in tracking us down. Unbelievable!
Tomorrow we're leaving Jaipur and driving further west to the small town of Pushkar.