Wednesday, February 18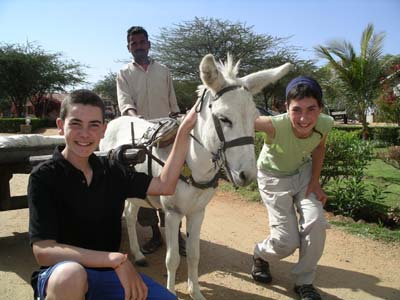 Steve: We enjoyed relaxing in the beautiful Pushkar Resort this morning, and spent the time catching up on our reading and writing. To the kids delight, they were offered a ride in a mule cart just as they were beginning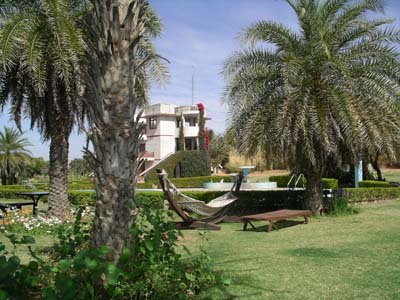 their homework! The donkey took them on a ride around the resort at near-gallop speed which had them laughing the whole way. There was also time for swimming in the refreshing pool before we had lunch and packed up.
Our driver (Rajjan) offered to take us on back roads for our 4-hour drive to Jodhpur to allow us to see more of what rural life in Rajasthan is all about. We gladly accepted, although at first we wondered whether this was a mistake. The road was wide enough for only one car, causing problems for our Rajjan as he encountered the usual myriad of trucks, tractors and camel carts. Normally, Rajjan passes all these vehicles very deftly, but this road has no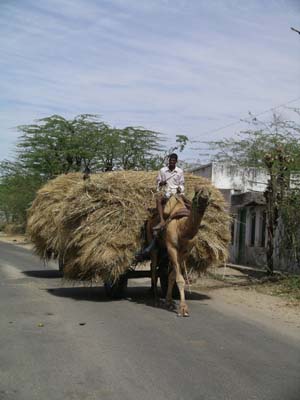 shoulder and so overtaking required driving at fast speeds on pitted gravel. We were amazed that our tires survived, but fortunately the road widened after the first hour or so.
Utpal had promised us photo opportunities of some of the colorful and beautiful women that carry large pots, baskets and bushels on their heads as they walk along the road or in the villages. He said that Rajasthan's rural women were some of the most striking in India, and we had really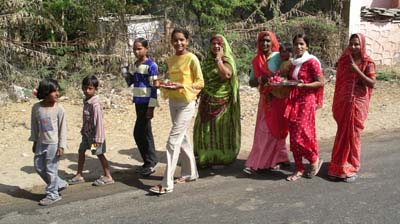 wanted to capture at least a few of them with the camera. Uptal also said that the back roads would allow us to stop in at least one interesting village where we could meet and speak with some local residents.
Sure enough, we soon started to see many small villages, complete with some of the ladies and other interesting people we were looking for. Today was a national holiday in India (Sheviratri - celebrating Lord Shiva's marriage), and most people were at home. As we approached a village that looked promising, we stopped to explore. We left our minibus and Utpal quickly worked some of his magic - before we knew it we had become celebrities again. People appeared from everywhere, and we were quickly surrounded in the courtyard inside a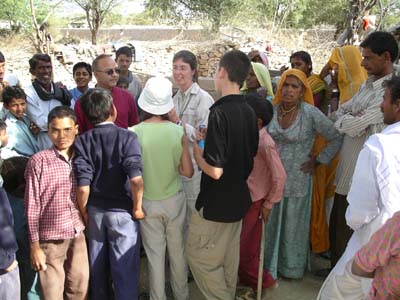 family's home. Utpal led a conversation with the ever-expanding group, and we learned that the family owns goats and also farms barley and wheat 15 acres of nearby land. As is often the case here, several families all live very close to each other - this particular family consisted of three brothers and two sisters.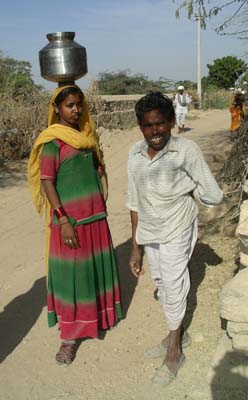 We were asked about our professions, and the group wanted to know how many "districts" there are in America (we guessed at 3,000, using counties as our guide). The group also wanted to know David and Katie's ages and what "classes" they were in. One older lady took a specific liking to Paula, touching her repeatedly and asking to have her picture taken (we think).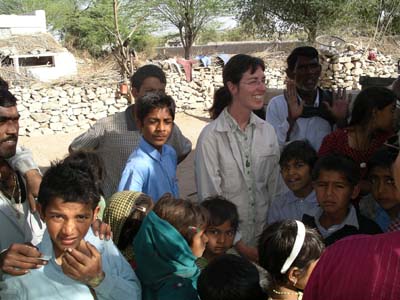 The children of the village were all smiles, and some of them spoke bits of English - many approached David and Katie directly to ask them their names and ages.
Eventually, when it was time to leave the group followed us to our minibus and everyone smiled and waved as we drove away. As has been the case throughout our encounters in India, we left feeling a deep sense of warmth, happiness and deep curiosity from these people. I tried to capture some of this in several pictures that we took during our visit here today.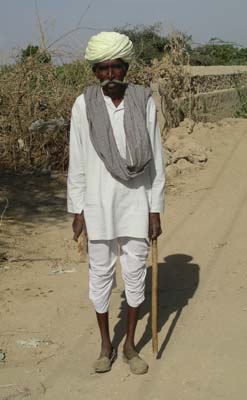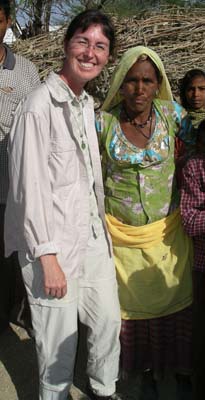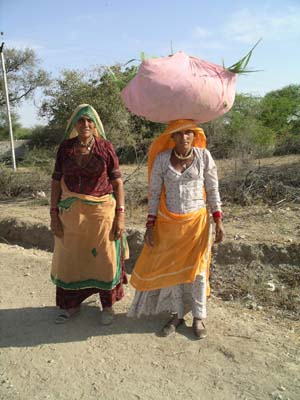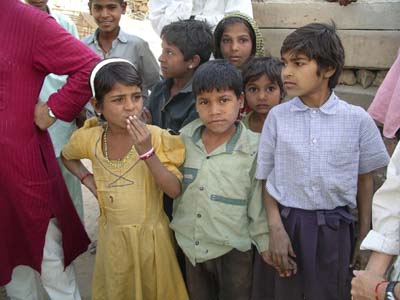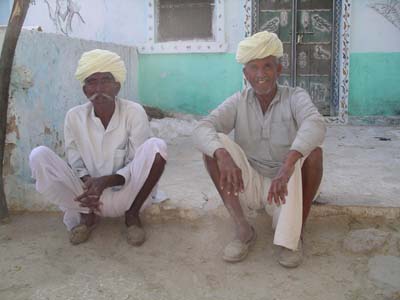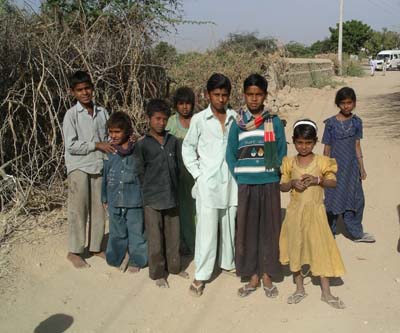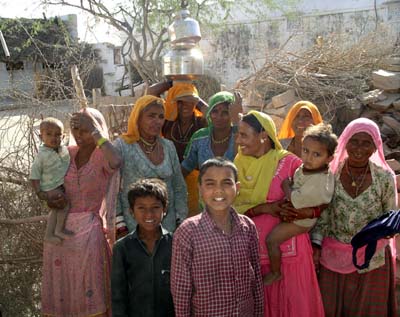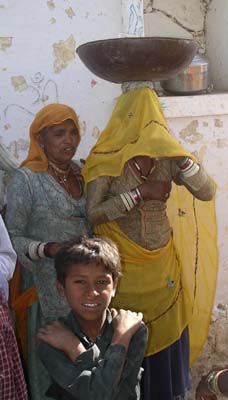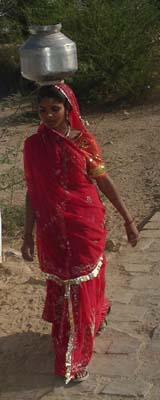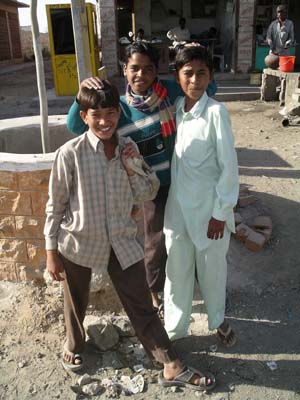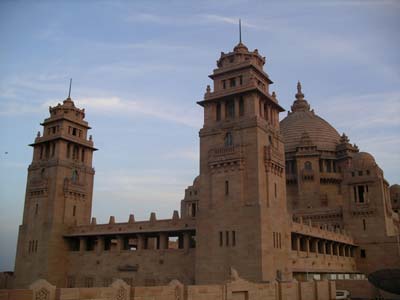 Late this afternoon, we arrived in Jodhpur and our "hotel", the Umaid Bhawan Palace. It's actually a palace, and is the home of the local king (again, these kings have retained their titles) H.H. Maharani Sahiba. It was completed in 1942, and absolutely spectacular. Our room leads to a huge terrace where we overlook the palace grounds and the city of Jodhpur. Everything is very grand and elegant. There's no "reception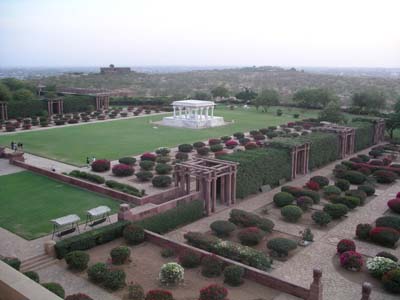 desk" here - instead there's a wandering group of "palace assistants" who take care of all your needs. We're pretty sure that we'll enjoy living here, if only for a couple days!
Tomorrow we look forward to spending the full day exploring Jodhpur.