Sunday, October 5 (our 100th day of travel!)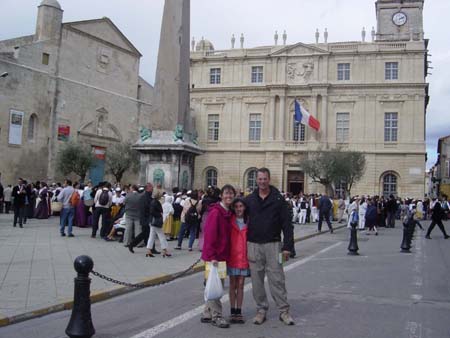 Steve: We spent this morning on schoolwork, completing our unpacking, and developing a long list of the places we want to visit while we're here. Beatrice and Phillippe have graciously offered to sit down with us to review our list and a map, and we hope to do this tomorrow. In addition to specific towns and sites that we want to see, our list includes things like attending a European football game and biking in the Camargue. We'll probably work with Beatrice tomorrow and will develop a more detailed plan for these two weeks.
We set out after lunch to explore Arles. Arles is a very attractive city, and was once an important part of Ro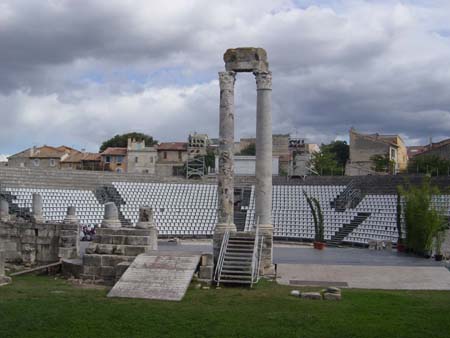 me's empire during the first and second centuries. There is a well preserved Roman amphitheater in the city center, used originally for the same types of games as the Coliseum in Rome. It seats 20,000 people, and is still used today for bull fights (the Provencal version, where the bull is not killed) and other cultural events. Today the amphitheater was closed and reserved as part of a Provencal festival that was being held here (more on that later), but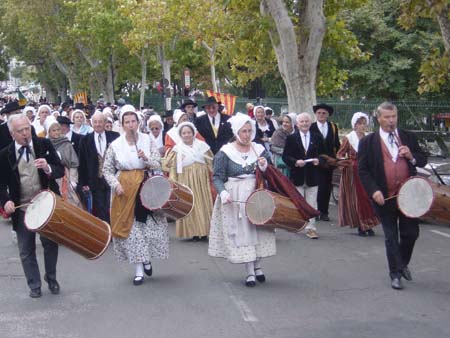 we plan to return for a future visit. There is also a Roman theater here, and it's used throughout the summer for music and dance events. Much of the original structure is gone - it was used as a source of building materials through the centuries. There are two large columns still standing, and they're called the "two widows."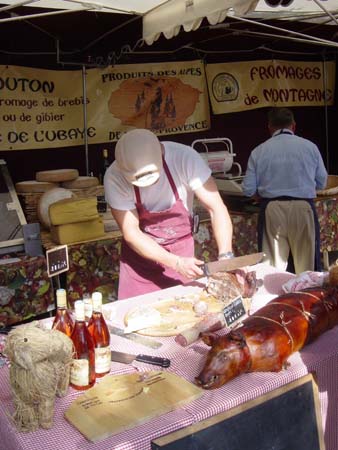 Today we were fortunate to be in Arles on the day of a large traditional Provencal festival being held. People from many surrounding communities participated in a parade. They were all dressed in traditional Provencal clothes, and they sang and danced to Provencal folk songs as they made their way through the streets. Many of the people watching the parade joined in the singing - it was a lot of fun to watch. There were also several outdoor shops set up along the main boulevard here. We enjoyed seeing all the local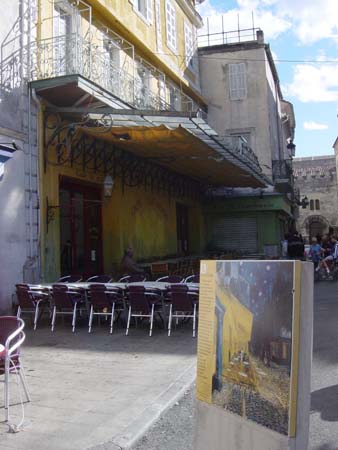 crafts and food that was for sale, including pork that was being sliced right off the body of a roasted pig.
One of Arles' most famous residents was Van Gogh, who spent 15 months here starting in 1888. He painted over 300 works here, including his famous Sunflowers and Café du Soir. It was following his time in Arles that he went to the asylum in St. Remy de Provence, where he spent the last year of his life. St. Remy is only 25 km from here, and we plan to go there later this week. The café that Van Gogh painted in Café du Soir is in Place du Forum (in the center of Arles), and it's been restored to look like it did when Van Gogh painted it.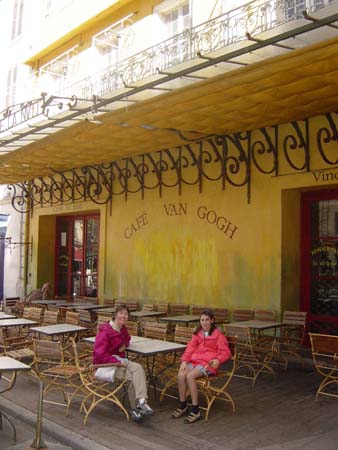 We'll definitely be returning to Arles. There were several sites and shops that we weren't able to visit today - in France, almost all the stores close on Sundays, and the Roman arena and theater were both reserved for the festival. Fortunately, the drive into Arles is very easy, and we can be here in less than 10 minutes (very different from the situation in Siena where the traffic and parking made it very difficult to visit).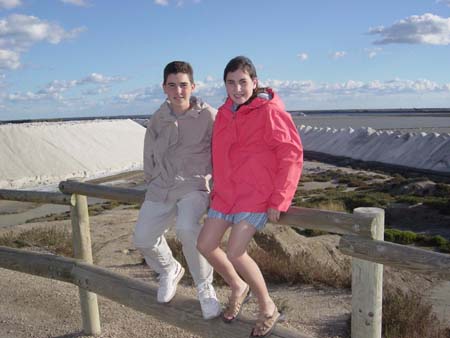 We decided to make an initial exploratory trip into the Camarge, which turned out to be a great choice. The Camargue sits at the delta of the Rhone River, and is a large nature reserve known for its incredibly varied bird life. We learned that there are over 400 species of birds that live here in the Camargue's 800 square kilometers of wetlands. The most impressive of these birds are the huge flocks of pink flamingoes that breed here, and we were hoping to get to see them today. The Camargue is also home to large herds of black bulls and beautiful wild white horses that roam freely.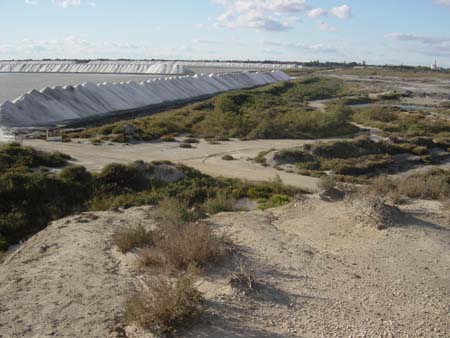 The drive through the Camargue initially passed through several kilometers of straight road with large areas of flat farmland. At this point, David and Katie asked: "Is this what we came to see?" We told them to be patient! Soon afterwards, we entered a totally new terrain - vast shallow lagoons from which salt is harvested and piled into enormous mounds that seem to go on forever. There's actually a lookout built at the end of a small road where we could get a good view of the salt - the size and number of salt mounds is extremely impressive. We also could see the salt being collected in several of the processing plants along the way.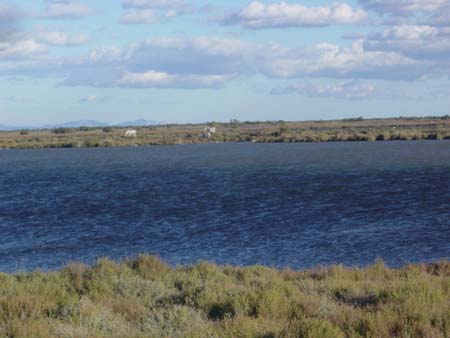 Soon, the road narrowed and we were driving on a small strip of land through the middle of huge lagoons. It seemed like the road would come to an end at any time, but it just kept going and going. The wind was blowing fiercely today, and we weren't sure whether we'd be able to see any wildlife. However, after several minutes, we spotted some of the Camargue's wild white horses in an open area (they're visible in this picture on the right). While we were too far away to get a good view, we were thrilled to have seen them, because we read that they're not always visible. Even at a distance, they appeared very white and beautiful.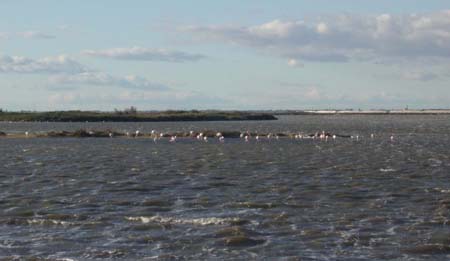 Our next mission was to see the pink flamingoes that the Camargue is so famous for. They favor the shallow salt lagoons, which is where they come to breed every spring. We read that there are over 10,000 pairs of these exotic birds that come here. Finally, after driving further on the ever-narrowing "road", David spotted our first flock of flamingoes standing and feeding in a lagoon by the road. It was very exciting to see these birds in the wild, and even at a distance it was easy to recognize their long legs and necks, and their pink color. The pink stands out in vivid contrast to the deep blue water - quite a beautiful site.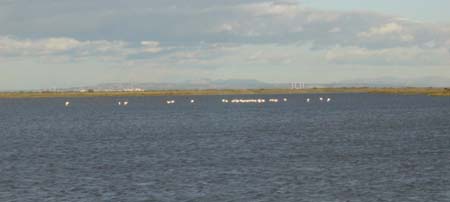 As we continued driving, we saw several more groups of birds, all feeding intently. We reached the end of the road at the southernmost point of the Camargue, and it was fun to walk along the beach. The strong wind and the blowing sand and salt spray that it created was very impressive. We wondered whether it's always this windy here, but learned later that this wind was very unusual.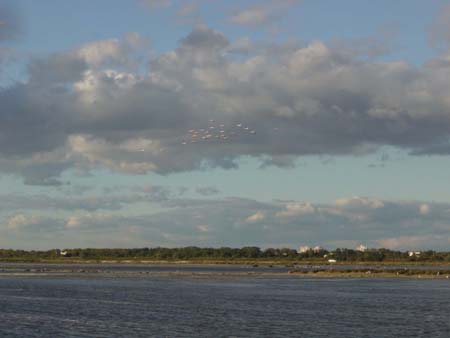 On our drive back, we were rewarded with a stunning site - a large flock of flamingoes suddenly took off and began flying in line (they're visible in this picture on the right). They circled all around us, eventually settling down in another lagoon to continue their feeding. It was wonderful to see these huge birds fly, and we could clearly make out their long bodies and pink colors. It was a fitting end to a great day.
We'll decide tomorrow morning what our plans will be for the day. We have heard that there may be a football game in Marseilles tomorrow night, in which case we might spend the day visiting Aix-en-Provence and Cassis, before driving to Marseilles for the game. We'll see…
Distance Walked: 3.34 miles