Monday, October 6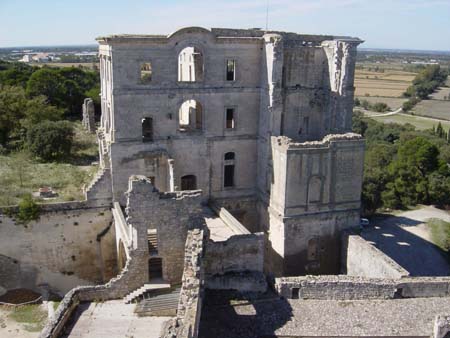 Paula: This morning we sat with Phillippe and studied our map while the kids did schoolwork. We're somewhat overwhelmed by all the places that we want to see, and are developing a plan for how we'll time here. Phillippe was very helpful, and we now have a good sense of the various trips that we'll make while we're here. David and Katie insisted on having time to play with the pets-the dog "Scotch" sat by my feet while I made pancakes (a special treat for the kids). "Big Momma", the adult cat, has adopted us and either sleeps on the couch or sprawls across our map and guide books on the table. The kitten "Zeus" entertains the kids nonstop. Having pets in our little home here has been a very unexpected surprise!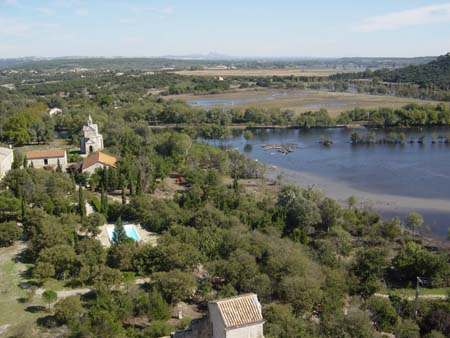 It was another crisp autumn day with plenty of sunshine and a stiff wind-we aren't sure if these are the infamous northerly "mistral" winds, but if not, we don't want to experience the real thing! Our first stop this afternoon was at the nearby Montmajour Abbey, founded in 948 by the Benedictine monks. The abbey reached the height of its prosperity during the 13th century. It was destroyed by fire in 1726 and never recovered. We enjoyed climbing the old tower for views of the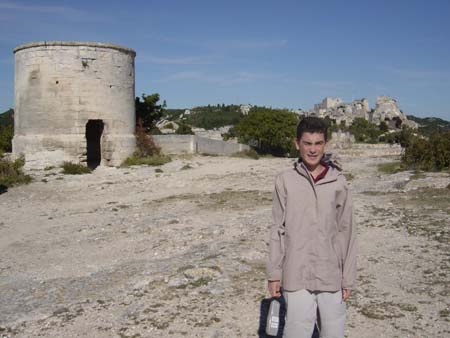 surrounding area.
Les Baux-de-Provence was our next stop. This medieval town is perched on a rocky spur with the beautiful countryside surrounding it. The castle and its fortifications were built into the rocky ledge and made to blend in so that they weren't readily visible. There are several life-sized models of medieval military equipment here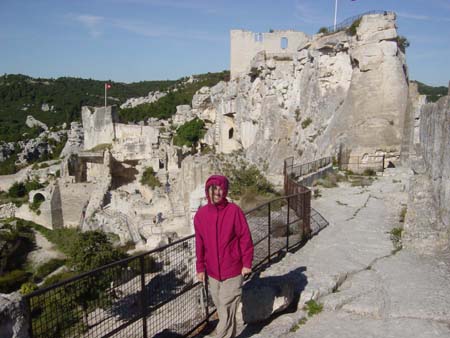 (catapult, ballista and battering ram) used during the Middle Ages, and it was very interesting to learn about how medieval warfare was conducted. The catapult or "trebuchet" was capable of flinging rocks of 100-200 pounds over a distance of up to 200 yards. These were used to destroy fortification walls on fortresses such as the one at Les Baux. The trebuchets were transported in pieces and required 60 men to set up and load. They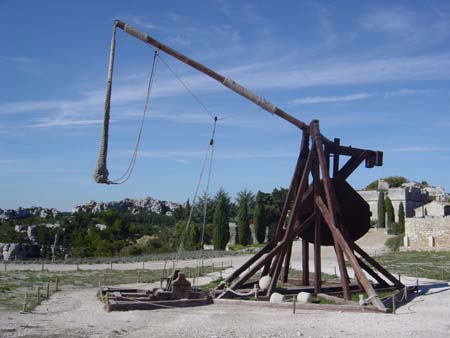 were capable of firing two shots every hour. The ballista was used to fling "Greek Fire" over the walls of the castles. Greek Fire was a flammable mixture that could not be put out by water (the only way to extinguish it was with sand or wet soil).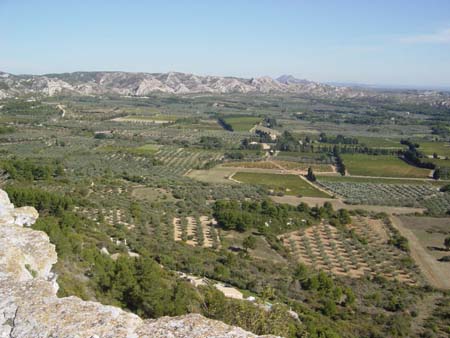 The views were fabulous from Les Baux. We could see all the way south over the Camargue and to the Mediterranean Sea. Toward the east we had great views of a mountain range and many vineyards and groves of olive trees. The wind on the top was fierce - we were told that it's often very windy here, but today it was unusually strong.
The ruins of the fortress on the top of Les Baux are extremely interesting. They provide an intriguing view into what life here was like in the Middle Ages. We agreed that this was probably the most beautiful and interesting medieval city that we've vvisited thus far. Before leaving, we also spent a little time exploring the modern town of Les Baux - it's very cute with lots of shops and nice cafes. We read that this is one of the most heavily touristed places in France, drawing 2 ½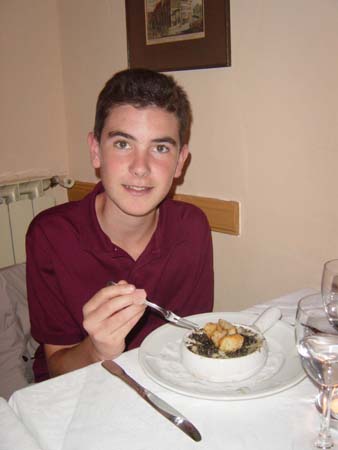 million visitors each year. Today it was very quiet here, and it was very enjoyable to visit Les Baux without hordes of other people (at this point we're well beyond the main tourist season). Finally, before leaving Les Baux we stopped to view an interesting audio-visual show called Cathedral D'Images. It's a series of paintings that are projected onto limestone walls in a natural gorge-like theater, complete with coordinated music. The presentation this year featured the Flemish artists Bosch and Bruegel.
Our last stop was St. Remy-de-Provence. This nice town is best known as the location of Vincent Van Goghs' last year and was the site of many of his best known paintings. Many of the town's sites were closed today and we will plan to return, especially for a walking tour related to Van Gogh and his time here.
We had our first traditional Provencal dinner in St. Remy at a restaurant called La Gousse d'Ail. The food was great, and David enjoyed his first dish of escargot!
Distance Walked: 3.23 miles