Saturday, October 4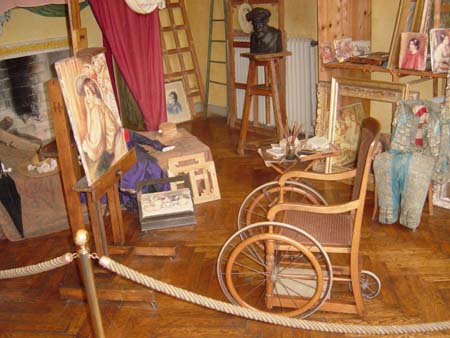 Paula and Steve: Before leaving Nice this morning, we visited Renoir's home and studio in a small town called Cagnes-sur-Mer located just west of Nice. He spent his last 11 years here (all of this time in bad health) in this very pretty home set high on a hill and in the middle of a grove of olive trees. The Mediterranean is visible over the town in the distance. Although there are only a small collection of his original paintings and sculptures, seeing his home and especially his studio was wonderful. Everything inside is original, and they've left the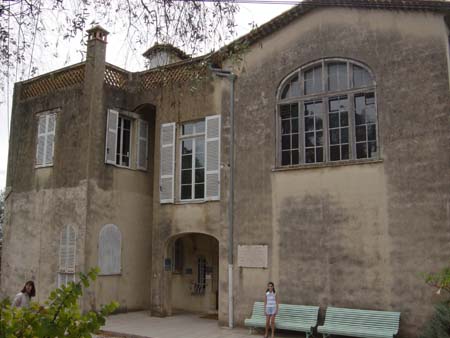 rooms almost exactly as they were when Renoir died. In several family photographs it was possible to see the same furniture and decorations that are still in their same locations today. It was particularly interesting to see Renior's actual studio, which is in its original state with the artist's palate, brushes, easel and wheelchair. There are also several paintings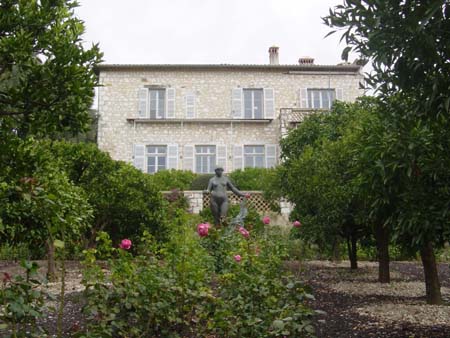 and sculptures by some of Renoir's students, often depicting Renoir and the surrounding area. Renior suffered from rheumatoid arthritis and there were many touching photos of him painting despite this disability. Apparently, he painted frenetically right up until the day he died in December of 1919.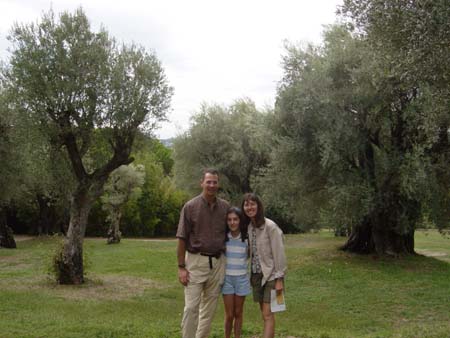 We enjoyed walking through the gardens and grounds of Renoir's house. Similar to when we went to Givenry and saw the bridges and lily ponds that Monet painted, here we were able to wander among the olive trees that were the subjects of many of Renoir's works. The olive trees are huge (we learned in Greece that they often live for over 800 years) and are very beautiful. After the house was built, Renoir's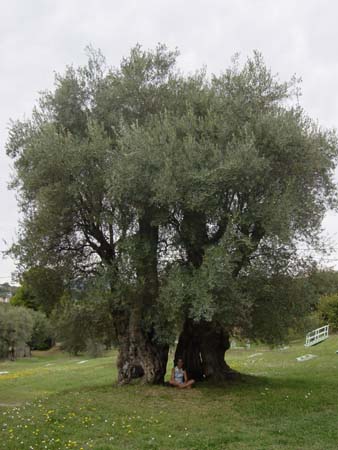 wife planted several gardens and fruit trees, and the results of her work are still visible today.
We had originally planned to drive along the coast on our way to Arles today. However, after experiencing the traffic during the past couple of days, we realized that this was probably not practical. We also needed to be in Arles by 6:00 PM. So we decided to pick one town to visit on the way, and settled on St. Tropez. We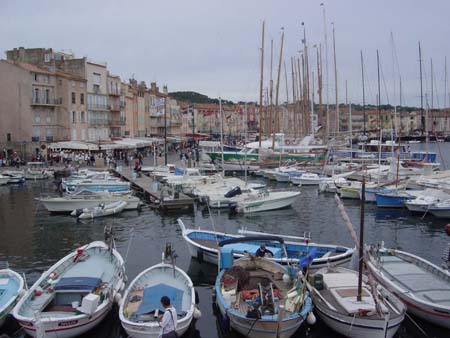 had heard that St. Tropez was particularly beautiful, and were not disappointed. The town is an old fishing village and port, and is set spectacularly on a point on the coast. There are none of the cement block buildings that we saw in Nice, Monaco and Cannes - apparently the town was rebuilt after World War II to its original style.
There are an amazing number of beautiful boats in the harbor, many of them sailboats with beautiful wooden decks. Several of the sailboats appeared to be racing boats - we heard that there was some sort of regatta happening here. We can't remember seeing so many boats all in one place (except perhaps in Newport, RI). Interestingly, the harbor contains several old fishing boats parked right next to fancy sailboats and yachts. We walked to the end of a long dock, and the view back across the harbor toward the town is very beautiful.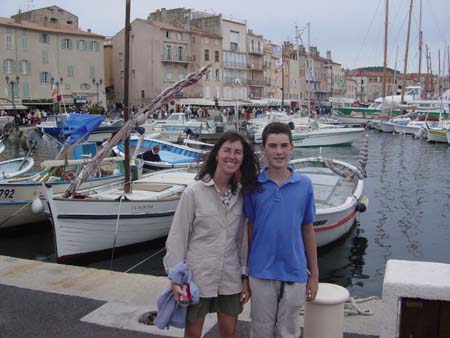 Unfortunately, St. Tropez has most definitely been discovered by tourists, and the place is packed. The streets are filled with people, motorcycles and cars. The docks are crowded with people gawking at the boats and taking pictures. The harbor is lined with huge bars and cafes, and there were very few open tables anywhere. The streets of St. Tropez contain many upscale boutiques and restaurants, obviously catering to a very wealthy clientele. We only were able to spend a couple of hours here, but it was probably enough - this is a classic example of a beautiful place that has simply become overrun with people.
The drive to Arles was quite pretty. We initially drove on a very windy road through the mountains before getting on the highway. It wasn't long before we began to see vineyards and farmland again. We also spotted several medieval castles along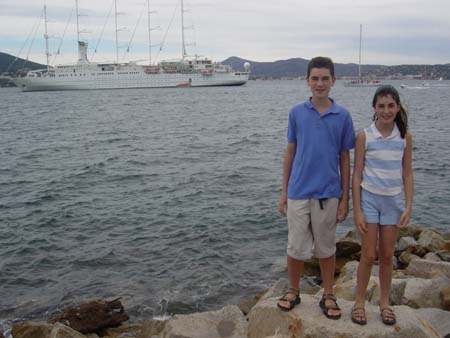 the road.
We arrived at 5:30 at Domaine de la Tourette, a farm owned by Beatrice and Phillippe Saltiel. We were greeted by Beatrice and Phillippe, and (much to David and Katie's delight) their dog and two farm cats. Beatrice and Phillippe have converted their very large farmhouse into separate living areas, and we have rented two connected units. The area is very quiet, and we have our own little garden and yard. We're actually in a small town called Fourques, and are only 5 minutes from the center of Arles. Fourques has its own little village with shops, markets, and a butcher. This should all wor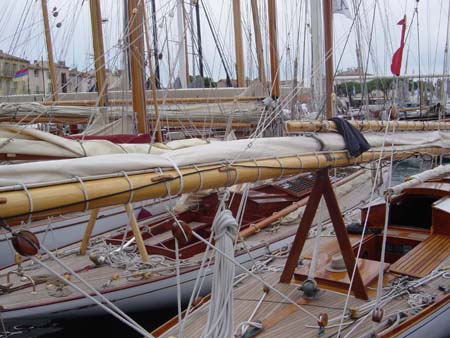 k out perfectly!
Beatrice is obviously an expert on Provence, and she spent a great deal of time reviewing with us all the places that we should see. Although we'll be here a full two weeks, the list of places to see is very overwhelming! There is a tremendous amount of history, art, and nature to explore, so we know that we'll be very busy.
Tonight we made a quick trip into Arles for grocery shopping. This was our first experience in a true European hypermarket (this one was owned by the French company, Casino). This was very similar to a Wal-Mart, and was actually fairly overwhelming. It's funny, but for our grocery shopping we've either been stuck with stores that are much too small, or now this huge hypermarket. Nothing in-between!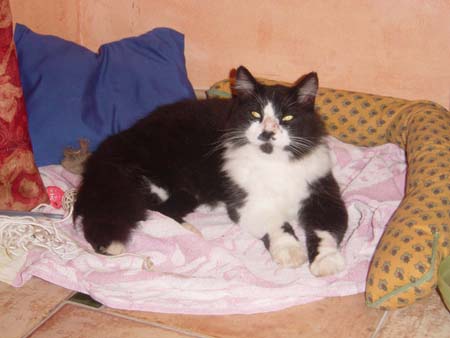 Back to the cats… David and Katie apparently miss our cats more than any of us realized. They were thrilled to play with the two farm cats (apparently adopted from guests who left them here), and quickly set up "kitty corner", complete with blankets, treats and toys. One of the cats is full-grown, but the other is a small grey kitten. It seems like we've adopted a couple of new friends for our stay here.
Tomorrow we'll finish getting settled and unpacking, and then will probably head into Arles. We also plan to make a list of everything that we hope to see and do, so that we can develop some sort of plan for our two weeks - we know that the time will go very quickly…
Distance Walked: 2.45 miles