Wednesday, August 6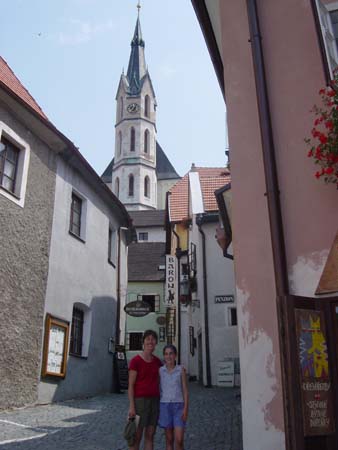 Steve: We had a relaxing day simply exploring the town of Cesky Krumov. We started with a guided walking tour where we learned about the history of this small town, and its picturesque buildings. Given the beauty Cesky Krumlov's buildings and streets, we were surprised to learn that prior to 1989, the town was in a state of disrepair. After the end of Communist rule, the government spent significant sums of money to restore much of Cesky Krumlov to its original Renaissance and Baroque appearance. Today, Cesky Krumlov derives 60% of its revenue from tourism, and in 1992 it was designated as a UNESCO World Heritage site.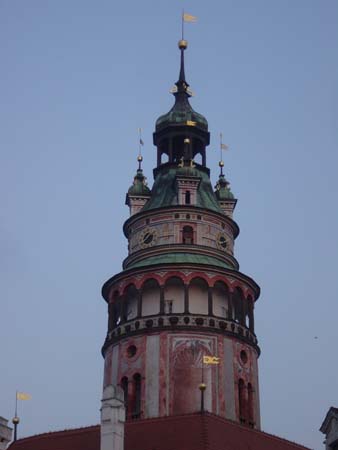 After our tour, we enjoyed walking through the narrow, windy streets and visiting several shops. We're still in a very pleasant state of shock regarding the prices here. In general, everything we buy (food, gifts, etc.) is less than one-half the price we've been paying up until now. Tickets for museums and concerts are unbelievably cheap (typically less than $1/person for a museum). Our bus tickets to Prague tomorrow cost a total of $14 for the 4 of us (it's a 3-hour ride). David and Katie can't believe it, especially given how much complaining we've been doing about the high cost of everything so far. We're hoping this continues when we get to Prague and continue traveling outside of the prime Western European destinations.
This afternoon we returned to the gardens at Cesky Krumlov castle for an afternoon of relaxation. We read, took naps, painted (Katie, of course), fed the ducks, and just enjoyed hanging out. It was nice to spend time outside and the kids really enjoyed the gardens.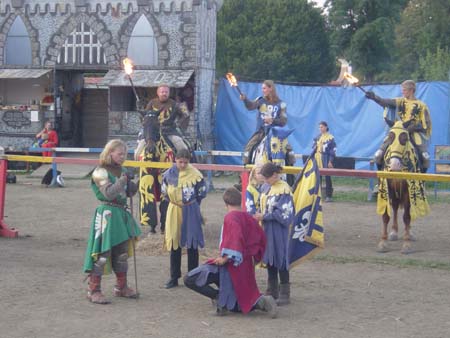 Before dinner, we went to an outdoor performance of a medieval knight tournament (complete with horses, fire and all kinds of stunts) that was a lot of fun. We were probably the only English-speaking people there, and the kids got a kick out of trying to decipher what was going on. Fortunately, it was a pretty basic (and funny) knights-fight-over-the-princess sort of thing, so we weren't totally lost even though there was a lot of Czech dialogue.
Tomorrow we're taking an 11:35AM bus to Prague. We're told that this is the fastest way there, but we'll see… In any case, we needed a bus trip to complete the list of types of transportation that we'll have employed (planes, trains, automobiles, etc.)!
Distance Walked: 2.94 miles