Monday, August 4 and Tuesday, August 5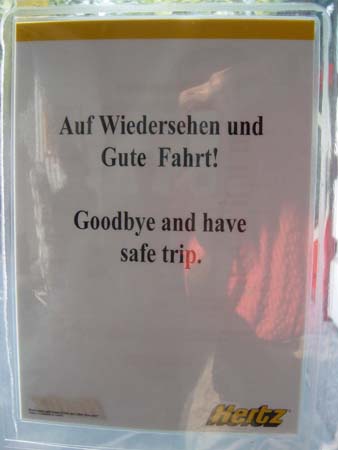 Paula: The past few days have required patience and, as we like to tell David & Katie, a little "faith." We spent the good part of yesterday (our last day in Vienna) trying to make arrangements for the next few weeks-find an apartment in Prague, extend our car rental, book flights to Russia, etc. We immediately ran into some snags! First, when trying to extend our car rental we discovered that the car we rented from Hertz in France was could not be driven in the Czech Republic (it was in the fine print, of course). In addition, to rent another car in Vienna and return it in Prague was excessively expensive (almost $500/day). The next alternative was a train-it was not ideal but could get us to Cesky Krumlov (our first stop in the Czech Republic). It required us getting up at 5am and making two connections (including one of only 5 minutes) but at least we could get there!
We then spent time looking on the internet at apartment options for Prague. We had decided as a family several days ago that we needed to try and rent an apartment-we all felt a need for more space and to feel a bit more settled - not to mention wanting to cook our own food for a change. We had sent out emails to rental agencies and had many responses but it was difficult to sort out the type of accommodations (especially availability of A/C-which no one seems to have in Europe) and location. Europe is in the middle of a record-breaking heat wave, so the A/C has become something we look for. Finally, we tried to get tickets for our flight to Russia only to find the American Express office with at least an hour-long line (it had been closed the day before). After a number of phone calls, we discovered that it would be to our advantage to wait and purchase the tickets in the Czech Republic closer to our travel date.
The day was also extremely hot-36 C nearly 100 F-we were thankful for our air conditioned room in Vienna and ended up spending time just reading and watching some of our WWII educational videos before having to bed early in anticipation of our early morning train to Cesky Krumlov. Of note, we did enjoy walking the downtown of the old town one more time and also had apple strudel again (our favorite dessert in Austria and Germany).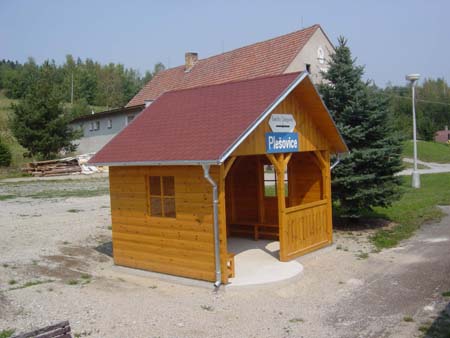 Today, we took the train to Cesky Krumlov, a well-preserved old medieval town in the Czech Republic. The trip required several close connections which we just barely made thanks to the help of fellow passengers who helped us quickly find the right track. We also discovered after our first connection that the trains in the Czech Republic were older, bumpier and less reliable. The countryside of the Czech Republic was lovely with large farms and small towns. The train stations were five minutes apart and were often tiny. The train blew its whistle at each street crossing in warning to the few cars that were approaching.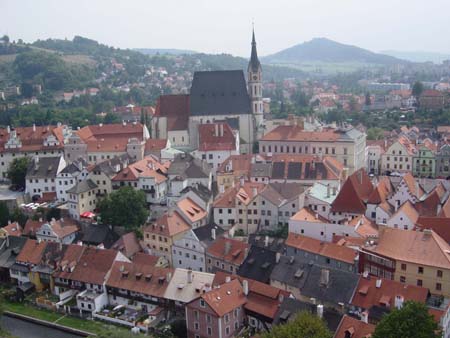 Once we arrived in Cesky Krumlov (a moderate sized city), we were surprised to find that the train station had no exchange for money and no bank machine. We had not anticipated this and didn't have the local currency (Krone). We discovered we needed to take a bus into the town (it was too far to walk) but didn't have any Czech currency to pay the fare. Fortunately, a Canadian couple came to our rescue and paid for our bus ride-it was not expensive but we would have had a long walk to confront in the heat without their kindness.
The reward was quickly apparent as the town came into sight. The fortress, old town wall, old homes and cathedral stand magnificently along the River Vltava which makes a protective "S shape" through and around the old town. Our roller suitcases made quite a commotion on the cobble stone streets as if to announce our arrival but we soon found our hotel on the banks of the river.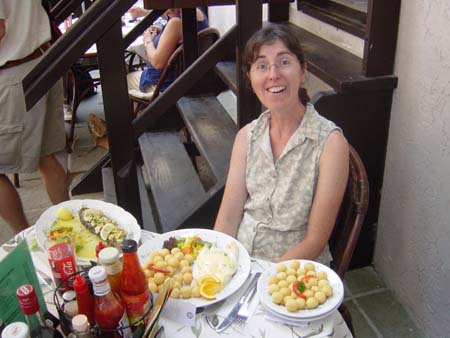 Lunch was top priority after checking in to the Hotel Dvorak. We found a restaurant along the river and enjoyed our first Czech meal on the patio. Fortunately, the menu was in English though our waitress spoke only Czech. Despite this, I ended up ordering two main course meals (I thought I was ordering a side dish). Everyone enjoyed my mistake, as both meals were delicious (especially the fresh trout).
We then explored the old town. First climbing the castle tower to get a bird's eye view and then visiting the exterior of the castle and its garden. We spent time by a lake in the garden were the kids enjoyed feeding the ducks. We also had fun watching people canoe and tube down the river and hope to keep cool doing this tomorrow! The town is obviously popular with tourists; we had heard that it is a favorite destination for Austrians on holiday. But the location of the town on this unusually shaped river, its beautiful buildings and the rolling farmland visible in the distance is entrancing.
Distance Walked: August 4 - 2.44 miles, August 5 - 2.34 miles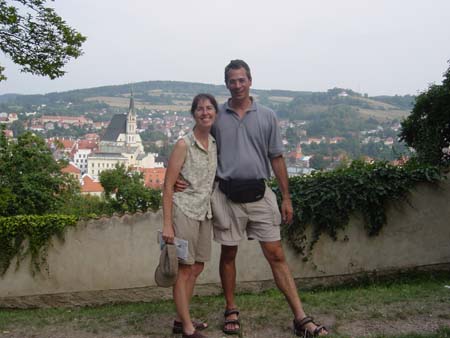 Katie:
*Special Edition* "Katie's Komments"
The topic for today is…a description of Vienna
We have been exploring Vienna for almost 3 days now, and have discovered many unique qualities of the city. The following paragraphs describe my feelings about the amazing place.
You enter the city and don't know what to expect. No one in your family has been to famous Vienna before, and you are left with a couple of books and curiosity to discover the city. You walk down the streets with your tiny map and help lead your family to Vienna's most important landmark-St. Stephen's cathedral. You turn a corner and then suddenly the incredible landmark is in front of you. In front of your very eyes is the cathedral whose tall tower can be seen from almost every place in Vienna. You immediately stare upwards at the enormous tower with its beautiful carvings all coming together to form the pointy steeple. There is not a single spot where the stone isn't carved in some way. You feel unwilling to take your eyes off this masterpiece, but soon realize that the entire cathedral is gorgeous. As you look a little further down you see these wonderful mosaic tiles all forming a rainbow like effect. Down lower are more beautiful carvings that form a jagged arch structure all decorated with old statues. They are almost frightening with their medieval look. It's just how you imagined a medieval cathedral…very similar to Disney's version of Notre Dame. It has the frightening gargoyles and giant bell tower. On the ground around the cathedral are tons of horse carriages with groups of people loading into them. You then look away from the cathedral towards the busy streets expecting everyone else to be looking at the masterpiece. To your surprise hardly anyone is focused on it. The majority of the people are just walking down the streets getting groceries and other supplies. The cathedral is just part of their life-they are used to this enormous piece of architecture in front of them.
You and your family then decide to explore the many pedestrian streets branching out from the cathedral. You walk down the wide walkways and notice many shops and grocery stores where citizens are buying daily supplies. You see many public fountains with people all lined up to get a drink on this unbearably hot day. You see street performers, ice cream bikes and puppet stands in between the walkways. It is an amazing scene. Built around and above the shops are old buildings dating back to the medieval and Renaissance times. At the end of the walkways are unusually large dome buildings surrounded by many flowers and fountains. As you walk down the streets you are in a way traveling through time. Hundreds of years of history can be crammed into one little square. It's really interesting to see a very old building such as one from the Renaissance period next to a modern day building from the nineteen hundreds. It was a great way to compare the architecture from these two different periods of time. As you look around you conclude once again that Vienna's citizens don't find these things very exotic as we would in the United States. They are more focused on the modern buildings as you would see everywhere in major US cities. |For this reason you aren't particularly focused on the modern buildings.
Vienna is incredible and in many ways magical. The atmosphere of this large historical city is unforgettable. It's different from every city out there…they are all special in their own ways.