Monday, August 11
Paula: Today we spent the morning reading about Communism and then visited the Communist Museum here in the early afternoon. Steve and I enjoyed re-learning much about Communism's social and political theory and its founders. In particular, it was interesting to read about the evolution of Communism in Czechoslovakia, and to think about the events that occurred in many of the squares and streets that we've been walking through this week.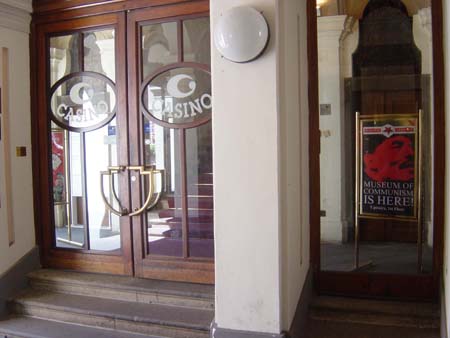 The Communist Museum was filled with posters, statues, signs and other objects from the Communist regime in Czechoslovakia. The museum is somewhat simple but useful in giving an overview of what life was like here, primarily in the 1960's through 1989. It was ironic that the museum was housed next to a casino with a McDonald's just outside the door. We were amused by the propaganda posters and cartoons especially poking fun at the US. The highlight of the museum was a film showing video footage from the resistance movement in Czechoslovakia-with the tanks in Old Town Square in 1968 and the student demonstrations throughout 1989 bringing about their "Velvet Revolution."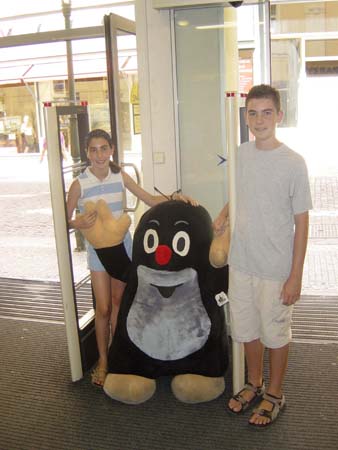 We also stopped in a popular toy store that was similar to toy stores in the states, and included many American toys. We purchased a small stuffed black mole (yes, a mole) named Krtek. This is very popular here, developed by a Czech author of children's books and cartoons, who tripped on a mole's hole when trying to come up with ideas for a new character. Apparently Krtek is now also very popular in Germany, Poland, China and Asia.
We also spent time today reading, drawing, playing games and of course dealing with logistics of our upcoming trip to Russia. We have been surprised to find that hotel prices in St. Petersburg and Moscow rival and often exceed London and Paris. It has also been more difficult to find available rooms, so there appears to be a lot of people traveling to Russia this summer.
We are planning to cook another meal in our tiny apartment kitchen tonight and then make a day trip tomorrow to Terezin, the site of a concentration camp during WWII.
Distance Walked: 2.0 miles (estimated)