Sunday, August 10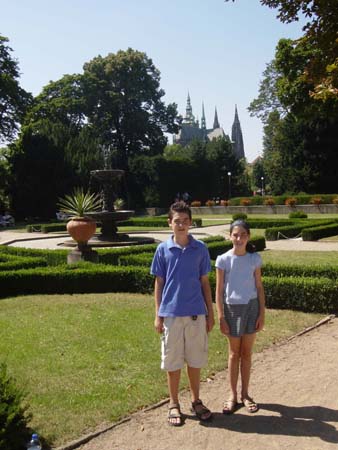 Steve: Today was planned specifically as a "down day" (that's our family-agreed term for a day without much sightseeing or walking). Katie has created a master plan for the week, and is making sure that we stick to it! We also got a late start because we all stayed up late watching our DVD on World War II. This has become a favorite evening activity for us all, but by the time we watch one of the chapters, it's usually close to midnight. We're having fun watching movies in our little "apartment", and we enjoy making popcorn and eating our own little snacks that we keep here.
Paula got up early and attended a service at a Catholic church called "Our Lady of Snow", built in 1347. The service was very crowded, so she had to stand in the back. However, she enjoyed the music and found the church to be very beautiful.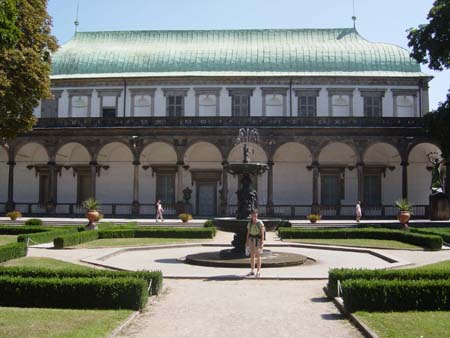 We returned to the Prague Castle to spend some time in the gardens that surround the outer walls. These gardens were built in 1534, and at one end is the Summer Palace, built in 1564. We had been told by our guide yesterday that this is a very well-known structure and is considered to be the most authentic Renaissance building outside of Italy. We found the building and its surrounding fountains to be very peaceful, and there was plenty of shade to escape the sun (we haven't seen any clouds since arriving in the Czech Republic - come to think of it, the last rain we saw was in Salzburg!). We walked to the gardens at the Wallenstein Gardens (bordering the Wallenstein Palace where the Czech Senate is housed). The kids enjoyed feeding the fish and ducks in the pond.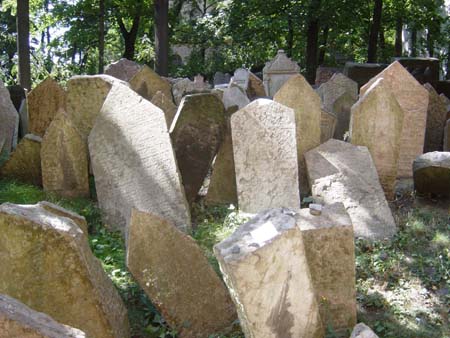 We took a subway back across the river and went to the Jewish Museum, a collection of exhibitions all located in what was originally the Jewish ghetto in Prague. Our visit started in the Old Jewish Cemetery, established in the 15th century and containing over 12,000 tombstones. It is believed that there are many more people buried there than there are tombstones - due to a lack of space, the bodies were buried in layers. This is Europe's oldest surviving Jewish burial ground. It was spared by the Nazis who had planned to erect a monument on the site to proclaim the extinguishment of the Jewish people.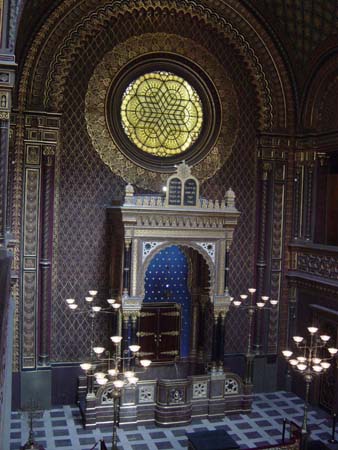 We also toured a number of Synagogues that now house various exhibitions about Jewish life and culture. There were several exhibits that described how the Jews were deported to the Terezin work camp, and eventually to Auschwitz. We plan to take a day trip to Terezin on Tuesday.
By the way, we encountered two more subway ticket inspections today - they really take this seriously. At this point, we have to admit that it seems like this may be a better system than what we saw in London, where they've invested in turnstiles and automatic readers that require a positive ticket check both when you enter and when you leave the station. Even the machines required a human monitoring function to ensure that people weren't simply bypassing them.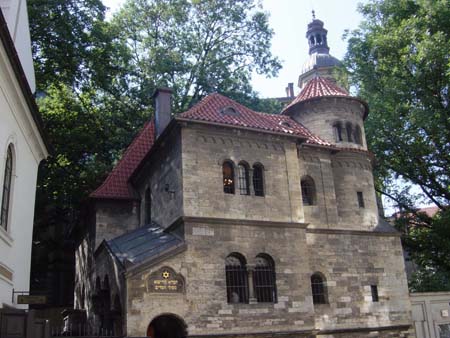 On the way back to the hotel, David and I stopped for haircuts. It was not hard to find a salon on the street, and with this heat we both were looking forward to getting a cut. We've been joking about getting our hair cut by some crazy barber in a remote area of Istanbul, but decided this was a better choice for now. Only one of the women in the salon spoke English, so she served as a translator for the people who were doing the cutting. David and I both survived without incident… phew!
Distance Walked: 2.5 miles (still estimated…)