Wednesday, March 10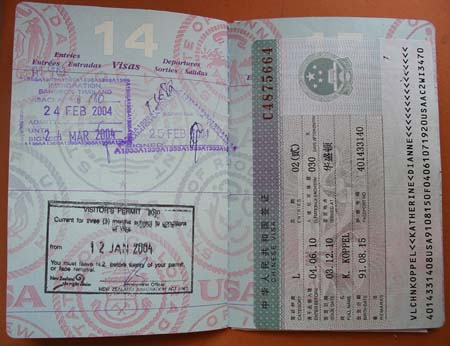 Steve and Paula: We knew that over the course of our travels we would run up against unexpected problems, and today we narrowly avoided a difficult one. Of all things, we have been worried about running out of pages in David and Katie's passports! Paula and I had pages added in December, but determined that David and Katie would be fine. What we never anticipated are all the stamp-happy immigration officers that we would encounter who never seem to get their stamps inside the boxes (and therefore often end up taking two full areas for a single stamp). Additionally, we forgot about the impact of having to fly in and out of Bangkok so many times as we traveled between destinations in Southeast Asia. Each entry and exit has taken up another two spots in our passports. This picture shows a typical page. The 8 spots for stamps have been taken by a single entry/exit combination in Bangkok, a single entry stamp in New Zealand, and our China visa.
Anyway, when we checked in for our flight to Cambodia today, we were informed that the Cambodian authorities won't let us in unless there is at least one completely empty page in our passports. The ticketing agent scanned through David and Katie's passports, and quickly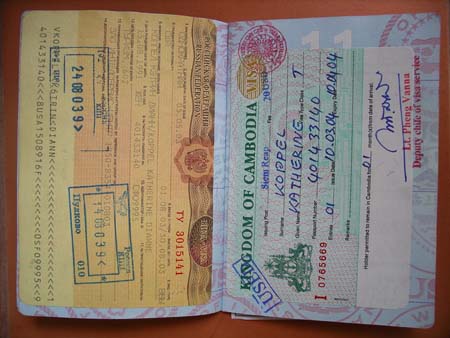 determined (correctly) that there were none. Uh-oh. Fortunately, we for some reason we had left a stapled departure card from our trip to Russia inside our passports and underneath this card was an entirely blank page. Ironically, on several occasions we thought about removing these cards, but for some reason (intuition or luck?) we didn't. If we had, at least one of the spots underneath would certainly have been stamped by now (immigration officers seem to love stamping virgin pages), and we would have had a big problem today with Cambodia (as we learned upon arrival, they put a full-page sticker in our passports which serves as a visa).
Our plan will now be to go to the U.S. Embassy in Beijing to have pages added to David and Katie's passports next week. Impressively, the embassy immediately replied to an e-mail (sent by Steve's dad), telling us that we can have this done easily within 15 minutes and without an appointment. Sounds great!
Landing in Cambodia this morning was another one of those "we can't believe that we're actually here" experiences. Cambodia is a country with a recent history filled by tragedy and war. From 1970 through 1989, the country was basically in a constant state of war (the 1960's brought the Vietnam war, 1970-1975 was civil war, 1975-1978 was the rule of the Khmer Rouge and massacre of 3 million Cambodians, and 1979 through 1989 brought more war under Vietnamese rule). In 1989, spurred by the collapse of the USSR and subsequent pull-out by the Vietnamese, Cambodia finally began its road to stability. Before then, it was not possible for any outsiders to visit the magnificent temples of Angkor Wat - this was one of the most dangerous places in the world. In fact, the temples of Angkor Wat were used as military bases throughout these war-time periods.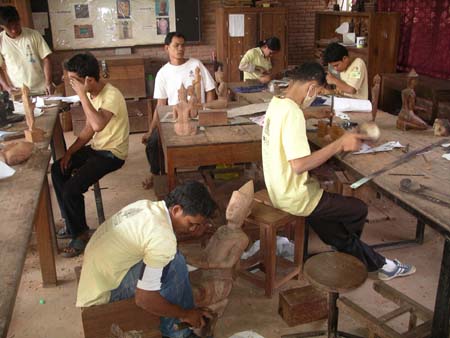 After arriving at Siem Reap's tiny airport and successfully getting our "on-arrival visas", we were met by our guide, Thy, and taken to our hotel. We got settled, made a quick trip into the town to visit a stone carving school and to have lunch before the heat of the afternoon got too bad. March and April is the hot and dry season here, and today's temperatures were well into the 90's with high humidity. This is the hottest weather we've encountered so far, and is comparable to what we experienced in parts of Europe last summer.
The stone carving school was interesting. This is a project funded by the European Union (we weren't sure why), where young people from across the country are taught how to carve, paint and finish wood and stone sculptures. Many of these people are handicapped, and after their training they return to their villages to practice their trades. The work we saw was beautiful, and very impressive.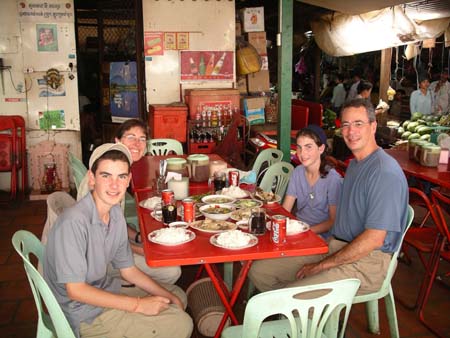 We then had lunch in Siem Reap, asking Thy to take us to a place where locals eat (instead of the standard tourist stops). Our first Cambodian meal was a mix of stir-fried vegetable and meat dishes, fish, and fish soup. The entire bill for us (including meals for Thy and our driver) came to $8.00. In contrast, Thy told us that the tourist restaurants would charge $7.00 for each meal!
Interestingly, Siem Reap uses dollars as currency much more frequently than the local riels (4,000 riels to the dollar). We cashed in a few dollars for riels, but mostly will be using dollars here.
After lunch we rested and swam back at the hotel. The standard schedule here calls for rest time between noon and 3:00 PM each day, when the heat is strongest. It's very hard to tour temples in this kind of weather. Since we were all up at 4:00 AM today for our flight, this was a nice respite.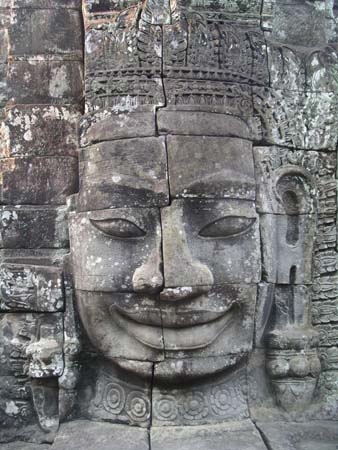 What people call "Angkor Wat" is actually just one temple within a large area that was built over the course of the 10th and 15th centuries by the Khmer Empire. Each successive king built his own complex, which were really enclosed cities including living areas and temples often surrounded by huge moats. The cluster of these complexes around Siem Reap covers an area 40 square kilometers and includes 65 temples, and is referred to as the "Angkor Area." Last year over one million people came to visit the Angkor Area - pretty amazing when you realize that before 1989, no one at all could come.
The Khmer Empire ruled Cambodia as well as Thailand, Laos and part of Vietnam over a course of 600 years beginning in the 9th century. "Angkor" means "capital" (as in capital city) and was the center of Khmer Empire. Angkor has been a World Heritage Site since 1991 and considered one of the premier ancient cultural locations in the world. It was literally lost in the jungle for centuries, until the French rediscovered it in the 1860's. Excavation, reconstruction and preservation of the site have been going on since the 1900'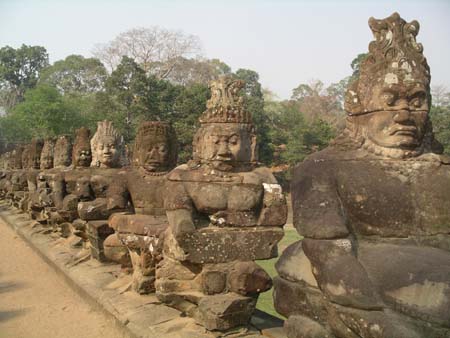 s but took major setbacks during the years of war (1970-1989). During this period, bombings and looting of the temples took their toll. The Khmer Rouge and Vietnamese armies occupied areas of the Angkor and even after liberation, looters continued to dismantle and sell many valuable statutes and stones. Unfortunately some of this even continues today because the government is not able to adequately secure all the temples in Camb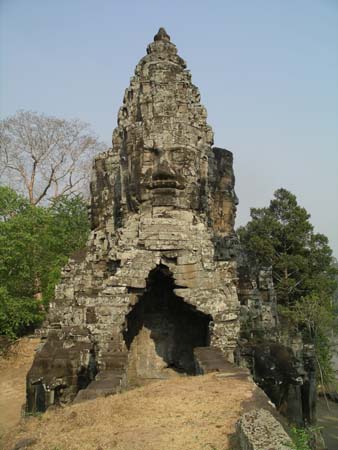 odia which number over 1,000 and are often located deep within jungles that are still infested with land mines. There is still much that is not known about the lives of the Khmer people. Very few records were kept, and much research continues today.
Thy suggested that we start our experience in Angkor Thum. "Thum" means "large", and Angkor Thum is the largest complex in the area. It was built by King Jayavarman VII (1181-1224), and its centerpiece is the Bayon temple. Unlike the earlier Angkor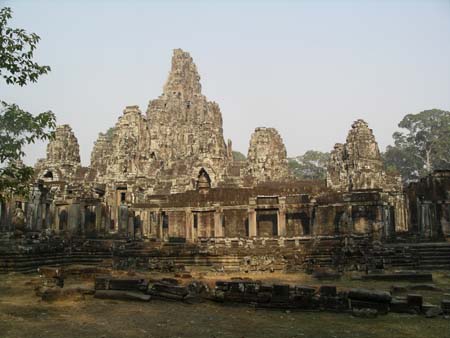 Wat which was a temple to honor the Hindu God Vishnu, Bayon was a temple dedicated to Buddha. Angkor Thum has a large manmade moat surrounding it and a magnificent bridge and gate leading into the capital city. The bridge is flanked by imposing demons on one side and gods on the other. The gate incorporates the four faces of Buddha and was built out of large diamond shaped sandstones dragged by elephants from a quarry 45 kilometers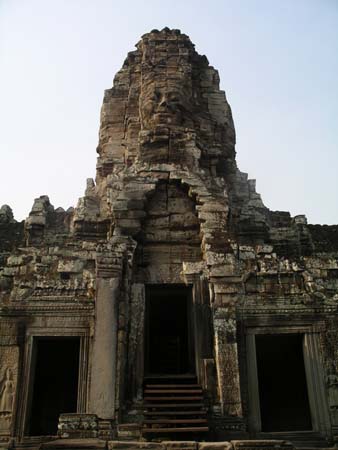 away. These sandstones were then layered on top of each other without the use of mortar or cement to create the vaulted gate.
The king and priests lived within the gates, while over 1 million people lived and worked around the temple during the 12th century in what was at the time one of the largest cities on earth. The temple is nothing short of spectacular. By going late in the afternoon, we were able to take in the sandstone temple and learn the Khmer history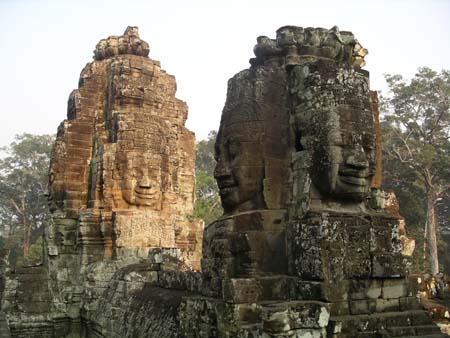 from its many preserved bas-reliefs while there were relatively few tourists. Fifty-four towers (representing the 54 states within the empire) each with four faces watching over the kingdom in all directions are the temple's most striking feature along with the 45-meter high center pyramidal tower. It was fascinating to hear how the temple was built and we spent almost two hours just walking through the temple,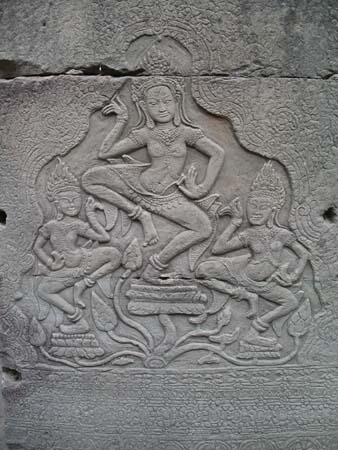 admiring the bas-reliefs and watching the sandstone faces change color with the setting sun.
After briefly visiting an area where present day nuns and monks were worshipping a very large Buddha from the 16 century, we stopped to explore a smaller temple built in 924 A.D. This temple called Baksei C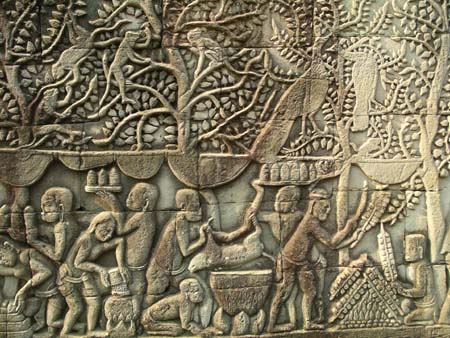 ham Krong was a temple to the Hindu god Shiva. No one else was at the site and we climbed the step volcanic stone stairs to the sandstone doors and large reclining Buddha added in the 16th century inside the tall temple. There were also large doors with carved Sanskrit (ancient Khmer language). We headed back to the hotel with the sun setting, anxious to explore more of this interesting place in ancient history tomorrow.
We were excited about coming to the Angkor Wat area, but nothing could have prepared us for the thrill of being here and exploring these amazing ruins.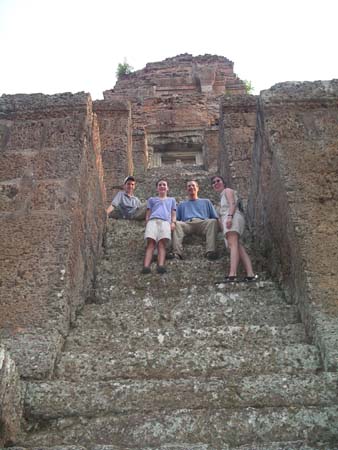 There's a real sense of mysteriousness here, and it was fascinating to study the various carvings, statues, and bas-reliefs. Some of the towers have vines and trees growing on them, and we know that the areas we're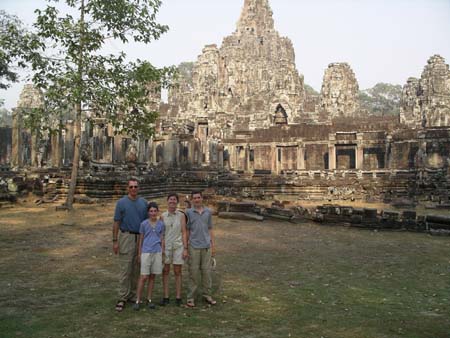 going tomorrow are even more overgrown. This is a very special place, and we feel unbelievably fortunate to be here.
Tomorrow we'll be exploring two additional temples in the Angkor area, and also will visit villages where we can see how Cambodians live today. According to Thy, their lives are similar to the lives of the Khmer people back in the 12th Century. We also plan on climbing a small mountain where we'll watch the towers of Angkor Wat change colors with the setting sun. We won't be visiting the actual Angkor Wat until the following day - Thy has everything carefully mapped out to maximize our experience!