Thursday, March 11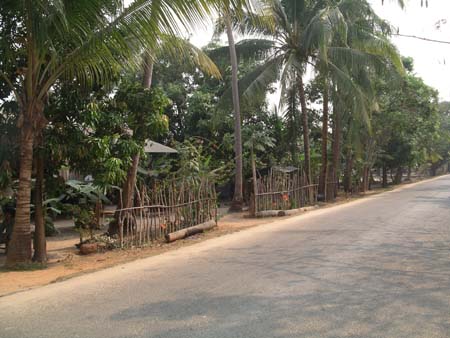 Paula and Steve: Our agenda for the morning was to explore two temples about 25 km from Siem Reap. The journey there was on a recently paved but still very narrow and bumpy road. The best part about a journey of any distance is that it gives us time to talk with our guides about daily life. So as we headed toward Banteay, a 12th century temple, we spoke with Thy about life in Cambodia.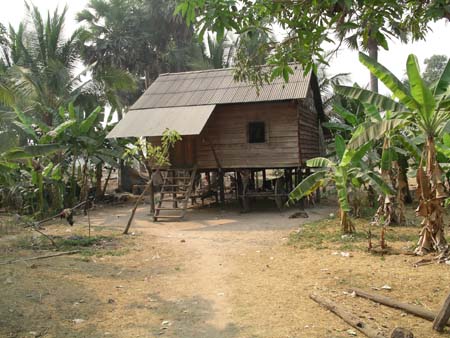 Thy told us that because of the hot temperatures, most people work in the cities from 7-11AM and 2-5PM allowing for a break during the heat of the mid-day. Farmers get started even earlier and work the fields from 5-10AM and then again from 3-6PM. Most people in Cambodia are farmers and grow rice (one crop a year during the rainy season), bananas, sugar palm, mango, cashew nuts, and vegetables. Thy also explained that many Cambodians raise crocodiles, snakes and have fish farms. Crocodiles and snakes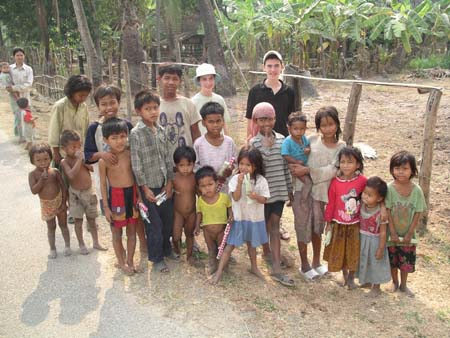 obtain good prices in the Chinese market. Thy is raising crocodiles and expects to make a handsome return by selling them when they are five years old (each one will fetch $2,000!).
We stopped along the way at one of the many villages that lined the road we were traveling. Here we visited several homes. In one household, we watched as a woman stirred nectar from a sugar palm over a hot fire to make palm sugar. This process was similar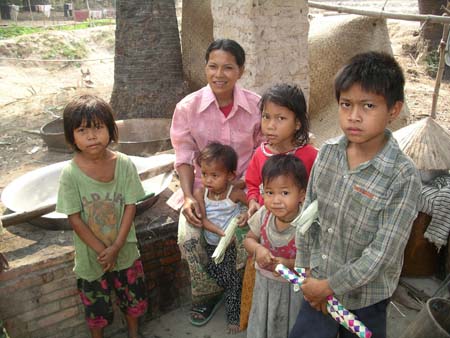 to what we saw done in Thailand with coconuts but the nectar was even sweeter. This woman told us that she also has a small rice farm and vegetable garden as well as pigs and cows. Her five children all gathered around her as she worked. Thy told us that most rural families are still quite large (7-10 children) and that although the government is encouraging birth control, most families are just not interested.
At another home, we saw the family drawing water from a deep well. The water is not only for bathing and cooking but is also used for drinking. We have read that many of the people here lack safe drinking water. Thy told us that the villages don't have electricity but use batteries to generate some power. A few people have TV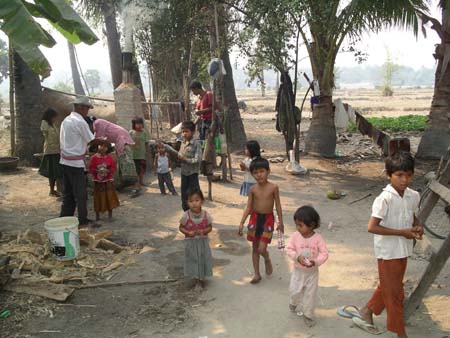 but there are no satellite dishes, so they are limited to Cambodian stations.
We passed by several schools and had hoped to visit but schools are closed here on Thursdays. Thy told us that school is required for six years starting at age 6 and that some children will go on to junior and secondary schools. Only a few go to the university. Most children here stop after 12 years of age and focus on farming.
Thy told us that the average income for Cambodians is $200/year. This is slightly higher than in Laos, but is still very low. 80% of the population is engaged in farming activities.
As we drove we began to notice how the terrain differed from what we had expected. The area is flat and scrubby, and does not appear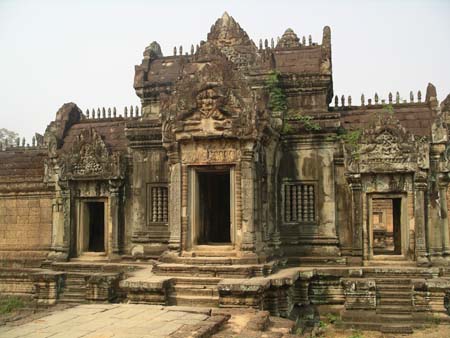 very fertile. We did see areas of dense jungle but these were in low lying plains. Thy explained that while Cambodia does have mountains along both of its east and western borders, most of the country is flat. Only about one third is covered in the dense jungle we often associate with Cambodia.
As we arrived at the Banteay Samre temple, Thy explained that tourists have only recently been able to travel here safely because the area was occupied by the Khmer Rouge until 1998. As recently as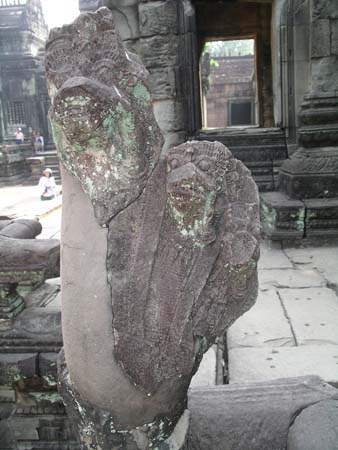 1994, a tourist and guide were killed by the Khmer Rouge in route to this temple. The Banteay Samre was built in the 12th century and was originally a Hindu temple. Like all the temples we have seen so far, it later became a Buddhist temple and we were able to see areas where stones and reliefs had been altered to change the temple to the prevailing beliefs.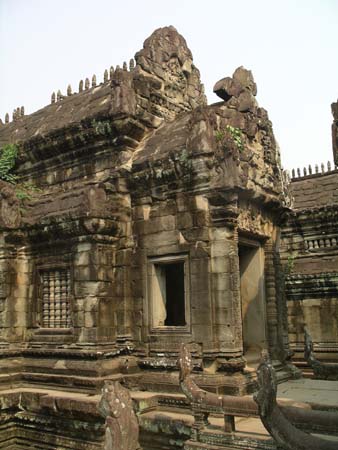 One thing we enjoyed about this temple was the many statutes and carving of cobra snakes. Thy told us that the cobra is still quite prevalent in the jungles here. This temple was also thought to have many treasures of gold and jewels which were probably looted by locals and the Vietnamese during war times.
Before leaving this temple, we stopped to talk with a man one leg who was selling souvenirs. He told us that he lost his leg in 1985 when he stepped on a landmine while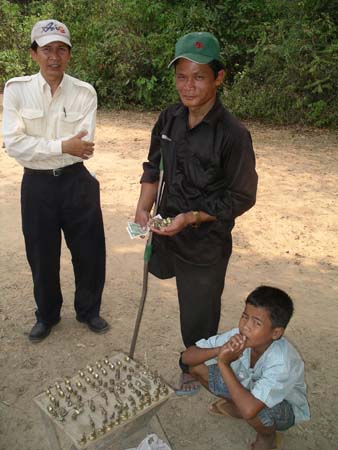 walking in a water-filled canal to check his fish trap. He said that if the mine hadn't been underwater, he wouldn't have survived. After purchasing a few items, we talked more to Thy about the landmines. He told us that while the ones around Angkor have been removed, there are still 1-2 million in the northern part of Cambodia. Thy told us that he has seen hundreds of mines over the course of his life - some even in the past few years. While we didn't see much evidence of people with disabilities from landmines in Laos or Vietnam, we have already seen many examples in our two days here.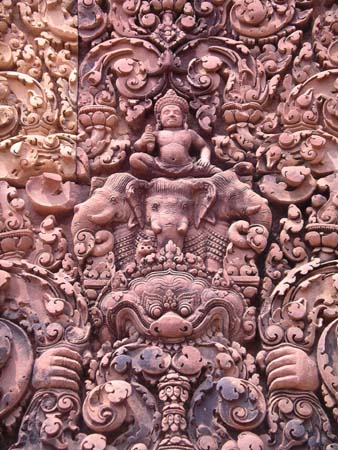 We then stopped at another small temple, called Banteay Srei. This temple was built in 967AD, and has beautiful carvings. It was thought to be built by women, and was dedicated to the Hindu god Shiva.
After lunch and a swim back at the hotel, we set out to explore the temple of Ta Prohm, often referred to as the "Jungle Temple." As we approached the entrance to the temple, it was easy to see why it has been given this nickname. A decision has been made not to restore or rebuild any parts of the Ta Prohm - it has been left exactly as it was found when discovered by the French in the 1860's.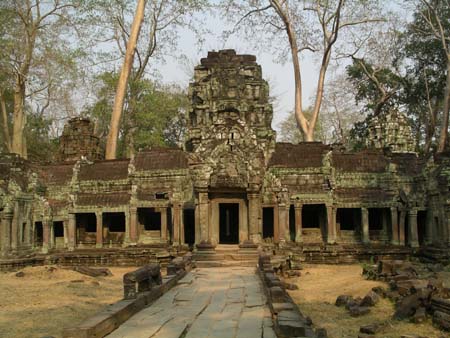 Additionally, this is the only temple in the area that was not disturbed at all during Cambodia's recent wars.
As a result, the temple is set in a jungle-like setting, with huge trees slowly crushing many of the walls and structures inside. The roots of these trees are absolutely amazing, and we took several pictures showing how they have grown throughout the temple. Additionally, parts of the temple are scattered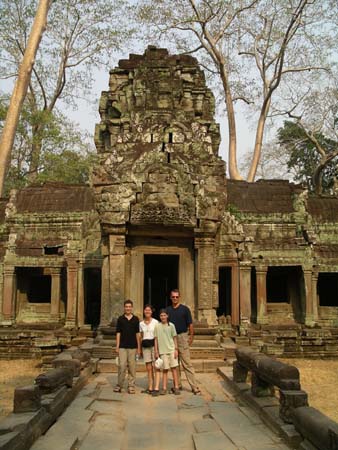 throughout the grounds, the result of natural decay throughout the centuries.
We absolutely loved walking through the temple and its ruins, and stared in awe at how the jungle seems to be strangling the remaining buildings. Everywhere we looked we saw massive trees and roots growing and suffocating the temple. We couldn't stop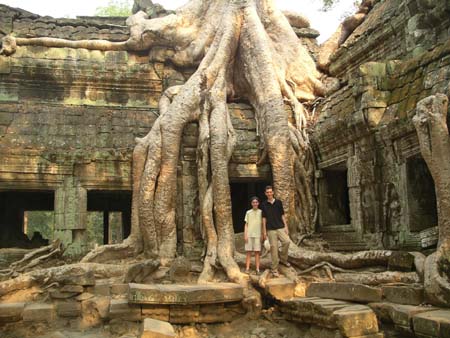 taking pictures! One particularly impressive part of this temple was used in the filming of the movie "Tomb Raiders".
Our final stop today was at the Phnom Bakheng Temple, called the "Mountain Temple." This temple is the oldest temple in the Angkor area and sits on top of a small mountain located just west of Angkor Wat. It was built in 902AD, and is dedicated to the Hindu god Shiva. The temple provides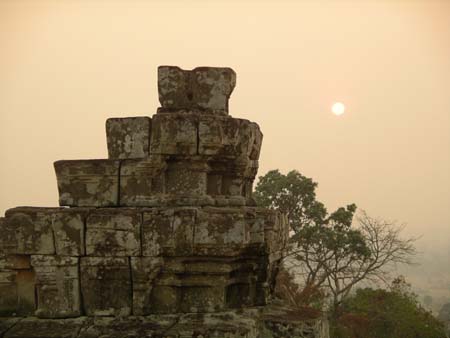 spectacular views of the sunset and the entire Angkor area. The smoky skies (due to the burning of leaves) detracted somewhat from our view, but the setting was still beautiful.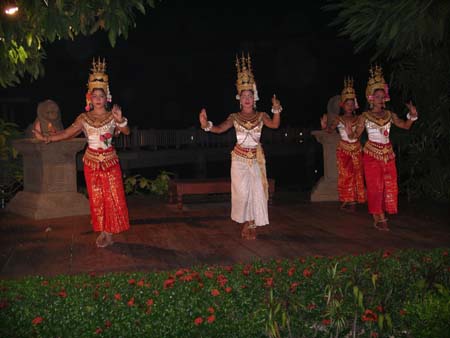 Unfortunately, this has become very popular with tourists, and the top of the mountain was filled with people who had made the steep climb up.
This evening we enjoyed a Cambodian barbecue dinner at our hotel, including a performance of traditional Cambodian dance.
Tomorrow we'll complete our circuit of Angkor temples with a visit to the most famous of all - Angkor Wat!