Friday, January 30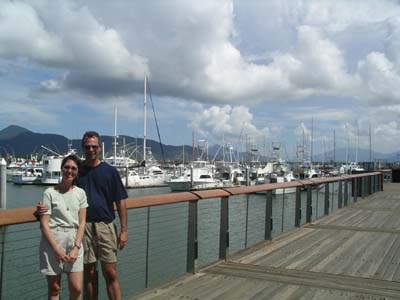 Steve: Today we made the 5-hour flight from Auckland to Cairns, Australia. Cairns is Australia's gateway to the Great Barrier Reef, and tomorrow we begin our 5-day boat charter that will take us to several areas of the reef. We've been planning this part of our trip for over a year, starting when I returned from my Black Marlin fishing trip here last October. I found spending time on the reef to be a wonderful experience, and have been looking forward to sharing its beauty with Paula, David and Katie. We plan to fish, snorkel, swim and explore the reef and its islands.
Cairns is much as I remember it, except that the weather is now extremely hot and humid. Today it was definitely over 90 degrees, with very high humidity. They're in the middle of an unusually long heat wave here, which for some reason seems to be a common occurrence in the places we visit. Cairns has a huge number of stores, restaurants and travel agencies, many geared toward backpackers. However, the streets are mostly deserted during the daytime, especially during the heat of the summer.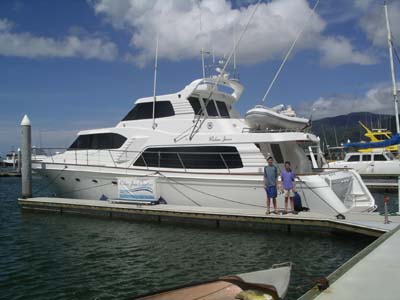 After settling in, we headed into town to buy some supplies for our trip, and to see our boat, the "Ruben Jane". The boat looks beautiful, and we're excited to get started tomorrow morning at 8:00.
We'll be out of e-mail touch and won't be able to update our web site until we return on February 5. However, we plan on writing journals while we're on the boat, and will update the site next week.