Wednesday, January 28 and Thursday, January 29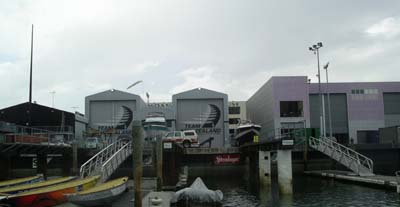 Steve: These two days have found us back in a city - a very big shock! We flew to Auckland on Wednesday, and have spent our time exploring the city center and its harbor. On Wednesday afternoon, we walked through the main wharf area of the city, and took a sailing cruise in the harbor. David and Katie had never been on a full-size sailboat before (this one was 50 feet long), and we all enjoyed being on the water on this warm and breezy day. We cruised through the America's Cup area where New Zealand and its challengers were headquartered in 1999 and 2003. New Zealand successfully defended the Cup in 1999 against Italy, but lost it in 2003 to Switzerland. Apparently, it costs $100 million to mount a campaign, and no final decision has been made regarding 2007. We were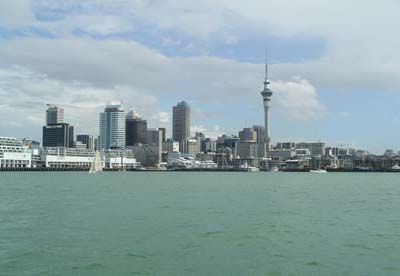 amazed at the amount of harbor-front real estate had been dedicated to the America's Cup, and were told that much of it is now being converted to apartments.
Auckland's skyline is dominated by its Sky Tower, where brave souls are able to bungee jump to the street below. New Zealanders are obsessed with adventure stunts, and this is simply one example. We watched several people jump from the top of the tower (it's not a "pure" bungee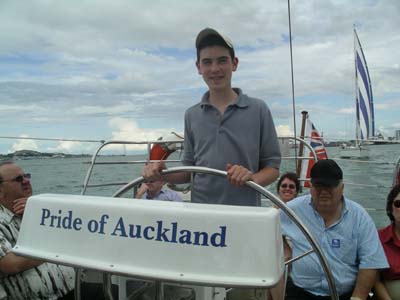 jump - they're actually lowered at a fast speed using wire cables).
We also spent time walking through the center of the city, which is dominated by Queen Street, a main shopping center. Although Auckland is a pleasant place, we didn't find it particularly easy to walk through. Many of the streets don't have crosswalks, and for those that do, you only have a few seconds before the light turns red again. Also, we were surprised at the lack of any central squares or parks. In most cities, those are the first places we go in order to get a feel for things. We asked, but were told that these simply don't exist here in Auckland.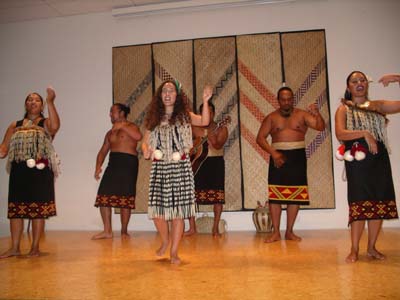 We toured the Maritime Museum, which provided interesting history on sailing. There is a large section dedicated to the America's Cup, which was fascinating. The KZ1, New Zealand's controversial entry in the 1988 America's Cup, is on display at the museum. This boat was so large that it broke all kinds of conventions - there were several court battles that followed between the KZ1 and the US entry.
On Thursday we went to the Auckland Museum, which contains a variety of exhibitions about New Zealand and Maori culture and history. We watched a Mao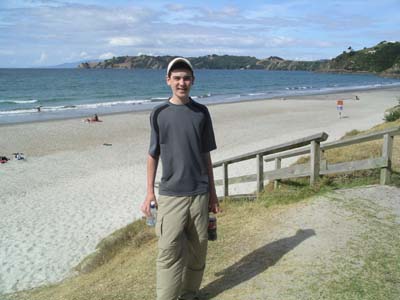 ri culture show which contained dancing (including a very interesting war chant) and singing. There's also a great display of New Zealand's natural history, and we enjoyed learning more about much of the wildlife that we've seen during our three weeks here.
Finally, we took a ferry to Waiheke Island, where we spent the late afternoon relaxing and reading on Onetangi Beach. The island is larger than we expected, and has many shops, restaurants and wineries.
Tomorrow we have an early morning flight to Cairns on the coast of Australia. It is from here that our boat will depart for the Great Barrier Reef on Saturday.