Saturday, January 31
Steve: After 6 months of traveling, we were very lucky that nothing had gone wrong. No missed or cancelled flights. No lost reservations. No plans that couldn't go forward. I guess we were due…
To put today's events in context, this part of our travel has been planned longer than any other - we booked this boat before we had any flights or hotels secured. This is high season on the Great Barrier Reef, and we knew we had to plan early to get the right boat for us. After much research and conversations with individuals who had chartered here before, we settled on a boat called the Ruben Jane. It's a 65-foot luxury boat, with 3 staterooms, a large and extremely comfortable lounge, plus a lower-deck dining room and kitchen. It carries its own Zodiac, geared toward facilitating a variety of recreational pursuits. The Ruben Jane is built for exactly the type of trip we want - leisurely exploration of the reef and its many islands and cays. We've been eagerly anticipating our 5 days of fishing, snorkeling, swimming, and island-walking. Our day had finally arrived.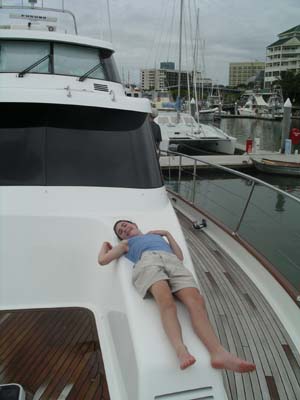 So there we were on the boat. Suntan lotion had been applied, seasickness patches (for Paula and David) were stuck firmly in place, the safety briefing had been delivered, and we had even chosen staterooms in the Ruben Jane's beautiful cabin. Peter and Stephen (our crew) had carefully fitted us for snorkeling equipment, and Katie and David remembered that they had not snorkeled since our trip to the Bahamas over 6 years ago. It was great to see the anticipation building in Katie and David's eyes, especially when Peter told them that we were only 2 hours away from snorkeling on a pristine coral reef loaded with fish, colorful coral and large numbers of giant clams. To top it off, the weather was perfect and the seas calm. This picture shows Katie quickly relaxing and settling in before we were to depart the dock.
Only one small nuisance - Peter informed us that this morning, a circuit breaker had malfunctioned. However, not to worry because an electrician was on his way to the boat now, and in 5 minutes he'd be here to swap out the defective breaker. No problem. We watch as the electrician arrives, new part tucked safely in his arm, and we relax in the Ruben Jane's comfy library skimming through books loaded with pictures of exotic fish and coral.
After 15 minutes, a time that seems to us as longer than a simple swap would take, we see Peter running up and down the stairs to the bridge, retrieving various documents and manuals to bring downstairs to the electrician - not a good sign, but still not a disaster. At one point Peter tells us that the new breaker works, and that the electrician is performing some final tests. Sounds good.
Another 15 minutes pass with Peter and the electrician still under the deck, and now we're starting to feel a slight twinge of concern. 15 minutes more, and things don't seem so good anymore. Well, they weren't. Peter meets us on the front deck to tell us that the boat's alternator needs to be replaced, a job that probably takes "4 to 5'ish days." Talk about immediate letdown… You could almost see the excitement and anticipation rush right out of David and Katie's bodies. Paula and I tried to contain our own huge disappointment, and we listened intently as Peter calmly and sympathetically explained our alternatives.
We had three options. We could look for another boat, cancel the trip, or somehow change our schedule. After a couple of calls, we learned that the only other available boat was more of a "game fishing" boat, and wouldn't have Ruben Jane's creature comforts or amount of inside space. Plus, David and Katie were clearly already sold on the Ruben Jane (as were we, but it's easier to blame things on the kids!), and had developed a quick liking to Peter and Stephen. Canceling wasn't an option either. As a family, we simply were not prepared to give up this adventure.
So that left us with the challenge of quickly figuring out a way to change things around so that we could be back in Cairns after the Ruben Jane was repaired. After much family discussion (all conducted very cooperatively), and with wonderful help from Peter, Stephen and Carol (at Cairns Reef Charters), we considered several alternatives, picked our best option, and at this moment find ourselves on Qantas flight #925 en route to Sydney.
So here's the new plan. Our original plan was for 5 days on the boat, followed by a week split between Sydney and Melbourne. We're now headed for 3 days in Sydney, followed by an early-morning flight back to Cairns where we'll board the Ruben Jane again at 11:00AM on Wednesday. We'll stay on the boat through Monday, and will fly on Tuesday to Melbourne where we'll spend most of a day before our redeye (departure at 1:15AM!) flight to Bangkok, connecting to Delhi. After a great many phone calls and a quick trip into Cairns to work with Carol, all the necessary adjustments had been made and our new plans were in place.
All things considered, this was really our best option. We do lose a couple of days due to travel (and today is basically lost), and we won't have time to really explore Melbourne or take the Great Ocean Drive. However, we knew that we were already cutting our time in Australia short, and will probably find ourselves back in Australia someday anyway. Most importantly, we feel right about prioritizing the Ruben Jane experience above everything - our short time today on the boat with Peter and Stephen has convinced us of that. So, we have to go with our gut, and we're all feeling exactly the same way.
Before heading to the airport, we were treated by Stephen to a wonderful lunch of oysters, prawns, Australian lobster (it was described to us as a type of crayfish, but tasted just like lobster), and a wonderful Thai meat salad. We have heard and read ravings about Stephen's cooking, and we can't wait for more! It's just going to have to wait a few more days…
In a funny way, this was a very educational experience for David and Katie. They saw the whole thing happen, and were directly involved with the conversations where we worked together with the crew, the charter service, and the owner of the boat (via telephone) to develop a solution. They saw how we responded to the situation and how we remained unemotional at a time where it could have been very easy to react differently. They also realized how hard Peter, Stephen and Carol all worked to help us. They understand how things have a way of working themselves out, and we think they really got something out of what happened today. As we walked off the boat, it was rewarding to see them both able to laugh about getting back on a plane, and to hear them thank us for having worked things out.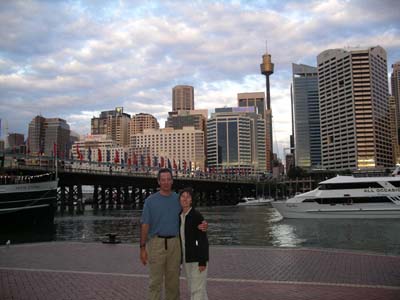 Another funny dynamic involves the Super Bowl. Somehow, I had made the blunder of booking the boat on Super Bowl Sunday. We've often lamented the fact that these are the only 5 days of our entire trip where viewing the game would not be possible. But, in fairness, who could have known that our beloved Patriots would be playing? Even if we had realized initially that the boat overlapped with the Super Bowl, we probably wouldn't have changed things around. We'd simply have to miss it, and find out the final score after the fact via radio communication. Now, we'll be able to see the game after all! It will be a strange feeling seeing the game from downtown Sydney at 11:00AM on Monday (Super Bowl Monday?), but that's just fine with us - all part of the adventure…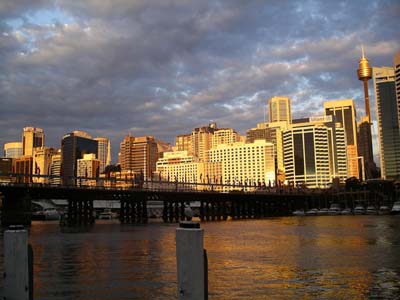 Our trip to Sydney was uneventful, and we're happy to be staying in a great location, right on Darling Harbor. This is a very pretty area, and tonight (a Saturday evening) its restaurants, bars and clubs were all filled and hopping. We took some nice pictures of the city from the harbor, especially as the sun was setting. It's also much cooler here than in Cairns, and we had a very pleasant evening strolling through the harbor.
Tomorrow we'll explore the Circular Quay area of Sydney, and also hope to take a ferry to Manly.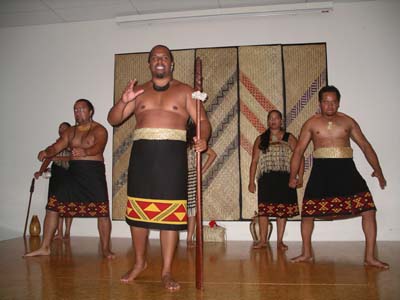 Katie's Kwick Kwacks - Maori Culture. We learned a fair amount about Maori culture and arts by visiting the Auckland Museum. Here, we saw a show with Maori ceremonies and rituals, and learned a little more about Maori culture and arts from the museum exhibitions. One of the things that they demonstrated at the performance was a major Maori dance, which they performed before battles. This famous dance is called the "Haka." The haka included much dancing, singing, chanting, sticking out tongues, popping of eyes, slapping of chest, and other strange actions which were done to give their warriors strength and courage. These actions were also done when fighting an enemy, to frighten them and make them more vulnerable. The dance and chanting was done to prepare the warriors for death as well. After the performance we could easily conclude that dancing, singing, and fighting were major and important activities in Maori culture. We also looked around the museum, and learned more about Maori arts. We went inside an example of a Maori place of prayer, and from this got a good sense for some of their arts. We learned that most of their arts are based on war and warriors, as we saw several masks with scary looking men with their tongues sticking out. We learned that the Maori people were very similar to American Indians in terms of telling stories of bravery, and creating artistic symbolism to tell these stories in their artwork. Along with stone carved masks, they did lots of work with wood, such as building artistic canoes. They also worked a lot with jewelry and clothing design. As you can see, we learned a lot about Maori culture and continue to gain a greater understanding of these ancestors, and how they shaped the people of New Zealand today.
David's Daily Dump - The America's Cup. Last week, we visited the Maritime Museum in Auckland, and learned about the America's Cup. The America's Cup is an international sailing and yacht race held every four years. This race was established in the mid eighteen hundreds, and first sponsored by a British yacht club. America won the first race and defended the silver trophy 25 consecutive times against international opponents. The Queen's Cup (silver trophy) was held in New York for so long, that the race was eventually titled America's Cup. This race is held in different parts of the world depending on which country won the Cup the previous year. It was held off the coast of Newport, Rhode Island for many years, and was held in San Diego for the first time in 1988. Every race consists of a defender and challenger. The defender is the team that won the last America's Cup and the challenger is the team that defeated all the other challenging teams. Every country who wishes to participate in the cup gathers to race against each other and win the right to compete with the defender in the finals. The defender only races the best challenger in the final round. All races, including the finals, are usually best out of 7, but can also be best of 5 or 9. The teams sail through huge triangular courses.
The United States' luck changed in 1983 when The Australia 2 successfully defeated The Liberty. The Australian yacht had an extremely unique fin design underneath the hull which created a lot of controversy. They went as far as covering the bottom of the boat with a tarp at night so scuba divers could not spy. Their design proved a success as it easily defeated America, and only then released their fin design. The U.S won the cup back the next race, only to lose it again to the New Zealand boat, "Black Magic," in 1995. New Zealand was very proud of their victory and defended the cup against Italy in 1999, then lost it to Switzerland last year. The next cup will be help in 2007 in Valencia, Spain since Switzerland has no coast.