Thursday, February 5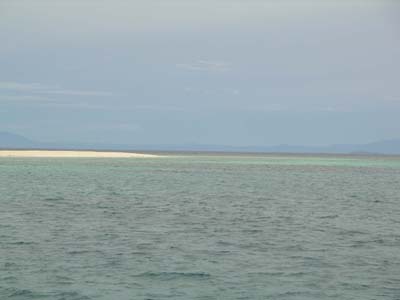 Steve: Today started with an early-morning snorkel on Opal Reef. Pete took us out in the Rubber Duck, and we moored at a different location on the reef. Although the skies were cloudy, we had a great time and saw several new fish (including a blue spotted lagoon ray) types of coral. David and Katie have quickly become very comfortable with the snorkeling, even in the choppy water we've had so far. It helps that the water is so warm - I don't think we've ever been in water this comfortable.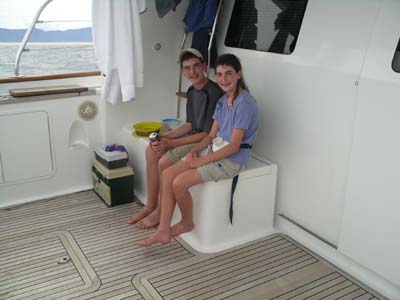 We then cruised to an area called Mackay Cay (pronounced "key"). Cays are deposits of ground-up coral that gather in one area over long periods of time. The cays start as unstable deposits of sand, but eventually become small islands complete with vegetation that is seeded by birds or floating seeds. MacKay Cay is a sandy outcrop, surrounded by beautiful reefs that made for great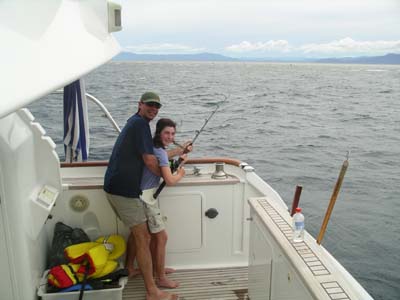 snorkeling today. We saw our first blue starfish, large numbers of giant clams, and our first shark. The shark was actually a baby "Cat Shark" that Pete saw hiding under some rocks. He was unable to scare the shark out, but eventually went in and simply grabbed the shark for us to see and pet. Since the shark was so small, it let Pete handle it and didn't seem to mind at all.
It was also fun to explore the cay and to walk along its beaches. We found a couple of very pretty shells, and Katie gathered some sand to give to Paula (she collects sand from each place that we visit). We also tried to troll for some of the several Coral Reef trout that we saw today, but without any luck.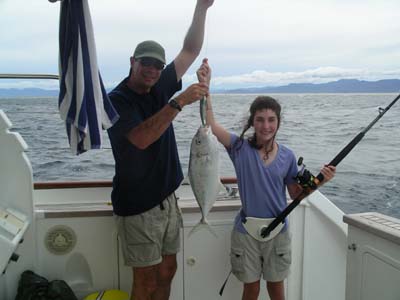 After lunch, we motored to Cairns reef, which was a little closer to shore and to some calm anchorages. The weather forecast for the afternoon was not looking good, and Pete wanted to make sure we could anchor in a protected area for the evening. After arriving at the reef, we trolled from the Ruben Jane, and caught 3 "Giant Travallys". Though not the best for eating, they were nice-sized fish and we kept one for bait.
Next we tried some bottom-fishing, which was a huge success and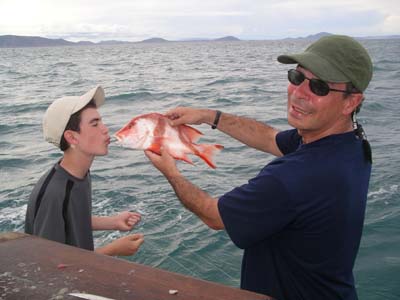 lots of fun. With this fishing, we simply used line that's rolled onto a large spool and dropped the bait by hand until it hit the bottom. It didn't take long before we were all feeling tugs on our lines, and we pulled up several nice fish including Red Emperors, Spangled Emperors, Rock Cod, and "Stripeys". The Emperors are particularly good for eating, and we caught just enough fish for dinner. David and Katie particularly loved this type of fishing, and Pete promised them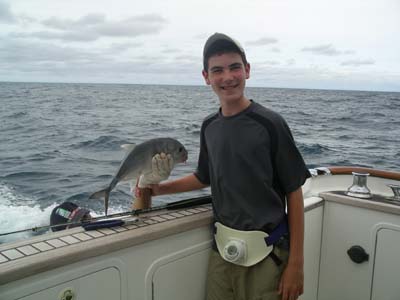 that we could do more tomorrow.
Our last stop was at Hope Islands, a small group of islands that would provide good protection as an anchorage for the night. Before dinner, Pete dropped us all out at the shore and we did an evening snorkel which was good fun. David and Katie liked being able to snorkel so close to a sandy beach, and enjoyed chasing several small schools of fish right along shore.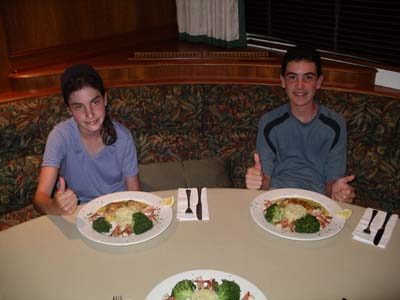 For dinner, Steph cooked us our fish, served with a wonderful sauce. Desert was a fantastic crème brulee! We're getting spoiled by this cooking - having your own private chef for a few days is a great treat.
Tomorrow we plan to work our way north, where the weather is supposed to be calmer and generally better.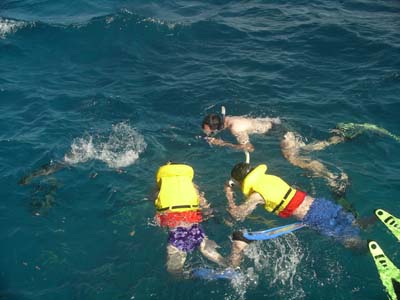 David's Daily Dump: Snorkeling the Great Barrier Reef. There are no words that can describe what snorkeling on the Great Barrier Reef is like. Magnificent, astonishing, incredible, unbelievable, remarkable, and amazing all come short.
When I first heard we were going to spend a week on the Great Barrier Reef I was really excited. I couldn't wait to put my face in the water for the first time in over 6 years. The only thing I wasn't too thrilled about was the sharks. My dad said that he had seen loads of sharks last time he came to the Great Barrier Reef. As the date of the journey got closer and closer, I got more and more excited. I expected to see a whole different world, with tons of colorful fish, coral, and anemones.
When my snorkel mask first hit the water, I saw more than I ever expected to see. Beautiful fish, big and small, giant clams, unique coral, and anemones were everywhere!! It was unbelievable!! We are trying to make a list of all the fish we see, but it is impossible; there are some many different species of fish! I love the coral. It is so beautiful and colorful, and comes in so many different shapes and sizes. I also like the gargantuan giant clams that close up whenever you swam over them.
I could go on and on describing what we saw and how much I liked it, but to know what it is really like you must come and see it yourself!
Katie's Kwick Kwacks: Fish on the Great Barrier Reef. While snorkeling in the Great Barrier Reef, we have seen many interesting fish, coral, and other sea life. The next paragraph lists several of the unique fish we encountered.
Fish:
-Several kinds of butterfly fish including the long nosed ones
-Tiger trout
-Many kinds of Coral Trout
-Many kinds of Parrot fish
-Blue Lined Surgeon fish
-Several kinds of Angel fish
-Red Bass Snapper
-Red Emperor Fish
-Spangled Emperor Fish
-Several kinds of small Damsel Fish
-Clown Fish (Nemo)
-Several kinds of Wrasse Fish
-Orange-lined Trigger Fish
-Several kinds of colorful Sweetlip Fish
-Lattice Soldier Fish
-Several kinds of Grouper Fish
-Yellow-back Fusilier Fish
-Lunar Fusilier Fish
-Crocodile Needlefish
-Orbicular Bat Fish
-Picasso Trigger Fish
-Puffer Fish
-Stripey Fish
-Many kinds of Trevally Fish
-Rock Cod
Sharks:
-Brown-Banded Cat Shark
Rays:
-Blue-Spotted Lagoon Ray