Wednesday, February 4
Summary of Our Trip on the Ruben Jane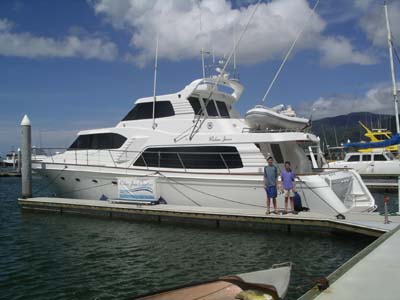 For the next 5 ½ days, David, Katie and I enjoyed a unique and very special experience exploring the Great Barrier Reef aboard the Ruben Jane. I had a taste of what this area has to offer in October 2002 when I came here for a marlin fishing excursion with my good friend Vic Orler. Our days were spent snorkeling and spear fishing in the mornings, marlin fishing in the afternoons, and cruising to our next location at night. It was a terrific experience, and I immediately knew that we needed to include this type of adventure as part of our family travel plans.
The Ruben Jane is a large (65 feet) and very luxurious boat, and came highly recommended by several people we spoke to. It's only 5 years old, but has been chartered by several famous people including tennis players Lleyton Hewitt and Kim Clisters (sp?), the "Crocodile Hunter" (Steve Irwin?), and multiple CEO's. The boat is spacious, with 3 lower-level cabins each with private baths (heads), a large lounge/library area, and a kitchen/dining area. There's a large deck on the bow, and a smaller deck in the stern which is ample for fishing. The Ruben Jane carries a Zodiac which we used for many of our recreational activities. There are plenty of creature comforts, including a stereo system, television (with a selection of movies), air conditioning (a must) and washing machine. The boat is stocked with a seemingly endless supply and variety of food and drinks.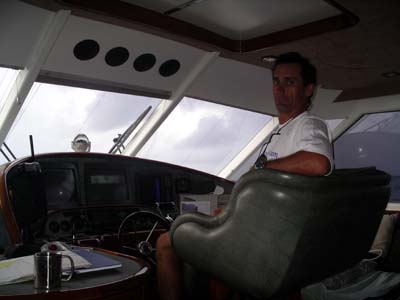 Part of what makes the Ruben Jane special is its crew. Peter, the captain, is just wonderful and does everything possible to make sure that we're always having a great time. When we weren't moving from place to place, Peter was almost always with us, except for the times where he'd let us off on islands, beaches or reefs that we could explore on our own. Peter lives in Cairns and has a 3-year old daughter of his own, and really enjoyed being around David and Katie. Stephen is from Montreal and has been a chef for 18 years. He stopped in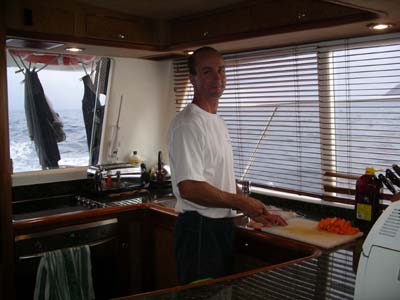 Australia as part of his own worldwide travels, and never left. What began as a short stint as a crew member for the Ruben Jane has become a permanent job for Steph. In addition to preparing our meals, Steph takes care of everything else for us and helps Pete keep the Ruben Jane orderly and meticulously clean. Together, they're a great team and really make the experience special.
Steph's cooking is certainly a highlight of the Ruben Jane. Each meal was prepared with great skill and care, and it was like dining in a great restaurant with a private chef three times each day. Steph expertly cooked the fish that we caught, and also prepared great fillet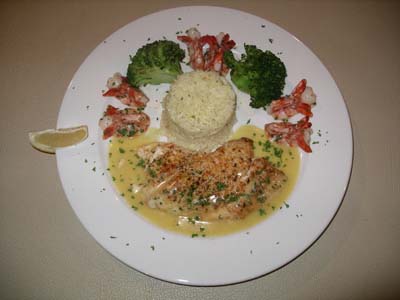 mignon, rack of lamb, and veal parmesan. A tuna that we pulled up turned into a great plate of sushi. Desserts were also a treat, including crème brulee, chocolate mousse, and toffee pie. We also had wonderful seafood spreads including crayfish (Australia's version of a lobster), oysters and fresh prawns. Fantastic!
People who charter the Ruben Jane come with a variety of interests. Some want to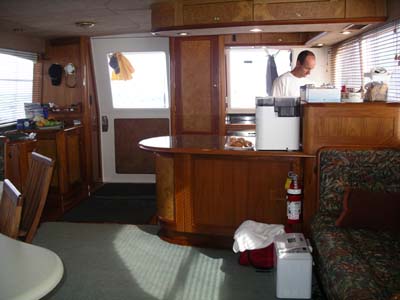 focus entirely on fishing and rarely get in the water. Some come to dive. Others want to cruise to islands and spend their time on beaches and small towns. We were looking for a combination of snorkeling, fishing, and time spent exploring small islands and cays.
Our typical day on the Ruben Jane consisted of several snorkels, an exploration of an island, and a couple of fishing expeditions. We also frequently moved from place-to-place depending on the winds, weather and tides. Based on all these factors, we had several sessions with Pete where we'd review the charts and plan each day's travels and activities. We frequently adjusted these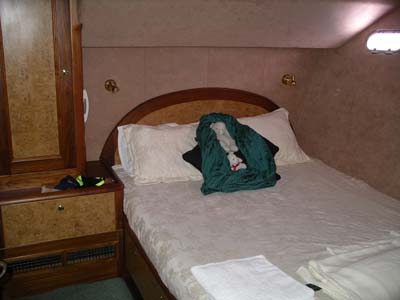 plans, usually based on the winds which we had to fight during our first 2 ½ days on the boat. It was also important to make sure that we found a protected anchorage at night to allow for restful sleeping. Since there are only a limited number of these spots, this became a major component of each day's plan.
Our first couple of days were filled with unusually strong winds (25 to 30 knots) that somewhat limited our activities. They also resulted in one particularly difficult night where our anchorage wasn't protected enough. The Ruben Jane rocked and rolled all night, and although none of us got seasick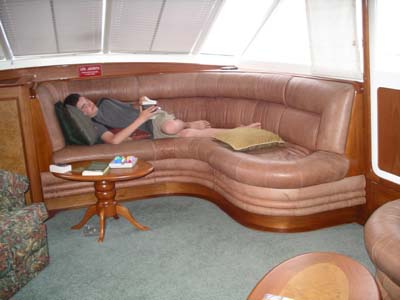 , David began to feel queasy and went without dinner. Fortunately, our remaining days were fine and we were able to accomplish the activities that Pete had told us were the most special.
There were several types of snorkels that we did. On Opal Reef and Ribbon Reef 7, we simply swam from the Ruben Jane to smaller reefs or "bommies" (these are underwater rocky structures that often rise to near the surface). At High Rock and other reefs, Peter took us in the "Rubber Duck" (the Zodiac) to the best areas, and would either let us snorkel on our own or we'd anchor and jump in. We also snorkeled from some beaches on the islands that we stopped on.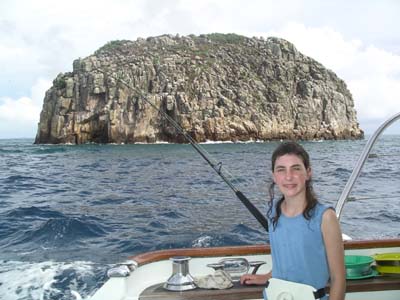 Each time we snorkeled we saw something different. Sometimes it was a new type of coral - some areas had soft, spongy corals and others were made up of colorful plate corals. The fish life also varied significantly by area, and it was fun to spot new colorful species that we hadn't seen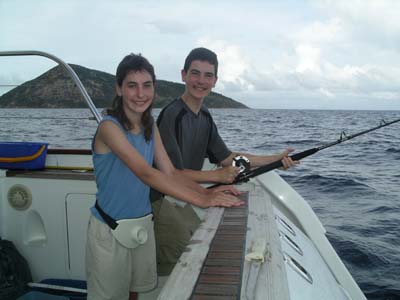 before. Our snorkel off Ribbon Reef 7 produced our first encounter with a shark. Here we saw a 5-foot White-tip Reef Shark that was swimming around lazily. We saw him several times, and then fed him from the Ruben Jane (more on that later…). Snorkeling by a shipwreck was also a very new and interesting experience.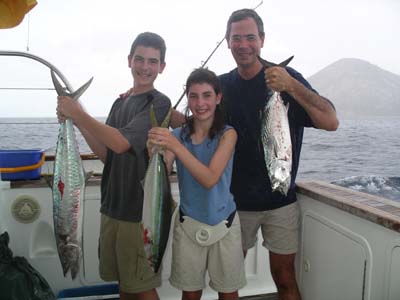 There were also several types of fishing that we did. We started by trolling from the Rubber Duck, a method that we used in and around reefs that were made up of multiple bommies with deeper water in between. We also trolled lures from the Ruben Jane, and had great success with this during one memorable morning. We also bottom fished for reef fish, primarily the Coral Reef Trout. Although bottom fishing is focused on catching smaller fish, it was probably our favorite method because of the large number of fish we caught and because of how hands-on it is. We were also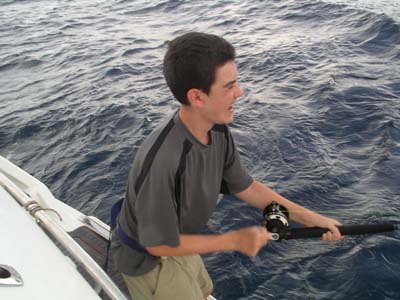 surprised to catch a couple of feisty sharks right off the back of the boat. Finally, we helped Pete do some spear fishing (we were his spotters). Pete was successful in spearing a couple of reef fish that we ate, but narrowly missed several Coral Reef Trout.
The highlights of our time with the Ruben Jane included several wonderful snorkels (particularly the beautiful snorkel around High Rock), the trolling around the High Rock area where our reels kept screaming with fish, and the hours we spent bottom fishing from the Ruben Jane pulling up a variety of fish. The overall experience was fantastic, and we hope to return someday - since Paula wasn't with us, we have an excuse to come back!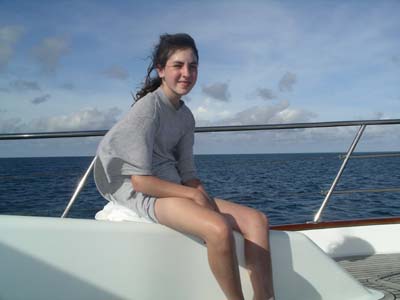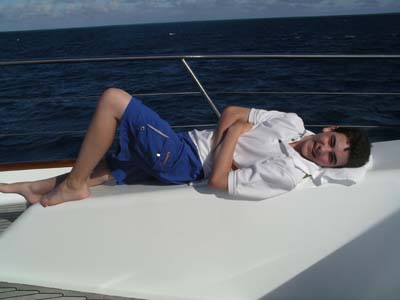 February 4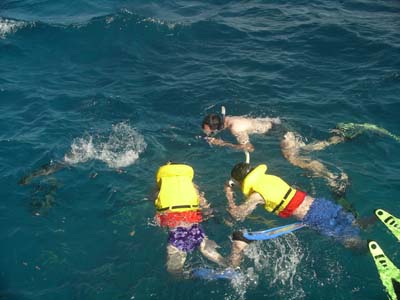 Steve: Well, we're finally on the boat. After an early-morning flight from Sydney back to Cairns, and a drive up the coast to Port Douglas, we were back on board the Ruben Jane. We decided to pick the boat up in Port Douglas in order to start out further north, closer to the reef. That would allow us to have more time for snorkeling and fishing on our first day.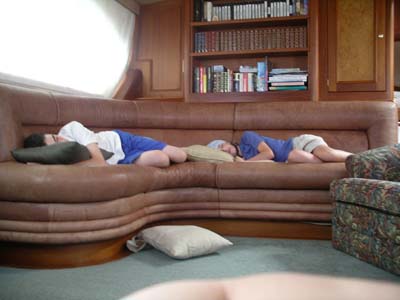 The ride to the reef was quite an adventure. The "slight seas" that had been forecast didn't materialize, and our seasickness tolerance was tested out right away. Pete told us that we'd be passing through unprotected waters on the way to the reef, and to "hold on" because the winds seemed to be picking up. We quickly found out what he meant. The kids and I parked ourselves horizontally on the couches in the lounge area while the Ruben Jane fought through the heavy seas. At certain points, we found ourselves clinging tightly to our couches just to stay on. Furniture was sliding, books were falling off shelves, and all around the boat we could hear various o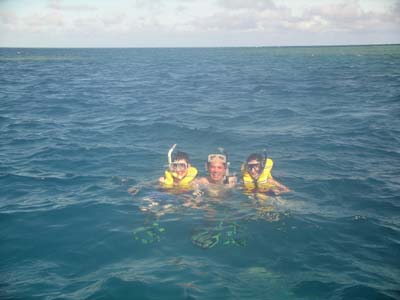 ther things crashing down. We knew we were in trouble each time Pete killed the engines - that meant we needed to brace ourselves because a large wave was coming. The first time this happened, we all nearly found ourselves on the floor! At one point, David and Katie needed to go the bathroom downstairs (just routine - no seasickness…), and there was absolutely no way I was going to be able to help them make it. Fortunately, Steph was within earshot and was able to take care of the situation.
We fought through the swells for an hour and a half before arriving at Opal Reef and were quickly rewarded for the difficult trip with a fantastic snorkel. This was David and Katie's first experience snorkeling since we were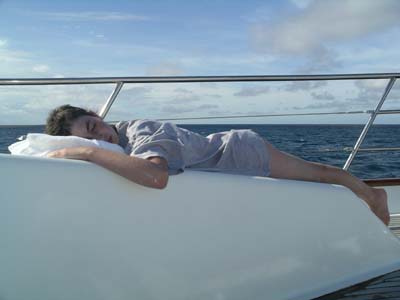 in the Bahamas over six years ago. We weren't sure how they would do, and particularly given today's rough waters I was a little concerned that they wouldn't find the experience enjoyable. I didn't need to worry - they absolutely loved it. We saw an unbelievable variety of fish and coral, including giant clams, angel fish, sea cucumbers, butterfly fish and many others (Katie's keeping a log of all the fish we see, and we plan to record them all in a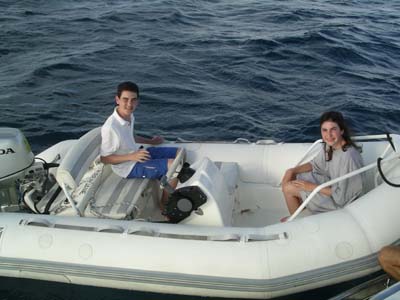 journal). Pete went with us, and was always diving to point out fish hiding in holes, picking up various sea creatures to show us, and explaining everything that we were seeing - it was great!
After our snorkel, we set out in the "Rubber Duck" (a Zodiac) to do some fishing. We trolled off the back of the boat, and David successfully landed a nice sized "Sweetlips". We hooked another fish, but it hid under coral and we had to cut the line. At one point, we saw lots of surface action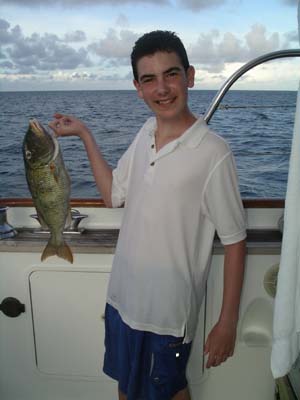 similar to what we see at home on the Cape when fishing for Striped Bass. Despite being soaked by waves that crashed over our little "Rubber Duck", this was great fun, and we made Pete promise that we could do this again!
After a wonderful dinner of fillet mignon (prepared expertly by Steph), we all went to bed early in anticipation of another wonderful day tomorrow. We're hoping that the winds will die down, but know we'll have fun even in conditions like these.