Friday, February 6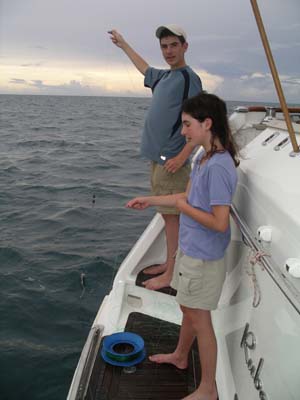 Steve: Today was one of those days where we simply had to make the best of a tough situation. The winds were particularly strong today (25-30 knots), making most of our planned activities very difficult. We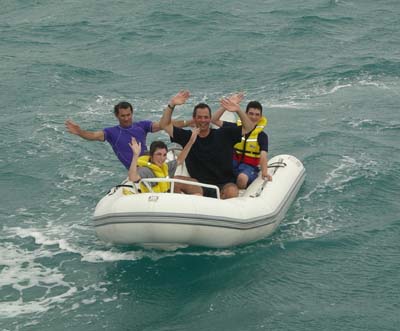 left Hope Islands and headed north, where the forecast called for calmer seas (so far the forecast hasn't been accurate once!). We planned a stop at a reef with a lagoon in the center where we could take the Rubber Duck and do some fishing and snorkeling. By the time we arrived at the reef, the seas had kicked up even more and Pete wasn't even able to see where the reef was. We anchored, struggled to get in the Rubber Duck, and went for a snorkel in what turned out to be very rough water. The kids did great considering how tough it was to snorkel, but visibility was so poor that we got right back out of the water and onto the Ruben Jane.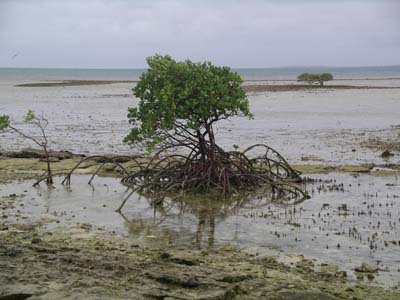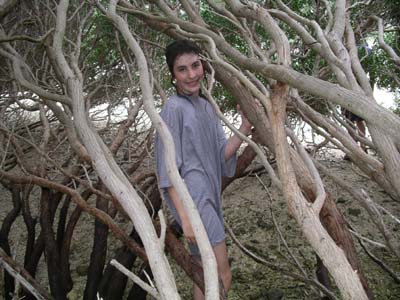 Our next stop was a small group of islands called Two Isles, where Pete was able to anchor and take us ashore for a snorkel from the beach. The snorkeling here turned out to be really great, and we saw some wonderful soft coral along with large numbers of fish. We also took a walk on the island, navigating our way through tangles of mangrove trees with unique roots that are stabilize the trees in marshy conditions. After Pete came to pick us up, we tried some more bottom fishing, but with the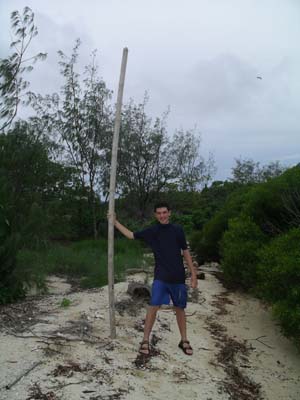 strong currents we only managed one small fish.
Our final stop was a place called Rocky Islets, where we hoped to find a calm anchorage. Unfortunately, the wind simply wasn't going to allow this, and we were in for a tough night. The Ruben Jane was really rocking, and for the first time David started feeling seasick. He even turned down a wonderful dinner of Veal Parmesean with pasta that Steph made for us. It was difficult for us all to sleep, with the waves crashing into the Ruben Jane and storms hitting at various points during the night.
We're all hoping for a calmer day tomorrow!