Tuesday, February 3
Steve: We learned this morning that Paula's dad will be having surgery on Thursday, and we spent this morning making travel arrangements for Paula to fly home to Indiana. After looking at many options, we decided that Paula would take a 3:35PM flight today from Sydney that would have her in Indianapolis (after changes in Los Angeles and Chicago) at 11:00PM Tuesday, local time. It's going to be a long trip, but the time change works in our favor allowing Paula to be home a full day before the surgery. Assuming things go well, Paula will return to Australia, leaving Chicago on Sunday afternoon and landing in Melbourne on Tuesday morning (February 10) at the same time that the rest of will arrive from Cairns. If all goes as planned, we'll all be together again for our flight at 1:10AM on Wednesday to Delhi.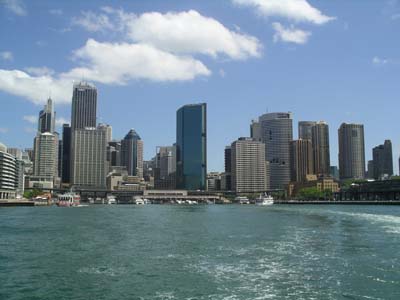 This will be very hard for all of us, and we'll miss Paula dearly. However, we decided that the best thing was for the three of us to head back to Cairns for our boat charter that begins tomorrow. That's really the best option at this point.
Once Paula was safely on her way and several other logistics were resolved, we set out for a much-needed relaxing day outside in the beach-side community of Manly. It had become a beautiful summer afternoon here, and we greatly enjoyed our cruise through Sydney Harbor on the way to Manly. Once there, we were all content to simply rest and play on the beach - it was certainly a much-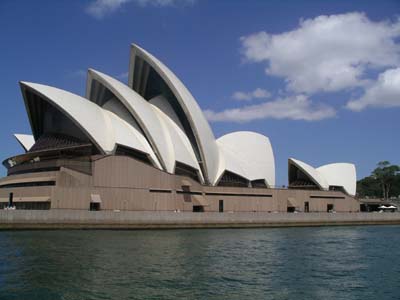 needed decompression for us all after the events of last night (when we first learned about Paula's Dad) and this morning.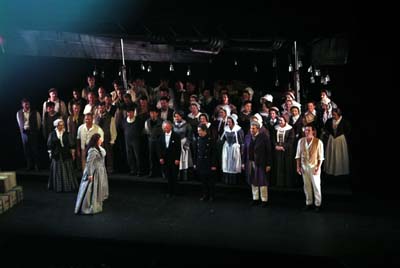 This evening we attended the production of "The Flying Dutchman" at the Sydney Opera House. This was the first full-length opera we've been to - we really wanted to be able to attend a performance inside Sydney's famous opera house. The opera was sung in German, but they had English subtitles which made it much easier to follow the story. After the opera, we had a wonderful walk through Sydney's harbor-front area. It was a beautiful summer evening, and the lights on Sydney's skyline, bridge and the opera house were fantastic. We took advantage and got some great photos!
Tomorrow, we have an early morning flight to Cairns, and are scheduled to be back on the Ruben Jane by Noon.