Monday, February 2 (Super Bowl MONDAY!)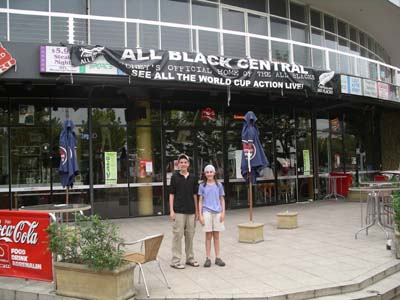 Steve: Paula and I have watched several Super Bowls during our annual vacations to the Caribbean, but we never imagined doing so from a sports bar in Sydney. It was certainly a unique experience to be watching the game on a Monday at 10:30AM, especially among a screaming and somewhat rowdy crowd of beer-drinking college students. We arrived at 10:05, assuming that was plenty time to get a prime spot. Even Americans who happened to be working or studying in Australia would not be coming to a bar on a Monday morning. Right? Wrong! One World Sports Bar in Darling Harbour was already packed when we arrived. We later learned that most of the college-aged patrons had simply called in sick at work, and appeared to have sucked down several beers before we even arrived. Fortunately, there were many screens situated all over the bar, so we found ourselves a spot from where we could watch the good guys win.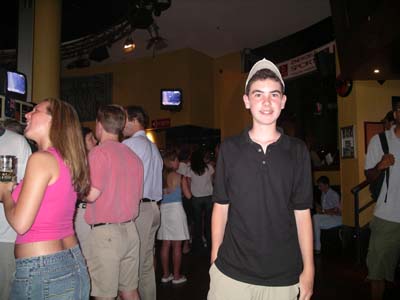 One disadvantage of watching the Super Bowl overseas is that we don't get to see the American advertisements. The game is televised internationally on ESPN, and every single ad is for ESPN and one of its shows. We also quickly realized that the announcers' comments are geared heavily toward the international audience, and they frequently spent time explaining the rules of the game (including the fact that the teams each get 4 downs in order to move the ball 10 yards). We also were told the players' weights in kilograms and height in centimeters (this was very helpful, since we never knew that Ted Washington weighed 166 kg, or that Troy Brown was 178 cm tall…).
Anyway, the game was certainly one of the most exciting Super Bowls ever, and if we hadn't been so nervous it would have been more fun being part of the increasingly raucous crowd. Toward the end of the game, we found ourselves in the middle of a group of American students who are interning here in Sydney. Most of these kids were cheering against the Patriots, much as we root for the underdogs in any game with teams that we don't care about. They had a good time jeering us when things looked down for the Patriots, but obviously we had the last laugh.
After the game, we found ourselves hoarse from having to yell at each other (and at the game), and our ears were ringing, but it was all worth it. Phew…
We also received word today that the repairs on the Ruben Jane are proceeding as planned, so as of now we're still set to start our boat trip on Wednesday.
This afternoon brought thundershowers here in Sydney, so we took advantage of an opportunity to catch up on schoolwork and reading. Tomorrow we plan to make a day trip to the suburb of Manly, and we're going to an opera (The Flying Dutchman) at the Sydney Opera House.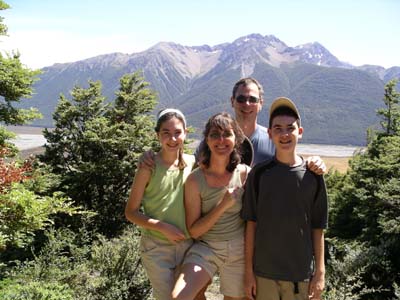 Katie's Komments: My Impressions of New Zealand. After spending three entire weeks in New Zealand, I believe I have a good feel for at least a little of what this wonderful country has to offer. The next few paragraphs will describe some of my feelings about this great country and how I feel about the places we visited, and the variety of remote areas we explored.
Coming into New Zealand, I knew the scenery would be spectacular, I knew about the herds of sheep scattered across the hill tops… I learned this from guide books, pictures etc. However, I have realized guide books can't capture everything…
When people talk about New Zealand, the first subject that comes up is the landscape, but surprisingly this was not the only thing that really amazed me about the country. First of all I didn't understand anything about the people of New Zealand before coming here. The people are not only friendly among each other and visitors, but perhaps even more so to their animals and wild life. They all seemed to have a very extensive knowledge of their environment, and work hard to make it just as beautiful and interesting for the next generations. There are countless examples of these efforts, but here are just a few to give you a sense…
- Many people, including children, help their environment daily by pulling out invasive plants that are taking over New Zealand's native wildlife.
- Most people make large donations to wildlife reserves and other organizations working to protect their environment and animals
- The people are constantly reminding others not to disturb or touch any of their protected wildlife and animals.
- Many people help set up traps to kill off predators of penguins, albatrosses, and other protected animals and wildlife.
- Many people volunteer to teach others about the do's and don'ts when walking among the wildlife.
- There are numerous signs around protected areas, reminding people about what to do and not do when viewing wildlife and protected animals.
These are only a few of many efforts the people in New Zealand participate in, and the effects of these principals are very clear when hiking through the mountains, rainforests, and other settings in New Zealand. The air smells fresh and clean, the wildlife is beautiful, colorful and pure. There are all kinds of beautiful mosses forming an amazing carpet across the entire rainforest, the trees are twisted into unusual shapes, and the enormous ferns seem to reach out for you as you walk through the wonderful landscape. The sound of waterfalls and streams fill your ears, and the entire atmosphere is filled with a magical freshness. Do the books describe it like that?
Before I leave the subject of the people in New Zealand, I'd like to talk about another thing I found interesting about them. The Kiwis (New Zealanders) are proud of their culture. Thirteen and a half percent of the people are Maori (Polynesians native to the country), compared to the less than one percent of Native Americans in the US. We heard that many of the Maori people today are still practicing the traditions of their ancestors and Maori language is even being taught now in schools. The influence of this native culture is apparent throughout the country.
Another thing that amazed me about New Zealand was how many different settings there were. When I think of rainforest I think of Costa Rica and South America, but surprisingly there was lots of rainforest in New Zealand as well. There was also lots of grazing land, as well as snowy mountains, and coastal terrain. This enormous mixture was a big surprise to me. One of my favorite places was Arthur's Pass. I really enjoyed this area because we got to have lots of fun learning experiences with sheep and sheep dogs, and I also liked the cool stories about the river in front of the farm. Another one of my favorite places was Dunedin. I liked this area because of the beautiful beaches and amazing animals. I liked Doubtful Sound because of the spectacular views, and I liked Wanaka because we were able to fish right outside our hotel. Lake Moeraki had some incredible rainforest, and great kayaking.
As you can see I really enjoyed my stay in this wonderful country, and look forward to coming back here with my kids someday.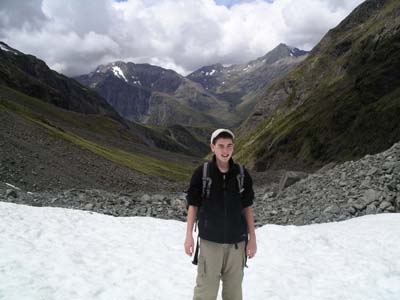 David's Download: My Impressions of New Zealand. I greatly enjoyed the time we spent in New Zealand. It was "magic," as kiwis put it. I especially liked the magnificent scenery, with the snow-capped mountains, lush rolling hills, and meandering freshwater streams. I really loved everything!!!!
We got a great sense of the South Island by visiting almost every region. The thing I was most fascinated by was how different each place was. Arthur's Pass was wet with huge sheep farms and pastures. I will never forget watching Skip, the sheep dog, herd over 50 sheep into a small cluster. Lake Moreaki was also extremely wet, but was in the middle of a rainforest! I remember kayaking on the flat lake and fishing for the first time. Wanaka was experiencing a drought, and was very dry. Dunedin was on the east coast and was extremely dry and humid. The east coast generally gets very little rain, because the weather systems come in from the west and dump all of their rain on the west coast, leaving the east coast dry and arid. I loved seeing all the rare wildlife in Dunedin. Although I did like the countryside, I didn't enjoy Auckland very much because of how difficult it was to walk and explore the city.
We also learned a great deal about New Zealand history, culture, and wildlife. I especially enjoyed studying about Maori culture and all the unique animals. I read a book titled the Whale Rider which was the story of a young Maori girl, and even watched the Whale Rider DVD that we brought along. We also saw a Maori performance where we learned about the ancient culture, and saw many dances including a war dance called the "Haka."
I loved seeing all the different wildlife in New Zealand including the Royal Albatross, Kea, Sea lion, Fur Seal, and Penguin. It's one thing to see these animals in a zoo, but to see them in the wild is a totally different story. I will never forget seeing the huge albatross circling the hilltop, watching the blue penguins all come ashore at the same time, running into a gargantuan sea lion, and learning the love-lives of Yellow-Eyed Penguins.
One of my favorite things that we did in New Zealand was fish. We bought inexpensive fishing rods and a couple lures on our way to Lake Moreaki. We took advantage of every freshwater lake, pond, and stream that we came across during our travels. Although I did not catch any fish, I did have lots of fun trying and wishing that I did catch something.
I have enjoyed New Zealand more than any other country we have visited on the second trip!!!!! (Note: it's the only country we have visited on the second trip so far)