Saturday, February 28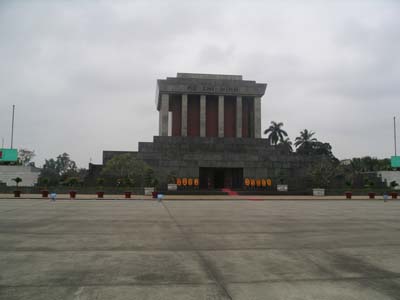 Paula: In addition to our local guide Tan, today we were joined by Stan, an American who has been living in Hanoi for the past 2 ½ years. This was our day to further explore the city of Hanoi, and our first stop was Ho Chi Minh's mausoleum. Minh, affectionately called "Uncle Ho" by the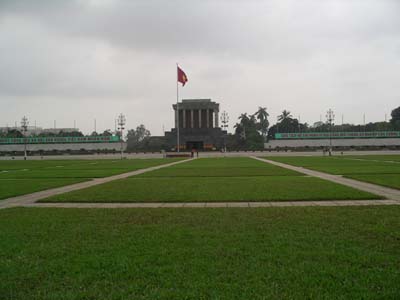 Vietnamese, is embalmed in a glass sarcophagus set in a striking edifice in the center of Hanoi. Minh was the founder of Communism in Vietnam and served as president from 1954 (when Vietnam gained independence from the French) until his death in 1969.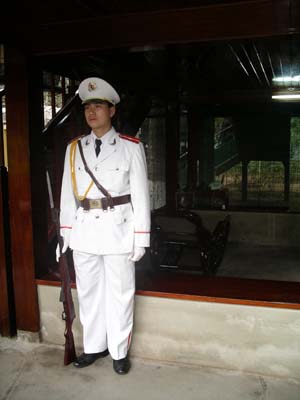 The mausoleum is imposing and is set in an area that looks remarkably similar to Red Square in Moscow. It is fronted by a wide and restricted area that is obviously used for military parades. As we lined up to enter, we were serenaded with what's called "red music." This site has become a pilgrimage spot for the Vietnamese and we filed quietly in a long line of Vietnamese, and watched closely by a large number of very serious guards posted all along the way.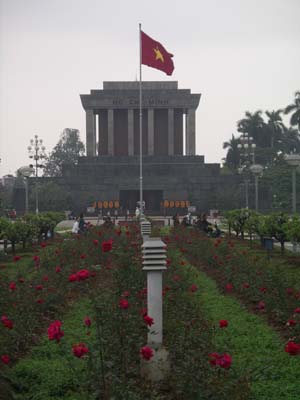 In line, one guard asked Stan to remove his hands from his pockets, and another literally grabbed Steve by the arm to bring him forward in line so that everyone remained two-abreast. The sarcophagus was impressive as were the imposing marble walls which were inlayed with he symbols of the Vietnam flag and USSR hammer and sickle. One guard stands at each corner of Minh's body, which to our untrained eyes looked to be in good shape (there are some suggestions that it's not doing so well, and it actually is taken out of sight for two months each year for treatments).
For us, the fascinating part of our visit to the mausoleum was the environment that surrounds Minh's body. Hearing the propaganda music, seeing all the guards and their actions, and watching all the Vietnamese people pay their respects to "Uncle Ho" was a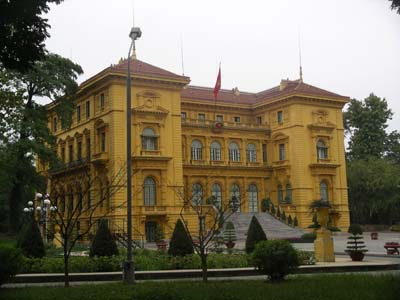 very new type of experience for us. It also reminded us that in some respects, this is still a very different country from our own.
Although a level of authoritarianism that still exists, it's clear that Vietnam has made significant progress in a short period of time. We learned that as recently as 12 years ago, all Vietnamese people were required to immediately report any conversations with foreigners directly to government authorities. There are obviously no such regulations in effect today, although it is important for foreigners to carry passports in some of the more remote areas of the country.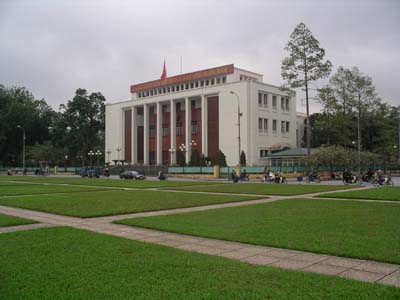 After leaving the Mausoleum, we viewed the Presidential Palace and the simple homes of Minh. We learned a bit about his interesting life and why he is beloved by the Vietnamese. It was interesting to discuss with Tan and Stan the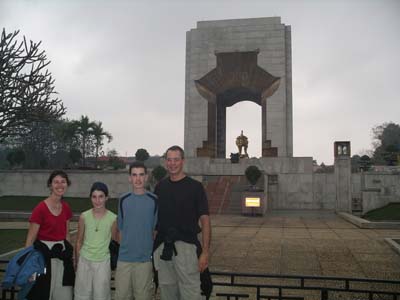 importance of Minh. Tan explained a quotation by Minh found within the mausoleum which stated, "There is nothing more important than freedom and independence." Although most Americans don't immediately associate the words freedom and independence with Vietnam, the Vietnamese are very proud of their ability to free themselves fr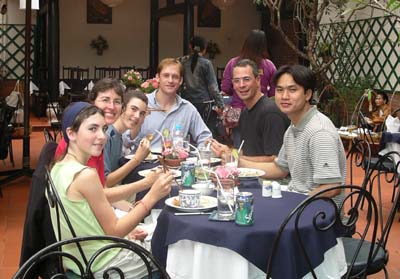 om China in the 10th century and the French in the 19th century.
We left this area and walked down several wide boulevards, by the Parliament Building and Tomb of the Unknown Soldier. The tomb was quite elegant and unique. We continued through an area with beautiful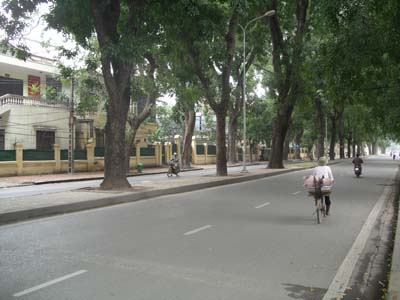 French architecture and buildings primarily occupied by foreign embassies. We commented that some of the tree-lined boulevards reminded us of similar streets that we saw last summer in Aix-en-Provence. Lunch included several traditional dishes including Bun Rieu Cua (crab nood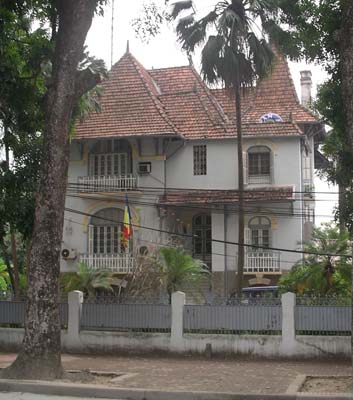 le soup), Bun Cha (noodle soup) and Pho Bo (beef noodle soup).
While walking the streets, we received a quick Vietnamese language lesson from Tan and Stan. They explained that a single word, such as "Ma", can have multiple meanings and pronunciations. We listened as Tan said "Ma" 6 different ways. They all sounded exactly the same to us, but we learned that each pronunciation meant such varying things as "ghost", "cemetery", and "that". All words in Vietnamese are single syllable. Not an easy language to learn…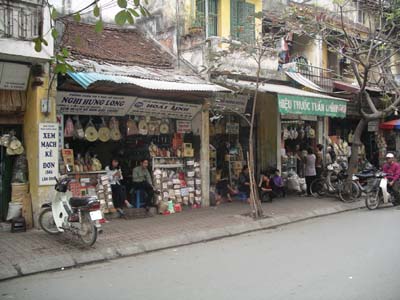 We spent most of the afternoon exploring Hanoi's Old Quarters. This area was established several centuries ago and even today continues to be defined by the various guilds that sell handicrafts and products along the narrow streets. Many of the street names reflect what is sold. We had fun window shopping on Silk Street, Metal Street, Hat Street, and Silver Street. The street life was very active and although there are sidewalks they are often crowded with parked motorbikes and small curbside restaurants and vendors.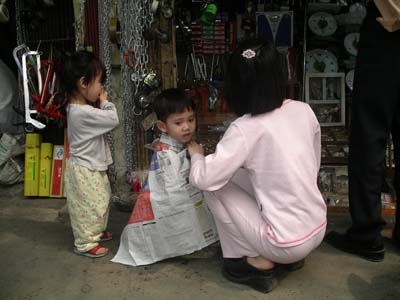 We saw children receiving haircuts (Stan told us he gets his haircut for 35 cents) and women getting pedicures right on the sidewalk. We also noticed that many of the small shops were also homes, with the keepers living in the back of their stores. We peeked down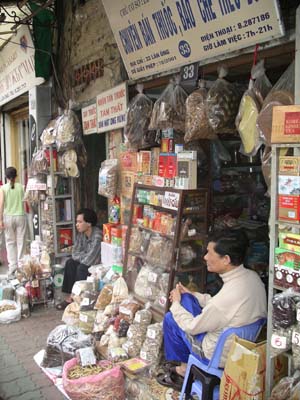 narrow alleys where Tan told us as many as 20 people lived and could see women washing dishes and clothing in the alleys. By the end of our walk, we realized that despite the close living quarters, we did not encounter a single person begging. The people without exception appeared well dressed and well fed. Vietnam has made remarkable economic recovery in a short period of time.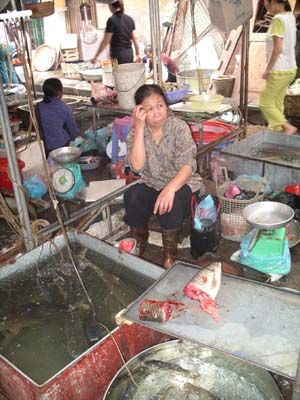 The Old Quarter has its own food market, filled with more of the interesting foods that are central to the lives of the Vietnamese. A highlight was the fish market - we've seen many, but never one where all the seafood is live! Fish are kept in small pools and then clubbed and prepared on demand. We saw one lady simply cutting the heads off fish as her customers waited.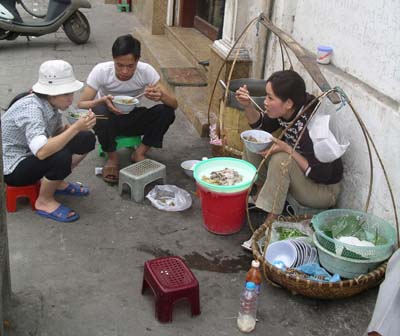 It was also fun to stop and watch people eating traditional Vietnamese food throughout the Old Quarter. There are many small restaurants, several crammed into narrow alleys or set up right on the sidewalks.
After stopping for a coffee Vietnamese style (strong coffee is served with a generous amount of sweetened condensed milk in the bottom of a tall glass), we headed towa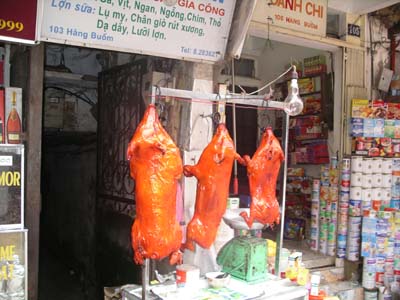 rd the Hoa Lo Prison, known to American's as the Hanoi Hilton. This former prison was used to house Vietnamese political prisoners during the French occupation and about 60 American POWs during the Vietnam War. The prison was closed in 1993 and a museum now focuses mostly on the conditions during French occupation.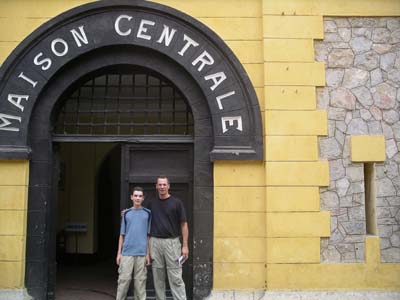 Several rooms at the end of the museum describe the prison's use during the Vietnam War and include photographs and displays of the prisoner's personal items. For us, this was the most interesting part of the prison. The Vietnamese propaganda is immediately obvious with a plaque describing how well the American prisoners were treated. They were described as having, "lots of fresh fruit just like in Southern California." Photographs show American POWs playing volleyball, singing songs and receiving gifts. In contrast, there are several displays discussing how the French tortured the Vietnamese in prison. We wondered how today's young generation of Vietnamese view this obvious propaganda. To us, our guide Tan seemed somewhat embarrassed about the display at the prison.
We took several pictures of the displays in the museum, to try to give a sense of the Vietnamese spin on what happened here.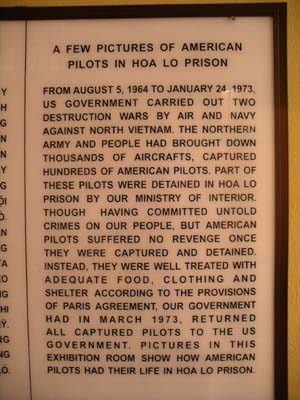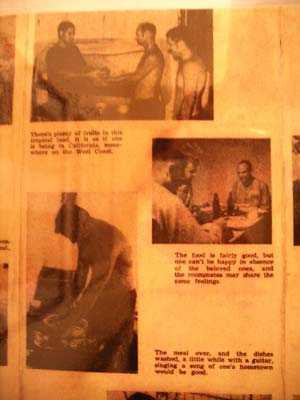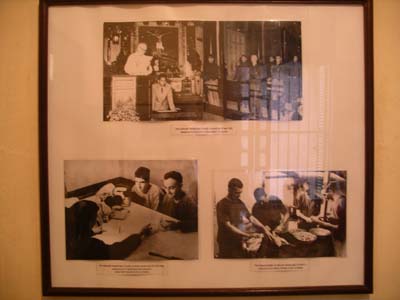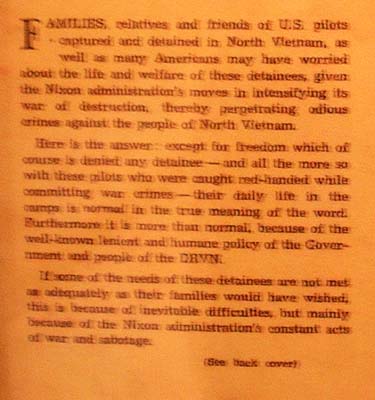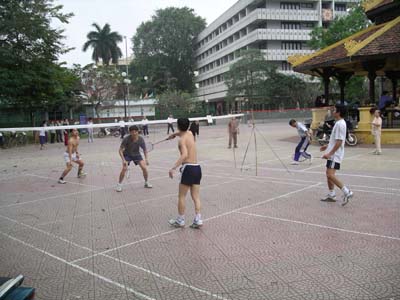 After the prison, we decided to return to the Old Quarters to shop for things to bring home. Just outside our hotel, we enjoyed watching a very competitive game of badminton. This is a favorite pastime of the Vietnamese and courts have been set up all over the city. As we watched, we were again struck by the happiness and youth of the people. What we have seen in the past several days suggests that, at least in the city, people enjoy their lives.
We had fun making many purchases and found wonderful bargains. A beautiful silk scarf for only $13, bamboo rice bowls for a dollar and a set of 10 ebony chopsticks for $5. The dollar buys a lot here, and there is also widespread pirating. We bought two books on Vietnam (these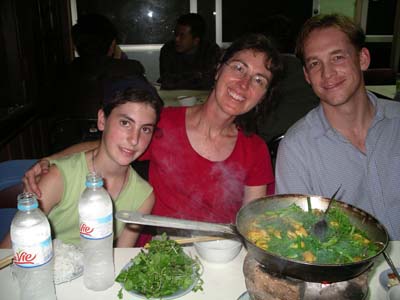 had been recommended to us by Stan's friends), both from street boys. The books are photocopies of the originals, and sell for about $2 each. There are also many stores selling DVD's of current American movies, each for $1-2. The food in the restaurants is very good, and meals usually cost $5-7. Taxi rides within the city are generally $1-2. The average Vietnamese makes only about $500 a year, and can't afford even these inexpensive luxuries.
When we were all shopped out, we headed to dinner. Stan recommended an authentic small restaurant with Cha Ga (grilled fish with noodles and herbs, cooked right on the table). When we sat down, we received a small card in English stating that this was the only item on the menu. It was great! We enjoyed sitting among many other Vietnamese enjoying this delicious meal.
Tomorrow we'll be headed with Tan and Stan into Hanoi's countryside to explore some surrounding villages.