Friday, February 27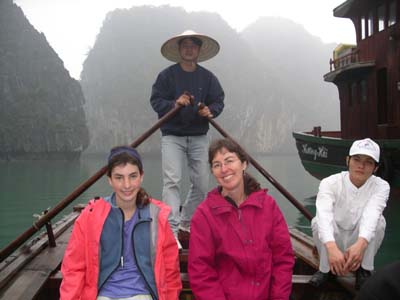 Steve: We completed our exploration of Halong Bay this morning, cruising through more beautiful islands and rock formations. Our first stop was in a serene lake that we accessed by rowboat through a small tunnel. Once inside we were surrounded by steep cliffs covered with beautiful vegetation. As opposed to the moss which held up the trees on the cliffs that we saw in Doubtful Sound in New Zealand, these trees (including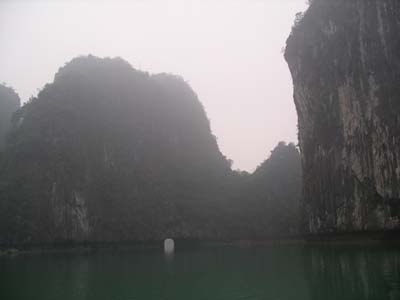 several small palms and bamboo trees) are anchored in natural holes that have formed in the rock. The lake was totally quiet, except for the call of birds and what we thought sounded like monkeys (there are monkeys that live here, but we didn't spot any today).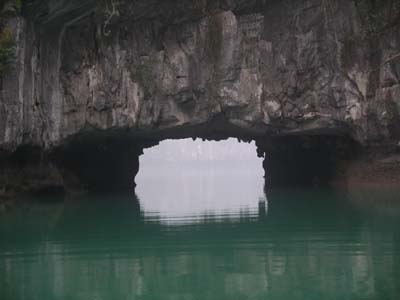 At the entrance to the tunnel, we saw a woman in a small rowboat picking clams off the rocks and cooking a meal right on the bow of her boat. She apparently was taking a break from fishing.
The rest of our cruise on Halong Bay was peaceful, and we spent time relaxing, playing games and reading. Before returning to shore, we were treated to another wonderful meal with a variety of fresh seafood, including prawns and another new kind of clams. We then said goodbye to our friendly crew, none of whom spoke English but always seemed to know what we needed.
During our drive back to Hanoi, we stopped at a small nursery school that was located right on the highway. We have found these impromptu visits very rewarding everywhere we go, and this was one of our best. As we approached the school, the teachers spotted us and gathered the children at the front door to greet us. They all began waving, and as we arrived they sang a song welcoming us to their school.
We went inside the school, an older cement building with small chairs arranged the outside of a single room. It turned out that we had arrived just when school was starting and parents were delivering their children on the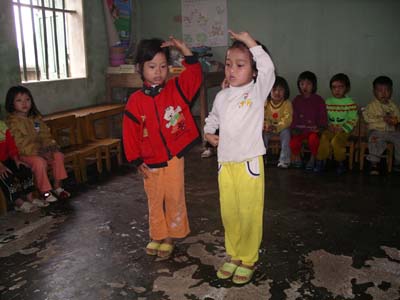 back of their bikes. We all stood in the front of the class as the teachers selected children to sing various songs for us. Some of these were traditional Vietnamese songs and others were meant to welcome us as visitors. The colorfully-dressed children, aged 4 and 5, were all very cute and we found ourselves smiling, laughing and enthusiastically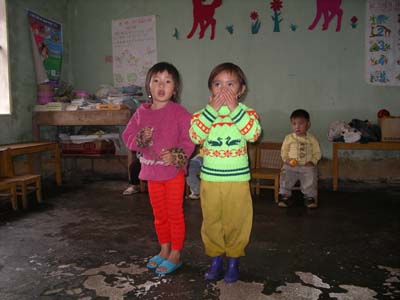 applauding their performances.
As more and more children arrived for their afternoon session, a large crowd of parents gathered at the door, watching what was happening inside. They were all smiles, and were obviously delighting in seeing their children perform and interact with us. One older man, a grandfather of one of the boys, kept speaking to us, shaking our hands and expressed sincere appreciation for our visit. We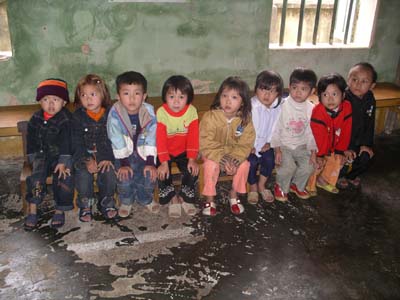 later learned from Tan that it's common for grandparents to help care for these children while the parents work in the fields. This man also told Tan that he is 69, and just retired from the government. He had served in the North Vietnamese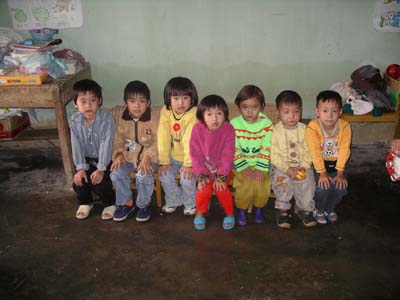 army from 1959 through 1975, making us stop and think about the fact that he at one time had fought against American soldiers here.
We had a fun Q&A session with the children. They first wanted to know David and Katie's ages. Tan told us that they were mostly surprised at how tall David and Katie are, thinking that they appear to be much older than 12 and 14. When we asked the children what their favorite foods are, one brutally honest boy made everyone laugh when he said "Instant noodles are my favorite, because my mom doesn't have time to make me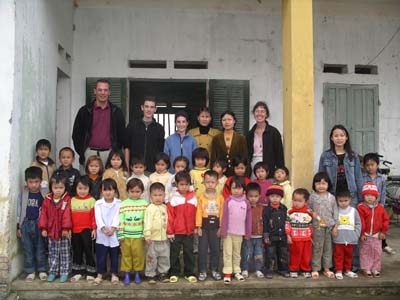 real ones." It was all great fun.
Finally, when it was time to leave, the teachers arranged all the children for a group photo, and they all sang one last song to tell us goodbye. The children never stopped waving as we walked back to our van and then pulled away. Tan told us that we had just given them something that they'd be talking about for several days with their friends and families…
This evening we had dinner with a group of 12 Americans who live here in Hanoi (we'll be spending the next two days with Stan, who has lived and worked here for the past 2 ½ years). This had been arranged as a way for us to also get American perspectives on Vietnam. We had a wonderful time getting to know this group, and it was interesting to hear their thoughts on topics including economic life, culture, history and government. Some of what we learned was consistent with what we've heard so far, and we also heard some contrasting perspectives (as expected). These Americans are involved in a variety of endeavors here, including work at the U.S. embassy, consulting for private companies who have been contracted by the U.S. government, teaching, and research. David and Katie also really enjoyed themselves, and liked telling the group about their travel experiences and how about their unique year of education.
Tomorrow we have a full day planned exploring the city of Hanoi. Our final two days in Vietnam will then be spent exploring the countryside and small villages.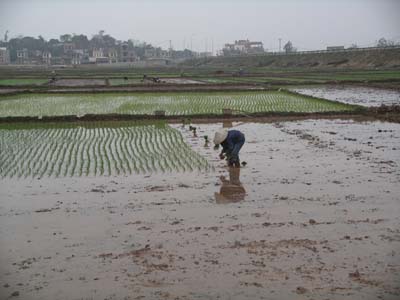 Katie's Kwick Kwacks: Rice Paddies in Vietnam. During our stay here in Vietnam we have experienced something very different from anything we've ever seen in the United States. From the moment we drove out of the airport, we began seeing hundreds of rice paddies. This was an incredible sight, and we have never seen anything quite like these. Not only are the fields beautiful and unique, but even more amazing are the workers and the process of growing this crop. We immediately noticed that there are no machines used in the fields, and that the workers were somehow using animals to help plant the seedlings. We didn't realize, however, how difficult this job really is. The next paragraphs describe the fascinating process of growing rice and my feelings about it.
There are a couple of different methods of growing rice, and the method that Vietnam uses is called the lowland or flooded system. Vietnam has two rice harvests a year, and it usually takes about 7-10 days to plant the seedlings. Before planting the seedlings they level the land using animals as plows. They then flood the area using rain and river water and a dug irrigation system. They plow the muddy land once again before the women go to work with the planting. The women bring seedlings in baskets and plant each one by hand, forming tight rows. This gives the plants more nutrients and helps prevent weeds from growing in between them. After about three months the rice is ready for harvesting. When they cut the plant, it is tall and has the rice grains on the top of each one. They then use curved knives to cut the stem away and pound at the needed part to form individual grains. After drying, the rice is ready for eating.
Although this process seems fairly simple, it is harder than it sounds. The laborers work an average of 8-10 hours a day. The men have to flood all the land by using large shovel-like instruments and then push their animals and plows through very thick mud. The women have to bend their backs way over and hand plant each individual seedling, numbering in the thousands per patty. They also work in heavy mud, and have to create straight lines with the seedlings. One person can cover an area of 60 meters by 6 meters in one day! It is amazing to look at all of the paddies and think that each seedling was planted by hand.
As you can see, we learned a lot about this interesting process of growing rice, and hope to learn more about Vietnam's resources during our stay here.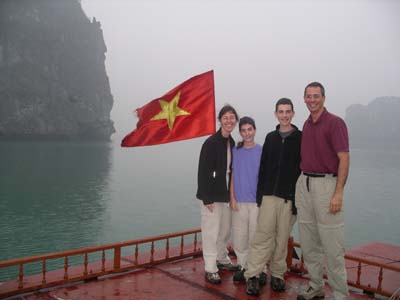 David's Daily Dump: Halong Bay. We spent the last two days in the magical, mystical, and breathtaking Halong Bay. We had a wonderful time exploring caves, beaches, floating villages, and small islands. We also had lots of fun fishing for squid, canoeing in the placid waters at night, and eating the delicious Vietnamese seafood.
The first thing we did when we boarded the boat was eat. We had a great meal consisting of lots of fresh sea food. We had steamed prawns, crabs, clams, and fish. Every meal that we had on the boat was really good, but nothing like the food we had on the Ruben Jane!
The thing that I like most about the bay was the magnificent scenery. It looked a little bit like Doubtful Sound in New Zealand except that there were many more islands and caves. The mist in the bay was really cool. Although we could not see very far, it gave the bay a sort of magical and mysterious look. The tiny mountainous islands that popped out of the distance were so steep that you could not stand on them. Every island was covered with vegetation. Where there was a crack in the rock, there was a tree or a bush growing! The calm waters reflected all the scenery and made the trip very enjoyable.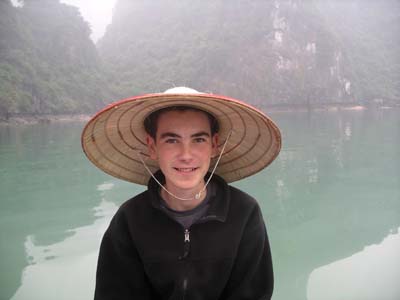 The caves jetting into the islands were also pretty cool. Almost every island we passed had little caves at their bases. We even got to walk into a huge one that had been carved by the water over thousands of years! This morning we paddled through a tunnel / cave that brought us to a beautiful lake surrounded by towering cliffs. No one else was there at the time and it was unbelievably quiet and peaceful.
One of the most interesting things about the bay was the floating fishing villages. There are in total five of these villages in Halong Bay, all of them home to professional fisherman. A village is basically made up of about 7-10 floating homes made of bamboo and various woods, all separate from each other. Each home had a series of boats used for fishing and transportation. We also spotted fish stores, electric generators, and disco centers within the villages. Many of the homes were just sail boats that people lived on, but must of them looked like small cottages. They all had televisions, dogs, and hammocks along with other household necessities. The children that live in these villages take the school boat to their floating school each day and learn to fish like their parents.
The fishermen of the families use huge nets to fish and have long days from 5 am to 4:30 pm! They then sell their fish at home to the cooks aboard the big tourist boats that pass by. We had a fun time looking at some of the fish the fishermen caught at one of the homes and even visited a family at night. I enjoyed learning about their life style and imagining what it's like to live out there.
Another fun thing we did on the boat was fish for squid. Even though we didn't catch anything, I still had a great time dangling my lure off the boat with a bamboo pole. We eventually gave up on squid and trying to hook the scurrying minnows without any luck.
We had a great time exploring this extraordinary bay and learning about another foreign lifestyle. The only thing that could have been better was catching our own fresh calamari, but it leaves a reason to come back.