Thursday, August 28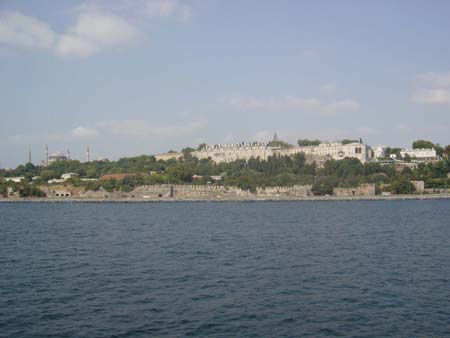 Steve: We decided to spend our last day in Istanbul by taking a day trip to Buyukada, one of the Princes' Islands located in the Sea of Marmara. This is the largest of a group of four islands, and is a popular summer destination for residents of Istanbul. There are a large number of summer homes here, and we learned that many people leave Istanbul and spend most of their summers on the island. As we left on the ferry, we got some great views of the Aya Sofya, the Blue Mosque, and of a wall along the shore that dates to Byzantium times.
Buyukada is a quiet, picturesque and charming island. One of its best characteristics is the fact that no cars are allowed. Transportation is either by bike, or by horse carriage. We arrived with Talya and met up again with Serra who was staying at her grandmother's house on the island. We began with an hour-long horse carriage ride around the island, which was a wonderful way to get a sense of the scenery and environment here (the horses used to be race horses, and they o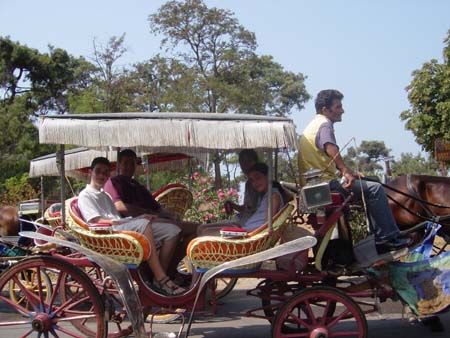 ften trot or canter while pulling the carriage). We rode through streets with beautiful homes right along the water, and then traveled up several hills into a forest with sweeping views along the coast and across the sea. The water on the back side of the island is deep blue, and there are several small coves where boats anchor and spend their days. The rocky cliffs and striking views of the other islands reminded us of some of the scenery from the Caribbean Islands.
After our ride, we walked through the local bazaar, which happens to be open only on Thursdays. This was one of the largest outdoor bazaars that we've seen, and people were selling a wide variety of clothing, house wares, and produce. Outdoor bazaars like this are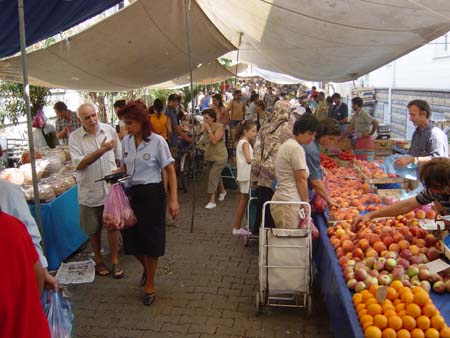 extremely common in Turkey, and it was clear that people rely on these markets for much of their weekly shopping needs. We have found that walking through these markets and enjoying the sounds, smells and sights is one of our favorite things to do.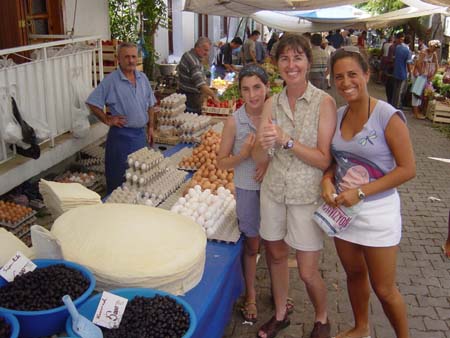 We enjoyed a lunch at a seaside café with Talya and Serra, and then walked along the waterfront to get a better feel for how people spend their days on the island. The coast is rocky, but that doesn't stop people from swimming along the shore. From what we observed, the currents and waves appeared to be dangerous, but that didn't seem to bother the many families who were looking to escape the heat.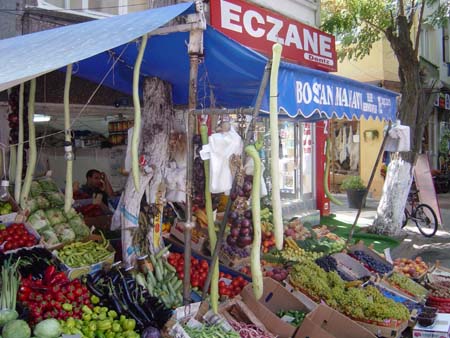 We took a hydrofoil back to the European shore, and then a taxi to a shopping mall. We had several items that we needed to buy, and decided that a mall would be the best place to go. The mall we went to was in the most modern section of Istanbul, and could have been a mall anywhere in America. Several American chains are located here, most notably in the food court that features Burger King, Arbys, Dunkin Donuts, KFC and several others.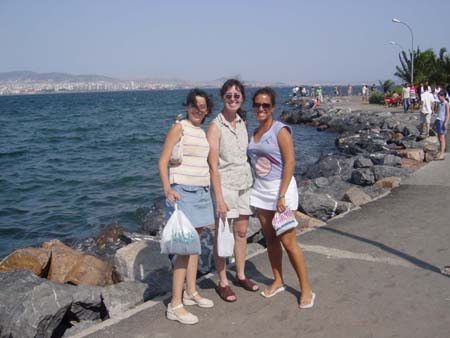 Before saying goodbye to Talya, she took us on a subway to a spot closer to Sultanahmet (where our hotel is located). We have jokingly been saying that we didn't even believe that Istanbul had a subway, but now we've seen it. It was strikingly modern, especially compared to the subways we've recently ridden in Russia. However, the walk to the subway from the mall was very representative of how hard it has been to get through the city. The sidewalks here are very narrow and hard to negotiate. Cars (especially taxis) never give pedestrians the right of way, and often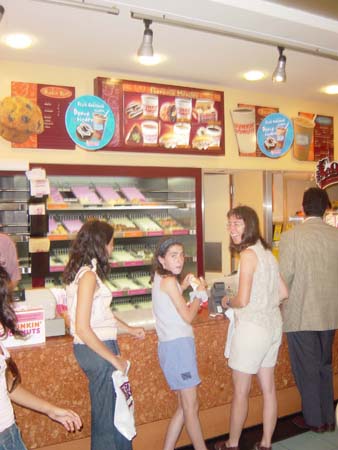 honk to warn people who are looking to cross the street - this is their way of saying that they have absolutely no intention of stopping for pedestrians. After we took the subway to the end of the line, we still needed to take another 15-minute taxi ride to reach our hotel. This ride can take much longer when traffic backs up (which seems to happen unpredictably at any point in the day). Overall, getting around Istanbul is harder than in any other place we've visited.
Finally, it was time to say goodbye to Talya. Talya's home is in Yzmir, which is an 8-hour bus ride from Istanbul. She's headed home on an overnight bus tonight, and will be returning to Istanbul again later in September to complete her last year at Bosphorus University. It was wonderful and totally unexpected for Talya to make this trip to Istanbul and spend three full days with us. She has an excellent understanding of Turkish history and culture, and we learned a tremendous amount from our conversations. We also had a great deal of fun, which is very important - especially at this point in our travels. David and Katie quickly became very comfortable with Talya and her friend Serra, and this really helped make our time in Istanbul very enjoyable. We plan to keep in touch with Talya and Serra, and hope to host them someday in Boston.
Tomorrow, it's off to Greece! We're looking forward to exploring Athens and its surroundings, but are concerned about the heat - we hear that the temperatures are still well above 90 degrees… We haven't made definitive plans yet for where we'll go, and plan to see how we're doing after we arrive and get settled.
Distance Walked: 2.66 miles